New Samsung Wi-Fi Wall Oven (Reviews / Ratings / Prices)
We have Wi-Fi on our phones, laptops, TV's, and game consoles. Let's face it even our thermostat and lights are hooked up to a "Nest", so shouldn't we have them in appliances by now? Well, the Millennial Gods have answered your wireless prayers. Samsung mid-2016 released their new Wi-Fi capable wall ovens and their products aims to please.
After releasing their "Family Hub" fridge in 2016 they decided to keep the trend going with the next step in connectivity.
For all you non-gadget lovers out there, this might not be big news but if you would like to ask your phone if that chicken pot pie in the oven is almost ready, here's your chance.
In fact, the Wi-Fi connectivity is only a small part of what their ovens have to offer. I will cover all the features Samsung has packed into this new appliance. This oven is pretty compelling.
Samsung
Let's start with the company and who Samsung really is in the appliance world. Samsung was founded in 1938 by Byung-Chul Lee in South Korea's capital city of Seoul. You know them for their phones and TV's but Samsung started out modestly as a trading company buying and selling commodities.
It wasn't until the 1970s when they broke into the electronics industry and from then to now Samsung became the most popular brand in the US.
They have won over the skeptics (myself included) by emphasizing design as well as function at an affordable price.
Short on time? Get our free Wall Oven Buying Guide
Recently, Samsung has had some issues with phones and top loading washers. I can safely say that has not affected the quality of their wall ovens.
In fact, they are one of the least serviced appliance brands overall. We analyzed that last year during the phone and washer issues.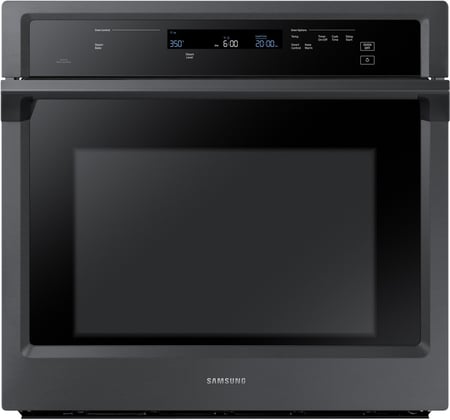 Features:
Wi-Fi connectivity
Digital display and knob controls
Light upknobs
1 cubic foot capacity
Flex Duo will separate the oven for 2 cavities in one space
Dual Convection Cooking, 2 fans in oven to better distribute heat
2 gliding racks in upper oven
Softclose door
Hybrid Self-Clean lowers temp and length of cleaning.
Steam Cook (it is actually a steam assist)
Comes in both stainless and black stainless
Sabbath mode
ADA Compliant
Review
Style
Samsung put a lot of thought into how this oven looks and functions. Samsung gives you the choice of stainless steel or their new matte black stainless. The fingerprint resistant finish helps keep the oven looking great.
Display
The display is large and easy to navigate and it is complimented with large professional knobs that have backlights to show when the oven is in use.
Oven Capacity
Speaking of large, their ovens are a whopping 5.1 cubic feet putting them tied for the largest capacity in a 30-inch wall oven.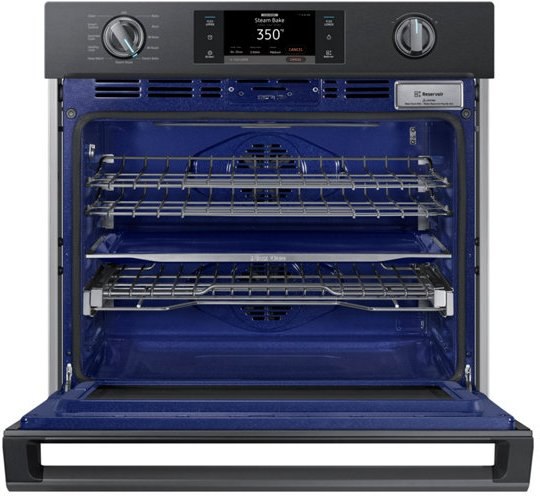 Special Features
This oven also comes with a soft closing door and a 2-ball bearing rack making it easier to access trays and pans.
Flex Duo Zones
The Flex Duo zone allows you to split the oven into two cooking zones because the dual convection fans are stacked, not side-by-side.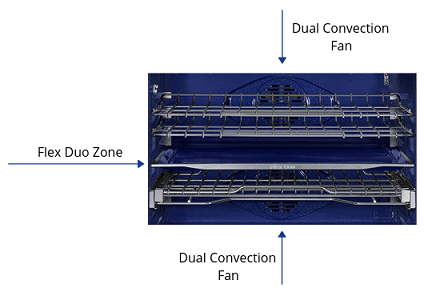 Gourmet Cook Mode
Another great feature Samsung has added to this oven is their Gourmet Cook mode. This helps take the guesswork out of cooking and walks you through the cooking process.
Steam Assist
Finally, the oven has a steam assist in giving bread and crust an excellent crisp factor. There is a reservoir in the oven that you refill periodically. Very few ovens on the market offer the steam feature.
Miele's oven does have the ability to be plumbed directly to a water line, thus eliminating the need to refill the reservoir. However, you're paying more than double for it.
Rest assured it's a very simple process. What you do is press the reservoir button on the display while the oven is open and it will pop out. Fill with 2 cups of water and you are ready to steam assist your baked goods and meats.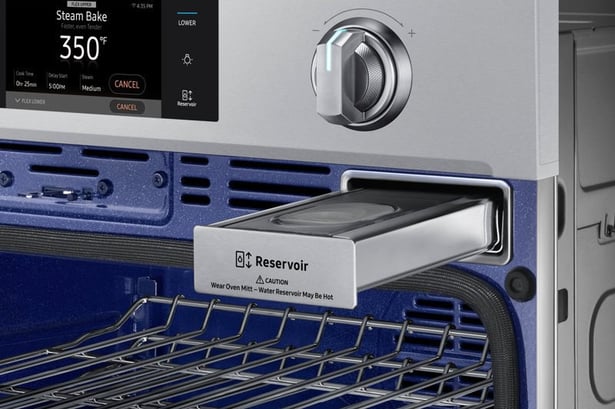 How does Samsung's Wi-Fi Connect work?
You can preheat if you're on the way home and want to get started before you arrive. According to Samsung, you can also change temperatures and the Wi-Fi-enabled temperature probe allows you to monitor your roast without having to open the oven or even stand near it.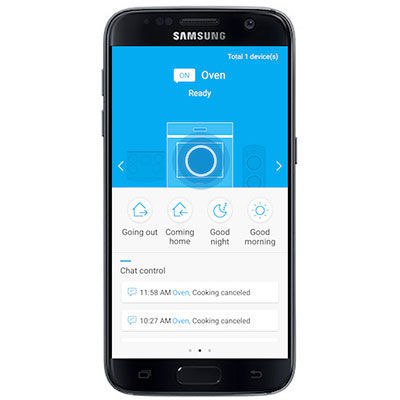 Samsung Appliance Problems
This oven is reliable. However, it may be hard to find service techs for Samsung products. Many stores do not sell or recommend Samsung.
You also have to find techs with technical skills and are used to working on more complicated controls like Miele or Jenn-Air.
Be sure to ask before you buy.
Should I Buy the Samsung Wi-Fi Wall Oven?
Is this the right wall oven for you? If you are looking for a larger oven with easy to use controls and lots of options for cooking this could be a great choice.
The added bonus of Wi-Fi connectivity to help cook if you are always on the go might be a feature that puts you directly in line for this oven. However, not everyone is looking for a "techy" appliance.
The price tag is way below a comparably priced Wolf and Miele with similar features. You must address service and repair before you buy this product.
However, I am worried about stacking convection fans for air distribution. I would also like to see this product actually work, especially the steam function.
In terms of features, costs, as well as the very slick Wi-Fi interface, Samsung should definitely be considered.
Additional Resources
Looking for more information about wall ovens? Download the Yale Wall Oven Buying Guide packed with the latest features, specs and detailed profiles of all the major brands. Well over 355,000 people have read a Yale Guide.

Related Articles
Steve Sheinkopf
My goal has always been simple: I want Yale to be the best retail experience anywhere. I have tried to create a compelling environment for customers and employees alike.
A Note About Pricing
Pricing on this blog is for reference only and may include time sensitive rebates. We make every attempt to provide accurate pricing at time of publishing. Please call the stores for most accurate price.