Best Built-In Appliance Meat Thermometers (Reviews / Ratings)
The holidays are right around the corner.
If you're anything like me, you can almost taste the turkey. For cooking large meat dishes, getting the perfect temperature can be tricky.
If you overcook your chicken or turkey, it will come out dry. Undercooking and it could be unhealthy.
How do we make sure your holiday roast is a perfect 165 degrees?
Fortunately, meat probes can help you find the optimum temperature.
In this article, you will learn the best temperature probes available, so your cooking and timing will be perfect.
Let's get started.
Common Meat Thermometers
Disposable Meat Thermometers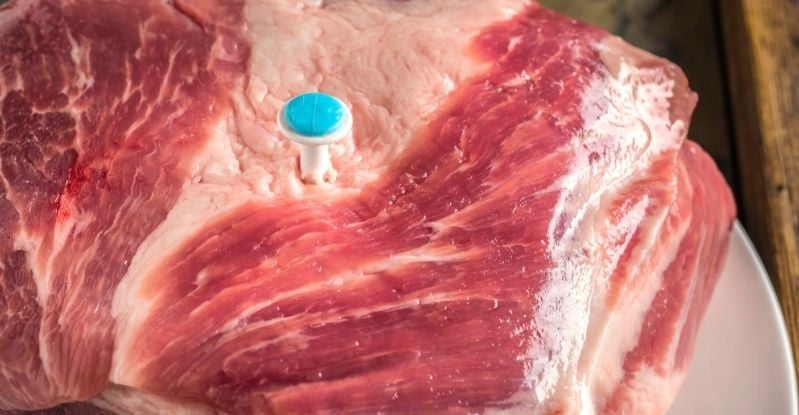 Disposable Pop-Up Meat Thermometer
Most turkeys sold in the grocery stores feature that little plastic indicator.
You insert it while your turkey is cooking, and it's supposed to pop up when it reaches the safe internal temperature.
The kitchen timer is set, time goes by. The timer goes off, but the plastic device has not popped up.
You wait. A half an hour goes by, and still nothing.
At this point, you start to wonder, is the turkey not done yet, or is the plastic thing broken? Is your meal undercooked or overcooked? Neither option is good.
Short on time? Get our free Wall Oven Buying Guide
Instant-Read Meat Thermometers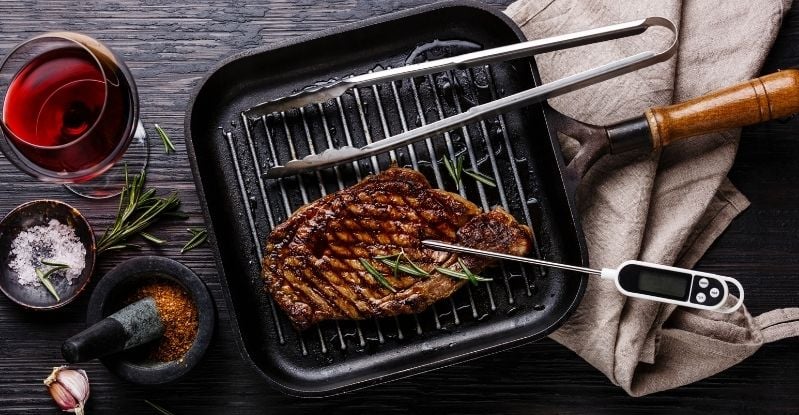 Instant-Read Meat Thermometer
A different solution is your essential meat thermometer. You open the oven and insert it into the meat, and it reads the internal temperature.
This method allows you an accurate real-time internal temperature.
However, it does require you to keep a close eye on your protein while you open the oven and test it for its internal temperature.
This causes you to lose heat from the oven, slowing your cooking process down.
If you are distracted or your timing is off, you could easily overcook your turkey.
There must be an easier, simpler, and better way of roasting! Fear not, there is!
Best Built-In Appliance Meat Thermometers
Wolf, Miele, Thermador, Jenn-Air, KitchenAid, Ge Profile, and Café have built-in meat thermometers, also known as temperature probes, in their ovens.
Many of these wall ovens and ranges offer a wired leave-in temperature probe. On the inside wall or ceiling of the oven, there is a meat probe jack.
You insert the probe into one end of your protein of choice and plug the other end into the oven meat probe jack.
This allows you to monitor the internal temperature of your protein from the oven's digital display.
In many cases, it will trigger the range to shut off and alert you once the desired internal temperature is reached.
Let's take a look at the best built-in appliance meat thermometers.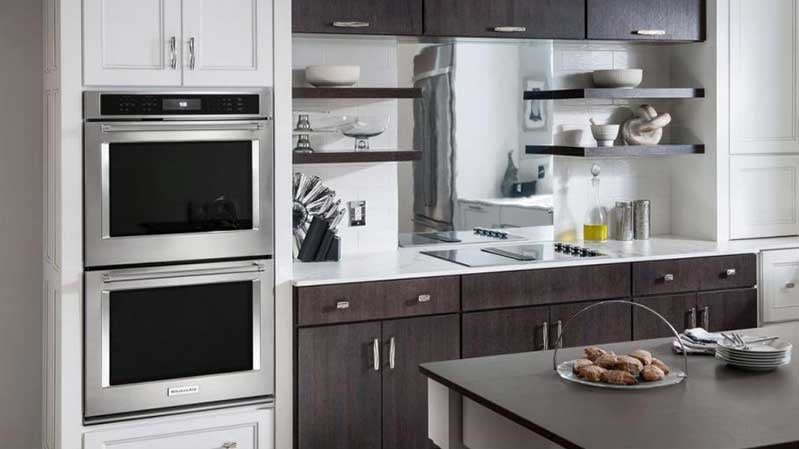 KitchenAid Double Wall Oven KODE500ESS
Take the Kitchenaid KODE500ESS double wall oven and your holiday turkey, for example. First, we can prepare the turkey with butter or oil, salt, and pepper.
Next, we preheat the oven to 350 degrees on convection roast. Once preheated, insert the probe into the breast's thickest part, careful not to hit bone or gristle.
Now it's time to put the turkey into the oven. Using an oven mitt, carefully plug the other end of the probe into the jack in the wall oven side and close the door.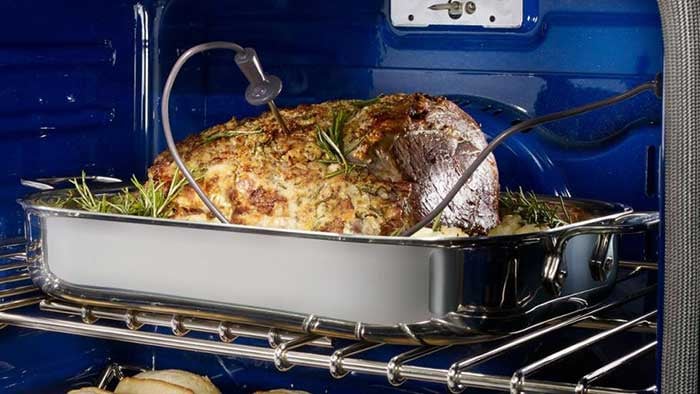 KitchenAid Meat Thermometer

An option will then appear on the oven's display, prompting you to enter an internal temperature for the meat to be done.
For this example, the preferred temperature is 165 degrees, although you may prefer to set the temperature a little lower because the meat will continue to cook as it rests.
This will produce a moist and juicy turkey.
The screen will display the current internal temperature as the cooking process proceeds. This allows you to monitor the progress.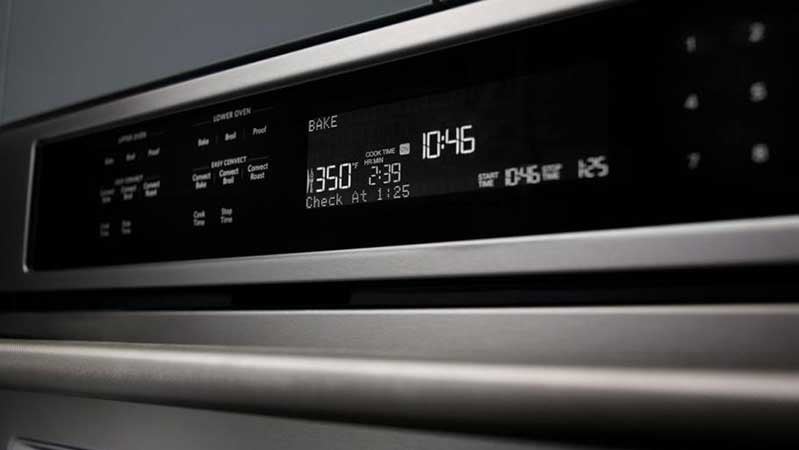 KitchenAid Double Wall Oven Display And Controls For Temperature Probe
Once the probe detects the selected internal temperature, in this example, 165 degrees, the oven will shut itself off and beep, letting you know that your turkey is ready.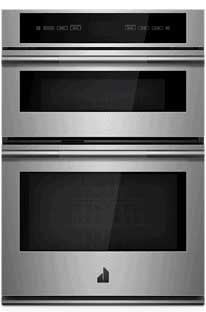 There are also ovens like the JennAir JMW2430IL wall oven/microwave combination to connect to your phone via the manufacturer's app.
This way, you can monitor the oven and probe via your phone or tablet.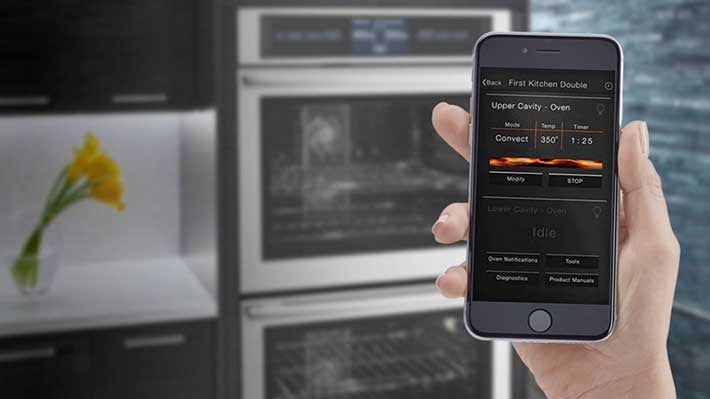 JennAir App For Connected Appliances
The oven can also alert you via the app when your protein hits the desired temperature.
This allows you to spend more time with your family and guests without being trapped in the kitchen. How nice is that?
Miele 4-Point Wireless Precision Probe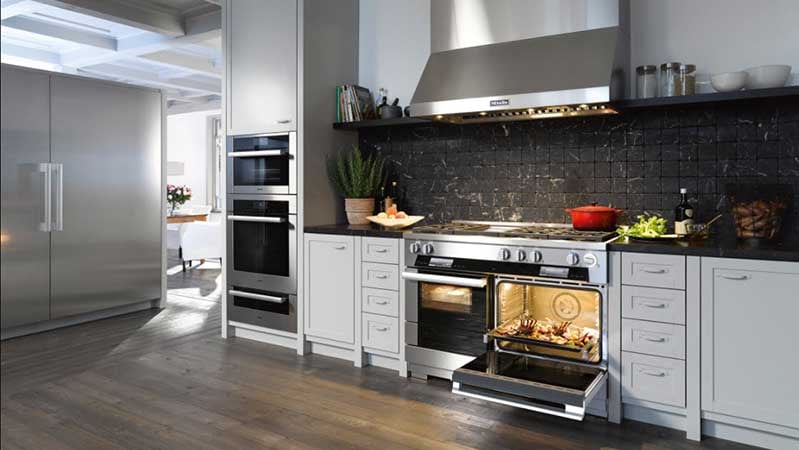 Miele Gas Range With Wireless Probe
You may have noticed earlier that I mentioned that you need to be careful when inserting the meat probe to not hit bone or gristle.
With standard probes, this will throw off the temperature of the probe. With most probes, there is only one point of reference for the probe.
Miele, however, has a wireless four-point probe.
This amazing wireless probe reads the temperature at four different points along its length.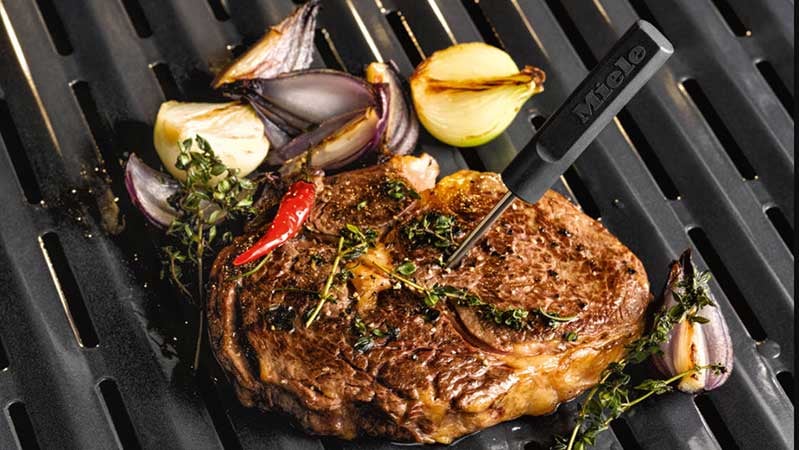 Miele Wireless Probe
The unit averages the temperature of all four points. This allows it to be one of the most accurate probes on the market.
The probe may hit bone or even the bottom of the pan underneath and still give you the correct internal temperature.
Let us take a rib roast, for example.
This is one of my favorite cuts, but getting that perfect 135-degree medium-rare cook can be difficult even with a roast probe.
With a wired probe, you need to get it into the meat in such a way where you can easily plug the other end into the receptacle in the oven.
It would be best if you also avoided the minefield of bones and gristle in this protein.
With the Miele four-point probe, you do not have to worry about either of these issues.
Because it is wireless, you can put it in any position that works best, and if you accidentally hit bone, the probe will still give an accurate internal temperature.
What Are The Big Differences Between The Built-in Probe Options?
The basic wired probe found in brands like Kitchenaid and Bosch lets you monitor the internal temperature of what you're roasting from the oven's display. The oven will turn off when the set temperature is reached.
Units with Wi-Fi and an app such as JennAir and Café Appliances give you the added benefit of not being stuck in the kitchen.
This is incredibly convenient when preparing meals with a long cooking time.
Wireless probes found in the Miele M series wall ovens and ranges allow you to be pinpoint accurate with your temperature even if your aim is not quite as good.
How To Use Your Meat Thermometer Accurately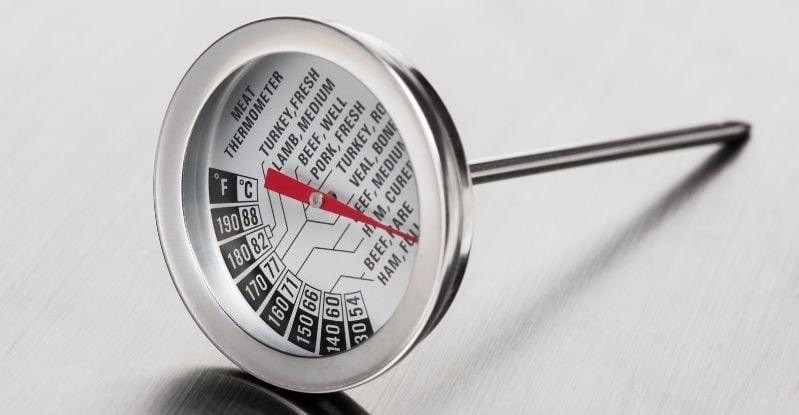 Meat Thermometer
You have to learn to correctly insert your meat thermometer, especially if you're new to cooking.
First, always check your thermometer or temperature is calibrated and measured in Fahrenheit.
Next, your temperature probe should be inserted into the thickest part of your protein as best you can without touching bone, fat, or the pan.
You want to place the thermometer into the breast's thickest part for poultry, away from any fat or bone.
For roasts such as beef, pork, or lamb, you still want to avoid the bone but insert the thermometer midway to measure the core temperature.
For thinner proteins such as chicken cutlets or fish, you should insert the probe sideways.
Remember, if you hit bone or even the pan's bottom, your temperature reading will be incorrect. Always take multiple readings if you're unsure.
Best Built-In Appliance Meat Thermometers: Key Takeaways
When purchasing a new range or oven, the type of probe or meat thermometer it has may not be the major reason you buy a wall oven or range.
You should consider a probe because you will be amazed at how much easier they can make your roasting! It's also not just for large portions.
It works just as well for a single chicken breast as it does for a whole chicken.
With an integrated probe, you never have to set a timer again.
Just select your cooking temperature and let the oven tell you when it is done!
Additional Resources
Confused about Wall Ovens? Get the Yale Wall Oven Buying Guide with updated features, specs, and detailed profiles of the best brands like Miele, Wolf, Viking, Bosch, Thermador, and more. Over 680,000 people have read a Yale Guide.
Related Articles:
Why Should You Trust Us?
It seems that every appliance review has nothing but glowing comments about almost every product, yet you read customer reviews and they are almost universally bad.
We are here to fill in the disconnect. We'll give you the best features, and the drawbacks as well, including reliability based on over 37,000 calls performed by our service team just last year. Our goal is to give you ALL the information so you know what's right for you.
Please consider subscribing or adding to the conversation in the comments below. We appreciate you stopping by.
Dan Bjork
Dan Bjork is an Appliance Sales Consultant at Yale Appliance in Framingham. He started his career selling appliances over 20 years ago. Dan truly loves appliance, and his passion shows when helping his customers cut through the confusion of looking at new appliances. He loves nothing more than having folks leave happy and confident in their choices. When he is not selling appliances, Dan can be found spending quality time with his wife and four children, fishing or reading a good book.
A Note About Pricing
Pricing on this blog is for reference only and may include time sensitive rebates. We make every attempt to provide accurate pricing at time of publishing. Please call the stores for most accurate price.