New Electrolux vs. LG Laundry (Reviews / Ratings / Prices)
Electrolux and LG have been manufacturing front load laundry in the U.S. market for about 15 years. They are two of the best-selling washers but approach laundry from two very different perspectives.
Electrolux has improved their washer by adding a third pump and a brand new control interface. LG has a bold new concept called the Sidekick or a second washer in the pedestal and added Black Steel finishes.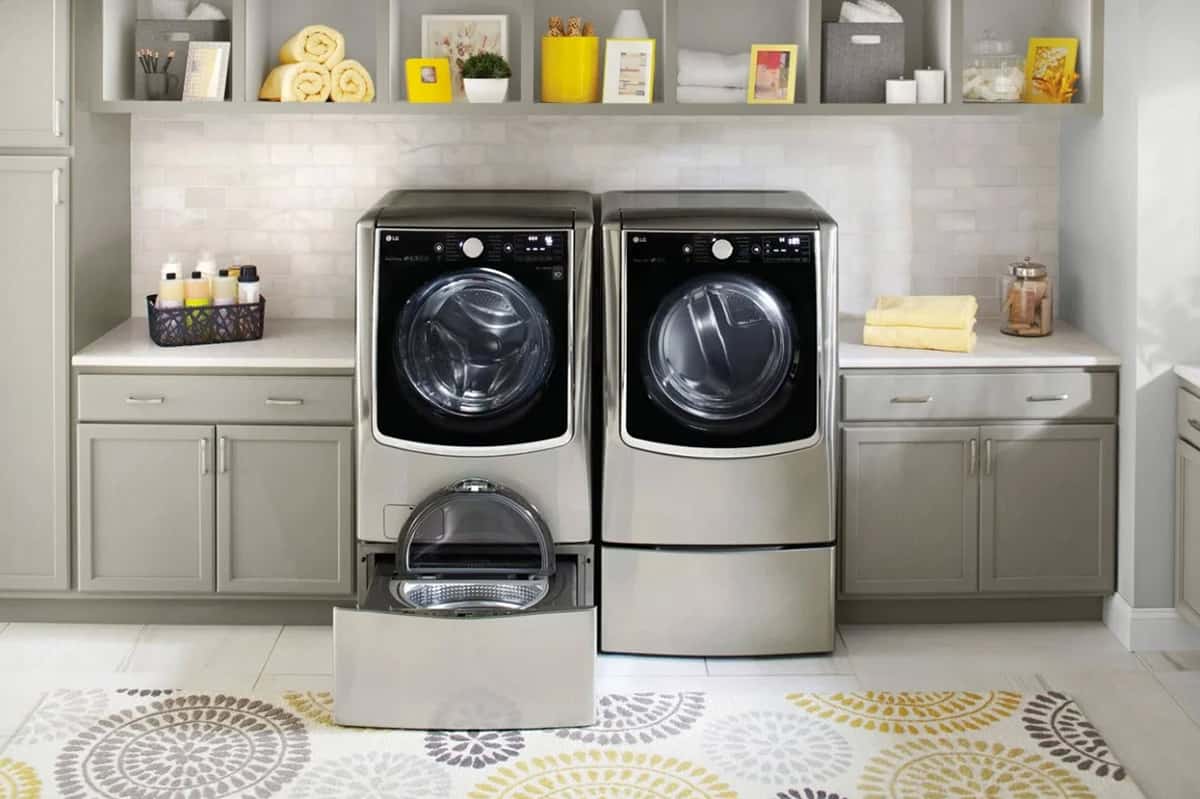 LG Laundry with Sidekick
Which one is right for you? We will look at both companies, the products, and then compare.
Short on time? Get our free Washing Machine Buying Guide
Electrolux
Electrolux is a Swedish company founded in 1901. They originally manufactured Kerosene lamps, but are now the second largest appliance manufacturer after Whirlpool. You may know Electrolux through their Frigidaire division.
They produce mostly compact laundry for the European market. Their full-size laundry is made in Mexico.
To be transparent, we stopped selling Electrolux products in 2018.
Electrolux Laundry
Electrolux EFLW417SIW Washer - $499-599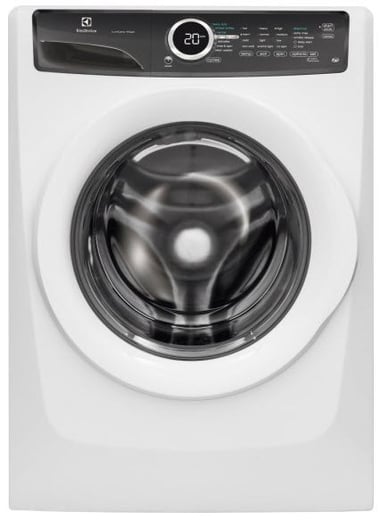 Features:
4.4 Cu. Ft. capacity
2nd-Floor vibration guarantee
20 minute Quick Wash
Fresh Water Rinse
Integral water heater
7 wash cycles
Internal Light
Highlights
This is the entry level for Electrolux washers. Same capacity, internal light and fresh rinse. The quick wash is 20 minutes, which is still short and it has an internal water heater which allows for a sanitizing wash.
Electrolux EFLS617STT Steam Washer - $899 - $999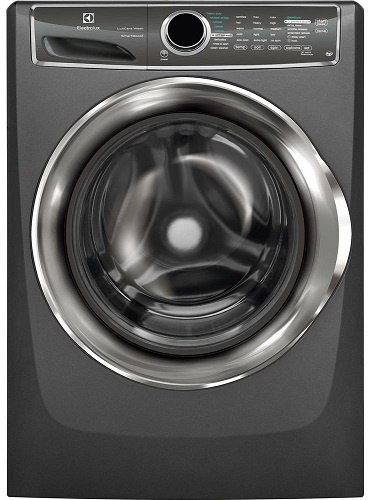 Features:
4.4 Cu. Ft. capacity
3 Pump SmartBoost system
2nd-Floor vibration guarantee
15 minute Quick Wash
Fresh water rinse
Integral water heater
Reversible door
Stain soak option
9 cycles
Interior light
Highlights
This washer is able to fit king size bedding. The 2nd-Floor guarantee allows it to be installed in a bedroom or near a living area without a lot of vibration to the floor (although you do need to install it properly).
Quick washes for 3-4lbs of clothes allow outfits to be washed quickly in about 15 minutes.
The second pump infuses the clothes with fresh rinse, so the clothes are free of detergent. The third pump or "SmartBoost" system premixes the detergent with the water and applies it during the wash for maximum cleaning action.
Electrolux also has a reversible door so you can open the doors the same way in a stackable application.
LG
LG is an electronics company founded in 1958 in South Korea. The are known for phones, TVs, and also appliances with "smart" cutting edge features.
LG products are mostly manufactured in Korea and are known for laundry.
They were also the first to feature the intuitive interfaces with multiple speeds and wash rinse combinations.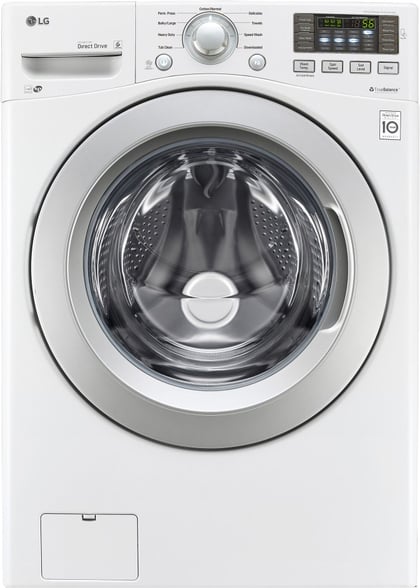 Features:
4.5 Cu. Ft. Capacity
Smart diagnosis technology
9 wash cycles
Direct drive motor
Speed wash
Compatible with sidekick pedestals
Stainless steel tub
Highlights
This is the entry level washer in the LG front load line. Smart diagnosis, stainless tub, and quick wash are great features. No internal heater, no steam. Still a great performer.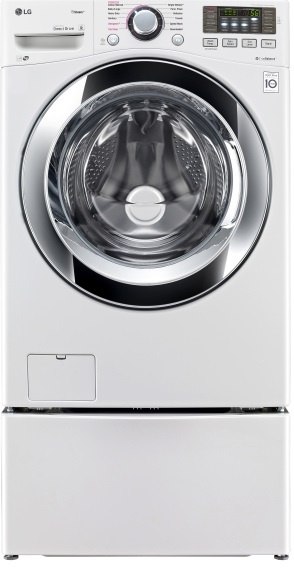 Features:
4.5 Cu. Ft. Capacity
Integral water heater
Turbo Wash
Compatible with SideKick pedestal
12 Cycles
Smart Diagnosis Technology
Direct Drive Motor
35 Minute Speed Wash
True Balance Anti – Vibration Technology
Highlights
The Turbo Wash feature sprays a concentrated solution of detergent on clothes for faster soaking time, saves up to 20 minutes per load.
The 35 minute speed wash is convenient when time is of the essence.
Comparison
Standard Chart for Washers:
| | | | | |
| --- | --- | --- | --- | --- |
| | EFLW417 | EFLS617 | WM3270 | WM3670 |
| Capacity | 4.3 cubic ft | 4.4 cubic ft. | 4.5 cubic ft. | 4.5 cubic ft. |
| Drum (Stainless or not) | Stainless | Stainless | Stainless | Stainless |
| Dimensions | 38H x 31 3/4D x 27W | 38H x 31 3/4D x 27W | 38H x 29 3/4 D x 27W | 38H x 29 3/4 D x 27w |
| # of Cycles | 7 | 9 | 9 | 12 |
| Spin Speed (RPMs) | 1300 | 1300 | 1300 | 1300 |
| Special Features/ Additions | 20 min quick wash | 3 pump system, 15 min quick wash | Smart diagnosis | Allergen cycle, smart diagnosis |
| Warranty | 1 yr. Parts and labor | 1 yr. Parts and labor | 1 yr parts and labor | 1yr parts and labor |
Both LG and Electrolux laundry have decent capacity in both the washer and the dryer, In fact they look the same.
Differences:
The Electrolux washer doors are reversible. No other full-size brand has this feature and every install space is different.
The LG quick wash is 35 minutes, where the Electrolux is just 15 minutes, granted that it for a lighter load though. The fresh rinse supplied by the second pump in the Electrolux washer will bypass the detergent to remove any residual bleach, detergent or allergens.
The LG Smart Diagnosis is a great way to diagnose problems with your machine by downloading an app, as opposed to being on the phone with a service tech.
The capacity is slightly larger by 0.1-0.2 cubic feet.
LG is also the full-size laundry with the shallowest depth, which makes it a great option with niche installs.
Final Thoughts
LG is a very cutting edge company with many great features in their products. The LG laundry set has some great features.
These Electrolux machines have been on the market for well over a year now. They are still are the only two pump machine on the market with a fresh water rinse. The third pump seems like a good idea for cleaner clothes and the washer doors are reversible.
With the LG offering a way to easily diagnose a problem if it should occur in the machine, that is definitely worth a second look, no one wants to go without a washer or dryer for an extended amount of time, especially when its new or when a family is involved.
Reliability
LG is one of the most reliable machines based on our 30,700+ service calls performed in 2017.
Actually, it is second to Whirlpool at just over 6% service in the first year.
The newer Electrolux washers sold after 2017 need much more service at just over 18% service within the first year.
Electrolux may have some great features, but LG is much, more reliable.
Additional Resources
Get the Yale Washer Buying Guide with features, specs and detailed profiles of every brand like Samsung, Electrolux, Whirlpool, Speed Queen, Electrolux and more. Well over 220,000 people have read a Yale Guide.

Related Articles
Todd Rourke
Todd Rourke is a Sales Consultant for Yale Appliance + Lighting. He has worked in sales for over 17 years. He loves putting dream kitchens together for his customers. In his free time, Todd is a musician and an avid bass fisherman and prefers the Lakes Region in NH. Mainly, he is a Dadda to his 2 beautiful daughters and a housekeeper to his beautiful wife. They take up most of his free time nowadays, but he wouldn't have it any other way. HelloFresh and Blue Apron have saved his nights! Todd loves the outdoors and anything lighthearted and silly.

Schedule a showroom visit with me
A Note About Pricing
Pricing on this blog is for reference only and may include time sensitive rebates. We make every attempt to provide accurate pricing at time of publishing. Please call the stores for most accurate price.