LG Front Load Washer WM9500HKA: The Best Washer You Shouldn't Buy
The WM9500HKA is the single biggest washer at 5.8 cubic foot capacity. It has some good features and excellent reliability.
It is also inexplicably rated the best or one of the best by several bloggers and review sites.
But if you are replacing an existing machine or live in a brownstone or condo in Boston, you can't buy the WM9500HKA.
And to not make you feel bad for not buying it, I will give you some reasons why you shouldn't buy it.
So, this article will be a review of a good washer, its problems, and alternatives. It should be interesting and different from what you have heard.
In the end, you will know more about washers to consider
As always, if you have any questions, please leave them in the comments below.
Let's get started.
Short on time? Get our free Washing Machine Buying Guide
LG Front Load Washer WM9500HKA: The Best Washer You Shouldn't Buy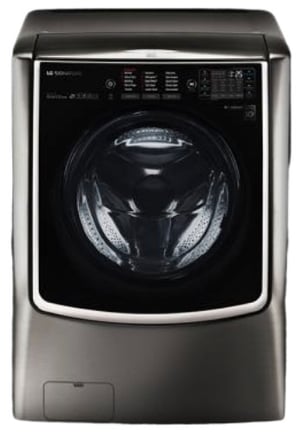 Dimensions: 29 5/8 in. W, 33 1/16 in. D, 41 3/16 in. H | Capacity: 5.8 Cubic Feet | Number of Cycles: 14 Cycles, 13 Options | Spin Speed: 1300 RPM | Reversible Door: No | Automatic Dispenser: Yes | Reliability: 4.14%
Best Features
Size
As I said, this machine is massive at 5.8 cubic feet.
The average front loader is about 4.5 cubic feet, and the popular top-load your mom was using and is still popular is about 2.5 cubic without the agitator.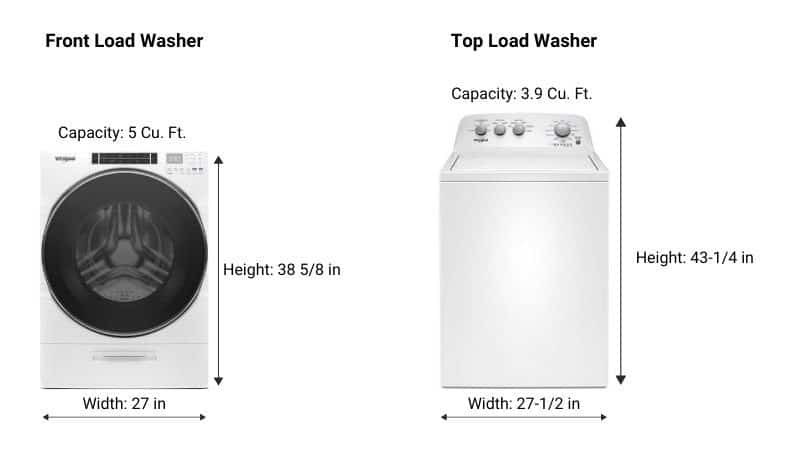 The LG Signature washer is 2.3 times bigger than Mom's washer and at least 1.3 cubic feet bigger than the average front load.
Cycles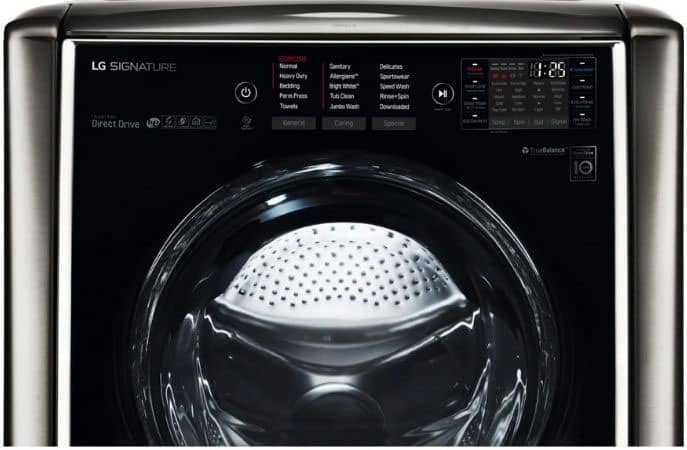 The machine does not skimp on features with 14 programs and 13 options. I didn't know there were 13 options available in a washer.
But some of these you will most likely. The steam cycle loosens stains and the Allergiene cycle removes over 95% of common household allergens.
Turbo360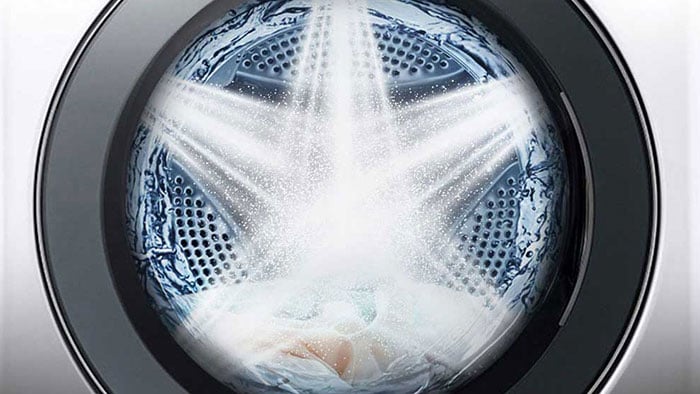 LG has the Turbo360 or five high-pressure washer hoses to turn any cycle into a quick 30-minute wash.
Most other brands have a short or speed cycle, but for a few items only.
Spin Speed
The washer also spins at 1300 RPM, tied with GE and Electrolux for the fastest 300 RPM more than Whirlpool, so your clothes are much drier from the washer for less time in your dryer.
Automatic Dispenser
It also has an 18-load automatic dispenser releasing the right amount of detergent at the right time.
An auto dispenser also prevents you from overfilling, eventually leading to a service call as the suds will stay in the machine.
Eighteen loads are decent, but Whirlpool does have a 40 load. GE has their 32-load dispenser.
Service calls from overfilling dispensers are one of the top reasons why front-loads need repair.
One possible problem is the location of the dispenser. LG located their dispenser towards the top. It seems logical.
However, Maytag has had issues with their automatic dispenser in the same location.
Whirlpool and GE's dispensers are located at the bottom without any issues.
Smart Functionality
Like many other manufacturers, it is Wi-Fi enabled so you can operate the machine remotely and get texts when your laundry is done.
Smart technology has a way to go before becoming a feature to buy.
However, you may like it for laundry.
You won't have to trudge to your basement or upstairs to your laundry room to find 5:12 left on the cycle.
Reliability
Front Load Washer Reliability for December 2019 to November 2020
| | |
| --- | --- |
| | Service Rate |
| Whirlpool | 1.85% |
| Samsung | 2.90% |
| LG Electronics | 4.14% |
| GE Appliances | 8.61% |
| Maytag | 17.61% |
| Total | 6.18% |
These figures are based on a minimum of 300 washers sold per brand and over 4,000 total pieces.
The LG Signature Front Load Washer WM9500HKA is largely stacked with features, but it's also reliable.
LG is one of the most reliable washers on the market with a 4.14% service rate, less than half the average of appliances at 9.7%.
Whirlpool is technically better, but many of their washers are sold to builders. They require less service for many reasons.
Read More: Most Reliable Front Load Washers
So, this is a good machine, but you can't buy it. Here is why:
Why You Can't Buy the LG Front Load Washer WM9500HKA
The WM9500HKA's measurements are 41 and 3/16 inches tall, 29 5/8 inches wide, and 33 1/16 inches deep.
First, you can't stack it in your closet or laundry room.
Its outer dimensions are too large to deliver in most condo buildings.
The width and depth together are too big for most hallways, especially the landings (for those of you in Brownstones in downtown Boston).
Laundry is already the second most returned appliance after refrigerators on just regularly sized machines.
For delivery, we can take the doors off a refrigerator, so they fit in many spaces.
You cannot on the WM9500HKA or any washer, so the dimensions are larger than a bigger refrigerator.
So, let us say you do not want to stack your washer and dryer, and somehow, we were able to deliver this.
The dimensions are certainly bigger than any existing washer, especially the width and height. If you are replacing an older top loader, the depth will be an issue as well.
Why You Shouldn't Buy the LG Front Load Washer WM9500HKA
At $1,999, this washer is $500-700 more than a five cubic foot from any brand or even a similar LG.
That's $500-700 for 0.8 of a cubic foot.
You do have alternatives to consider.
The following are three options, but you have plenty more within these brands and other manufacturers.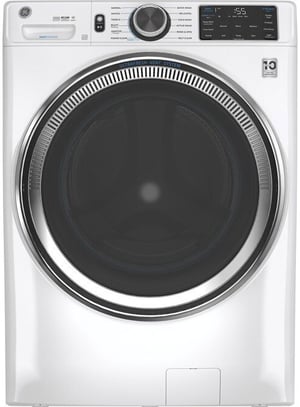 GE has their unique anti-microbial Microban in their units and a fan dubbed "OdorBlock" inside the washer to prevent mold build-up along with a 32-load automatic dispenser.
LG, like other manufacturers, has a cycle for mold dubbed TubClean but does not have a comprehensive mold prevention package like GE.

You can even buy LG's wash tower with their newest sensor-driven AI (Artificial Intelligence) DD for $2,299 for a washer and dryer. Touch a button, and the washer will figure out the cycle and time automatically.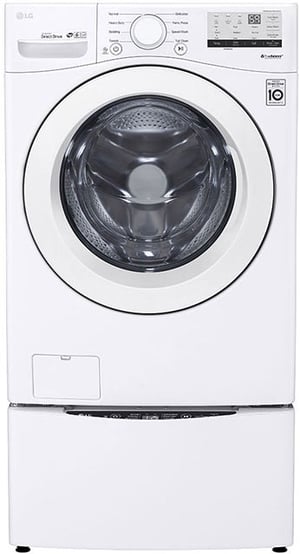 LG's basic washer at 4.5 cubic feet is $849. It does not have the dispenser and features of the WM9500HKA, but it has the main cycles for $900 less.
Heck, you can buy two of them for the price of the LG Signature washer.
They are also only 30.38 inches deep and designed to be stacked in closets.
The WM9500HKA is massive, but you may be paying much more for not a ton of extra space for washing.
Should You Buy the LG Front Load Washer WM9500HKA?
This is the best machine on the market. It may have every cycle, the largest capacity, and great reliability, but you might want to scale down to a still large 4.5-5.0 cubic and spend $700-900 less.
Read More: Best Front Load Washers
Additional Resources
Download our Yale Washer Buying Guide with all the features, terms, and brands of laundry. Over 1m million people have already found answers in a Yale guide.
Related Articles:
Why Should You Trust Us?
It seems that every appliance review has nothing but glowing comments about almost every product, yet you read customer reviews and they are almost universally bad.
We are here to fill in the disconnect. We'll give you the best features, and the drawbacks as well, including reliability based on over 37,000 calls performed by our service team just last year. Our goal is to give you ALL the information so you know what's right for you.
Please consider subscribing or adding to the conversation in the comments below. We appreciate you stopping by.
A Note About Pricing
Pricing on this blog is for reference only and may include time sensitive rebates. We make every attempt to provide accurate pricing at time of publishing. Please call the stores for most accurate price.