In the professional 30-inch range category, Jenn-Air versus Thermador is a comparison you will probably consider. Both are tremendous ranges, however they are for different types of people. You will invariably buy one over the other depending on how you cook.
We will look at both ranges, their specs, and then we will compare. First, you should get to know both companies if you are unfamiliar with them.
Jenn-Air
Jenn-Air was founded by Louis J. Jenn in Indianapolis, Indiana in 1947. In the early years, the company focused on a variety of commercial and industrial applications, which inevitably led them to their signature downdraft range.
The downdraft was popular in New England because it allowed us the ability to move the stove into an island without an overhead hood.
In 1982, Maytag then purchased and produced all appliances for Jenn-Air but unfortunately neglected the brand due to their own internal issues.
Whirlpool in 2003 purchased Maytag and invested 300 million in Jenn-Air, specifically in wall ovens and this range.
This range is perhaps their single best piece.

Features:
One 20,000 BTU burner

Two 15,000 BTU burners

One 5,000 simmer burner (Reduces to 500 BTUs)

Dual Fan Multimode True Convection system in the Oven

Auto Convection

Free dishwasher with purchase (1,249 value)

3,999 before rebate

Self

-c

leaning
Jenn-Air JGRP430 Review
Thanks for reporting a problem. We'll attach technical data about this session to help us figure out the issue. Which of these best describes the problem?
Any other details or context?
message
Thermador
Thermador had multiple owners developing issues along the way. In the late 1990s, the German Bosch company purchased Thermador and restored order.
Their distinctive competence has always been cooking, cooktops, and pro ranges.
When the recession hit in 2007, Thermador announced their "1, 2, Free" rebate, which was a free dishwasher program for qualifying cooking and refrigeration purchases.
This program led to an increase in Thermador sales and was copied by Jenn-Air among other manufactures.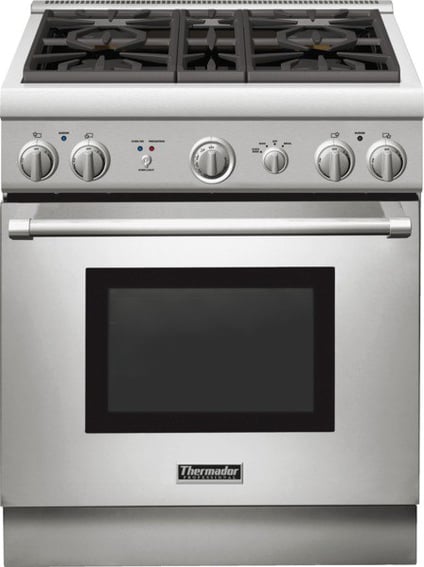 Features:
Four 18,000 BTU burners
Two extra low simmer capability (100 BTU)
Patented Star Burners
Convection Oven w/ full telescoping racks
$ 4,149 (no rebates)
Thermador PRG304GH Review
Thanks for reporting a problem. We'll attach technical data about this session to help us figure out the issue. Which of these best describes the problem?
Any other details or context?
message
Thermador PRG304GH vs. Jenn-Air JGRP430WP: Which is Better?
Unfortunately, there is no one answer. So let's break their features down:
Cooktop Surface:
Jenn-Air has a decent cooktop with a 20,000 BTU and two, 15,000 BTU units. The fourth simmer burner is only 5,000 BTU. A few of the more powerful burners should be able to simmer so you would have 4 pro burners.
The cooktop surface of the Thermador may be the best in the industry (BlueStar and others have 25,000 BTU capability, but they are open burners).
Each burner is considered Pro level at 18,000 BTU. Two of the burners have the extra low setting for a truly great simmer. It is an intermittent on/off to achieve the lowest mean settings in the industry.
For cleanability, the Star Burner is raised off the surface so it is simple to clean.
Controls
Thermador has stayed true to the original commercial ranges. Which is a polite way of saying, there are no controls on their ranges.
Jenn-Air is more residential with decent controls, clock, and timer. The range also features a convection conversion, so your old recipes are instantly converted to convection with a touch of a button.
Broiler
Jenn-Air has a straight gas broiler. You are probably using one now. Thermador has the infrared, which is wider and provides more intense heat.
Baking
Convection is a fan forced heat, so the heat is spread better throughout the oven. The cookies made at Yale every weekend are baked in convection, so they have the same color and consistency.
Thermador has one convection fan whereas Jenn-Air has twin convection for even better heat distribution.
Intangibles:
Jenn-Air is self-cleaning whereas Thermador is not.
So how do you decide?
Well, it depends on how you like to cook. If you like to broil, then Thermador is a better choice.
If you want some functionality and like to bake then Jenn-Air would be a better choice. This weekend, May 6th and 7th, Jenn-Air has free 5 year warranties.
Both are great ranges, now the choice is yours.
Additional Resources
Read the Yale Pro Cooking Buyers Guide packed with features, tips, terms and BTU outputs of every pro range on the market. Over 220,000 people have trusted a Yale Guide.
Related Articles