What are the Best 18-inch Dishwashers? (Reviews / Ratings / Prices)
If you have a small kitchen or need space, an 18-inch dishwasher is a very good consideration. Unlike smaller stoves or refrigerators, you still have decent brands and options.
You also do not lose that much space in an 18-inch versus 24-inch dishwasher, so it is a much better option than other smaller appliances for functionality.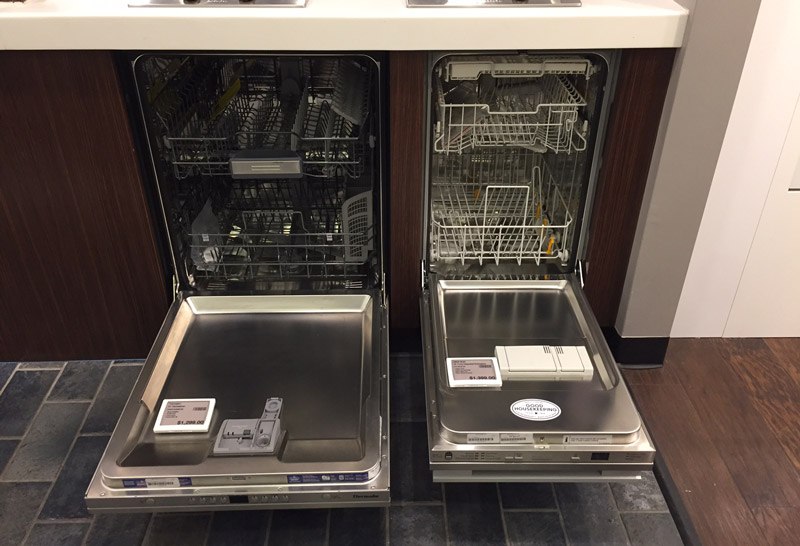 24-inch Dishwasher vs. 18-inch Dishwasher
Now compare this versus a gas stove.
Short on time? Get our free Dishwasher Buying Guide
Years ago, 18-inch dishwashers were manufactured by one company, D&M Industries. Frigidaire and others placed their names on the D&M dishwasher.
Then two significant events occurred; D&M went out of business and the European manufacturers started importing into the U.S.
The Europeans use 18-inch dishwashers more than the U.S. since their kitchens are generally smaller.
Although many brands like, KitchenAid, Samsung, and Electrolux do not offer an 18-inch dishwasher, there are still a decent amount of options.
Let's look at the four of the more known ones.
Best 18-Inch Dishwashers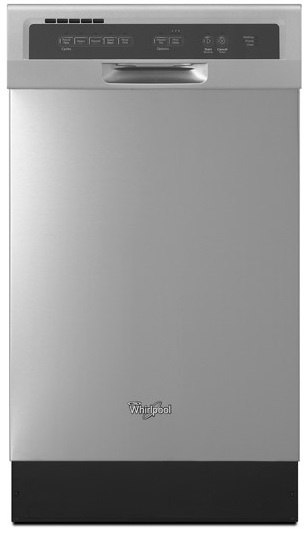 This dishwasher has a stainless-steel interior, every feature from pots and pans to normal and china crystal, and at a decent price. However, at 57 DBs, you will hear it.
Bosch is not much more for a much quieter piece. Still, Whirlpool is very reliable. In fact, it is the most reliable brand sold at Yale.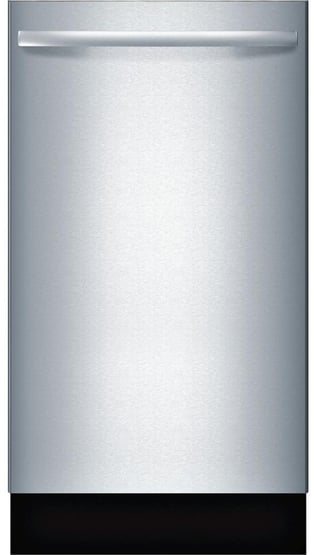 Bosch was the first dishwasher to focus on quietness as a factor at 44 DBs as well as function. It is also well priced with every major cycle from pots and pans, normal and even a speed cycle.
It features a third rack used for cooking utensils and an extra-long silverware basket adding up to 30% more capacity. Bosch is the most popular and always very highly rated.
GE Monogram ZBD1870NSS - $1,099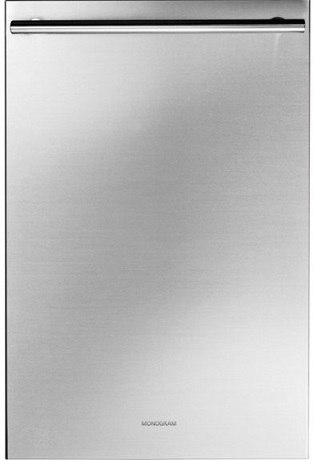 We do not sell GE Monogram anymore, however, this is arguably the best piece in the Monogram line with good features and a stainless steel tub.
But at 60 decibels, it is a bit loud, especially at this price. Most high-end brands offer package rebates, so you could buy this cheaper with other Monogram appliances.
Miele G47

60SCVI

-

$1,399

(+$295 for stainless panel)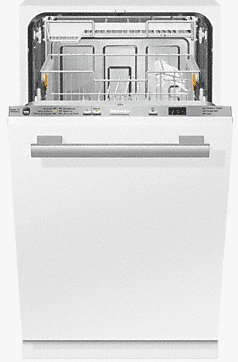 The best dishwasher sold anywhere is a Miele. The only part not manufactured directly by Miele are the rollers under the racks, so the service rate on a Miele is less than any other dishwasher listed.
Miele also has a unique drying system. The dishwasher lets air into the exterior of the side wall. The steam becomes attracted to the side and dissipates.
At $1,399, the price is higher than every other dishwasher because it costs more to make this well. This dishwasher includes three full-size wash arms with 3 separate water feeds for better cleaning.
The other dishwashers use 2 wash arms with one water feed resulting in less pressure and lighter, cheaper wash arms, typically. The silverware is thoroughly washed because there is a third dedicated full-size wash arm up for your top rack.
This dishwasher is rated at 46 decibels, so also on the quieter side.
18" Dishwasher Features and Brands
Which Do I Buy?
As you can see, there are decent brands who offer this size, but the two best are Miele and Bosch. This is logical as they both manufacture the best 24-inch wide dishwashers as well.
Miele has garnered a reputation for its strict quality control practices and in-house manufacturing. 96.8% of all the parts in a Miele dishwasher are produced internally, and not outsourced.
The price tends to be higher in a Miele, but their machines are serviced the least in the industry.
Bosch has long had the reputation of producing high-quality dishwashers at affordable prices. They really focus on the quiet aspect of a dishwasher. Currently, they operate the largest dishwasher manufacturing facility in the world right here in the US!
Both brand dishwashers have many similarities. Miele and Bosch both offer a stainless front or an unfinished panel-ready version. Both will feature stainless steel interiors (odor and stain resistant).
The upper rack is adjustable to accommodate taller items both in the upper and lower racks. Both Miele and Bosch models are ADA compliant and are quiet and efficient.
Miele does offer more cycles such as quick wash, china and crystal cycle (less time/less temperature), and their third rack on the top for silverware. The third rack places the silverware in individual holders which allows for more room in the dishwasher itself.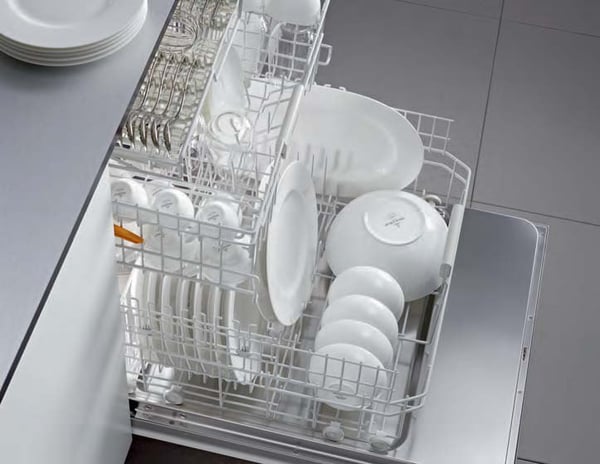 Miele Racks
Bosch also has a third rack, but it is not designed for silverware. Instead, it is for long utensils such as spatulas.
The drying cycle is different as well as Miele adjusts the cycle for temperature and humidity for cycle duration.
Bosch vs Miele is about the value of Bosch at a great price, versus features and incredible dependability of Miele at the higher price point for dishwashers.
Either way, both are the best choices for an 18-inch dishwasher.
Additional Resources
For more information about dishwashers, including 18-inch dishwashers, read The Yale Dishwasher Buyers Guide Dishwasher Buying Guide. Over 200,000 people have read a Yale Guide.

Related Articles
Editor's Note: This article was originally published on October 28, 2013 and has been updated for accuracy and comprehensiveness.
Steve Sheinkopf
My goal has always been simple: I want Yale to be the best retail experience anywhere. I have tried to create a compelling environment for customers and employees alike.
A Note About Pricing
Pricing on this blog is for reference only and may include time sensitive rebates. We make every attempt to provide accurate pricing at time of publishing. Please call the stores for most accurate price.