10 Coolest Appliances, Sinks, and Lights in Boston for 2020 (Reviews / Ratings)
We had some great responses to our coolest appliances article last year. With many new products out, it was time for a refresher.
You are probably considering some stainless appliances. This article will show you some unique products, finishes, and ideas to consider before you buy the default stainless.
The 10 coolest appliances, sinks, and lighting for 2020 are:
The Galley Sink / Workstation
GE Washers
Refrigerator Columns
SKS Professional Ranges with Sous Vide
Bosch French Door Refrigerators
Lighting Rings
Professional Gas Ranges with Induction
Café Appliances' Modern Glass Collection
True Refrigerators
The BlueStar Salamander Broiler
That said, I have a stainless kitchen, and there is nothing wrong with that.
In this article, you will read about 10 new products and four honorable mention ideas to incorporate into your kitchen.
Like last year, they ran the gamut in price, so there is something for everyone.
Let's jump in.
10 Coolest Appliances, Lighting, and Plumbing for 2020
1. The Galley Sinks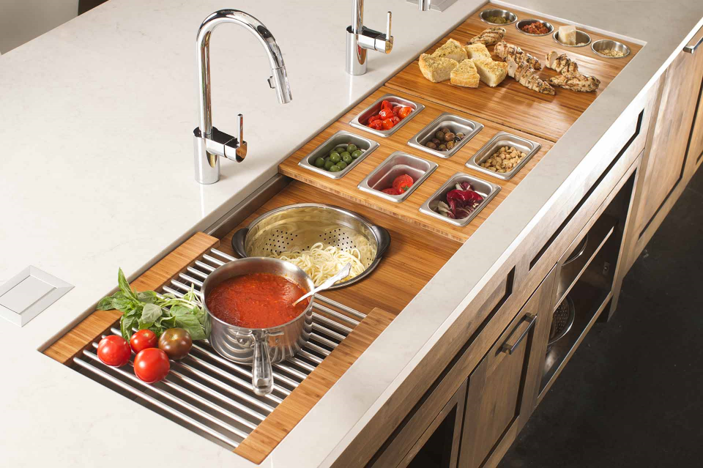 How can a sink be number 1? By asking that question, you are cursing by using that four-letter word, according to Galley.
The Galley is a workstation, not a sink.
They are available in 2-7 feet with bamboo, black, or white accessories. There are 50 different accessories to this sink (I mean workstation).
It's great for smaller spaces because its antimicrobial cutting boards are an extension of your counter.
You also have everything from buffet holders to strainers to drain racks to condiment holders and 46 other ideas I didn't mention.
These sinks are marine-grade. It can be placed outside. Even the scratches can be easily buffed out.
All joking aside, this sink is the best idea for 2020.
2. GE Washers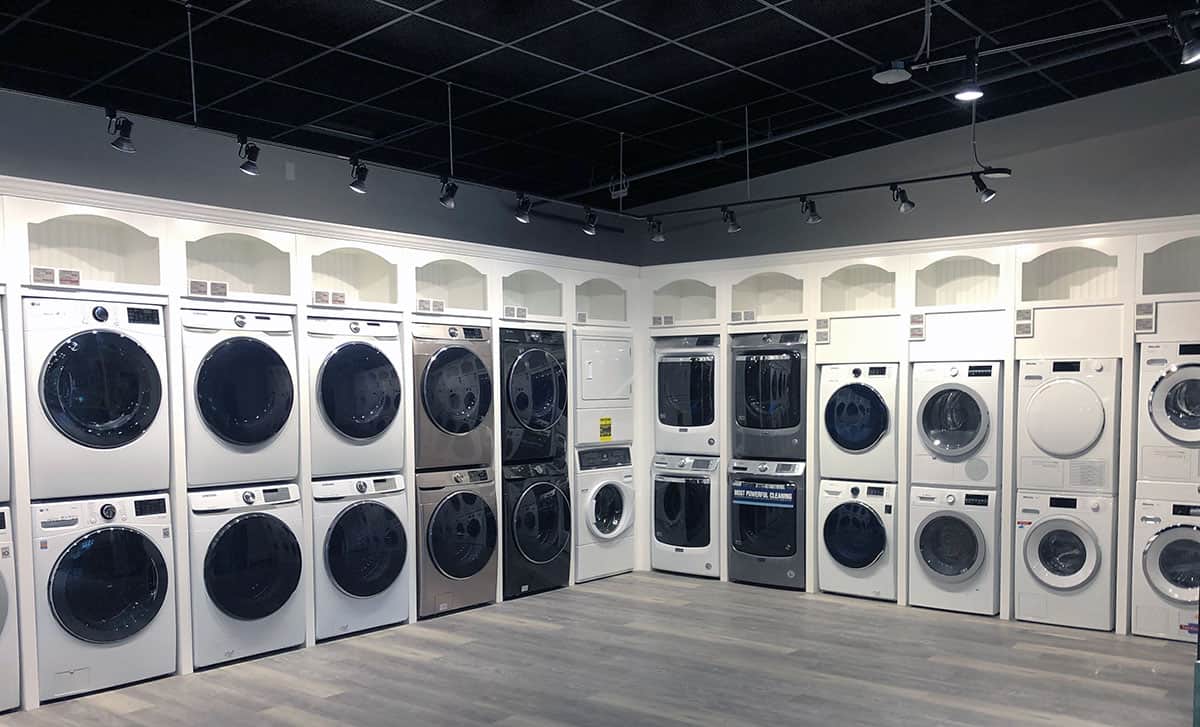 Front Load Washers in Learning Center at Yale Appliance in Hanover
Somehow it doesn't matter what I say. For years, I have been advising on how to deal with mold and mildew in front load washers. I even wrote an article on the subject.
However, you probably want your washer antimicrobial. GE washers have Microban technology to eliminate the problem forever.
For everyone else, please read this article:
Click here to learn how to remove and prevent mold and mildew in your front load washer.
If you didn't read it, leave the door open to dry the excess moisture.
3. Refrigerator Columns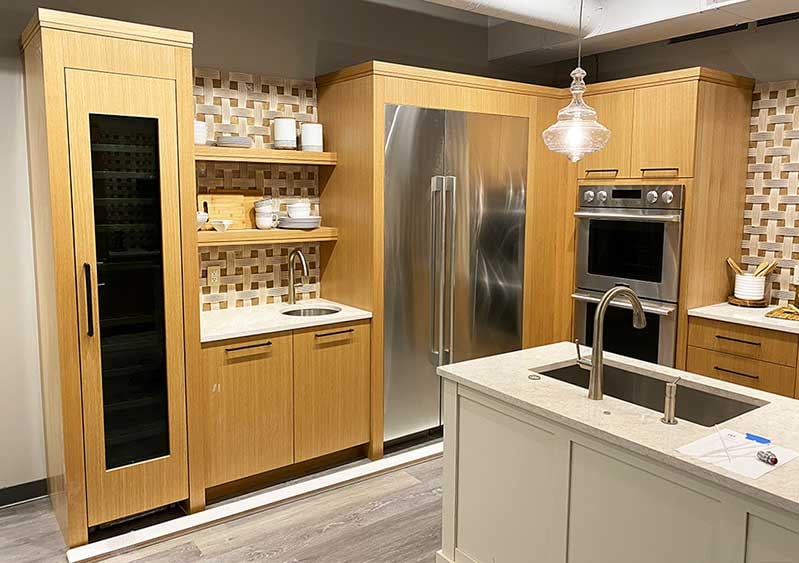 SKS Column Refrigeration at Yale Appliance in Hanover
Columns are not new, but manufacturers like Fisher & Paykel, SKS, and Jenn-Air are. Now, you can buy them with Wi-Fi, stainless interiors, and less expensive prices.
Columns are a good idea because they are seamless and blend into the cabinet and can be customized.
4. SKS Sous Vide Pro Range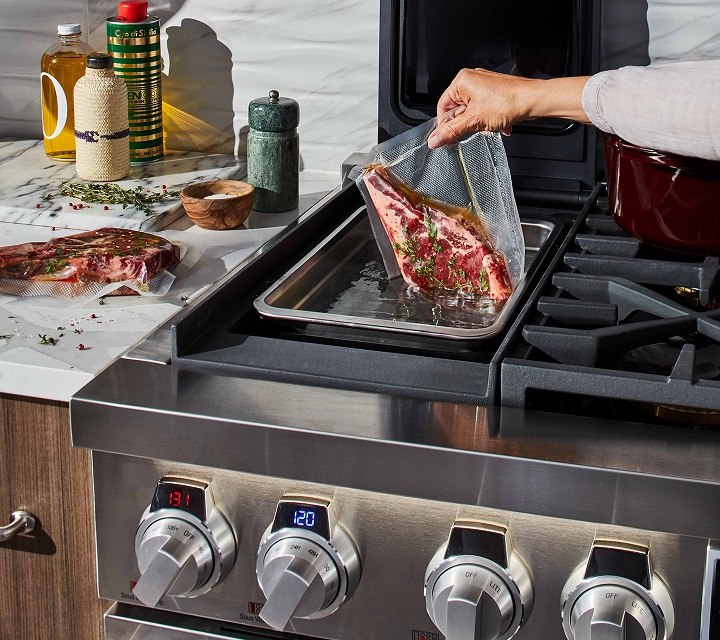 Sous Vide is French for precision boiling in a bag. It's the hottest cooking trend and allows you to cook perfectly. SKS is the only company with Sous Vide in their ranges.
5. Bosch French Door Refrigerators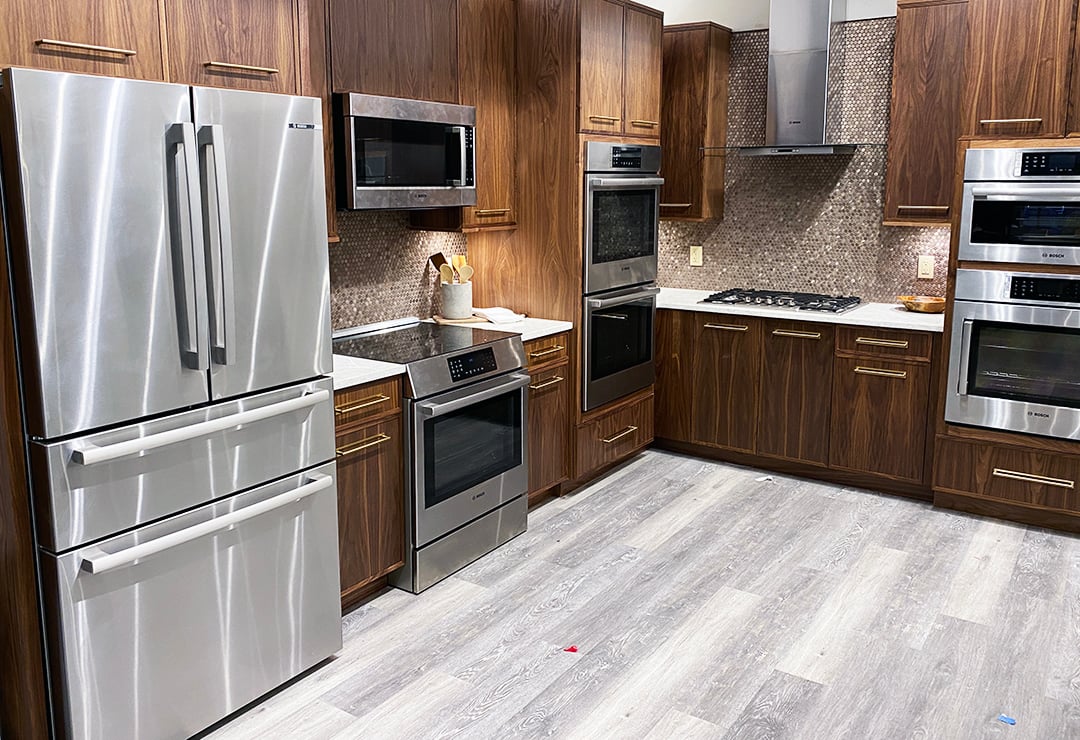 Bosch Kitchen Featuring Double Drawer, Counter Depth Refrigerator at Yale Appliance in Hanover
Sub-Zero made its mark by utilizing two compressors, so cold and warm air doesn't collide and hasten spoilage.
Bosch is the only counter depth brand with two compressors in their new refrigerators.
The handleless designs allow you to replace your refrigerator without multiple handle details. Good idea for smaller kitchens.
6. Lighting Rings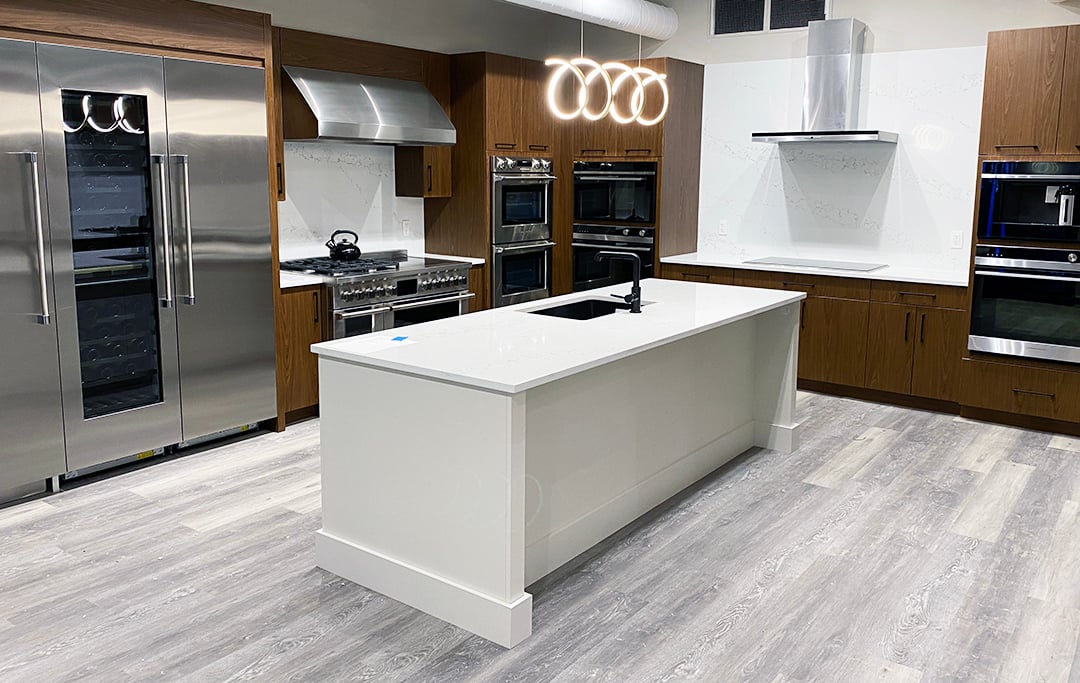 Fisher & Paykel Kitchen Featuring Lighting Rings at Yale Appliance in Hanover
Last year, it was linear lighting. This year it is all about circles and rings. It makes sense since because many tables are round - imagine that.
7. Professional Gas Ranges With Induction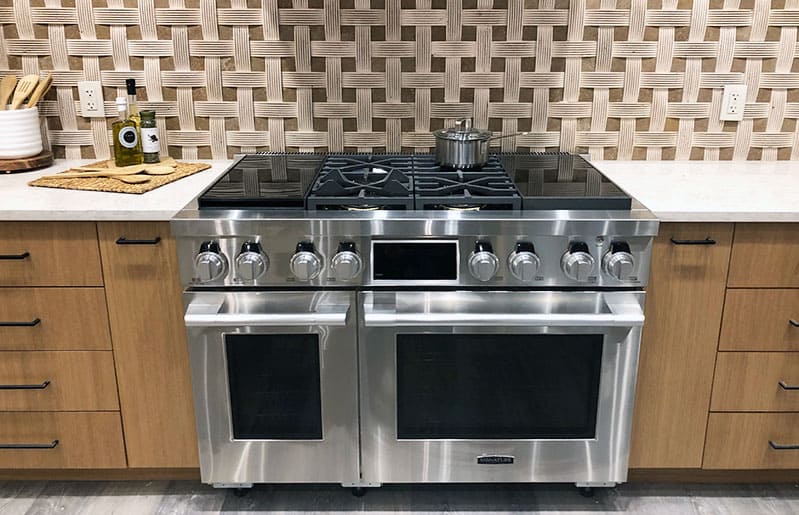 Signature Kitchen Suite (SKS) Pro Range with Induction and Sous Vide at Yale Appliance in Hanover
Thermador was the first with gas and induction burners. Now SKS and Fisher & Paykel have followed suit.
Induction is a faster burner than a gas burner, but with gas, you have other options for your cooktop like grills and griddles.
SKS will have a 36-inch with a Sous Vide compartment, pro-gas, and induction. It will only require a 385 CFM hood. So you do not need to account for Make-Up Air.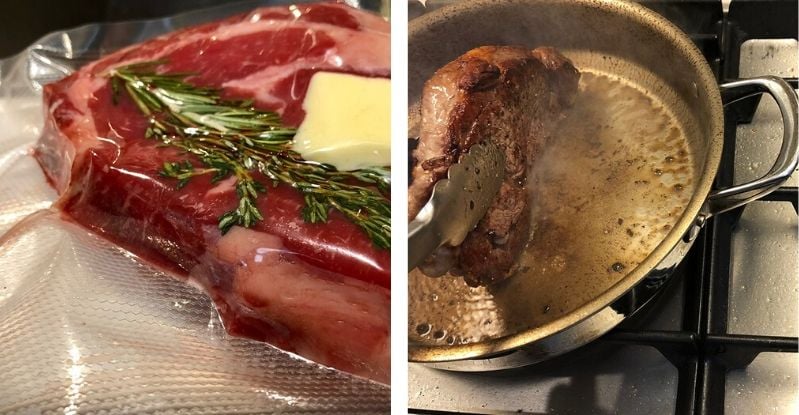 Sous Vide Steak Before and After Photos from Demo by Yale Appliance Chef Saba Wahid
If you do not know what Make-Up Air is and you live in Mass, read this now:
Click here to learn about what Make-Up Air is and what hoods are the best for Make-Up Air.
Congrats, if you read it, you saved money and aggravation.
8. Café Modern Glass Collection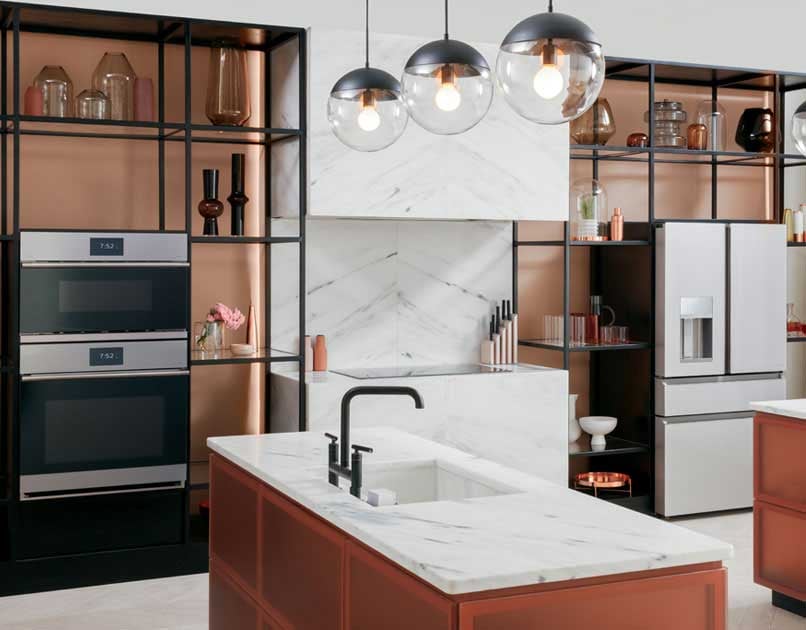 Last year, Café Appliances by GE was featured with customizable finishes and GE's professional line.
This year it is the opposite. This line distinguishes itself with minimalist, good looks. The appliances are mirrored. You can tell they thought about the details.
9. True Refrigerators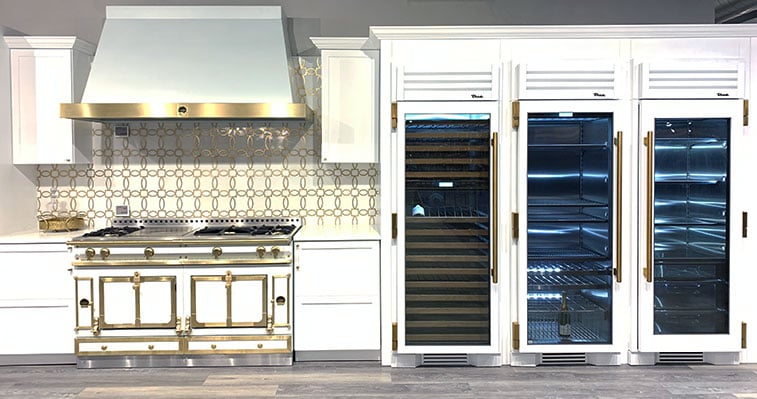 True Column Refrigeration Alongside a LA Cornue Range at Yale Appliance in Hanover
You can customize almost every facet of your refrigerator, including colors internally and externally with these.
10. BlueStar Salamander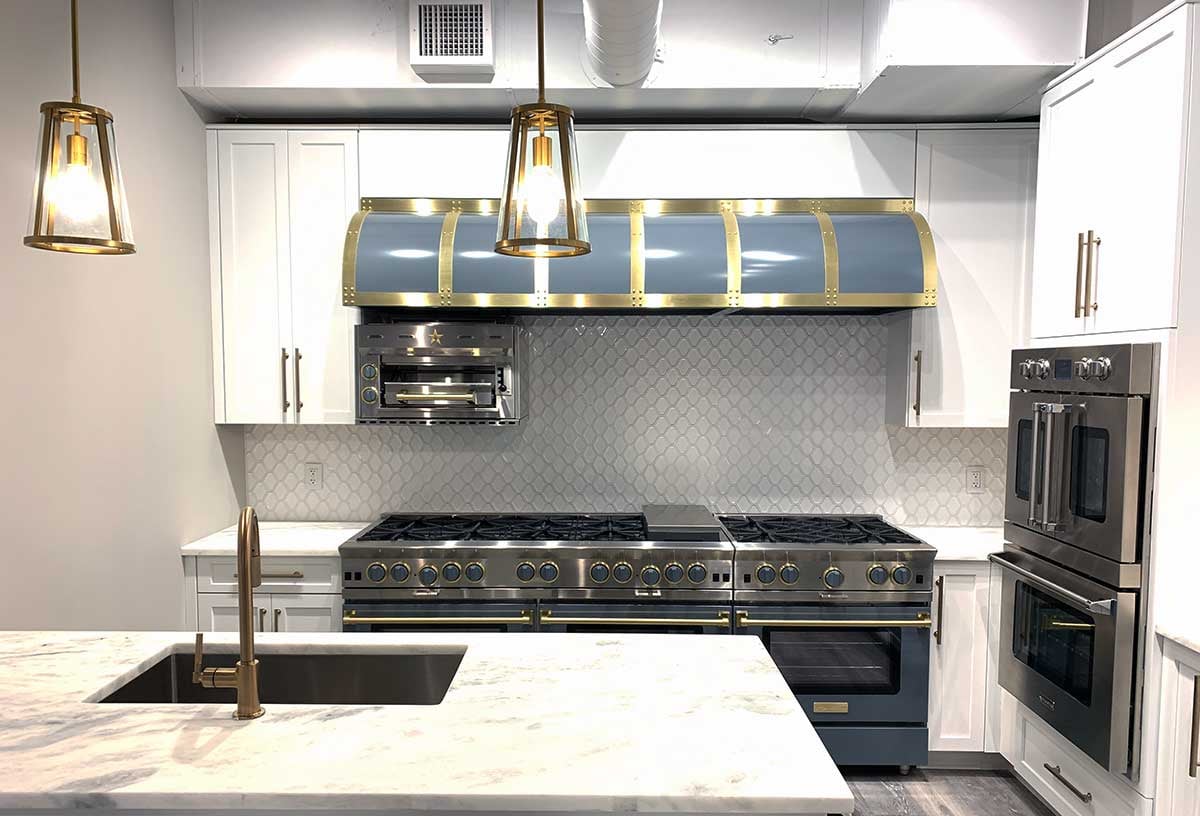 I was at a restaurant (Gallaghers in NYC). Everyone had crème brulee except for me. They caramelize the top in a salamander. You can also sear meats quickly in these broilers.
If you like to custom broil, then consider a salamander.
Just make sure you vent properly.
4 Honorable Mention Kitchen Ideas
1. Bosch Dishwashers With CrystalDry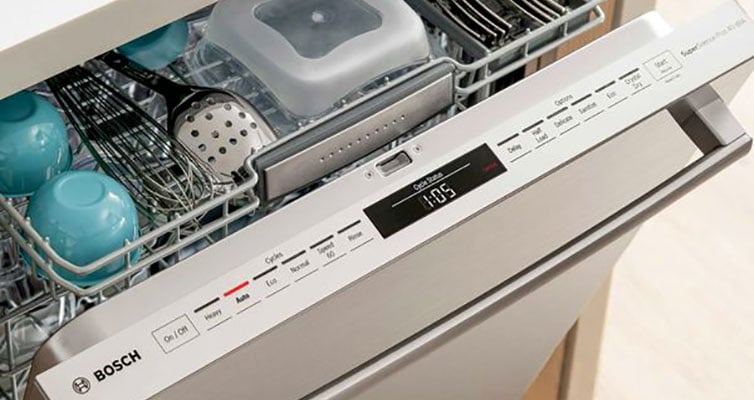 Bosch could have been number 1 this year, but a similar Thermador dishwasher was on this list last year at a higher price. You should consider these dishwashers from Thermador and Bosch because they will dry your dishes, even plasticware, completely. It does so by using a volcanic element called Zeolite.
Short on time? Get our free Appliance Buying Guide
2. Samsung StormWash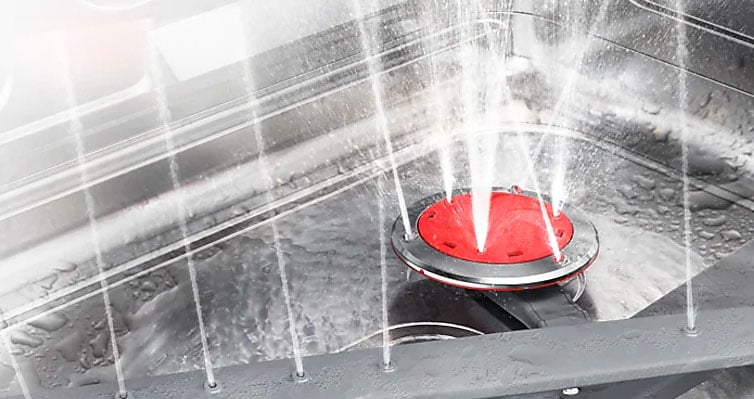 For $499, you have a dishwasher with concentrated wash jets for baked-on dishes. It pops open at the end of the cycle to speed up the drying process now at a lower price.
3. Appliance Colors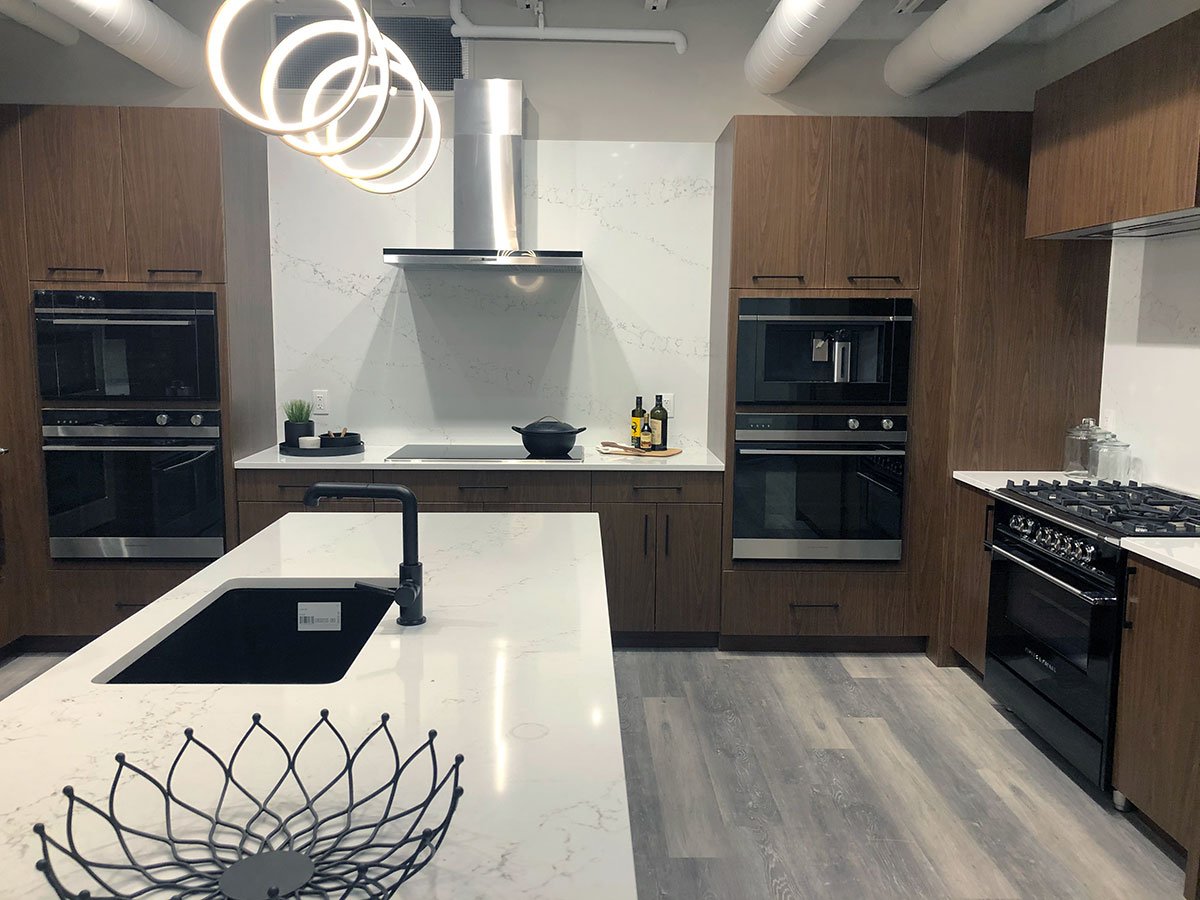 Fisher & Paykel Kitchen featuring Custom Color Slide-In Range at Yale Appliance in Hanover
Colors aren't new, but there are now more available than ever. Fisher & Paykel has a few, La Cornue has many, GE has five (with only two you should consider), and BlueStar has 750 plus 8 different trim and knob combinations.
In my opinion, a shot of color is better than basing your whole kitchen on color matching appliances.
You can read a whole blog post dedicated to the application of color.
Then again, I am the guy with a stainless steel kitchen, so do what you like.
4. Wi-Fi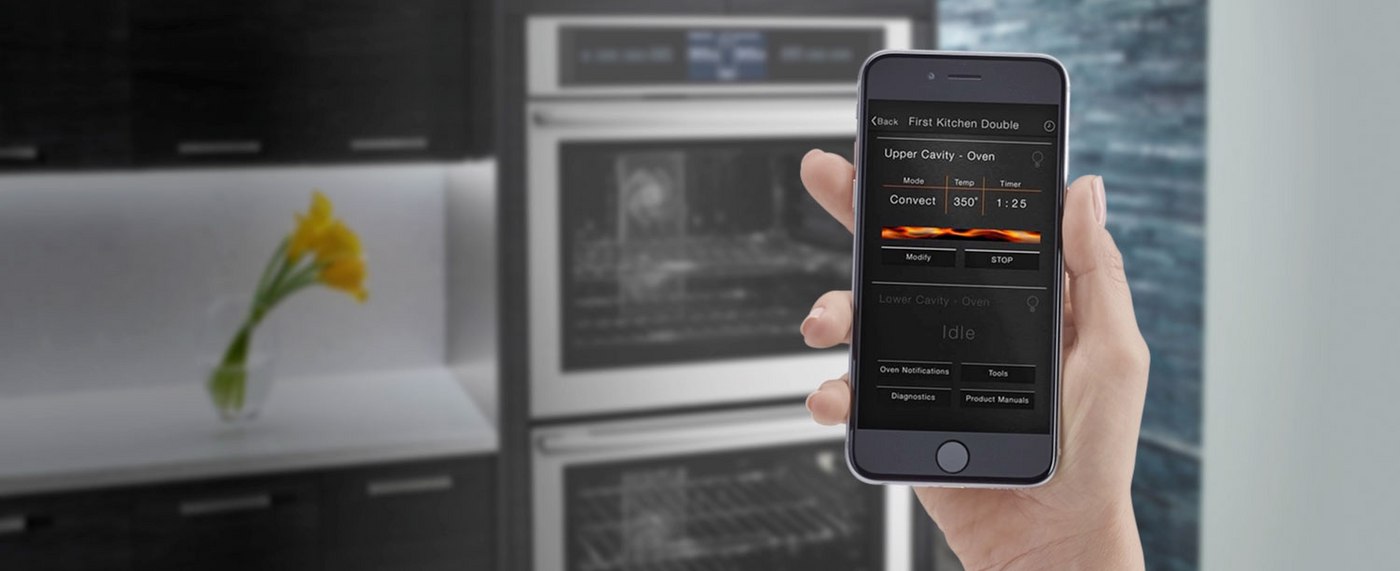 GE, LG, Samsung, Bosch, and Jenn-Air are Wi-Fi enabled. I wrote about Wi-Fi last year, but it has improved since then.
Final Thoughts
So there are some new avenues for you to explore. If you're looking to broil better, wash better, dry better, or simply have something different than stainless, there are plenty of great options for 2020.
However, before you buy any new appliances, make sure there is someone competent to fix it.
It's all good fun until it breaks, and appliances do break.
In my opinion, you should shop for service as hard as price and installation because you will invariably need it.
Additional Resources
Read the Yale Appliance Buying Guide with features, specs, and answers to the 10 most asked questions when buying appliances. The guide includes pictures and full descriptions. Well over 620,000 people have read a Yale Guide.
Related Articles:
Why Should You Trust Us?
It seems that every appliance review has nothing but glowing comments about almost every product, yet you read customer reviews and they are almost universally bad.
We are here to fill in the disconnect. We'll give you the best features, and the drawbacks as well, including reliability based on over 37,000 calls performed by our service team just last year. Our goal is to give you ALL the information so you know what's right for you.
Please consider subscribing or adding to the conversation in the comments below. We appreciate you stopping by.
A Note About Pricing
Pricing on this blog is for reference only and may include time sensitive rebates. We make every attempt to provide accurate pricing at time of publishing. Please call the stores for most accurate price.