New Jenn-Air Wi-Fi Wall Oven Review
Editor's Note: Nicole is our company chef. Her job is to test products and communicate with you. If you want to learn about steam, speed, induction or convection cooking, sign up for one her classes. She is a graduate of Johnson & Wales University and is a specialist in gluten free and vegetarian cooking.
When I first began with Yale, Jenn-Air was not my favorite manufacturer. However, the more I've used their appliances, the more I've started to gain appreciation for them.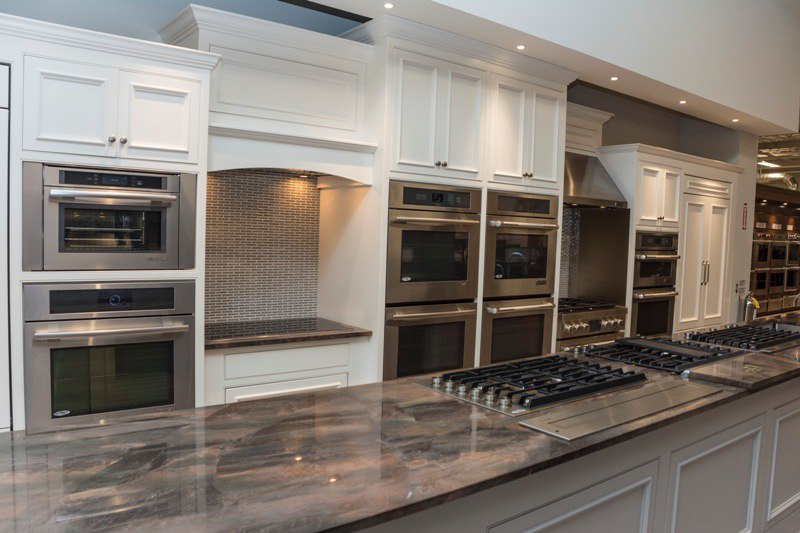 But what really sealed the deal for me was the convection oven experiment I conducted in our Framingham showroom. After compiling all of my research, the Jenn-Air® V2™ convection wall oven was one of the best performing ovens in the experiment. Read Best Convection Wall Ovens.
Most of you will (and should) consider Wolf, Miele and Thermador. Jenn-Air is at least their equal. So let's look at some features and pros and cons.
Short on time? Get our free Wall Oven Buying Guide
Features:
10 Cu. Ft. Oven Capacity
Wi-Fi Connectivity
Culinary Center, My Creations, No-Preheat Mode
2 interior lights, plus Chef's Light
Auto Convection Conversion
Full color 7"LCD touch screen
Telescoping glide rack
Soft-close door with panoramic window
Flush Install
Size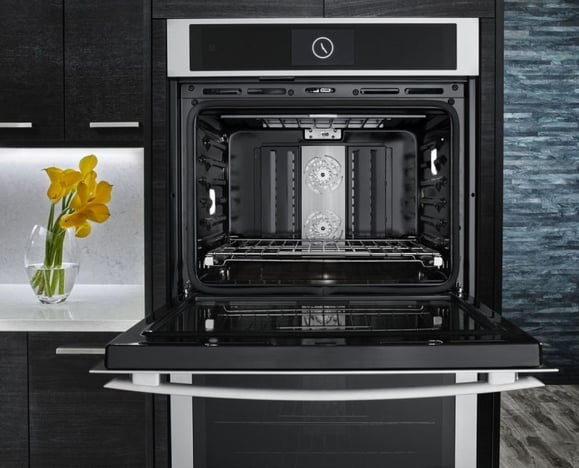 If you are not familiar with the Jenn-Air V2 wall oven, it's the most recent addition to their line. This oven offers 5.0 cubic feet of oven capacity; for a double oven, that's 10.0 cubic feet combined!
LCD Screen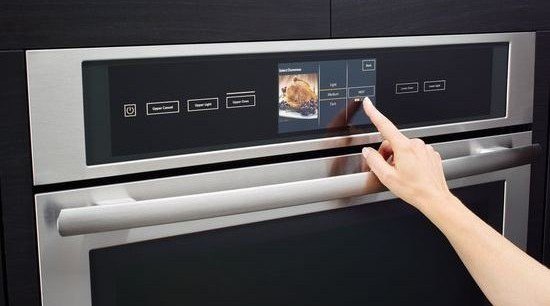 All controls operate from a 7" LCD touch screen. Aside from the standard modes of bake, broil, roast and convection, the V2 has some additional features that make it special: No-preheat mode, the Culinary Center, My Creations, and Wi-Fi connectivity.
Dual Convection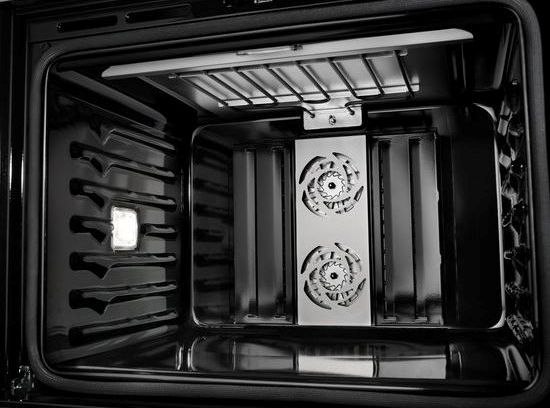 It offers a dual fan convection system with vertically placed fans in the center of the oven. The fans are made of stainless steel and treated with Jenn-Air's signature Dura-Finish, an enamel coating that's resistant to staining and scratching for up to ten years.
No Preheat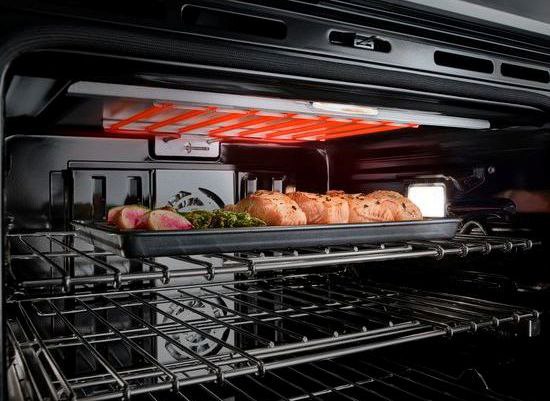 Each fan has its own Cal-rod heating element at 3,400W, resulting in 6,800W total, and that's just for the convection system alone. Combine this heat with its 4,000W broiler and a 2,800W bake element and you can see why they have a "No-preheat" function. The power of intense heat allows the oven to preheat quickly.
Culinary Center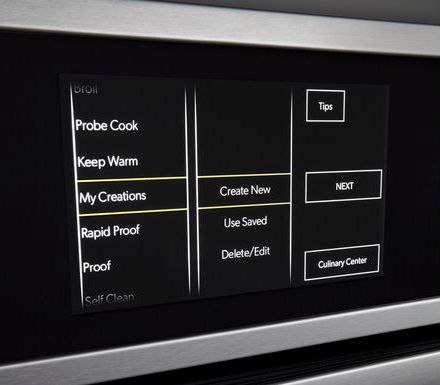 The Culinary Center is one of Jenn-Air's biggest features. Other competitors have similar programs such as Wolf's "Gourmet" mode and Miele's "Master Chef" program, however, none offer the detail and full color HD images that Jenn-Air does. The Culinary Center customizes your cooking cycle based on what you are cooking, how you're cooking it and what you're cooking on.
This program will help you determine levels of doneness by providing full color pictures. It also makes adjustments depending on the type of pan used and offers cooking tips to provide optimal results. Just when you thought it couldn't get any better, the My Creations feature offers staged cooking. It allows you the ability to store up to 25 of your favorite recipes.
Watch the Jenn-Air Culinary Center in action here:
Wi-Fi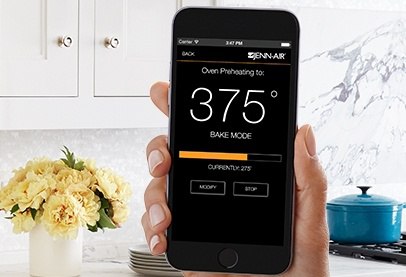 The icing on the cake is the WiFi connectivity. It exceeds the capacity of Dacor, the first company to grace the market with appliances outfitted with Wi-Fi.
By connecting with Wi-Fi, Jenn-Air's remote start option allows you to check oven status and configure oven features without being in the kitchen. In the near future, this feature will allow for service diagnostics to be sent to headquarters; the oven can essentially tell service techs what's wrong if you ever experience an issue.
The Wi-Fi connectivity option is not mandatory, you don't have to connect, but does allow up to 5 devices to connect providing that all devices are iOS or Android.
Pros
This has become one of my favorite ovens to bake in because the convection system is very efficient. I also like the Culinary Center because of its accuracy which can be beneficial to less adventurous cooks.
You may be asking yourself why a trained professional chef needs to use a Culinary Center program.I like to test theories and to be able to provide feedback- "Does the oven do what it says it's going to do?", "Is this medium-rare roast really going to come out medium-rare, that is, will it match the picture?"
The Wi-Fi feature is pretty impressive. Just think, when you're having a dinner party and you're sitting outside on the patio with guests enjoying cocktails, you could succumb to a buzzing alarm denoting that your prime rib is done, jump up and go tend to it or, pull out your phone, reset the oven to 'keep warm' mode, pour yourself another drink and enjoy the company of your guests a bit longer.
Some of the smaller features that I favor (which I did not touch upon) are the panoramic window and the Chef's light. Jenn-Air slimmed down the stainless steel trim around the oven to create a panoramic window which allows more visibility without having to open the oven door.
There is also no perforated film within the window that tends to darken the visibility. The "chef's light" is a nice touch as well. This light is located at the top in the middle, right in front, again, allowing better visibility without having to open the oven door.
Cons
As far as cons, well, they're slim. A trip to Whirlpool headquarters in Chicago validated my concerns about Wi-Fi connectivity. Since you're connected to the internet, your oven can get hacked. Although, upon setting up the connection, no personal information is required, so the issue isn't as grave as it sounds.
It is possible, but also not easy, to remove devices from the oven once connected, a negative feature, if you're planning to sell your house. Finally, I'm not a big fan of the no pre-heat mode. Its efficacy falters with pastries and baked goods, again validated by my fellow associates at Jenn-Air.
As I said in the beginning, Jenn-Air cooks extremely well and should be considered along with Wolf, Thermador and Miele.
Additional Resources
Want to learn more on Wall Ovens? Get the Yale Wall Oven Buying Guide with specs, features and detailed profiles of all the major brands. Well over 160,000 people have downloaded a Yale Guide.

Related Articles
Nicole Parmenter
Nicole Parmenter is our resident Chef at Yale Appliance + Lighting; she has multiple culinary degrees and is an appliance expert. Chef Nicole can teach you how to use your new appliances and give you tips, recipes and honest opinions on products.

Schedule a showroom visit with me
A Note About Pricing
Pricing on this blog is for reference only and may include time sensitive rebates. We make every attempt to provide accurate pricing at time of publishing. Please call the stores for most accurate price.