Best Integrated Column Refrigerators and Freezers (Reviews/Prices)
First, columns are all refrigerator or all freezer as opposed to a unit with both. We have an article about integrated refrigerators and freezers. You can access it here.
Unlike refrigerator and freezers, there are only a few decent columns in the market. In fact, the industry is dominated by Sub-Zero and Thermador. We will look at both, but first, you should know the difference between an integrated and counter depth refrigerator.
Integrated vs. Counter Depth

Integrated fits within the cabinet whereas the door on the counter depth will protrude. Integrated is better with cabinet fronts because it just blends in and is indistinguishable.
Short on time? Get our free Counter Depth Refrigerator Buying Guide
Let's look at some brands.
Sub-Zero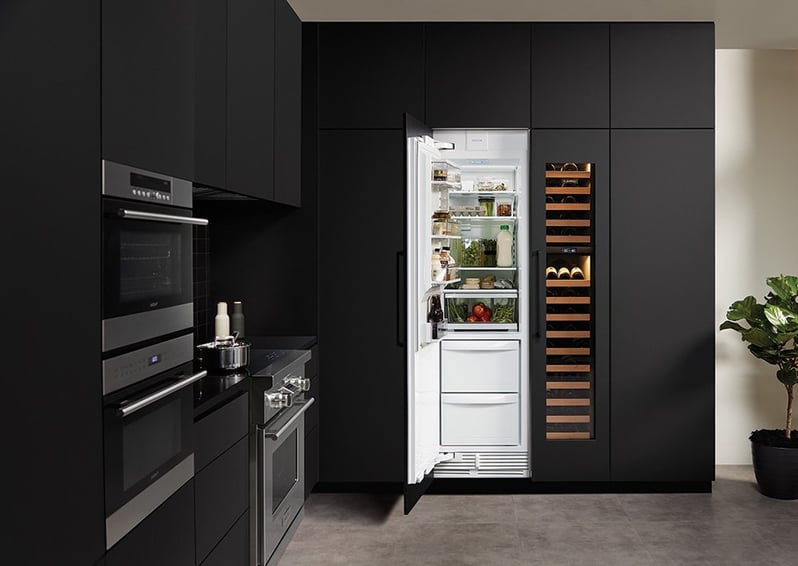 Refrigerator Columns
IC-36R - $7,340 / IC-30R - $6,930 / IC-24R - $6,540
Freezer Columns
IC-36F - $7,630 / IC-30F - $7,040 / IC-24F - $6,700 / IC-18F - $6,300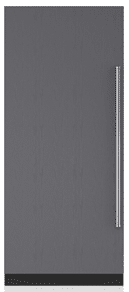 Features:
Air Purification Scrubber
Nano coated spill proof shelving
Led lighting
Soft closes drawers
Magnetic door seal
Sub-Zero has been producing built-in refrigeration since the 1950s right here in America. The unit is designed to keep food fresher for a longer period of time with the best temperature control system and vacuum seal to keep air in or out of the refrigerator.
They have also incorporated some really proprietary features in their fridge including their air scrubber. This removes ethylene gas, which causes fresh foods to spoil, along with helping to remove odors in the fridge.
You will like the Nano-technology shelving because it congeals the spills. (Cleaning a major spill in a refrigerator seemingly takes years).
Thermador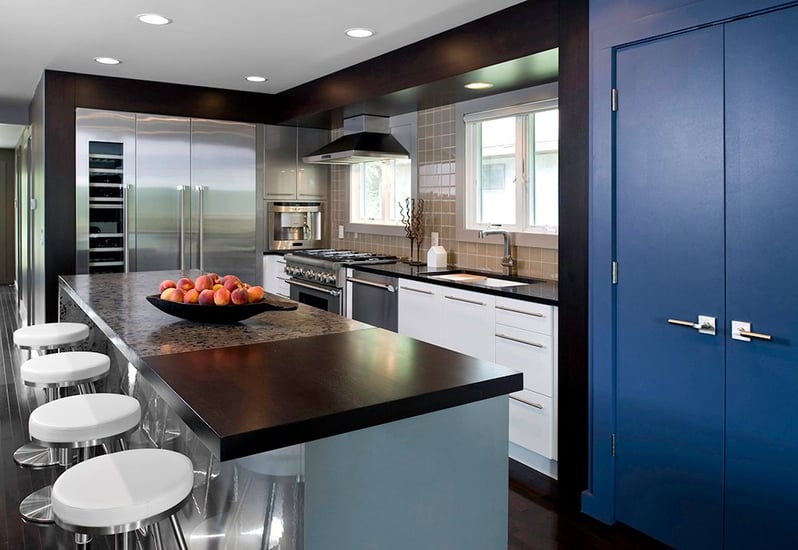 Refrigerators
T36IR900SP - $7,249 / T30IR900SP - $6,249 / T24IR900SP - $5,649
Freezers
T36IF900SP - $7,049 / T30IF900SP - $6,249 / T24IF900SP - $5,649 / T18IF900SP - $5,199
Features:
Freedom Hinge
Open Door Assist
Delicate Produce Bins
Carbon Air Filter
Thermafresh System
Ramp up lighting
Thermador has revamped their refrigeration line with lots of upgrades. Their door is especially noteworthy as the bins are customizable. The metal door does a better job of absorbing cold to keep milk and juices cooler.
Their digital controls are the most robust and have many different settings and functions along with a climate control bins.
Thermador Freedom Refrigerator
Thanks for reporting a problem. We'll attach technical data about this session to help us figure out the issue. Which of these best describes the problem?
Any other details or context?
message
Miele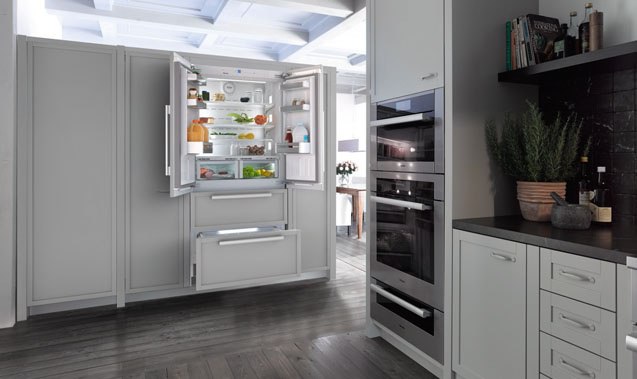 Refrigerators
K1903VI - $6,899 / K1803VI - $6,599
Freezers
F1913VI - $7,099 / F1803VI - $6,899 / F1413FI - $5,749
Features:
Rapid Cool/Freeze
Clear View Lighting
Remote vision capable
Dynamic Cooling
Humidity controlled crisper drawers
Miele and Thermador are both made in the same Turkish plant. Miele has better crispers and more intense lighting. They also have the RemoteVision, which monitors your refrigeration for repairs.
Brands to Consider at a Later Date
Dacor
Dacor's stainless steel interior is the most hygienic and absorbs cold air better. It has cameras on the inside so you can check your refrigerator while grocery shopping. Dacor is now owned by Samsung. You will see a ton of innovation in the future.
Viking
Features are not a problem with Viking. It has very good controls, filters, and door. However, reliability is a nagging problem for this brand. They could still be great with some better engineering.
Which Do You Buy
The Dacor will be interesting in a few years, but Sub-Zero and Thermador are still far ahead of the rest. Miele (and Gaggenau) are the same box, so promotions and rebates should help you decide.
Additional Resources
Download the Yale Refrigerator Buying Guide with features, specs, and inside buying tips for refrigerators. Well over 240,000 people have read a Yale Guide.

Related Articles:
Eric Trexler
Eric is an Appliance Sales Consultant at Yale Appliance and Lighting. Eric came to sales from the custom installation department and has expert insight on what happens behind the scenes. He is devoted to making sure every customer has the best experience that Yale has to offer. Eric grew up in Maine and loves the outdoors, from fishing to dirt biking.
A Note About Pricing
Pricing on this blog is for reference only and may include time sensitive rebates. We make every attempt to provide accurate pricing at time of publishing. Please call the stores for most accurate price.