The Samsung Chef Collection Professional Gas Range NX58M9960PM (Reviews/Ratings)
After becoming the number 1 brand in the US for commodity and affordable luxury appliances, Samsung has entered the more upscale market with its Chef Collection. From the collection, Samsung's new professional range has some appealing features. Others Not so much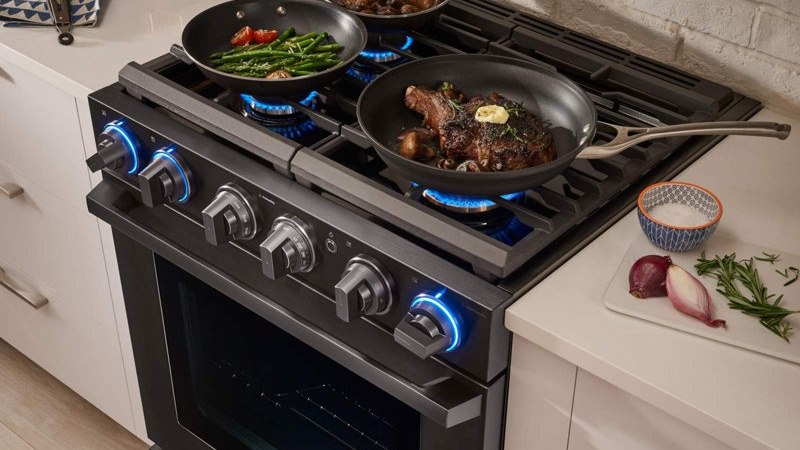 In this article, you will learn about the origin of Samsung's Chef Collection and the attributes of their new professional range.
Then we will compare Samsung's range versus other pro ranges from Wolf, BlueStar, Thermador, Jenn-Air, and Miele.
First, we will start with Samsung's Chef Collection.
The Origin of Samsung's Chef Collection
Samsung's Chef Collection is their new professional appliance line with chef-inspired features. You could say their new line of appliances may have also been inspired by Dacor's Modernist line.
Less than 2 years ago, they purchased Dacor, a US-based family-owned company. Dacor was under capitalized but had decent professional and built-in appliances. In other words, they had an entirely complimentary portfolio and technology pedigree to Samsung.
Samsung relaunched the Dacor Modernist line. Take a look at Dacor's Modernist range: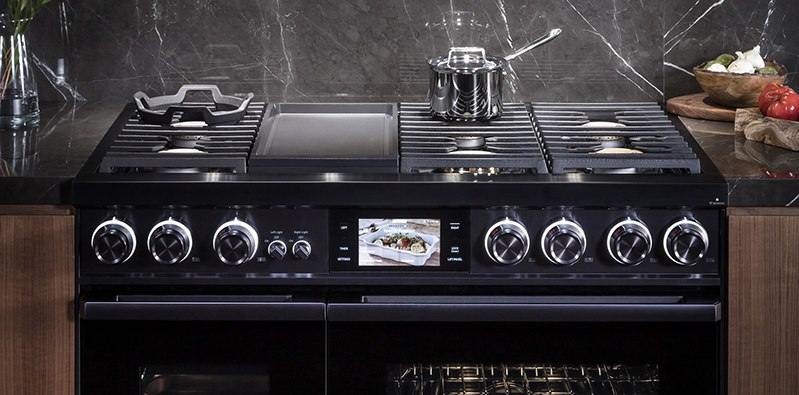 It's identical looking to the new Samsung Chef Pro Collection range except for the steam technology and its size. The Samsung NX58M996PM is only available in 30 inches. Dacor is only currently available in 36 and 48 inches
Now, let's look at the new Samsung Chef Collection Pro Range.
The Samsung NX58M9960PM Review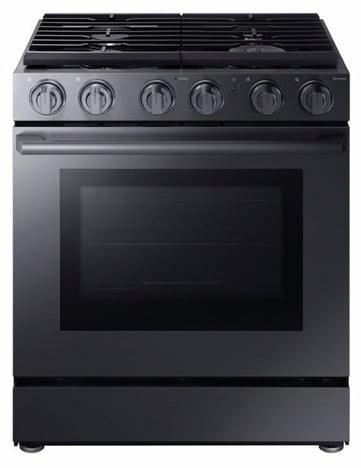 Features:
Dual Convection

Blue LED Illuminated Knobs

22k Dual Power Burner

Bluetooth Connected

Fingerprint Resistant Finish

Soft Close Door

Gliding Rack

Wi-Fi Enabled
Key Features of the Samsung NX58M9960PM
Samsung has always produced an aesthetically beautiful product. The Samsung Chef Collection range is no exception.
The finish is visually appealing. It is black matte instead of stainless steel. Only Viking and BlueStar offer colors in a professional range.
The only downside is most matte finishes can scratch revealing the shiny stainless-steel underneath.
I never write about knobs, but the light up blue knobs are beautiful. You want to turn this range on to use as a nightlight.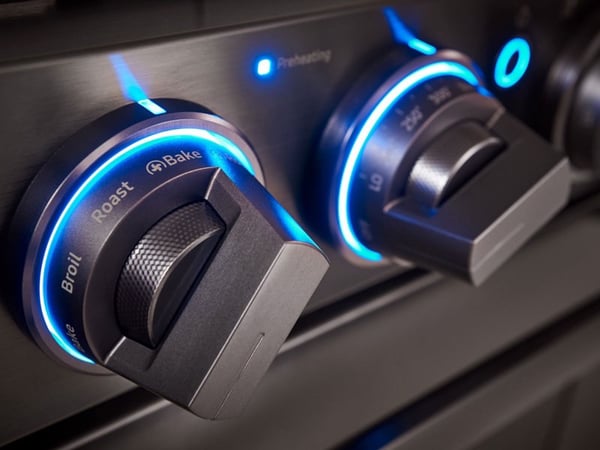 Samsung Chef Collection Knobs
Of all the pro ranges, Samsung is the only Wi-Fi enabled product (Jenn-Air will have theirs in August). The functionality is mostly for monitoring.
It does have a cool Bluetooth interface and will automatically activate your Samsung hood when in use.
Cooking Surface
The top is powerful with a 22,000 BTU unit as well as two 15,000 BTU and a 5,000 BTU burner. 22,000 BTUs is hot and only BlueStar and Capital are hotter at 25,000 BTU with open, not sealed burners.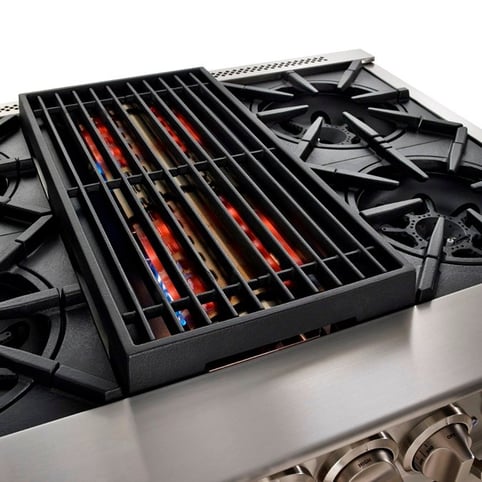 BlueStar PrimaNova Burners
The total BTU is a bit less than Jenn-Air with two 20,000 BTU burners, a 15,000 BTU and 5,000 BTU simmer.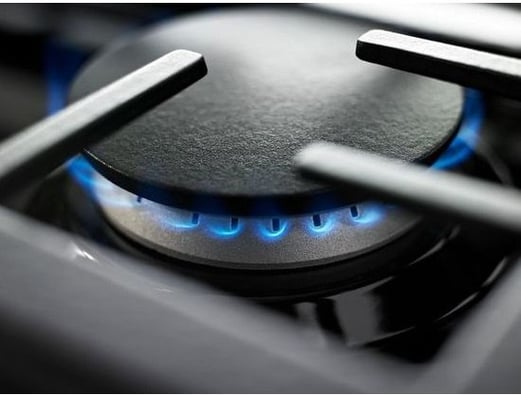 Jenn-Air Burners
Simmer
I cannot find any detailed information on the simmer of this unit. However, with a 5,000 BTU burner, I would assume, it has a 500 BTU simmer.
Wolf has a three-stage simmer burner of 500 on three burners. Thermador has their 100 BTU intermittent simmer on two of their burners.
Oven
Samsung employs a two-fan system for dual convection. Most twin convection fans are side-by-side like Miele, Jenn-Air, and the Wolf dual fuel convection ranges.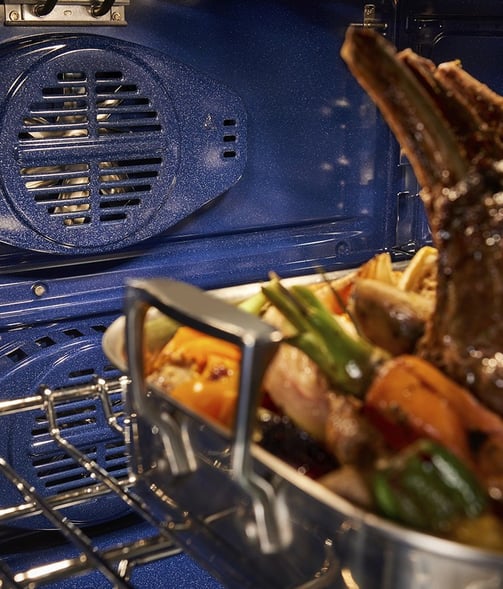 Samsung Chef Collection Dual Convection
Miele Dual Convection Oven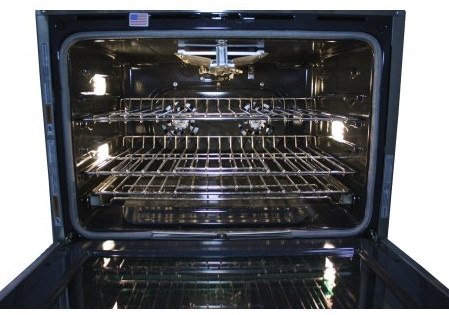 Jenn-Air Dual Convection Oven
This range is similar to their Duo Flex oven. In that model, you can place a divider to convection cook two different items at the same time.
The Chef Collection does not have that capability (yet).
Samsung calls their oven "True Convection" which would indicate air is blown from the back rather than the bottom of the range. I am skeptical because only BlueStar and SKS have that functionality.
Narrow down Pro Range options with our free tool
Broiler
This is odd. On Dacors' less expensive Heritage ranges, infrared burners are standard. The Chef collection range is a regular ceramic broiler.
Infrared broilers are a direct heat source and sear way better. Ceramics spread the heat out into the air and not onto your food as well.
Sear burners on high-end grills are all infrared burners as an example.
BlueStar has an unbelievable hot, effective infrared at 1800 degrees. Wolf, Jenn-Air, and Thermador all have infrared as well.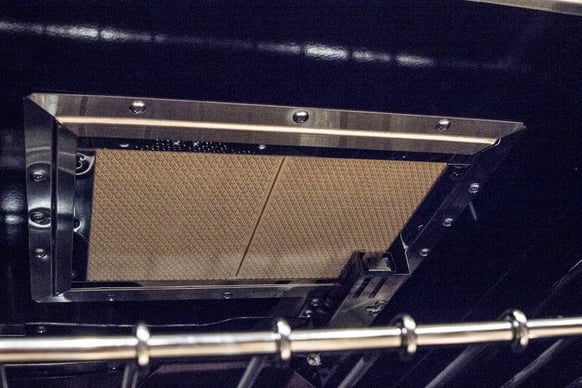 BlueStar Broiler
Ceramic, in this case, is not as good.
Self-Cleaning
You would think almost every range would be self-cleaning after the year 2000. However, Samsung, Miele, Jenn-Air, and the Thermador Harmony are the only companies offering self-cleaning in a professional all gas range. It is more common in dual fuel ranges.
Hard to believe.
Is Samsung a Reliable Company?
Based on our 30,761 service calls logged in 2017, Samsung is reliable compared to most competitive brands.
Here is the breakdown of our sold Samsung Appliances and the number serviced within the first year for 2017.
2,449 Sold | 267 Serviced - 10.9%
It is the number 7 most reliable product line despite selling highly serviced, technical products like refrigerators.
Most of the other more reliable companies sell less serviced categories like dishwashers or laundry.
The brand is reliable. However, there can be a lack of service when there are issues depending on where you buy this range.
You would expect concierge service with higher brands but with Samsung, their explosive growth has strained their ability to fix problems.
You should investigate who will be fixing your Samsung appliances or any other range before you buy one.
Should You Buy the Samsung Gas Professional Pro Range?
First, you have to admire a company debuting this caliber product after less than two years. The speed of development is incredible. Most companies have a 5-10-year product development cycle.
There is a ton to like in this product.
Visually it is spectacular. The finish and the knobs are the best looking in the market. You will see their Wi-Fi technology evolve to be more functional.
However, the rest of the range is decent, but not overwhelmingly compelling. It also depends on how you cook.
At $4,299 with self-cleaning, the only truly comparable range is Jenn-Air at $3,999 with a free dishwasher. Thermador has a better simmer, but no self-cleaning at $4,049 with a free dishwasher.
BlueStar Platinum has more power, a better broiler and pure convection for more money at $6,195. Samsung has a more powerful cooking surface than Wolf with self-cleaning whereas Wolf has better broiling and a better simmer.
Another intangible is product service. Responding to issues is the Achilles Heel of the high-end appliance product category.
You should know who will be fixing this range (or any other range) before you buy.
Overall, the Samsung Chef Collection Pro Range is a great first attempt in this category. It is good but not the best at every function. There are other products to consider especially in broiling and simmering.
Without question, Samsung will be great in the near future.
Additional Resources
Download our Appliance Buying Guide with features, specs and inside buying tips to every major brand. Well over 330,000 people have read a Yale Guide.

Related Articles:
Steve Sheinkopf
My goal has always been simple: I want Yale to be the best retail experience anywhere. I have tried to create a compelling environment for customers and employees alike.
A Note About Pricing
Pricing on this blog is for reference only and may include time sensitive rebates. We make every attempt to provide accurate pricing at time of publishing. Please call the stores for most accurate price.