The Bond Home Smart Wi-Fi Hub for Ceiling Fans (Reviews / Ratings / Prices)
I must preface from the start that it is so ironic that the least techy person in the Yale family of employees gets the topic of new technology.
So, if you are not a tech wizard like me (and our IT department will attest to this) you can use this.
In this article, I'll cover how the Bond works, but more importantly, we'll look at what it will do to make your life easier.
Even I recognize how easy the Bond is and the future of home automation by voice control.
So, let's explore together.
What is the Bond Home Smart Wi-Fi Hub?
Smart Homes, smartphones, smart cars. Everything these days are SMART. So why not ceiling fans?
Minka-Aire just released a new home automation system called the Bond Home Smart Wi-Fi Hub.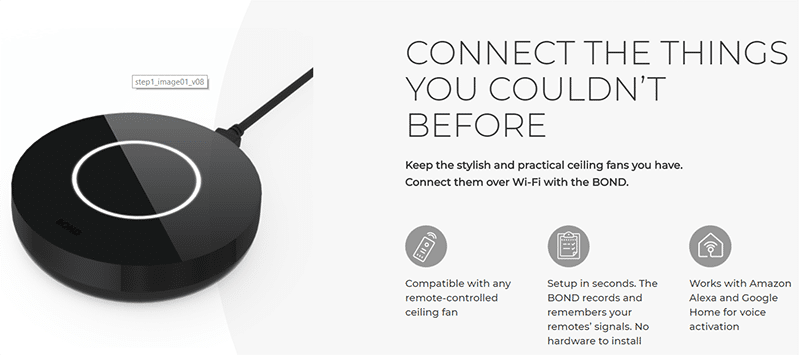 This device can control your Minka Aire ceiling fans and fan light without having to rewire or purchase a new Smart Fan. The Bond uses Wi-Fi, infrared, and radio frequency to pair and copy functions from a ceiling fan's existing remote control.
The Bond even controls fans that are not Smart Home enabled which means you don't have to purchase the newest generation fan for this technology to work. Just imagine being able to use your "Flip Phone" and do everything you now do with your smartphone.
Short on time? Get our free Appliance Buying Guide
That would and does save you a ton of money. It also gives you the ability to perform all the fan actions and use all the apps you now use without the price tag of upgrading to a new phone. Wouldn't that be a novel idea?
You do however need an Amazon Alexa or Echo or a Google Home device to interface with your hand-held remote and fan for this to work.
The Bond makes your ceiling fan "Smart" by acquiring the signal from your device's original IR or RF remote control. Our ceiling fans use either IR (infrared) or RF (radio frequency) to talk to the remote control.
Most fans use RF, but If by chance you have an IR remote control, you will need to position the Bond, so you have a clear line of sight to the fan for the Bond to operate.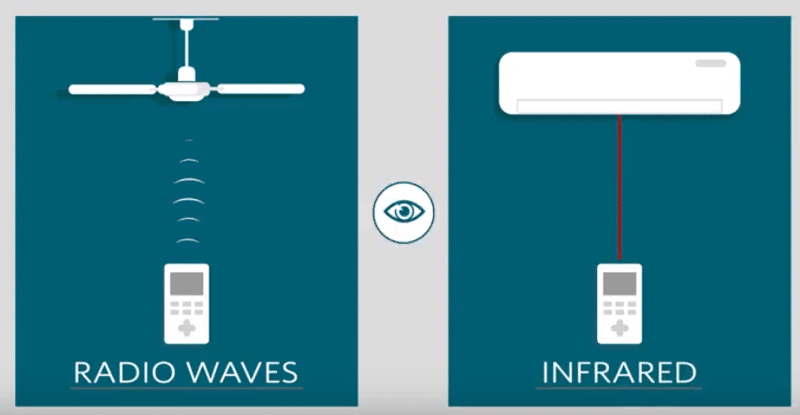 The Bond works with a Smart voice device, as I mentioned above, so you must have Amazon's Alexa or Echo, or a Google Home voice assistant to control your Smart Fan. Plus, you need to download the free Bond app available for IOS and Android devices.
Using a home product like Amazon Echo or Google Home Assistant enables you to use your smartphone or tablet to control the operation of your Minka fan at home or remotely.
How does it work?
The Bond can use either RF (radio frequency) or IR (infrared) capabilities to connect and control your fans operation. This is what allows both old and new fans to work if you have a Wi-Fi connection to the Alexa or Echo or Google Home, you are in business.
From the picture above, you can see the difference between RF + IR. Our old fans required us to point the remote straight at the fan or within the line of sight of the fan, that is radio waves.
Newer fans have the electronics in the canopy that talks to your remote via IR or Infrared, so you don't have to be within sight of your fan to perform a command with the remote.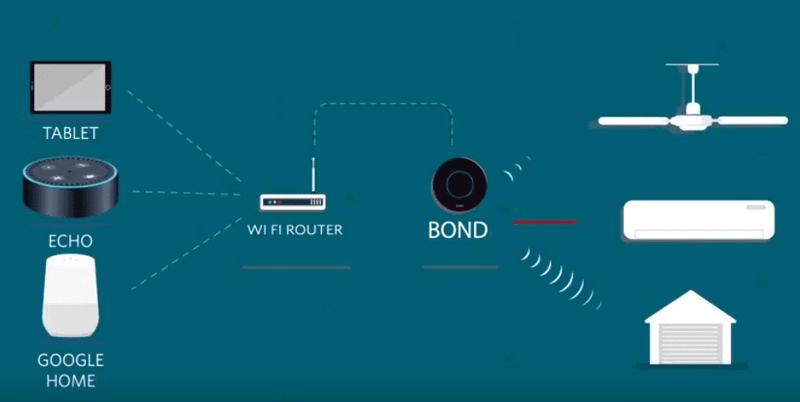 This is so useful when you have really high ceilings and you want your fan to go in the reverse direction for summer versus winter.
But the switch to change direction is 15 feet up in the air, so you never use that feature. Or, think of all those times when you just get into bed and you go to turn the fan on or off, but you forgot to bring the handheld remote with you to bed, so you have to get out of bed, find the remote, get back into bed, and so on.
What a hassle when you could have just said to your Echo, "Turn the fan on. Shut off the light." Then you could have snuggled back into your pillow and gone to sleep.
If you have a tablet or smartphone, you can control any function your fan has such as different speeds from high to low, turning the fan's lights on or off, or starting the fan before you arrive home to cool down your space.
If you forgot to turn off the fan when you left the house, just activate the app on your phone and you can remotely shut the fan off.
It sounds so easy, and it really is. This is the Bonds initial roll-out, just controlling a ceiling fan.
Soon, the Bond will be able to control all sorts of remote controlled devices and appliances for your smart home like your garage doors, air conditioners, and fireplace heaters.
If you are fortunate enough to have automatic window shades, that will be in the next roll out, too.
Setting Up the Bond from Minka Aire
Set up is simple, just simply follow the instructions provided in the package and there are easy YouTube videos available to walk you thru the steps to set this up in minutes.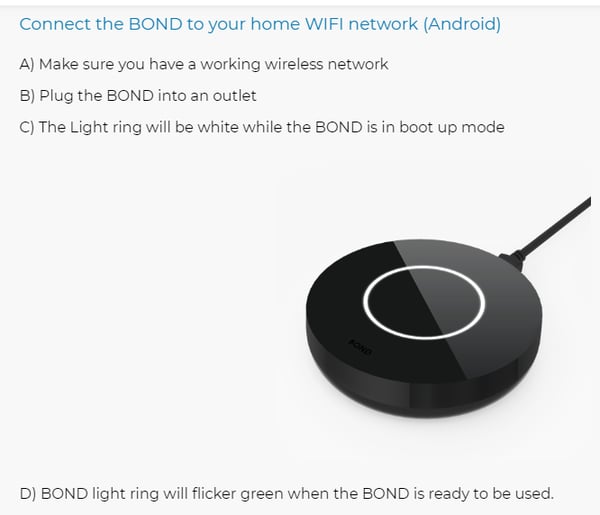 Just know that the Bond duplicates any command your remote controller can now perform. If you have the Bond, you can now put all those handheld remotes away.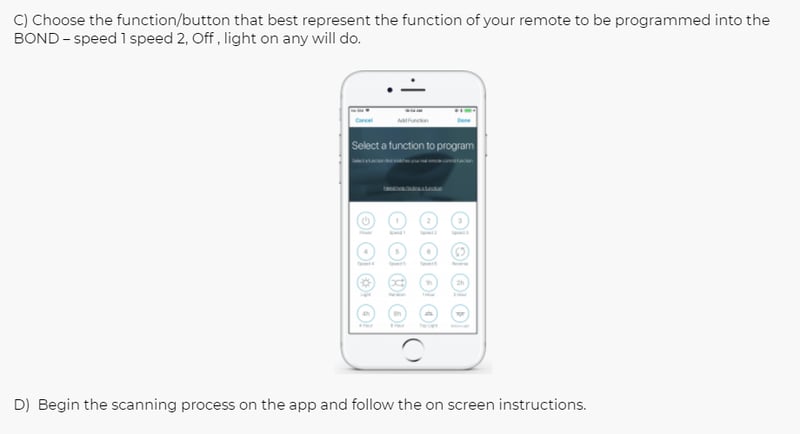 Value
The Bond is relatively inexpensive ($99.00). Your Alexa or Google Home is not included of course.
Final Thoughts
If you have spent time searching for a lost remote control like I have, then the Bond is worth the money.
When I think of all the hours I spent tearing my sofa apart or getting out of a nice warm bed to find the remote control to turn the fan light off.
You can now control your fans by your voice. I wonder what's next.
Additional Resources
Download our Appliance Buying Guide with features, specs, and inside buying tips to every major brand. Well over 335,000 people have read a Yale Guide.

Related Articles
Marsha Cook
Marsha Cook is a Lighting Consultant at Yale Appliance + Lighting in Boston. Marsha is ALA certified and has over 25 years of experience in the Lighting industry. Marsha is passionate about all aspects of lighting design. In her spare time she enjoys reading and spending time with friends and family.

Schedule a showroom visit with me
A Note About Pricing
Pricing on this blog is for reference only and may include time sensitive rebates. We make every attempt to provide accurate pricing at time of publishing. Please call the stores for most accurate price.