SKS Professional Gas Ranges (Reviews / Ratings / Prices)
Wow, this range is interesting.
If you can dream of a cooking mode or feature (go ahead), the Signature Kitchen Suite (SKS) professional range will still have more than you just imagined.
That's good.
However, whether you should buy this range is a totally different thought process. In this article, you will learn who SKS actually is as a company. Then you will read about the different types of pro ranges offered today.
You will also then look at the features and shortcomings of this SKS pro range.
SKS Professional Ranges
SKS is the premium cooking products of the giant Korean company, LG. LG is a highly advanced industrial conglomerate.
Their vision for SKS is similar to Whirlpool's vision for Jenn-Air. They want to dominate the upscale US appliance market supplanting Wolf and Thermador.
They plan on doing so with advanced functionality, which has been the weakness of American luxury brands to date.
Short on time? Get our free Pro Cooking Buying Guide
Best Professional Ranges
If you were to walk down the pro range aisles at Yale, there are three types of pro ranges to consider.
The first product category is the restaurant-style range with no functionality of a clock and timer. BlueStar tops this list with 25,000 BTU burners, and an 1,800 BTU infrared broiler.
BlueStar Burner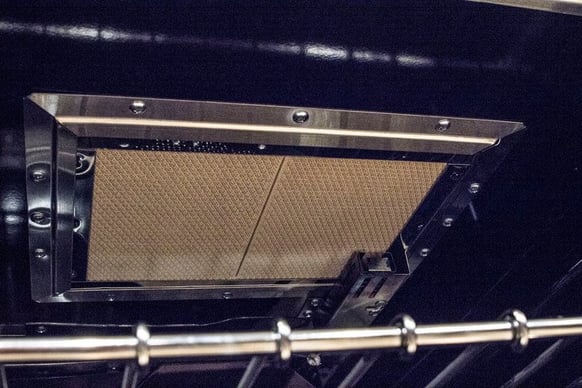 Infrared Broiler
The Wolf all gas range as well as Thermador would be in this category as well.
Then there are ranges with less power and more functionality like your range at home. Wolf dual fuel, Thermador Pro Grand, Miele all gas and Jenn-Air would be in this category. They have self-cleaning, clocks, and timers as well as other residential features.
Finally, there are the highly technical pro ranges with steam or speed functionality, Wi-Fi capability and other advanced features. It allows you to cook differently like baking bread and automatically cook different foods through guided menus.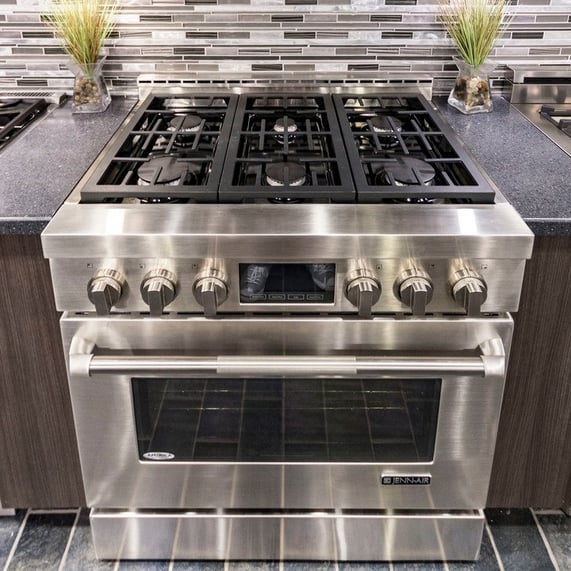 Dacor, Thermador Pro Steam and Miele dual fuel would be in this group.
Miele Dual Fuel Range
SKS would be in this category. In fact, they would be more advanced than any range in this group.
The Signature Kitchen Suite Pro Range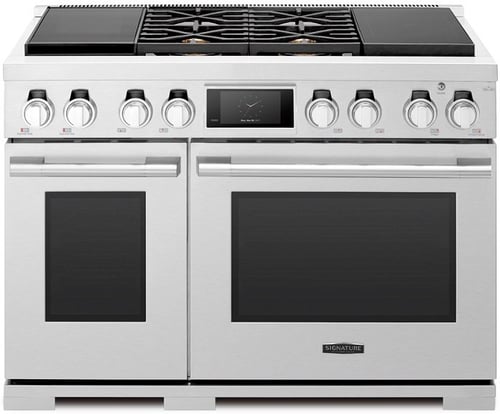 The SKS Professional Range Features: (all available in 48 inch, Some available in 36 inch).
Built-In Sous Vide
Two Ultra-High Burners - 23K BTU
Two Ultra-Low Burners - 100

°

Two Zone Induction
True Combi-Steam
Speed-Clean
Now that you have attempted to digest that laundry list. Following are the real reasons to consider a SKS range.
23,000 BTU Burners: In terms of sealed burners, that ties Viking Brigade for the highest in output. They claim a 100 BTU simmer similar to Thermador. That's a bold claim. It would need to be tested.
Chromium Griddle: It is simple to clean and keep looking clean after repeated usage. Jenn-Air is the only other company with a chromium griddle.
Induction Capability: Yes! Induction is still faster than that 23,000 BTU pro burner. Induction, like all-electric, is also the best to simmer because it can achieve the lowest temperatures. Gas flame will eventually extinguish at low temperatures.
Only French stoves, like La Cornue, have both fuel types on their cooktops and ranges.
Steam Assist: Moisture is great for hardening crusts and baking breads. Miele has the same feature in their pro ovens. It is not a steam oven, so you cannot cook in steam like the Thermador. It's an assist to a baking mode.
Guided Cooking: Wi-Fi capability, you can surf the web on your range and store recipes like the newish Dacor (owned by Samsung BTW).

Bill Lange: Who is Bill? Bill Lange is the service manager and by far the best in this industry. He was tasked with the Concierge Service program of SKS. He will get it done eventually.
You have a 3-year warranty with SKS plus a 5-day repair or replace guarantee along with a 2-hour service window. That's very bold and unique to this brand. More about that later.
As you can see SKS combines the best features of other ranges to this point. Now for the truly proprietary feature: Sous Vide.
What is Sous Vide?
Sous Vide means under vacuum in French and is a new type of cooking you will be seeing.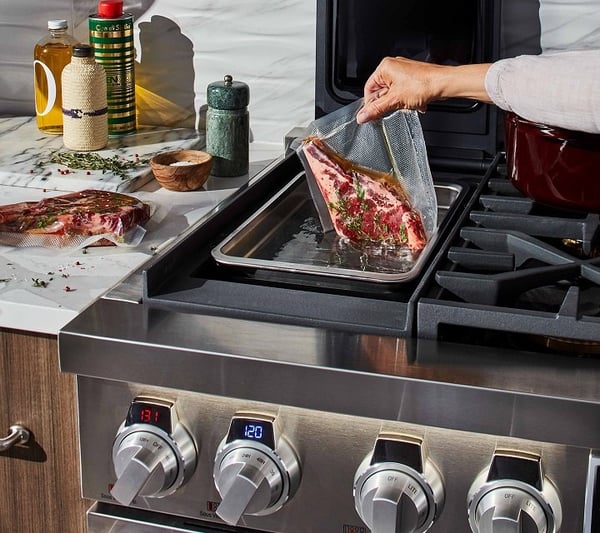 Sous Vide
Here is how it works:
You vacuum seal your steak in a bag and cook it by water immersion. Sous Vide relies on internal temperature rather than time. The food is more flavorful in Sous Vide than any other cooking mode and the easiest to program.
A few years ago I Sous Vide' salmon in a dishwasher. The fish was delicious.
SKS Professional Range Problems
No Grill: I do not see this as a big problem. Grills are tough to properly ventilate anyway.
Guided Cooking: Some work, others do not. The Miele MasterChef is excellent and will walk you through a meal. Samsung has a great interface and pictures of food but that is about all. You are not guided anywhere to cook that lemon chicken in the picture (perhaps they have improved).
Bill Lange: He may be the best, but he is not a magician. Two-hour service and Uber functionality of seeing our trucks on the road was a 3-year project for us. Offering this level of service with an incomplete network will be a problem for the near 1-4 year future.
Should You Buy the SKS Pro?
You would have to see it actually work first. We will power ours shortly.
Many of these claims must be validated. If it simmers, steams and cooks as advertised, then you should absolutely consider this range.
Somehow, I have my doubts because first generation products need to time to be perfected.
However, LG along with Samsung is much larger than their competitors with far more resources. If they stay committed to building a great product, it will certainly be one of the best in the future.
Additional Resources
Want to learn more about the latest gas ranges and technology? Read the Yale Pro Cooking Buying Guide with features, specs and detailed profiles of every major brand. Well over 350,000 people have downloaded a Yale Guide.

Related Articles
Steve Sheinkopf
My goal has always been simple: I want Yale to be the best retail experience anywhere. I have tried to create a compelling environment for customers and employees alike.
A Note About Pricing
Pricing on this blog is for reference only and may include time sensitive rebates. We make every attempt to provide accurate pricing at time of publishing. Please call the stores for most accurate price.