Electrolux vs. Samsung Induction Ranges (Reviews/Pricing/Ratings)
Electrolux was the first to the market with a modern, feature packed induction slide-in. They just refined it. However, Samsung has developed a super new product over the last few years.
This is an interesting comparison between two very good and new, upscale cooking products. The right one for your house depends on a few different factors. Before we look more closely at the two ranges, let's talk about induction cooking.
Basics of Induction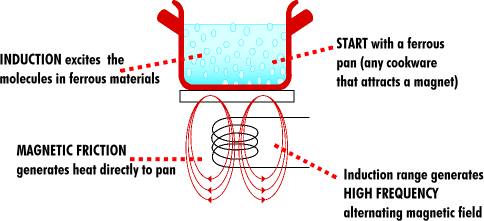 Induction uses magnets to excite the molecules in the pan so just the pan becomes hot and not the cooktop. Induction is faster to boil and provides an instant simmer better than any product on the market. Yes, even faster than the fastest gas pro.
Safety
Induction is the safest cooking method. Unlike the glass on a traditional electric cooktop, the glass on an induction cooktop does not heat the pan. It cannot be accidentally activated, because the magnets need to sense metal.
Efficiency
Induction is the most efficient cooking method because there is very little loss of heat when cooking. It is 90% efficient versus gas at 60% and electric at 55%. This translates into less heat and less venting so you won't need a powerful hood. You can also use induction with a downdraft, unlike professional gas ranges and rangetops.
Response
From a functionality standpoint, induction is one of the easiest cooking surfaces to control. It is very responsive with the ability to quickly transition from a high power sear down to a low simmer.
Let's look at the companies.
Samsung
Samsung is a company of influence in South Korea. They are involved in economic development, politics, media and are a trend setter. They are a conglomerate of a company which creates cell phones, heavy industries and electronics just to name a few.
Appliances is just a small part of the company, less than 10%, but it one of the fastest growing areas for Samsung.
They are looking to double their sales in a few years. It may be possible. After years of battling Apple, Samsung has great design along with good functionality.
Features
Virtual Flame Technology
LED lights shine onto pots and pans to provide the visual of gas cooking with the precision of induction
Flex Duo Oven-5.8 cu. ft. oven splits into two ovens - 2.6 cu. ft. and 3.1 cu. ft. - with the Smart Divider
Chef Bake even cooking
Intuitive controls offer simple, step-by-step instructions for choosing cooking options
Control temperature and time settings, select cooking functions and program your favorite recipes
Four Induction Elements - 11", 7", two 6"
Dual Convection for Even Cooking
Gliding Rack for Simplest Access to Food in the Oven
Temperature Probe Ensures Best Cooking Results
Warming Drawer: High, Medium, Low
SteamQuick (20 min. oven cleaning) and Self Clean
Proofing
Sabbath Mode
Auto Shut-Off Option
Child Safety Lock
5 Healthy Cook Presets
Electrolux
Electrolux is the world's second largest appliance manufacturer, by revenue, after Whirlpool. The company started off in Sweden, with the modification of the modern vacuum. They then got into refrigeration, and now they have products in every category of appliances.
Unlike Samsung, appliances are by far the primary focus and are the topic of all of their efforts. Electrolux is a very well know brand in most parts of the world, but are more recent in the US for about 15 years
Samsung is manufactured in Korea, whereas Electrolux is produced in Memphis, Tennessee.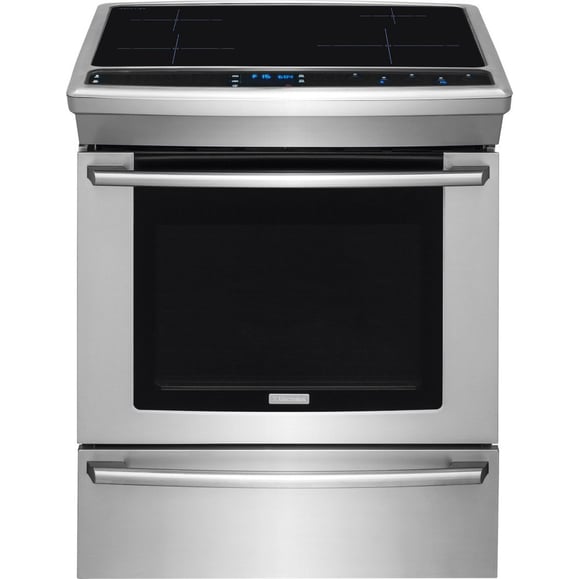 Features:
This range features seven professionally inspired cooking modes: Bake, Broil, Convection Bake, Convection Roast, Convection Broil, Keep Warm and Slow Cook.
Programmable cooking modes
Not only does it measure internal temperature, the probe alerts you when food has reached the desired temperature and automatically adjusts to the Keep Warm setting so you never overcook your food and deliver perfect results every time.
Temperature probe
The porcelain racks are safe to stay inside of the oven during the self-clean cycle, virtually eliminating the mess and inconvenience of removing and cleaning racks by hand.
Dual Convection
Inspired by professional performance and power, the induction cooktop is so fast and efficient it boils water in just 90 seconds!
Self Clean Porcelain racks
Precise controls quickly take a delicate simmer to a rolling boil for truly delicious results.
The induction cooktop adapts to different pot and pan sizes because it heats the pan instead of the cooktop, so you get perfectly consistent heat throughout the pan for delicious results.
3 Year Parts Warranty one year labor
Electrolux vs. Samsung Induction Ranges Comparison
Samsung has the wow effect. It has the "virtual flame" on the top so you know it is on. The Flex Duo is an interesting feature as well as convection on top of each other. You can use two convection ovens at 2.6 and 3.1 cubic feet along with the baking drawer at the bottom.
The new Electrolux has twin convection, but side by side. Typically you will see twin convection in this configuration with upscale ranges like Wolf. You also have the second oven below instead of a warming drawer. The new self-clean racks area a nice convenience.
So it looks like both ovens are compelling.
The top is a bit different. Electrolux has a 3,800 watt and a 3,200 watt burner (other burners are 2,000 watt and 1,400) versus a 3,200 watt for Samsung (other burners are 2,300 watt, 2,300 watt and 2,000), so Electrolux will be significantly faster on the top.
Reliability
Electrolux is a reliable brand when you buy the Frigidaire label. Their own name, Electrolux, has not been as reliable. Their new CEO will change that. They are probably the best company for parts and support after the sale.
Samsung is a bit of a wild card. Their reliability has been good. However, if you buy from a dealer without service, you may have issues. Their parts and service are a bit tougher, and their quick, tremendous growth has not helped.
Additional Resources
Want to learn more about Induction Cooking? Download the Yale Induction Cooking Buying Guide with features, specs and inside buying tips to every major brand. Over 160,000 people have read a Yale Guide.
Related Articles
Steve Sheinkopf
My goal has always been simple: I want Yale to be the best retail experience anywhere. I have tried to create a compelling environment for customers and employees alike
A Note About Pricing
Pricing on this blog is for reference only and may include time sensitive rebates. We make every attempt to provide accurate pricing at time of publishing. Please call the stores for most accurate price.