Samsung Chef Collection BRF45200AP Built-In 42-Inch Refrigerator (Reviews / Ratings / Prices)
If you are looking at a 42-inch refrigerator, the new Samsung Chef Collection BRF45200AP refrigerator is a decent consideration.
In this article, you will learn about different types of 42-inch refrigerators, Samsung refrigerators, their features, and a few common issues for Samsung refrigerators as well.
In the end, you will have plenty of information to narrow down your options..
You will read in greater detail about 42-inch refrigerators in our article dedicated to that topic
However, there are two main types of refrigerators - professional (pro) and integrated.
Professional refrigerators one unit with a top compressor so it looks like a regular refrigerator. Sub-Zero owns this niche with their French door and side-by-side models. Jenn-Air and KitchenAid (part of the Whirlpool Corp.) would be a decent, more price competitive second option.
Integrated refrigeration has become more popular. You have the option of 18 and 24-inch columns you can place almost anywhere, unlike professional refrigerators.
They also fit seamlessly within your cabinets, so you will not be able to distinguish between the cabinet and the refrigerator. It's a cleaner look.
Professional refrigerators are cabinet depth, so the doors protrude while the sides are exposed. Pros tend to look better in all stainless and are larger in cubic feet due to increased depth.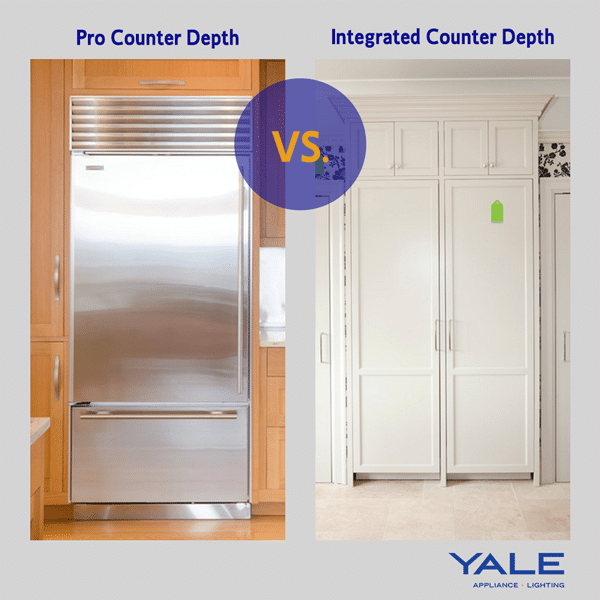 Oddly enough, Samsung is a bit of both, the refrigerator is integrated, but is also one unit like a pro.
Samsung As a Company
You probably know Samsung from phones and televisions. They are also the number 1 single brand sold in the US for appliances. Their products are functional and styled beautifully.
All those years competing against Apple must have rubbed off.
Short on time? Get our free Counter Depth Refrigerator Buying Guide
In 2016, Samsung bought US-based Dacor for access into the premium appliance market. The Chef Collection is similar to the Dacor Modernist line except for their warranty and steel interior.
Samsung produced the Chef Collection in less than 2 years. Most appliance companies would take much longer to create and introduce a new series
The Samsung Chef Collection
BRF45200AP 42-Inch Refrigerator - 8,999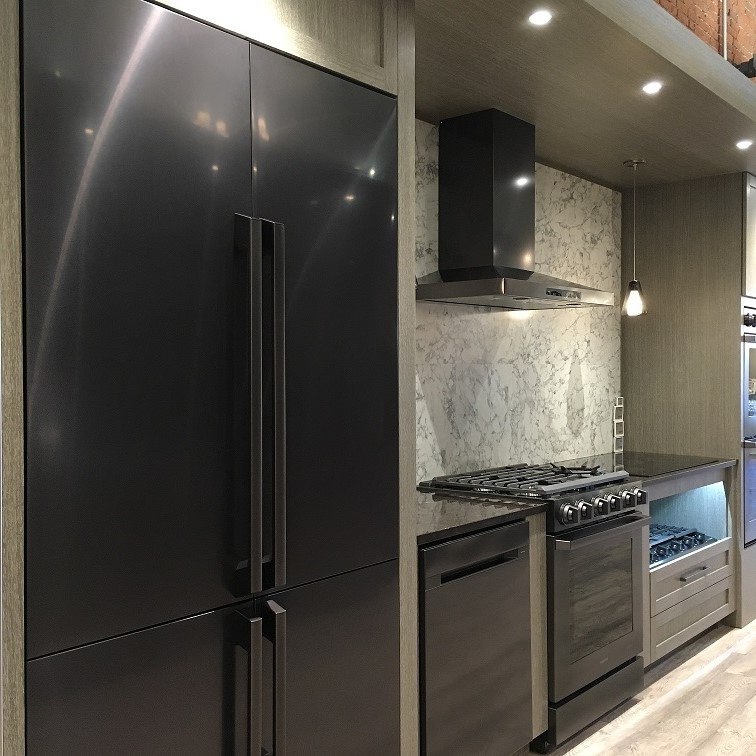 Features:
Lighting
Panoramic lighting around the front is almost breathtaking. I don't normally care about lighting because if you have new LED lighting in your kitchen, it's brighter than ever. However, this is beautiful.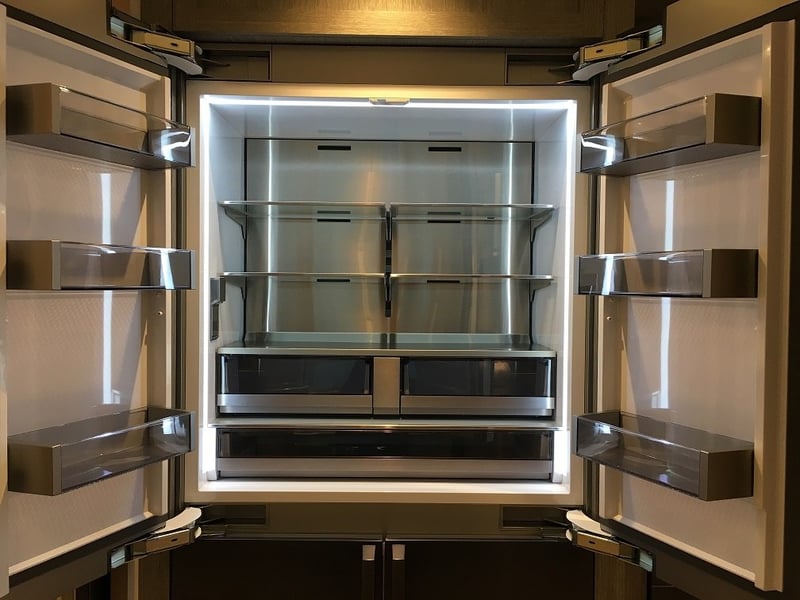 Panoramic Lighting
Twin Compressor
With two compressors, you can keep the moist, warmer air of the refrigerator separate from the drier colder freezer air.
Think about the air from fresh fish being circulated into your ice cream….which will not happen in this refrigerator
Three Door Flex
The bottom right side can be refrigerator or freezer. You have the ability to control the temperature based on your needs.
Camera / Wi-Fi
There are three cameras so you can see into the refrigerator remotely. You will never buy that extra jar of mustard again (my problem) and will always have a sense of what is in your refrigerator.
Metal Cooling
Metal absorbs cold air faster than plastic. In the Samsung, you have metal in the back so your foods will be kept colder towards the back.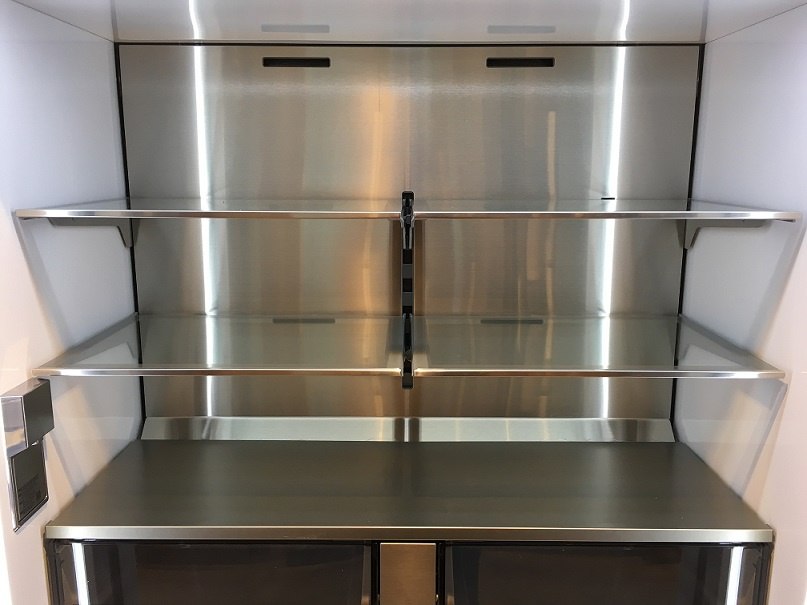 Samsung Metal Cooling
How Does the new Samsung Chef Collection 42-Inch Refrigerator Compare to Other Popular Brands?
Shelving
Samsung has basic glass shelving. Their main competitor, Sub-Zero, has nanotechnology coating on their shelves. Spills congeal instead of spreading. Have you ever spilled juice in your refrigerator? You are cleaning cool juice forever.
Air Scrubber
Sub-Zero employs a scrubber to scrub ethylene gases off food delaying the spoiling process and preventing cross-contamination to other foods.
Vacuum Seal
The door on the Sub-Zero is sealed to prevent air from going in/out of the refrigerator.
Samsung Reliability
Samsung is the best in for French Door Counter Depth category at just over 15% repair in the first year. The average is almost 30% for all French doors.
However, 15% means you should expect a fair amount of service on the Samsung or any other refrigerator.
Samsung like most major manufacturers does not have a service department. Finding service can be hard in certain areas.
Should You Buy the Samsung Chef Collection Refrigerator?
First, this is an impressive product for just two years in development. You will love the three-door flex feature, and the integrated styling looks great with panels.
There will probably be some great packages with other Chef Collection products. The overall style does look great and it is $2000 less than a Sub-Zero.
However, there is a certain risk with new products. If it does not work properly, you have to replace the refrigerator, your custom panels, and readjust the electrical and plumbing in the back if you try another brand's products for your kitchen.
The incumbent Sub-Zero still has a better product for keeping food fresher longer with a better vacuum seal, magnetic crispers and air scrubber.
The wait and see approach may be wise in this case. Convince your neighbor and see how it works (just kidding).
In 3-5 years, you will see plenty of these in kitchens.
Additional Resources
Download the Yale Counter Depth Refrigerator Buying Guide with features, specs, and inside buying tips for regular, pro, and integrated counter depth refrigerators. Well over 330,000 people have read a Yale Guide.

Related Articles
Steve Sheinkopf
My goal has always been simple: I want Yale to be the best retail experience anywhere. I have tried to create a compelling environment for customers and employees alike.
A Note About Pricing
Pricing on this blog is for reference only and may include time sensitive rebates. We make every attempt to provide accurate pricing at time of publishing. Please call the stores for most accurate price.