Samsung 4-Door vs. 2-Drawer French Door, Counter Depth Refrigerators (Reviews / Ratings/ Prices)
It was so easy buying a French door refrigerator 10 years ago. You bought the classic side-by-side top with a drawer freezer because it was your only choice.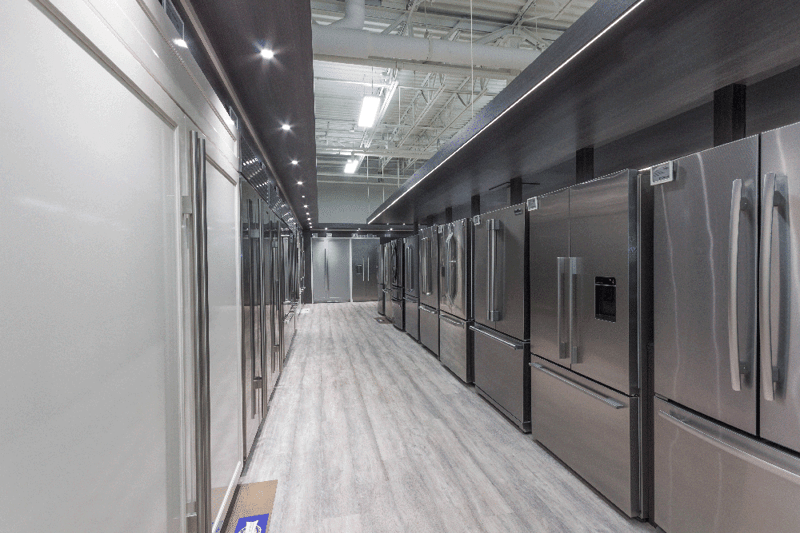 Now you have 3, 4, and even 5-door French doors with smart options and glass panel doors.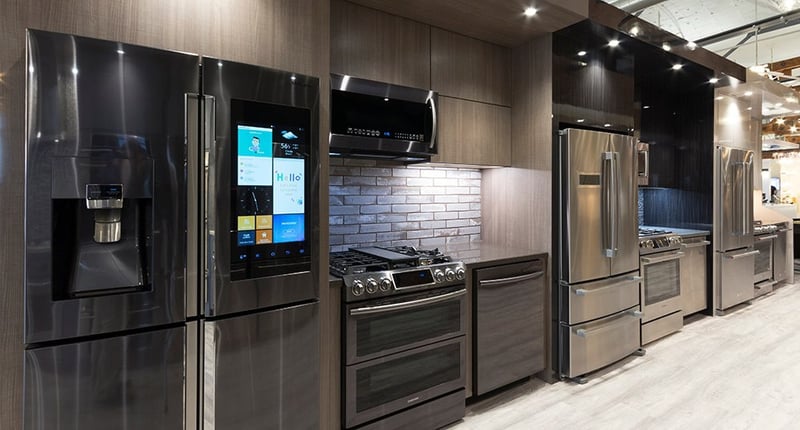 However, the most confusing choice is between Samsung's bestselling counter depth refrigerators, the 4-door, RF23J9011SR, and the 2-drawer, RF22KREDBSR, counter depth refrigerators.
In this article, we will look at both refrigerators, their features, and then compare. First, you should be updated about Samsung's reliability compared to other brands.
Short on time? Get our free Counter Depth Refrigerator Buying Guide
Samsung Reliability
You will read about complaints about the reliability of Samsung refrigerators.
However, based on our 30,000+ service calls in 2017, Samsung is the most reliable refrigerator at 16% service in the first year versus over 25% for other brands.
Icemakers are the number one repair. In a French door refrigerator, the ice is sent through a refrigerator. Sending a frozen cube through a warmer compartment can cause leaks.-*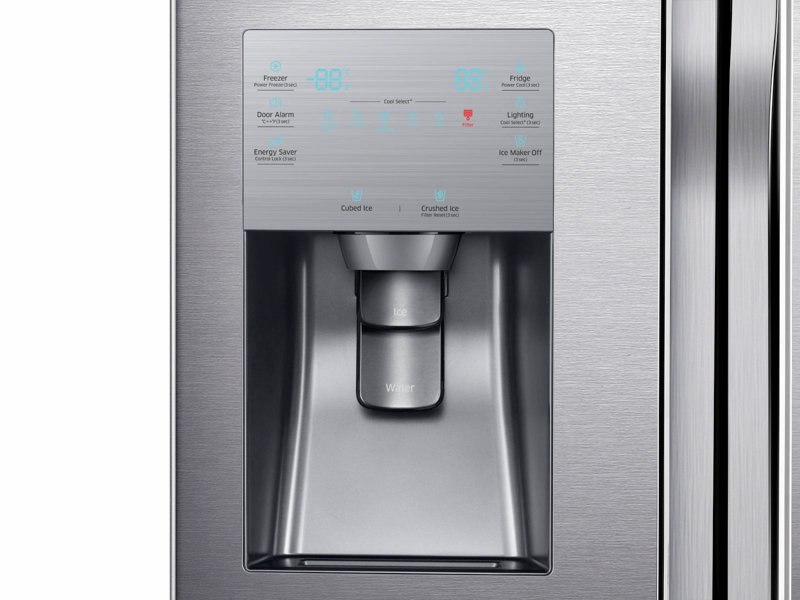 That's the bad news. The good news is it's not a major compressor fail, so the refrigerator will still work.
Samsung service is another source of complaints because it is nonexistent in areas. We service Samsung at Yale.
You should find out how services Samsung as well as most other refrigerators before you buy. You will probably need service within 5 years on any brand.
Samsung Counter Depth Refrigerators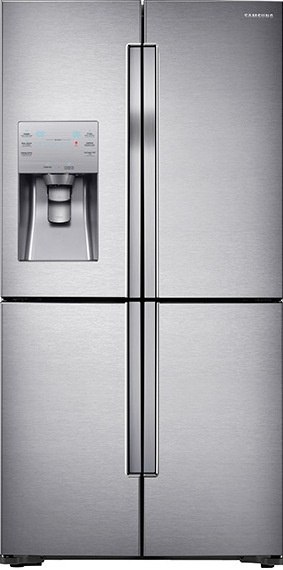 Features:
Counter Depth - Sleek 36" Wide Design Adds Style and Allows for More Space
23 cu. ft. Capacity - Spacious Fridge Provides Food Storage Flexibility
FlexZone - Versatile, Bottom-Right Door Can Be A Fridge or Freezer
Triple Cooling System - 3 Evaporators for Ultimate Freshness
Samsung along with LG are the only companies with the 4-door refrigerator.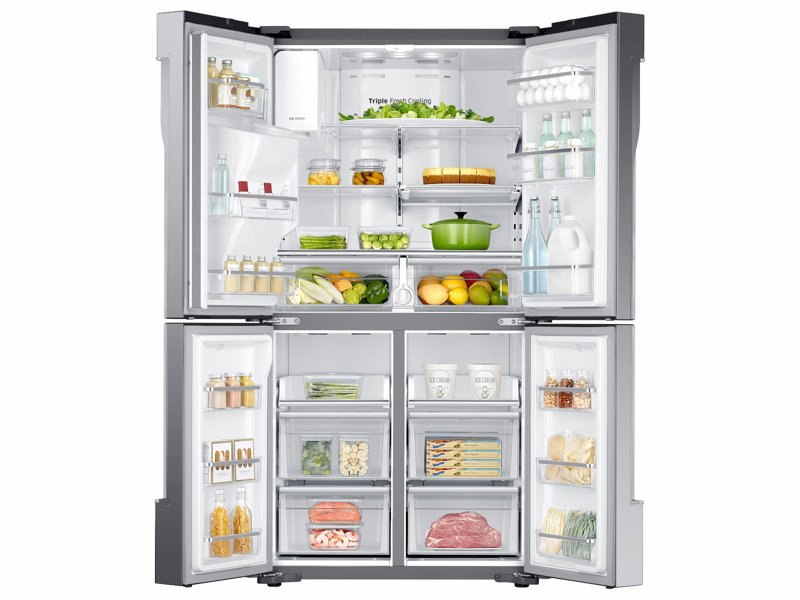 You should look at Samsung for style. It has no handle, so it can match other brands in stainless steel.
However, in Black Steel, finishes all differ. You should buy Black Steel in one finish.
Samsung has convertibility in the bottom right door. You can alternate between refrigerator/ freezer as your needs change.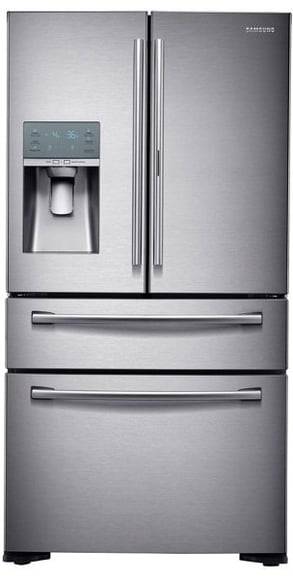 Features:
Counter Depth - Sleek 36" Wide Design Adds Style and Allows for More Space
Food Showcase - Innovative Two-Door Design Gives Easy Access to On-The-Go Items
I never understood the allure of drawers until I had my daughter. You can place juice and snacks in a drawer, so your child does not rummage through the rest of the refrigerator.
I get it now.
This refrigerator has many useful features including the door within the door. It allows easy access to milk and juices on the door, so you do not have to open the whole refrigerator.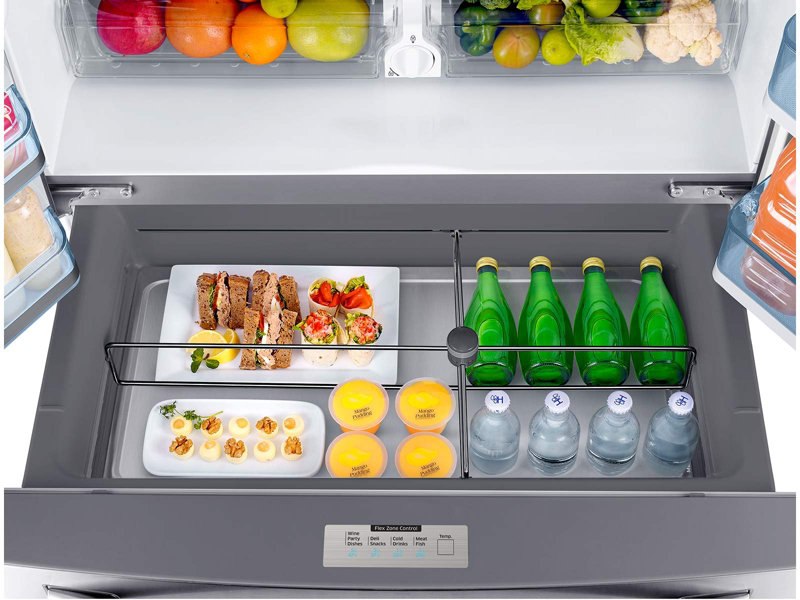 Metal cooling is an overlooked, but a cool feature. It's a stainless steel panel on the door of the refrigerator and on the bottom of the first drawer designed to maintain cold air.
Metal absorbs and retains cold better than plastic. Your food and beverages will cool faster with metal and stay colder.
Let's compare.
Final Thoughts
They both cool similarly and both can alternate between refrigerator or freezer in one compartment.
However, the RF22KREDDBSR technically has better features - namely the metal cooling and the door within a door for easy access versus the sleeker style of the four doors.
It depends on what you value. For kids and active families, the drawer unit is more functional. If you are mixing other brands, the 4-door will be a better match.
Additional Resources
If you are buying a refrigerator, download this delivery checklist.

Related Articles:
Steve Sheinkopf
My goal has always been simple: I want Yale to be the best retail experience anywhere. I have tried to create a compelling environment for customers and employees alike.
A Note About Pricing
Pricing on this blog is for reference only and may include time sensitive rebates. We make every attempt to provide accurate pricing at time of publishing. Please call the stores for most accurate price.