Miele C1 Vacuums: The Olympus (Reviews/Ratings/Prices)
The Olympus is Miele's least expensive vacuum at $329. With the exception of Dyson, $329 is the most expensive for other brands like Shark, Hoover, and Kenmore.
As a result, the Miele Olympus would be considered a high-end vacuum for those brands.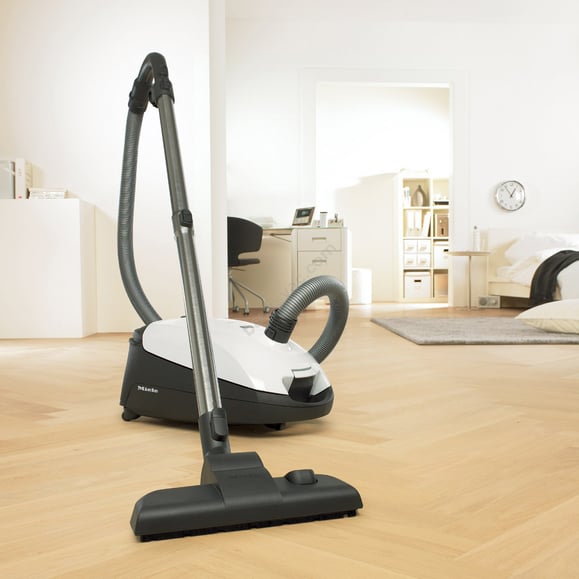 However, is it a good vacuum to buy? Many times, especially in the appliance industry, there are advertising leader pieces or artificially low priced products so you buy a more expensive piece.
We will look at Miele as a company, the vacuum, and then determine if this is the right vacuum for you.
Miele
So much can be explained about Miele by visiting this company. You walk into their testing area and vacuums are being bashed into walls over and over again to simulate 20 years of use. Miele even invented the vacuum testing (bashing) machines.
Such commitment to quality control has made Miele one of the most reliable appliance brand in the world. All their products are produced in one German factory down to every component level.
Much of Miele's longevity is tied to their philosophy of vacuum bags versus the trendier bagless vacuums.
Bagged vs. Bagless Vacuums
Bagless vacuum cleaners are more cost efficient. There are no bags to worry about purchasing. By not having bags you will get 100% suction at all times. There is no loss of speed, or power as the cleaners fills up.
The big disadvantage of bagless vacuum cleaners is that it sends dust back into the room when emptying. Dust could cause problems for allergy and asthma sufferers. Filters will also need to be cleaned once a month (Dyson Cinetic Series not included), and left to dry before using again.
Miele's big advantage is their high quality vacuum bag system. The bag holds up to 8 lbs of dirt in a 1.18 gallon bag, so you do not have to replace them as frequently. The bag traps about 99.5% of dirt.
This protects dirt from getting to the motor, working parts, inside of the vacuum and the environment. The disadvantage is that an average box of replacement bags (3 count) cost $19.99 along with the price of the Miele vacuum.
Let's look at the Olympus.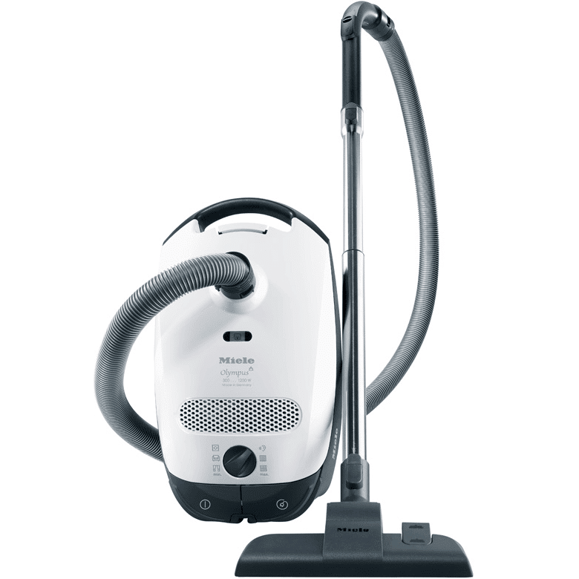 Features:

High suction power – 1,200 W
Versatile applications – universal floorhead
Particularly lightweight – 13 lbs with vacuuming accessories
Effortless vacuuming of large areas w/ 29.5 ft operating radius
Watch the Miele Olympus in action here:
Thanks for reporting a problem. We'll attach technical data about this session to help us figure out the issue. Which of these best describes the problem?
Any other details or context?
message
Should You Buy The Olympus?
I am beginning to believe buying and understanding vacuums is similar to dishwashers. Meaning that, the physical shell is the same, and you are just buying features.
That being said, the Olympus has the same motor as the $1,500 C3 Brilliant vacuum but it lacks some of the tools and filters. It does not have HEPA filters, electric hoses, and the better power heads to clean deep pile carpeting.
It is also the only vacuum lacking the gasket to the bag, so it does not trap the minutest particles. However for hardwood, area rugs, and low pile rugs, the Olympus is a great vacuum.
Additional Resources
Downlaod the Yale Vacuum Buying Guide with features, specs and buying tips for vacuums. Well over 210,000 people have read a Yale Guide.

Related Articles
Steve Sheinkopf
My goal has always been simple: I want Yale to be the best retail experience anywhere. I have tried to create a compelling environment for customers and employees alike.
A Note About Pricing
Pricing on this blog is for reference only and may include time sensitive rebates. We make every attempt to provide accurate pricing at time of publishing. Please call the stores for most accurate price.