The Best BBQ Grills, Griddles, and Smokers (2023 Update)
April 27th, 2023 | 12 min. read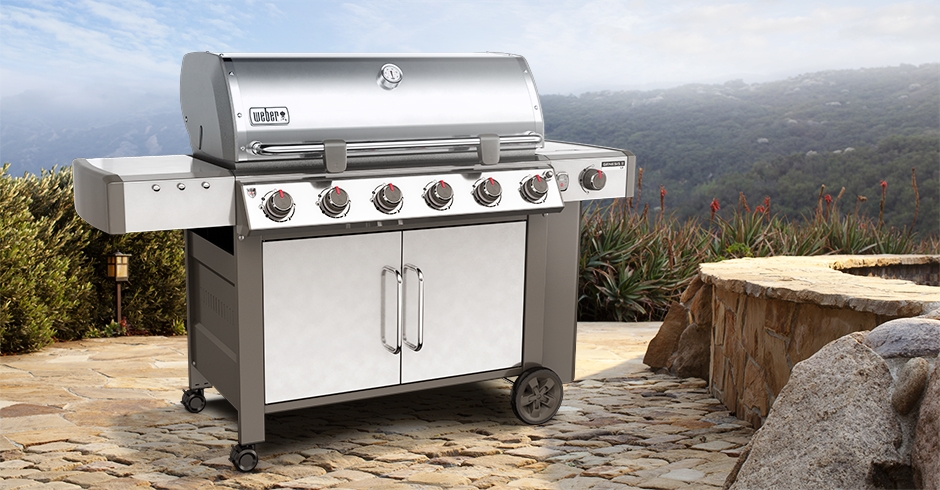 Our Top Picks for 2023:
Key Takeaway: You have many choices, even more than last year. First, understand how you cook before you consider your options.
In this article, you will learn all about the best grills to buy, whether you like smoking, searing, rotisserie roasting, or just grilling a few burgers now and then.
The best grill of 2023 isn't even a grill.
You'll learn about the differences between pellet, charcoal, gas, professional (pro) grills, and the next new outdoor phenomenon.
Overall, there's a lot to discover.
You'll also find plenty of videos to guide you through each grill. I'll be happy to answer any questions you have in the comments section below.
Why You Might Be Disappointed: Most brands get bashed on social media and in reviews.
That's because their marketing doesn't live up to their performance.
A grill can't replicate the smoky flavor of a pellet grill or give food the unique texture that charcoal provides.
Similarly, you can't grill a burger on a Traeger or any other smoker in just a few minutes.
So throughout the article, I'll share the pros and cons of each grill and explain how they work.
Now, let's find the perfect grill for you.
The Best BBQ Grills, Griddles, and Smokers for 2023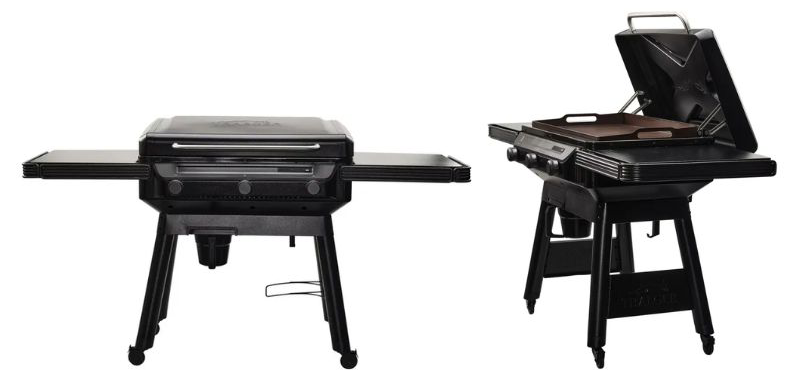 The best new grill isn't even a grill. It's a griddle.
I remember working as a kid at Yale, where there was a coffee shop next door. The owner cooked everything on a griddle, including hamburgers, hot dogs, omelets, hash browns, pancakes, and even its cousin, French toast.
The Traeger "Flatrock" is a competitor to the highly successful Blackstone griddles.
With Traeger, you get three zones for cooking different foods, such as bacon, eggs, and pancakes, on the same griddle at different temperatures.
They also designed it without an opening between the griddle and the rest of the chassis, so the flame won't be blown out by the wind.
Pros: Griddles can cook any type of food and may even be better than grills for smaller items like shrimp. They're also more user-friendly for hot dogs and sausages.
Cons: They don't provide the same sear as a grill and lack an infrared burner for quick searing, unlike the pro grill units.
As I mentioned earlier, some grills are better for speed, while others are better for texture. However, there are exceptions to this rule, which I'll cover in the next two sections with their own unique issues.
Read More: Blackstone Griddles vs. the Traeger Flatrock Flat Top Grill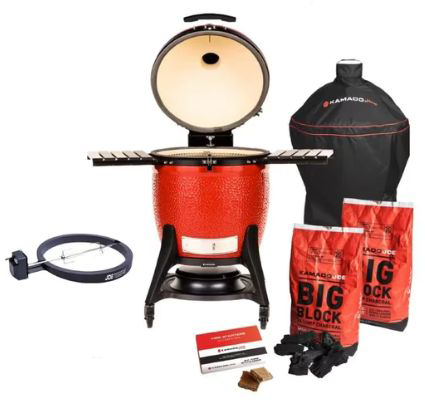 Legend has it that GIs brought ceramic grills back from Japan. Regardless, ceramic charcoal grills have attained a cult-like status, and Kamado Joe is the best (sorry, TBE fans).
Kamado Joe grills are incredibly versatile and can be used for every cooking method, such as grilling, smoking, roasting, and baking.
The ceramic walls of a Kamado Joe grill provide insulation, allowing for more fuel efficiency and less charcoal needed.
Additionally, Kamado Joe grills have temperature controls for precision cooking. The top and bottom vents can be adjusted to control airflow and raise or lower temperature, giving you full control over your cooking.
The ceramic walls of a Kamado Joe grill also help retain moisture for juicier and more flavorful food.
Kamado Joe grills are designed to last and withstand the elements, making them a reliable option for outdoor cooking enthusiasts.
Pros: Kamado Joe grills are incredibly versatile, allowing you to be creative with a ceramic grill.
Cons: Kamado Joe grills have a learning curve, and they're not the easiest to use. If you only grill a burger occasionally, I wouldn't recommend a Kamado. For ease of use, many people prefer using pellet grills for smoking.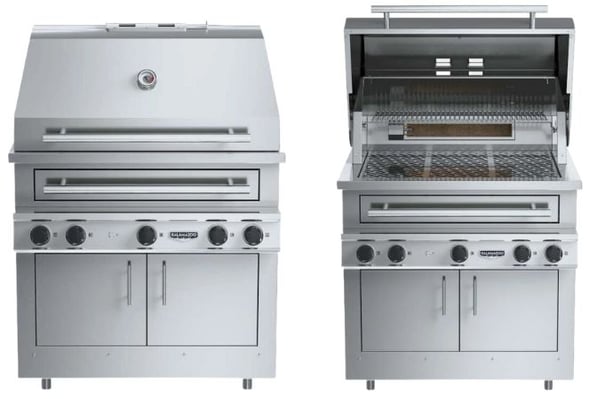 If you love to grill, Kalamazoo is the best on the market. It's important to note that Kalamazoo is made to order only. The grill is deeper than any other built-in grill, providing a natural convection system for more evenly cooked food.
The other main difference is the hybrid drawer, which allows you to use either charcoal or wood.
Kalamazoo is the only grill that combines the speed of a professional gas grill with the flavor and texture of charcoal and wood.
You can even customize the grates based on the food you are grilling. Plus, it is available in marine-grade steel, making it the only grill designed to withstand the elements if you live by the ocean.
It's worth noting that marine-grade stainless steel, like the type used in Kalamazoo grills, can rust slightly over time, resulting in what's called "tea staining" in the industry. Nonetheless, the grill will last the longest if you live by the ocean.
Lead times for Kalamazoo grills are currently at least eight weeks (about two months), which is considered excellent given the current supply chain problems.
Pros: With natural convection airflow and the ability to add the flavor of wood and charcoal in the hybrid drawer, your food will taste the best from a Kalamazoo.
Cons: The Kalamazoo hybrid grill starts at over $25,000, making it a significant investment. It's not recommended for occasional grillers, but for those who are passionate about grilling and looking for the ultimate grilling experience.

You can now buy a Kalamazoo grill head. For the first time in its history, the grill head does not have a hybrid drawer.
Despite this, the unit weighs in at an impressive 360 pounds, offering superior insulation compared to the average weight of 240 pounds for other brands.
The taller and deeper design of Kalamazoo's grill head promotes natural convection airflow, ensuring even cooking.
Priced at over $18,000, it is almost competitive with similar grilling range tops in the market.
Pros: Unmatched quality with natural convection for even cooking.
Cons: No infrared elements for a quick sear, no smaller sizes available, and it comes with a high price tag.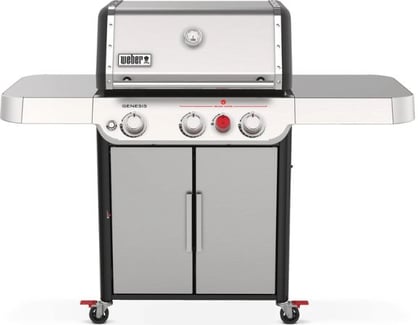 Genesis is a popular grill series sold at Yale. Weber has focused on the Genesis series with two different improvements:
First, they completely redesigned its popular Genesis line two years ago with the GS4. This includes a new first-strike ignition, Flavorizer bars, and better grease management.
Second, two years ago, Weber exclusively relaunched the Genesis series as three and four-burner grills.
The differences between Genesis grills are having side burners, stainless steel vs. porcelain grates, sear burners, smart technology, Flavorizer bars, and a finished bottom cabinet.
Of course, knowing if all Genesis grills were available this year is important. They aren't.
Weber also introduced the OGS system, allowing you to do more than simply grill. The OGS system is a frame kit accommodating different accessories to cook better.
You can buy different accessories like a griddle, a rotisserie basket for crisping French fries, or making popcorn. You can buy the roasting basket to grill veggies, so they do not slip through the crevices of the grates. Pizza will be easier to cook with their baking stone accessory as well.
Pros: Genesis is a good gas grill. It is the best value between $1000-2000, mostly because competitive brands are so bad.
Cons: Gas grills cannot add flavor or smoke like smokers. The griddle is a clever idea but will not be as consistent as the dedicated griddles.
Compatible grill cart: CAD1-36E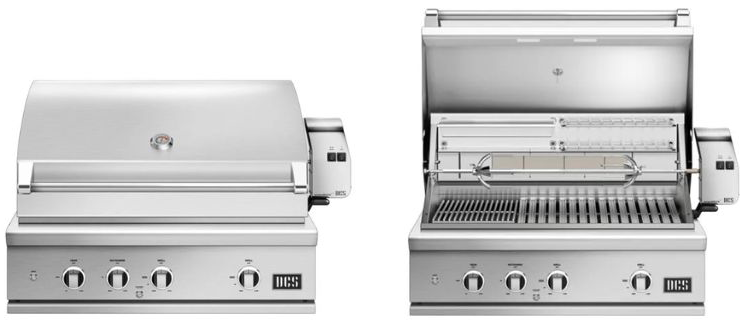 You may choose to buy a DCS grill simply because it's widely available, but it's also an excellent option that sets itself apart from the others.
The DCS is an all-sear grill, which means that the entire surface can reach 1100 degrees by using ceramic elements throughout the grill.
Lynx and Hestan, on the other hand, use an infrared element for more directed heat than a more diffused source like a gas burner. Still, at 1100 degrees, this DCS Series 9 grill will provide a decent sear.
The DCS Series 9 also comes with a wood and charcoal basket accessory that allows you to infuse your grilled food with a smokey flavor.
Additionally, you can add some worthwhile accessories, such as a middle-side burner with 70,000 BTUs and a dedicated griddle.
Pros: Good power and sear with the ceramic rods.
Cons: Smoking is not as effective, even with smoker trays.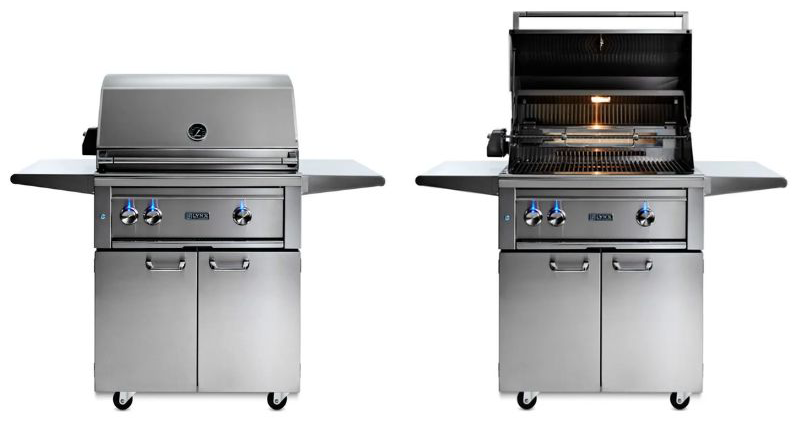 Some people love this grill, but it is not for everyone. An all-sear grill is made of all infrared burners instead of regular gas.
Unless you buy it without a sear, Lynx's regular gas grills will have one infrared burner for searing. We have written posts comparing the two. Infrared is more intense, direct heat, whereas the regular gas burner diffuses the heat.
You'll be able to cook faster with infrared, but you can also burn your food more easily.
Pros: Fastest sear you can buy.
Cons: Do you always need to sear quickly? Again, gas cannot add flavor and texture to your food.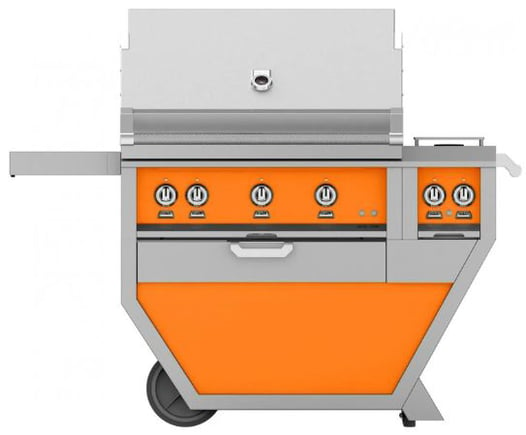 The giant commercial supplier, Meyer, is behind the Hestan grill. It is already the best-looking grill available in 12 designer finishes.
Hestan has a BTU output of 25,000 BTU per burner, plus 25,000 just for searing, so it's immensely powerful.
It has a rotisserie system holding 50 pounds of meat with a 12,000-18,000 BTU variable infrared burner.
You can evenly cook the meat on your rotisserie or top shelf, which can cook quickly for a good secondary quick sear burner.
The hood will stop whenever you want, so you can open it slightly to cool down your grill. Hestan has thicker diamond-cut grates.
Pros: Powerful, stylish, even cooking with rotisserie system, adjustable hood, thicker grates.
Cons: Higher price point, not as versatile as other options.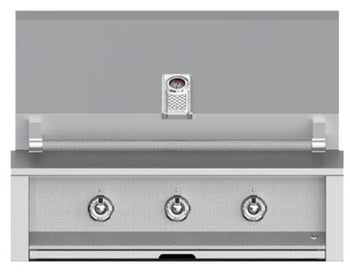 You must be careful about buying a product advertised as cheaper but with pro-style performance.
Most of the time, grills have the less expensive part, but the "pro" part is lacking. Before buying any grill, you must look at the fit, finish, burners, and grates.
That said, the Aspire is like Hestan's regular line but with less power per burner and less powerful than infrared burners.
The burners are 23,000 BTU, only 2,000 BTU less than their regular line with the same sear burner of 25,000 BTU. It doesn't have diamond grates. It also only has nine signature colors instead of 12.
Pros: More affordable option with pro-style performance, still has strong BTU output and sear burner.
Cons: Lacks some of the premium features of the regular Hestan line, not as powerful as infrared burners.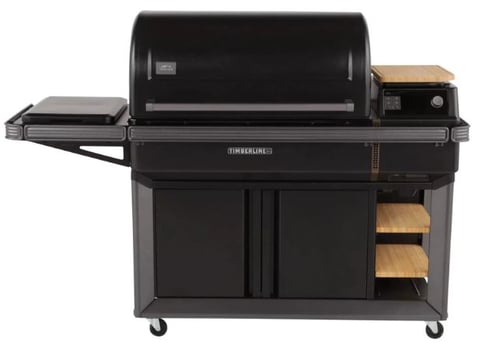 Grilling with wood-fired pellets is suitable for low and slow cooking with the ability to add flavor.
They are advertised as grills, so the expectation is fast, which, at a maximum of 500 degrees, is not possible in a pellet-type grill.
The Timberlane 1300 has better construction, so you don't lose much heat when it is opened, unlike their less expensive models.
Their WiFIRE Wi-Fi system allows you to monitor your grill through an app on your phone.
In addition, the side burner is induction, not gas. The induction will cook faster than gas and simmer much better.
They show a griddle on the unit. We will test that burner shortly.
Traeger is a popular, fast-growing company, so their customer service is sometimes lacking. You may want to consider buying it from a retailer (I rarely say this). In this instance, you can see a demo, talk to someone, and quickly deal with problems.
Pros: Suitable for low and slow cooking with the ability to add flavor. Better construction than other pellet-type grills. WiFIRE Wi-Fi system for monitoring your grill through an app.
Cons: Limited maximum temperature of 500 degrees. Side burner is induction, not gas. Traeger's customer service can sometimes be lacking.
How to Buy an Outdoor BBQ Grill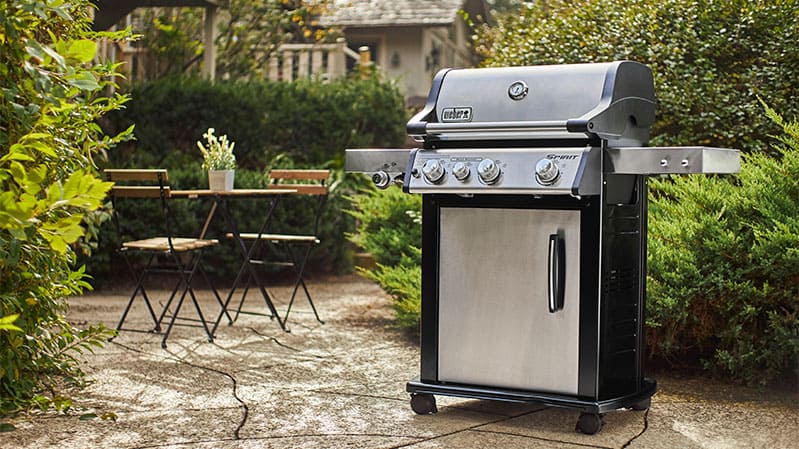 Weber Premium Spirit Gas Grill
You may ask why we only sell six lines of BBQ grills. We have tried almost every grill on the market, and while there are a few decent grills we do not sell, most of the time, a grill has failed to perform.
Our previous resident chef placed her hand in the middle of a grill at a high-output burner a few years ago to demonstrate a cold spot. That's not a grill you want to buy.
Other times, brands are not durable enough to last outdoors in New England weather, freezing for four months out of the year. In Arizona or Vegas, the weather is not an issue. It's different in New England.
If you buy an unknown brand, see a demonstration, and read reviews.
However, your first question should be, how do you like to grill?
Knowing how you want to grill will determine what type of grill is right for you. Unless you buy a Kalamazoo (starting at about $12,000), there is no "best" grill. Each type has its strengths and drawbacks.
Let's look at the different types of grills.
Types of Outdoor BBQ Grills
Pellet Grills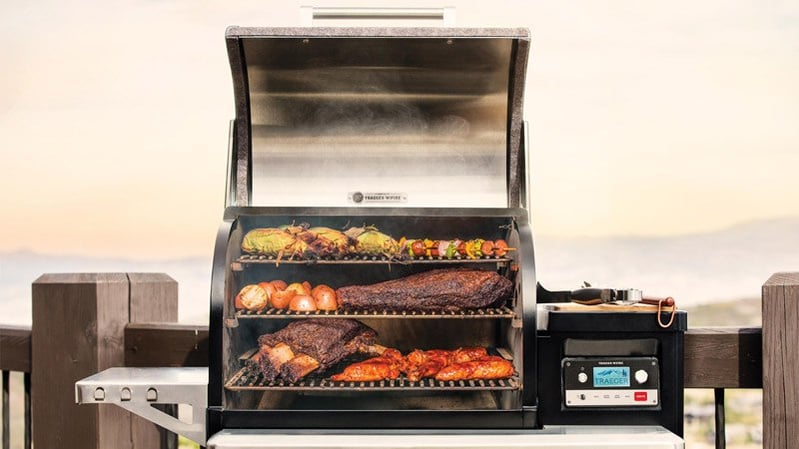 Traeger Wood Pellet Grill
Pros: Pellet grills give you flavor from indirect convection heat without flare-ups. You can also customize the taste with different types of flavored pellets. Pellet grills are perfect for people who like low and slow cooking. Not to mention, most pellet grills are advanced enough that you can control the temperatures and settings through an app on your phone.
Cons: They cannot reach the heat of the gas at 500-600 degrees. It's an oven designed for the outdoors. You can't throw a few burgers on your grill and cook for a few minutes. You also must add pellets every time you cook and clean as well. Pellet grills are both loved and not loved (to be diplomatic). You may like a pellet grill to smoke or slow cook. Do not buy a pellet for speed.
Charcoal Grills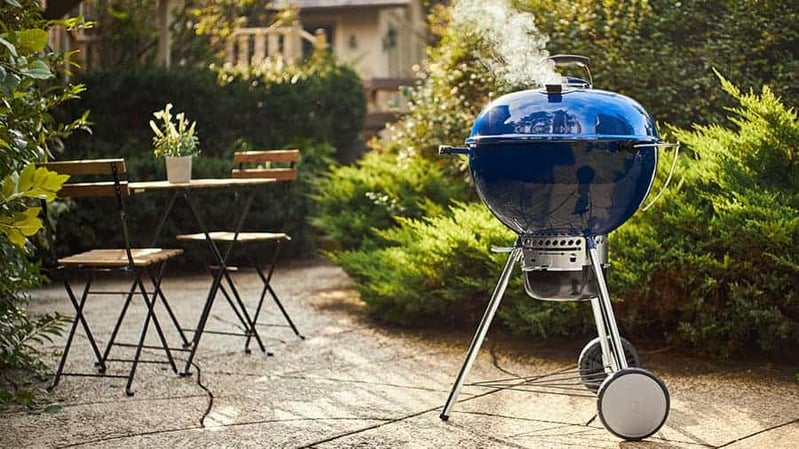 Weber Charcoal Grill
Pros: Charcoal adds flavor and texture because you can reach higher temperatures like a gas grill. You can sear and char as well.
Cons: Grilling with charcoal can be a chore. You must add charcoal and remove the ash. It's not as easy to control as a gas grill or precise. Charcoal is for true BBQ lovers.
Gas Grills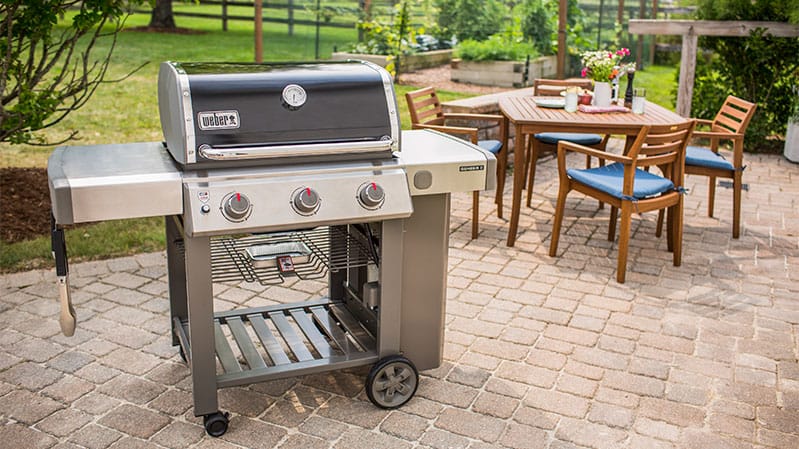 Weber Genesis Gas Grill
Pros: Gas grills can reach 900-1100 degrees. Gas grills are fast, hot, and easy to clean. Nine hundred degrees is also self-cleaning. You have infrared sear zones on many grills to precisely sear your meats. The rotisserie is even and easy on a gas grill.
Cons: It lacks the flavor and texture of either charcoal or pellet. The pellet salespeople always ask, "What does gas taste like?"
Hybrid Grills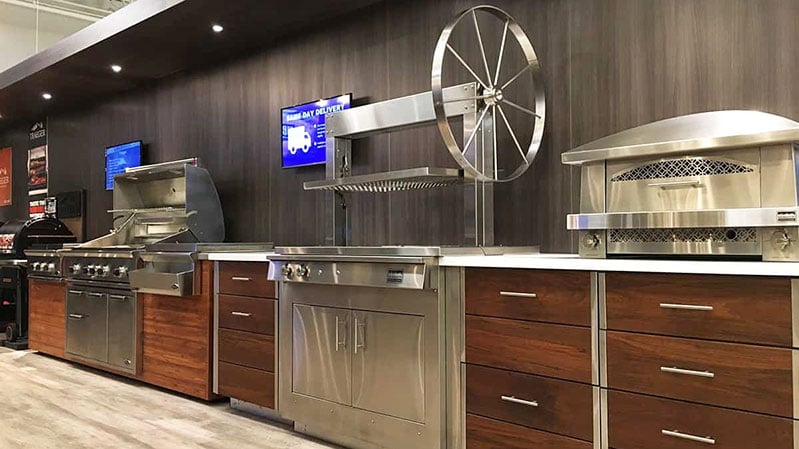 Kalamazoo Hybrid Grill at Yale Appliance in Framingham
Pro: One of my friends is a professional grill expert who competes in state BBQ competitions. His BBQ is custom for charcoal and gas for speed, flavor, and texture. Kalamazoo's hybrid grill is the closest to a grill of this caliber. Without question, this is the best grill you can buy.
Con: Despite being the best, it's also the most expensive grill sold, starting at $21,000 for a hybrid.
Kamado-Style Grills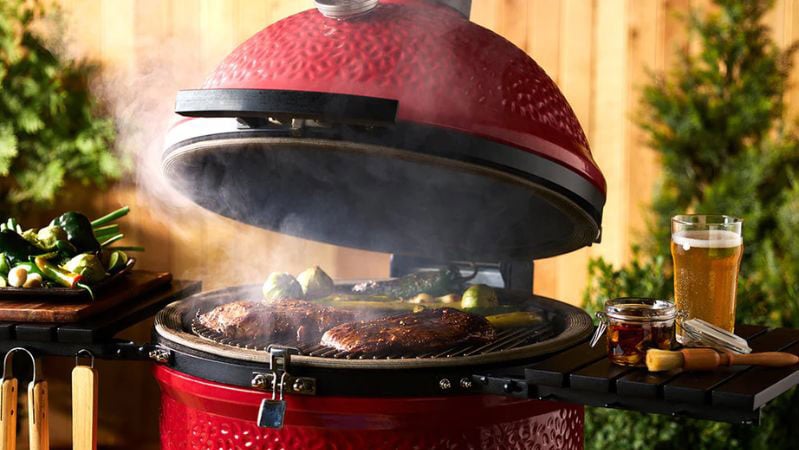 Kamado Joe Grill
Pros: Charcoal can grill, sear, and add texture. You can also cook at lower temperatures and bake by releasing heat.
Cons: Tough to learn.
Burner Output Differences in Grills
The BBQ grill brands in this article are made with similar materials with strikingly similar BTU outputs. The chart below does not include a wood pellet or charcoal grills.
Many of the outputs are the same in the professional category (Hestan, Kalamazoo, and Lynx). However, the construction is slightly different, and each has its strengths.
Hestan has diamond-cut grates with the ability to hold a sear. Lynx has its variable sear burner and all-weather ceramic burner. DCS has ceramic rods to sear on any part of the grill.
| | | | | | |
| --- | --- | --- | --- | --- | --- |
| | DCS | Hestan | Kalamazoo | Lynx | Weber Genesis |
| Fuel Type | Natural Gas (NG) or Liquid Propane (LP) | Natural Gas (NG) or Liquid Propane (LP) | Natural Gas (NG) or Liquid Propane (LP) | Natural Gas (NG) or Liquid Propane (LP) | Natural Gas (NG) or Liquid Propane (LP) |
| Grill Type | Built-In or Freestanding | Built-In or Freestanding | Built-In or Freestanding | Built-In or Freestanding | Freestanding |
| BTU Output | Up to a total of 100,000 BTU | Up to a total of 148,000 BTU | Up to a total of 179,800 BTU | Up to a total of 112,000 | Up to a total of 48,800 |
| Smoking Capabilities | Yes | No | Yes | Yes | No |
| Rotisserie | Yes | Yes | Yes | Yes | No |
| Infrared | Yes | Yes | Yes | Yes | No |
| Side Station | Yes | Yes | Yes | Yes | Yes |
| Finish | Stainless Steel | 12 Designer Color Options | Stainless steel or marine-grade steel | Stainless Steel | Stainless Steel with 4 color options |
| Warranty | 2 years parts and labor | 1 year parts and labor | 2 years parts and labor | 1 year parts and labor | 10 year parts |
What's the Difference Between a Professional Grill and Regular Gas Grill?
As you may have guessed, pro grills are better constructed. However, the two most notable features are burner output and sear elements.
Burner Output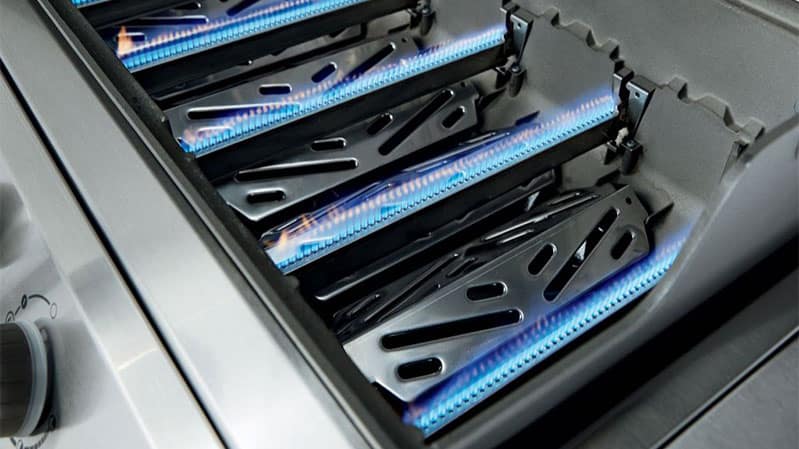 Weber Summit Gas Burners
If you compare the best Weber grill to a smaller Lynx grill, the BTUs (British Thermal Units) seem similar at 50,000 and 60,000. However, there is a significant difference in performance.
A Lynx professional grill has fewer, hotter 25,000 BTU elements compared to six 10,000 BTU elements for a Weber Summit grill. Therefore, a professional grill can cook faster.
Searing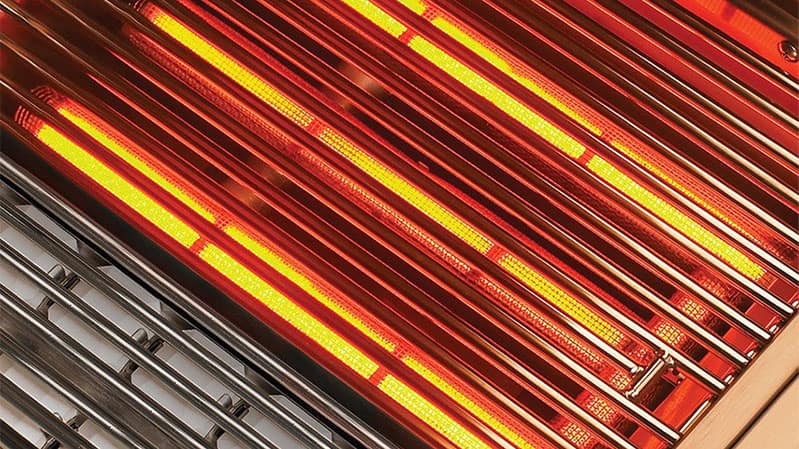 Lynx BBQ Grill Infrared Burners
Infrared is the best for searing because it provides more direct and intense heat. Do you want those grill marks on your food? Use infrared (shown above).
Many other sear grates and sear zones consist of just an additional row of gas burners. Gas sear zones spread the flame and heat further and are not as intense.
Price
The best Weber costs less than $3,000, whereas a Lynx Sedona costs over $3,000.
How to Plan Your Outdoor Kitchen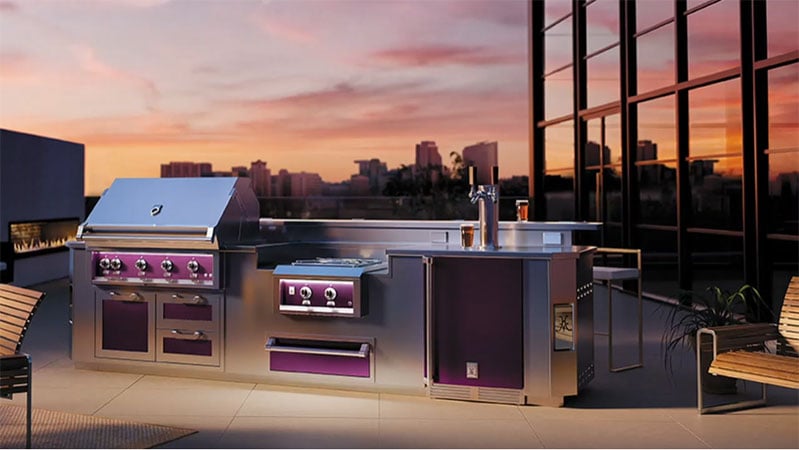 Hestan Built-In Grill and Outdoor Kitchen
You want to built an outdoor kitchen. Outdoor living is becoming more popular even in Boston. We have a blog post and webinars devoted to the subject.
Who Builds Outdoor Kitchens
The architect? The builder? Your landscaper? Your contractor? Cabinet shop? Appliance store? Figuring out who designs is a major step. Always check reviews.
What Is Your Entertainment Strategy?
Are you living outside or just grilling a few burgers? That will determine the size and scope of the project.
You have four layouts you can work with: island, L-shaped, U-shaped, and galley.
Ventilation
Ventilation has become a key issue for basic gas ranges. A professional grill with an output of 120,000 BTU or more will expose infrared burners.
You should leave the grill outside or plan a high CFM (Cubic Feet Per Minute) hood to extract the smoke or heat.
Materials
How do you know whether the cabinets can weather the elements? That's the challenge of creating an outdoor space. However, you can plan most of it yourself.
There are plenty of DIY (do-it-yourself) options. Just be careful. You want to ensure it can withstand a New England winter beating.
The best DIY option is Hestan. It's a beautiful piece of stainless steel designed for a Hestan grill. The starting price is $18,000.
The most versatile option is Urban Bonfire. They manufacture exclusively outdoor cabinets in Montreal of all places. Their designs start at $7,000 and can support any grill.
If you want to learn how to plan your outdoor space, click this link for the step-by-step blog article.
Key Takeaways
First, you cannot buy the "best" grill. That said, what is your style of grilling? Do you like cooking all day? Do you want speed, texture, and flavor?
Each grill type has its advantages and drawbacks. Buy the grill best suited to your cooking style, whether you prefer gas, pellet, or charcoal grills. And yes, you can plan your outdoor kitchen.
Additional Resources
Get the Yale BBQ Grill Buying Guide with features, specs, and tips to all the brands. Over 1 million people have already found answers in a Yale Guide.
Related Articles:
Why Should You Trust Us?
It seems that every appliance review has nothing but glowing comments about almost every product, yet you read customer reviews and they are almost universally bad.
We are here to fill in the disconnect. We'll give you the best features, and the drawbacks as well, including reliability based on over 37,000 calls performed by our service team just last year. Our goal is to give you ALL the information so you know what's right for you.
Please consider subscribing or adding to the conversation in the comments below. We appreciate you stopping by.
Steve Sheinkopf is the third-generation CEO of Yale Appliance and a lifelong Bostonian. He has over 38 years of experience in the appliance industry, and he is a trusted source of information for consumers on how to buy and repair appliances.

Steve has also been featured in numerous publications, including the New York Times, Consumer Reports, The Boston Globe, Bloomberg Radio, the New York Post, The Wall Street Journal, and Entrepreneur, for his knowledge of how to buy appliances and appliance repair.

Steve is passionate about helping consumers find the best appliances for their needs, and he is always happy to answer questions and provide advice. He is a valuable resource for consumers who are looking for information on appliance buying, repair, and maintenance.

Despite being the worst goalie in history, Steve is a fan of the Bruins and college hockey, loves to read, and is a Peloton biker. The love of his life is his daughter, Sophie.
A Note About Pricing
Pricing on this blog is for reference only and may include time sensitive rebates. We make every attempt to provide accurate pricing at time of publishing. Please call the stores for most accurate price.