What Is the Difference Between the Weber Spirit, Genesis, and Summit Series BBQ Grills?
June 7th, 2023 | 12 min. read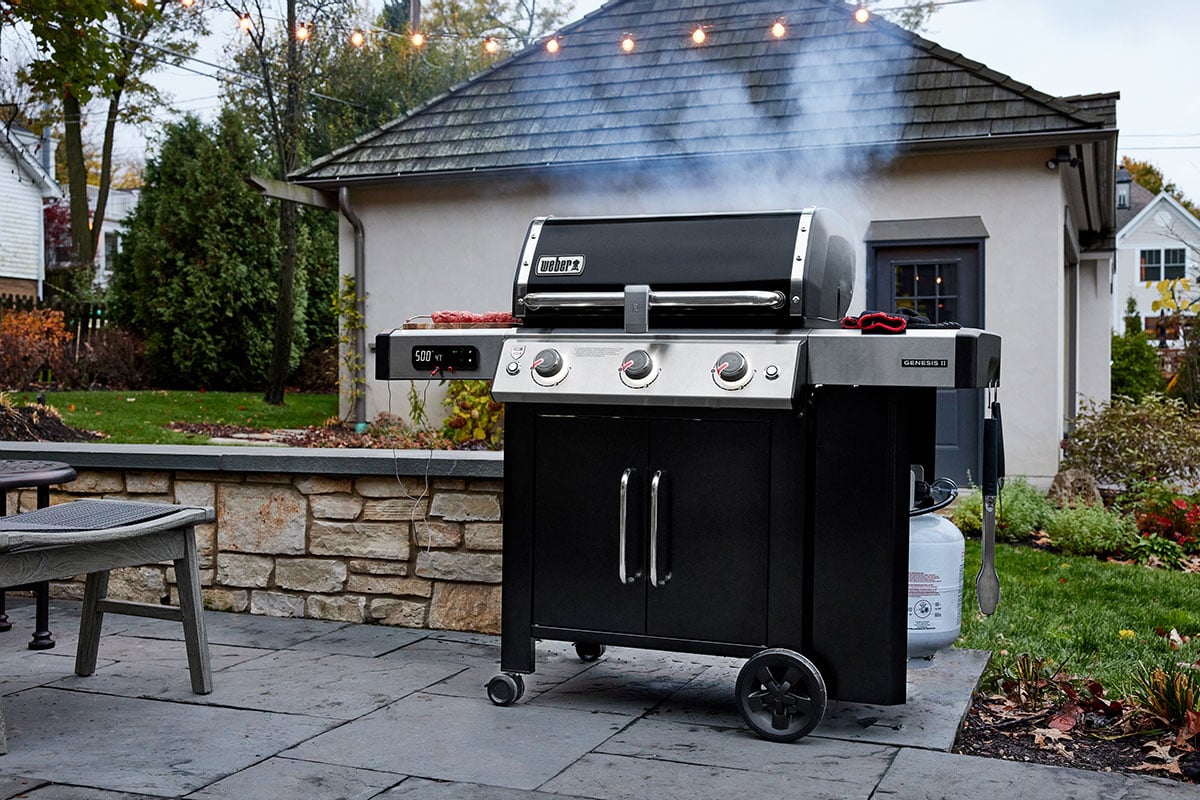 Weber grills have quickly risen to become the go-to name in the grilling world.
However, buying one is challenging, given the range of options available. With multiple series and various codes within each series, finding the right Weber grill can be a daunting task.
In this article, you'll learn all about the most popular Weber grills and the key differences among the three primary series: Spirit, Genesis, and Summit.
We'll also compare the Summit, Genesis, and other high-output pro grill alternatives, ensuring you have all the information you need to make an informed decision.
Additionally, we'll reveal a simple hack that allows you to transform any grill into a smart one. Plus, we'll address whether a professional-grade grill is worth the extra investment (spoiler alert: it's a maybe).
Let's dive in so you can choose the perfect grill for your needs.
What Is the Difference Between the Weber Spirit, Genesis, and Summit Series BBQ Grills?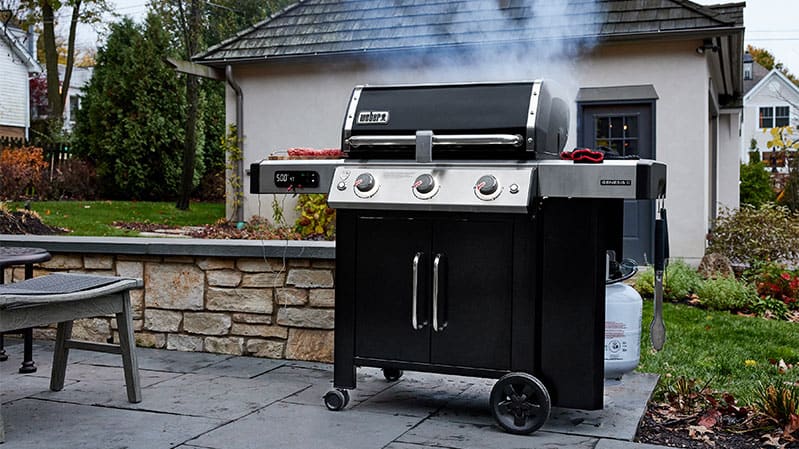 Weber Genesis Smart BBQ Grill
The differences between the Weber Spirit, Genesis, and Summit grills can be quite confusing. Here's a breakdown to help you understand their distinctions.
The Spirit series is their smaller grill option, while the Genesis series encompasses mid-size to larger grills. On the other hand, the Summit series takes the crown as their largest and most feature-rich line. However, it's not as straightforward as it seems.
Although the Summit series boasts the title of their best grill, a four-burner Genesis model is 40% larger and 40% less expensive than its Summit counterpart. This complicates the decision-making process.
To complicate matters further, Weber introduced their GS4 improvements a few years back. The GS4 grilling system is the code name for various enhancements, including a faster one-strike ignition and a second row of flavorizer bars, which reduce flare-ups and improve grease management.
Surprisingly, Weber only incorporated the GS4 features in their lowest-priced Spirit II models and all Genesis grills, excluding their top-of-the-line Summit grills.
Moreover, the new smart grills with Wi-Fi functionality are exclusively available in the Genesis and Spirit series.
Weber has plans to redesign the Genesis and Spirit grills in 2024, aiming to create more comprehensive outdoor cooking appliances. As for the Summit series, changes are also on the horizon.
These details make selecting between the Weber Spirit, Genesis, and Summit grills challenging. Let's break down the differences starting with the Spirit series.
Weber Spirit Grill Series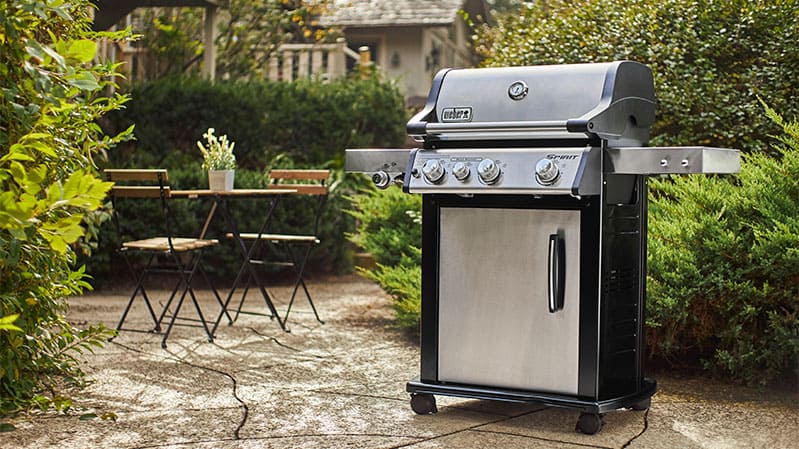 Weber Spirit BBQ Grill
The Weber Spirit grill series is ideal for small families or novice grillers. It is an entry-level model available in either a two-burner or three-burner configuration. The natural gas option comes in a sleek black finish.
The Weber Spirit II series is worth considering for those looking for the best value. It incorporates the GS4 improvements and comes at a more affordable price point. You can choose between two or three burners, providing 26,000 and 32,000 BTU, respectively, with a cooking area of up to 424 square inches.
On the other hand, the regular Spirit series lacks the GS4 enhancements but compensates with features like a stainless steel body and a durable stainless steel grate.
It also includes a 12,000 BTU side burner and a 7,500 BTU sear station located between the two burners in the middle, delivering added heat when needed.
Notably, the SP-335 model within the regular Spirit series encompasses all the options Weber offers, including the Sear Station, side burners, and a storage cabinet.
Additionally, even the regular Spirit series includes a smart grill option.
In summary, a Weber Spirit series grill provides excellent value for the price. It offers a solid build and durability that surpasses cheaper competitors.
Now, let's look at Weber's most popular Spirit Grill Series models.
Weber Spirit II Series
The Weber Spirit II series adds the GS4 grilling system.
Weber Spirit Availability: Very Limited
Weber Genesis Grill Series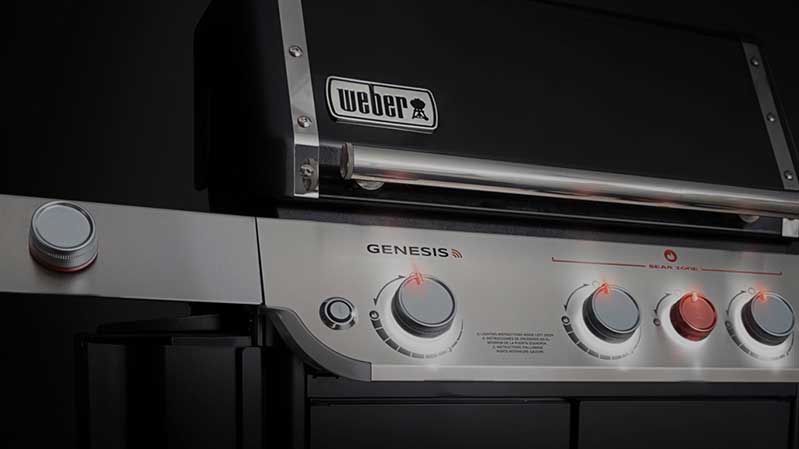 Weber Genesis BBQ Grill
The Weber Genesis series perfectly balances everyday grilling convenience and the ability to cater to larger gatherings. It has earned its status as Weber's most popular grill series, offering three and four-burner options compared to the two and three-burner models of the Spirit series or the four and six-burner models of the Summit series.
All Weber Genesis grills have the GS4 system.
When selecting a Genesis grill, you have the choice between a three-burner model delivering 39,000 BTU and featuring 513 square inches of cooking space or a four-burner model with 48,000 BTU and a larger cooking area of 646 square inches, including the fold-down area.
Like the Spirit series grills, Genesis grills stand out with their stainless steel body, grates, side burner, and sear station.
Recently, Weber introduced the Weber Crafted Outdoor Kitchen Collection, also known as the OGS system. While they attempted to deliver it last year, they are striving to fulfill the promise this year.
The Weber Crafted collection comprises a frame kit to accommodate new cooking accessories tailored to various Genesis grills with unique features and capabilities.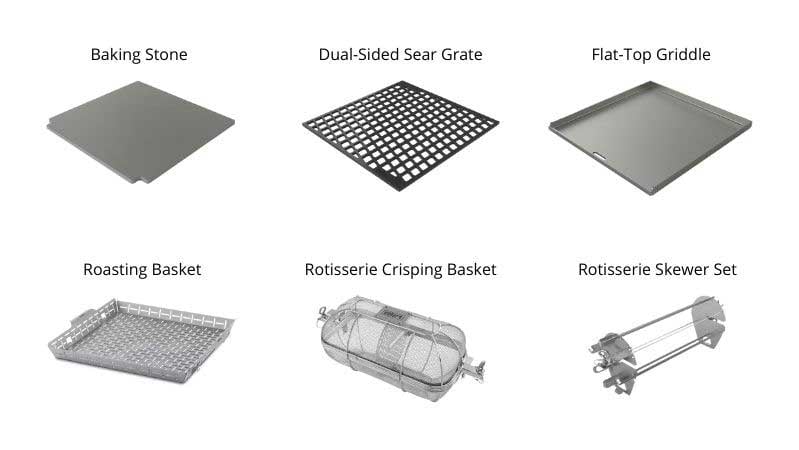 Flattop Griddle - You can cook anything on a grill, but now you can cook breakfast foods like eggs, bacon, pancakes, and grilled cheese. However, you don't get the functionality of a proper outdoor griddle.
Roasting Basket -

Ever try to grill vegetables? You can't do it effectively. Bits of vegetables always slide off the grill to the fire below. The new basket allows you to cook vegetables easily.

Baking Stone -

The baking stone is great for cooking pizzas or anything with a crust.

Dual-Sided Sear grate -

You can serve a steak on one side and more delicate items like fruits and veggies on the other side.

Rotisserie Skewer Set and Rotisserie Crisping Basket -

You can make kabobs or crisp French fries with these two accessories.
Other Weber Genesis grill improvements this year include a larger sear zone, lighting, larger prep table, an expandable top grate, and a tank monitor.
Larger Sear Zone - A larger sear zone with better BTU from 9,000 to 13,000 this year. Weber still uses another row of burners rather than the more directed infrared technology of the pro grills.
Night Vision - It illuminates the entire grill surface with light-up knobs in certain models
Extra Large Prep Table - I like this feature. You can place more on the side tables.
Expandable Top Grate -It's a good idea, but there is no heat source on the back.
Tank Monitor - You don't have to guess anymore. The monitor on the front will tell you how much gas is left in the tank.
The following are available models:
Weber Genesis S-325

- The S-325 Weber grill is a classic three-burner model, serving as your fundamental grilling solution.

Weber Genesis S-335

- With the S-335 Weber grill, you not only enjoy the same impressive power, but also gain additional features including a side burner, sear zone, and the innovative Weber Crafted system.

Weber Genesis SX-335

- The SX-335 stands as Weber's smart grill option, revolutionizing grilling with Bluetooth meat probes, push notifications for optimal cooking, and an on-grill temperature display. While the MEATER or iGrill temperature probes offer similar functionality, the MEATER goes further by accounting for cooking time variations outside the oven.
The S-335 Weber grill is equipped with a 3-burner unit, featuring a 12,000 BTU sear zone positioned in the middle.
Weber Genesis SL-435

- The Weber Genesis SL-435 offers a similar experience to the 335 model, featuring four burners and the added benefit of an illuminated grill surface.
Weber Summit Grill Series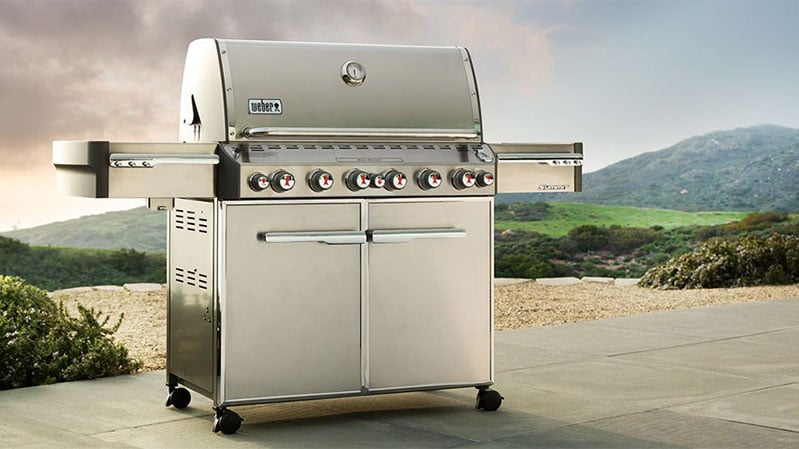 Weber Summit BBQ Grill
The Summit grill is Weber's largest and most feature-packed option, offering four and six-burners and optional smokers, side burners, and rotisserie attachments for both configurations.
In the case of the Summit six-burner grill, it boasts impressive specifications such as 60,000 BTU overall, a powerful 10,600 BTU sear burner, a rotisserie burner at 10,000 BTU, a smoker basket with 6,800 BTU for flavor infusion, and a 12,000 BTU side burner.
However, it's important to note that the Summit series does not include the GS4 grilling system found in other Weber models, nor does it feature the new Genesis OGS system.
Instead, it relies on an older system with a snap jet ignition, a single set of flavorizer bars, and a different grease management system. While dependable, it lacks the advancements seen in the Genesis series.
The key distinction among Summit models lies in the number of burners, with options for both four and six burners and total burner output of 48,000 BTU and 60,000 BTU, respectively.
Additionally, you can choose between a stainless steel option with stainless grates or a more affordable enamel option with enamel grates. Moreover, the Summit series is also available as a built-in model designed to fit seamlessly into an outdoor island setup.
Now, let's dive into the various models within the Weber Summit series.
Weber Summit vs. Genesis BBQ Grills
When comparing Weber's Genesis and Summit grills, it's akin to comparing two distinct grill types.
Size and Pricing
The best Genesis is the SL-435 at $1,649 with stainless body and grates, 12,000 BTU side burners, and a 13,000 Btu sear zone.
You would compare this grill to a four-burner stainless Summit grill at $2,749. Although they are both 48,000 BTU and have the same side burner output at 12,000 BTU and similar sear zones.
The four-burner Genesis is larger at 646 square inches versus 468 for the better Summit. The Genesis is also less expensive at $1,249 vs. $2,099 for the Summit.
Rotisserie and Infrared Heat
However, the Summit will allow you to grill differently with a rotisserie and a 10,000 BTU infrared burner on the top.
It's an important distinction. Infrared is intense heat and perfect for a rotisserie. Genesis has better accessories with the crisper basket, but Summit will cook faster.
Smoker Basket for Flavor Infusion
The Summit will also have a 6800 BTU smoker basket allowing you to infuse flavor by adding different wood chips.
Sear Station
Genesis now has the better Sear Station at 13,000 vs. 10,600. It's just a row of burners rather than a true infrared sear like the professional types.
Genesis OGS: The Game Changer
The OGS has been the biggest development for Weber in recent years. You can now accessorize the grill to cook differently.
Weber Summit vs. Other Professional Grills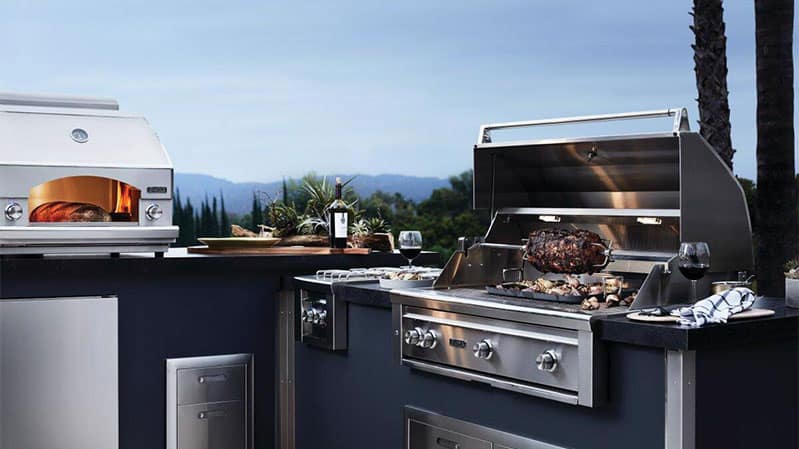 Lynx Professional Built-In Grill
The Summit or Genesis grills offer excellent value for the money, and you won't be disappointed investing in a grill priced between $1,299 to $3,000.
However, it's important to note that professional grills typically feature higher BTU burners, surpassing the Weber Summit by at least 10,000 BTU. Professional grill burners usually range from 23,000 to 25,000 BTU.
With higher heat burners, professional grills allow for faster cooking. Additionally, their rotisseries are superior, capable of accommodating up to 50 pounds of meat and equipped with a hotter infrared burner positioned at the back.
In comparison, the Weber grill has a 10,000 BTU infrared burner, while brands like DCS offer an 18,000 BTU infrared option. The searing capability on professional grills is also infrared. For a more detailed analysis of infrared versus gas grills, please refer to our other articles.
Infrared heat provides a more intense and direct heat source, whereas gas burners distribute heat more evenly. The Sear Station on a Weber grill consists of an additional row of burners, whereas professional grills utilize infrared technology.
If achieving grill marks on your meat or quickly searing it is a priority, a professional BBQ grill will outperform the Weber Summit. However, it's worth noting that professional grills can cost over $6,000, while Weber grills range from $1,299 to $3,000.
Read More: Best Professional Outdoor BBQ Grills
Should You Buy a Weber Spirit, Genesis, or Summit Grill?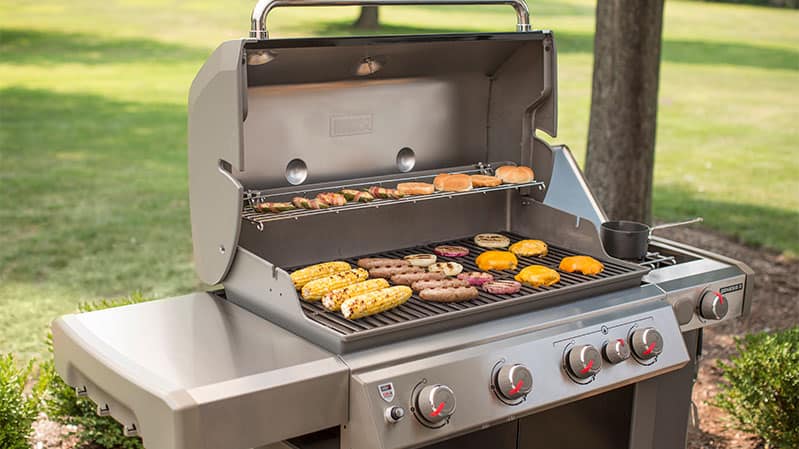 Weber BBQ Grill
Weber offers a range of excellent grills to choose from. The Spirit is the smallest option, while the Summit takes the crown as the largest grill with impressive features like infrared technology and smoking capabilities. Both models are highly regarded.
However, in 2023, the Genesis grill emerges as a strong contender for the best pick. With its recent updates and the availability of numerous accessories, the Genesis series presents a compelling choice for grill enthusiasts.
Why Weber?
At Yale, we like different, better-functioning products. Appliances and grills are our business. We have tried every grill, ceramic, pellet, and charcoal manufacturer.
Weber works. It would be great to offer you many lower-priced options, but none seem to perform or last like a Weber.
Ask for a demonstration before trying an unknown name heavily pushed by your appliance dealer.
Weber Grill Features
A few years ago, Weber redesigned the Spirit and Genesis models with four core improvements - Weber calls it the GS4 Grilling System.
The five core improvements below are:
Ignition system

Burners

Flavorizer Bars

Grease management system

iGrill App
Let's look briefly at all four.
Ignition System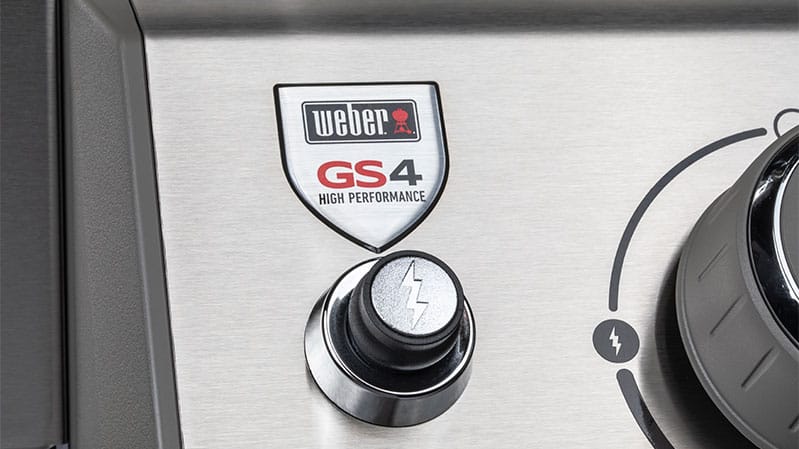 The ignition system is now electronic, and lights on the first strike. In other words, you do not have to play with the knob until you have ignition.
Burners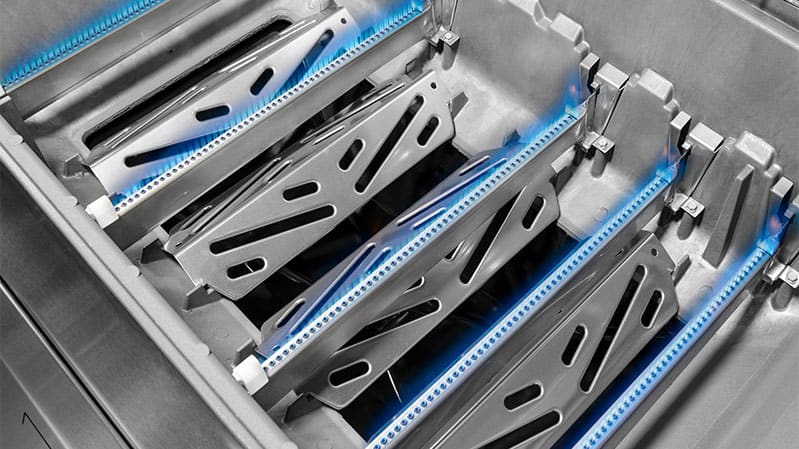 Weber changed the shape of its burners for a more consistent and even heat.
In one case, years ago, our chef placed her hand on a hot grill from another competitor without being burnt (our insurance company was happy).
Flavorizer Bars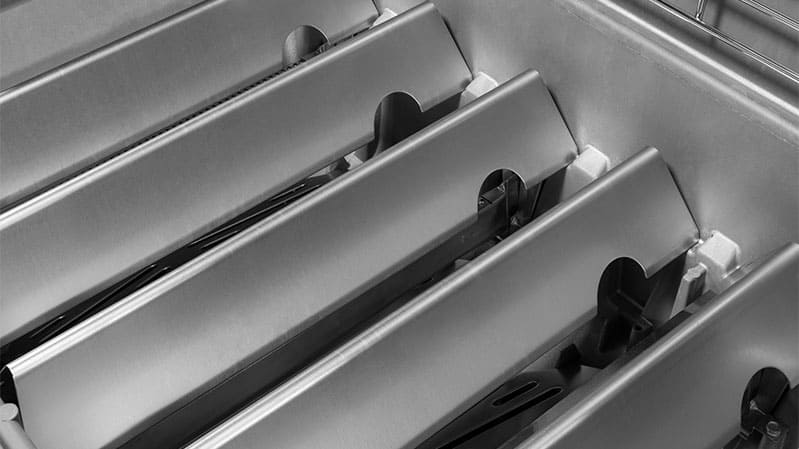 Weber reconfigured the Flavorizer Bars to reduce flare-ups and vaporize grease. You can also see the flame when you grill.
Grease Management System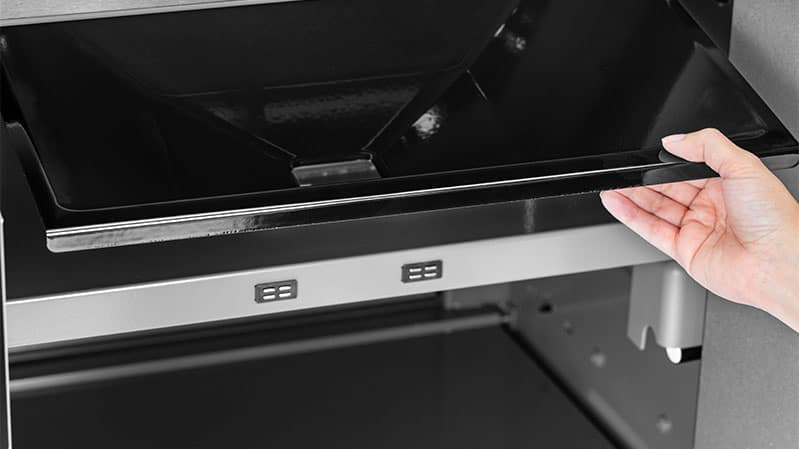 Grease management is now more effective with easy-to-remove drip pans.
iGrill App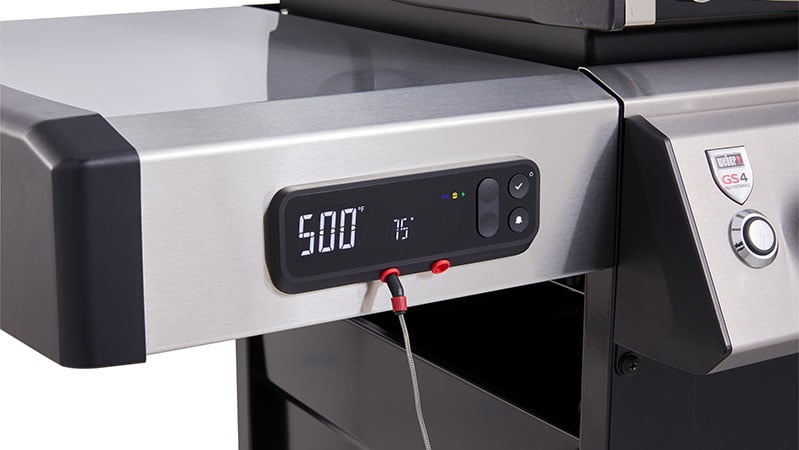 Weber is the best in terms of smart functionality for all appliance manufacturers. Weber introduced the iGrill app as an additional accessory several years ago.
With the iGrill app, you can monitor the food temperature with a Bluetooth temperature probe. It will tell you when to flip your burger, for example, and when you should remove it from the grill. You also have access to recipes.
Although iGrill is simple, it works. Others using sensors have not fared as well, like the MyChef from Lynx. The SmartGrill has the IQ built into it and shows the temperature readings on the outside.
iGrill vs. MEATER Temperature Probes
Weber is the best in terms of smart functionality for all appliance manufacturers. Weber introduced the iGrill app as an additional accessory several years ago.
With the iGrill app, you can monitor the food temperature with a Bluetooth temperature probe.
It will tell you when to flip your burger, for example, and when you should remove it from the grill. You also have access to recipes.
Although iGrill is simple, it works.
However, for $99, the MEATER wireless probe will calculate the cooking time, including the standing time for any type of meat.
While iGrill is a reliable option for monitoring food temperature with a Bluetooth probe, the MEATER wireless probe takes it to the next level with the ability to calculate cooking time and standing time for any type of meat. Its versatility allows you to use it on any appliance and take it with you wherever you go.
With both, you have Smart functionality in any grill or even stove.
Problems with Weber Grills
From 2020-late 2022, Weber was some of the most sought-after products in the world. However, records cannot be shattered yearly.
When demand fell, Weber was not prepared, plus their rollout of new products has been slower.
Also, Weber, like most grills, is a pain to assemble. Many retailers with labor issues can't assemble these grills efficiently.
So the price of an assembled grill is more expensive than ever if you can get it assembled in the first place.
BBQ Grills
FAQs
Answers to the most commonly asked questions about Weber grills
How do I assemble my Weber grill?
What type of fuel should I use for my Weber grill?
How do I properly clean and maintain my Weber grill?
How do I control the temperature on my Weber grill?
Can I use my Weber grill for smoking food?
What are the recommended cooking times and temperatures for different types of meat on a Weber grill?
Can I convert my Weber grill from propane to natural gas, or vice versa?
How do I replace the burner or other parts on my Weber grill?
Is it safe to use my Weber grill on a deck or other flammable surface?
Additional Resources
Want to know the latest information on all the best grills? Download the Yale BBQ Grill Buying Guide with features, BTU outputs of all the grills, and detailed profiles of all the best brands. Well over 1 million people have read a Yale Guide.
Related Articles
Why Should You Trust Us?
It seems that every appliance review has nothing but glowing comments about almost every product, yet you read customer reviews and they are almost universally bad.
We are here to fill in the disconnect. We'll give you the best features, and the drawbacks as well, including reliability based on over 37,000 calls performed by our service team just last year. Our goal is to give you ALL the information so you know what's right for you.
Please consider subscribing or adding to the conversation in the comments below. We appreciate you stopping by.
Steve Sheinkopf is the third-generation CEO of Yale Appliance and a lifelong Bostonian. He has over 38 years of experience in the appliance industry, and he is a trusted source of information for consumers on how to buy and repair appliances.

Steve has also been featured in numerous publications, including the New York Times, Consumer Reports, The Boston Globe, Bloomberg Radio, the New York Post, The Wall Street Journal, and Entrepreneur, for his knowledge of how to buy appliances and appliance repair.

Steve is passionate about helping consumers find the best appliances for their needs, and he is always happy to answer questions and provide advice. He is a valuable resource for consumers who are looking for information on appliance buying, repair, and maintenance.

Despite being the worst goalie in history, Steve is a fan of the Bruins and college hockey, loves to read, and is a Peloton biker. The love of his life is his daughter, Sophie.
A Note About Pricing
Pricing on this blog is for reference only and may include time sensitive rebates. We make every attempt to provide accurate pricing at time of publishing. Please call the stores for most accurate price.