What Is the Difference Between the Weber Spirit, Genesis II, and Summit Series BBQ Grills?
In a short time, Weber has become the household name for grills. However, buying one isn't easy. You have three different series and several different codes for each series.
In this article, you will learn the most popular Weber grills, the three different series, Spirit, Genesis, and Summit, as well as their differences.
In the end, you will also see a comparison between the Summit and high BTU grill options.
Is a professional grill worth $1,300 more?
You will find out (short answer: maybe).
Let's dive in.
What Is the Difference Between the Weber Spirit, Genesis, and Summit Series BBQ Grills?
The differences between the Weber Spirit, Genesis, and Summit seem straightforward but are kind of confusing.
The Spirit is their smaller grill, Genesis is their mid-size to larger grill, with the Summit being their largest and most featured, but it isn't actually that simple.
For example, a full-featured three-burner Spirit grill with a sear station and side burners is only $50 less than a basic three burner Genesis grill without a sear or a side burner.
The Summit is their best grill, but a four-burner Genesis is 40% larger and 40% less expensive than a four-burner Summit.
To complicate matters, Weber improved their grills a couple of years ago with their GS4 improvements, their code name for a faster one strike ignition with a second row of flavorizer bars for fewer flare-ups and better grease management.
But they only included the GS4 on their lowest priced Spirit II models and all Genesis grills, yet none of their best summit grills.
Their new smart grills with WIFI functionality are only available in the Genesis and the Spirit lines.
So, choosing a Weber Spirit, Genesis, and Summit is a bit complicated.
First, let's talk about why you might want to consider a Weber grill in the first place.
Short on time? Get our free BBQ Buying Guide
Why Weber?
We like different, better functioning products. Appliances and grills are our business. We have tried almost every grill, ceramic, pellet, and charcoal manufacturer in the industry.
Weber works. It would be great to offer you tons of options, but none of them seem to perform or last like a Weber.
Before you try an unknown name heavily pushed by your appliance dealer, ask for a demonstration.
Weber GS4 Grilling System
A few years ago, Weber redesigned the Spirit and Genesis models with four core improvements - Weber calls it the GS4 Grilling System.
The five core improvements below are:
Ignition system

Burners

Flavorizer Bars

Grease management system

iGrill App
Let's look briefly at all four.
Ignition System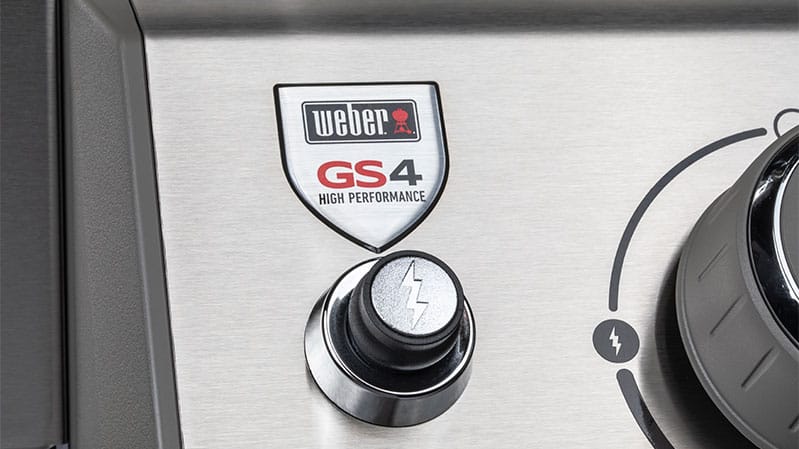 The ignition system is now electronic, and lights on the first strike. In other words, you don't have to play with the knob until you have ignition.
Burners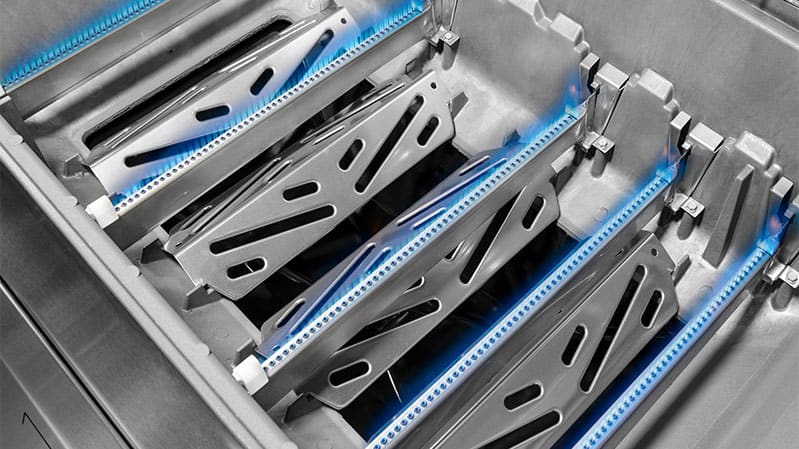 Weber changed the shape of its burners for a more consistent and even heat.
In one case, years ago, our chef placed her hand on a hot grill from another competitor without being burnt (our insurance company was happy).
Flavorizer Bars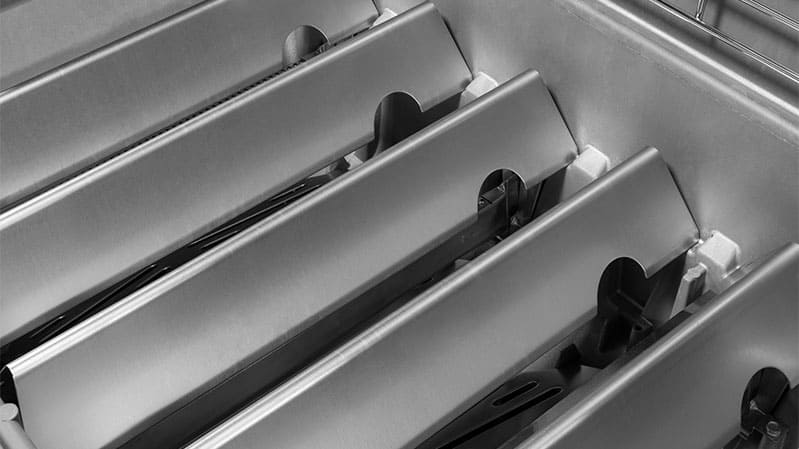 Weber reconfigured the Flavorizer Bars to reduce flare-ups and vaporize grease. You can also see the flame when you grill.
Grease Management System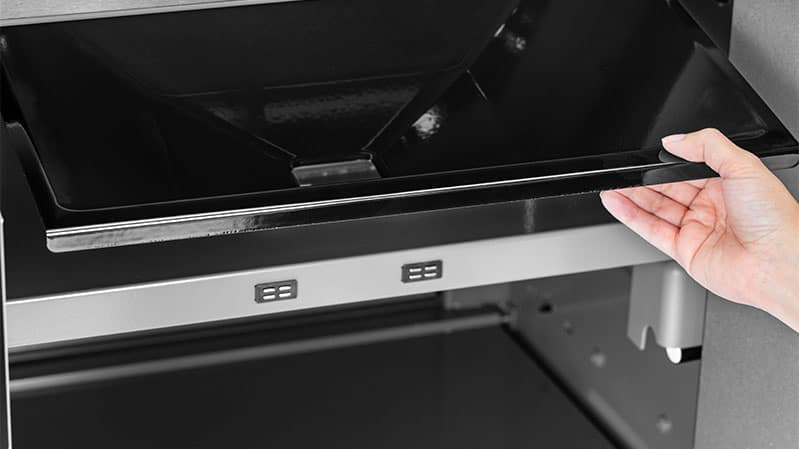 Grease management is now more effective with easy to remove drip pans.
iGrill App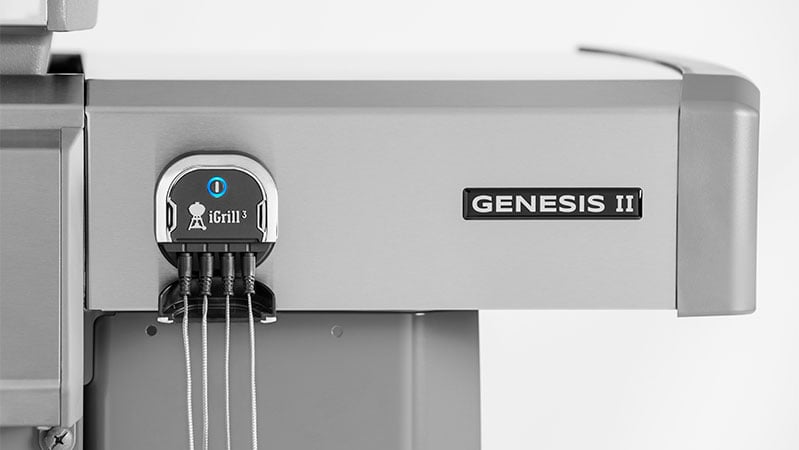 Weber also introduced the iGrill app as an additional accessory. The app allows you to monitor the meat you are cooking with a temperature probe from their app.
Weber's Warranty and Reliability
Weber is extraordinarily reliable. At a 1.52% service rate within the first year, it's way under the average appliance service rate of 13.4%. It's the second most reliable product sold after disposers.
Then again, their competitive advantage has been reliability and length of life versus lesser expensive grills.
They are also excellent at after-sales service. Most of Weber's functional parts are covered for ten years.
However, you have to call them. Then they'll ship the part free. You can either install the part or then call us (in Metro Boston) or another service company to replace it.
It's a bit different than a normal fix, at least for us.
Let's break down the differences starting with the Spirit series which is really two grill lines, the Spirit and Spirit II.
Weber Spirit Grill Series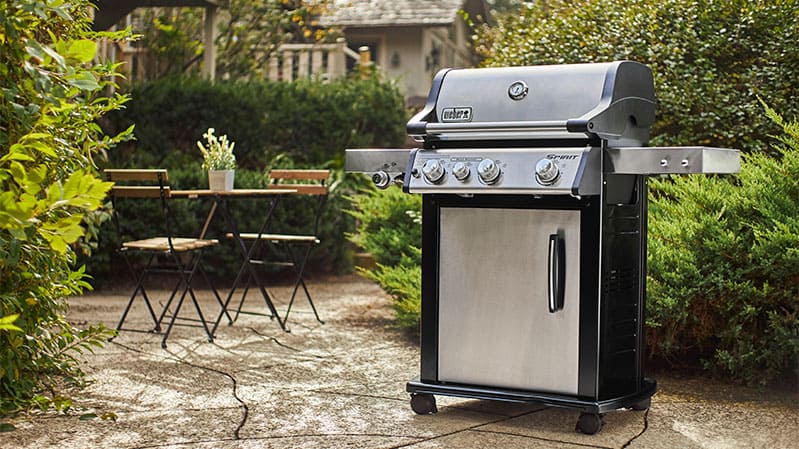 The Weber Spirit grill series is perfect for the small family or novice griller.
It's considered an entry-level model equipped with either a two-burner or three-burner configuration, available in black for natural gas.
The Spirit II has the GS4 improvements and is the least expensive. It's available in two or three burners at 26,000 and 32,000 BTU at up to 424 square inches of cooking area.
The regular Spirit doesn't have the GS4 but will have better features like a stainless body and a more durable stainless grate.
You also have a 12,000 BTU side burner and a 7,500 BTU sear station located between the two burners in the middle for added heat.
Their SP-335 includes every Weber option, including the Sear Station, side burners, and a storage cabinet.
The regular Spirit series even has a smart grill.
Overall, a Weber Spirit series grill is a good value. It's solid and will last far longer than the cheaper competitive grills.
Let's take a look at their most popular models.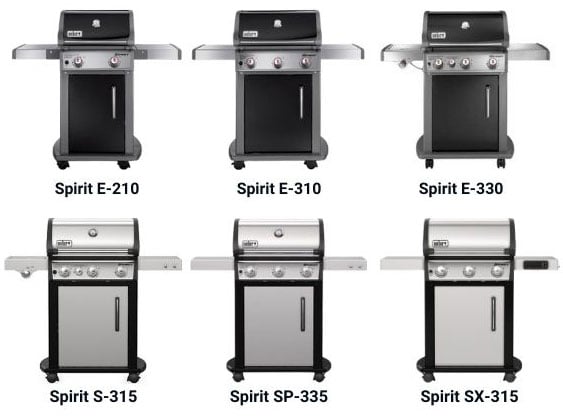 Weber Spirit II Series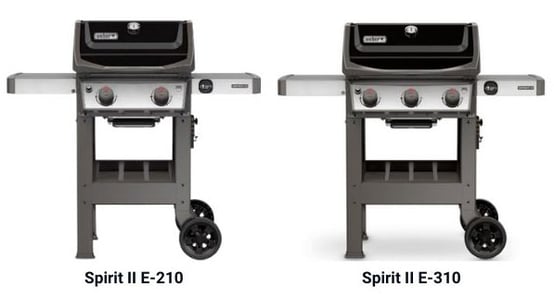 The Weber Spirit II series adds the GS4 grilling system.
Weber Genesis II Grill Series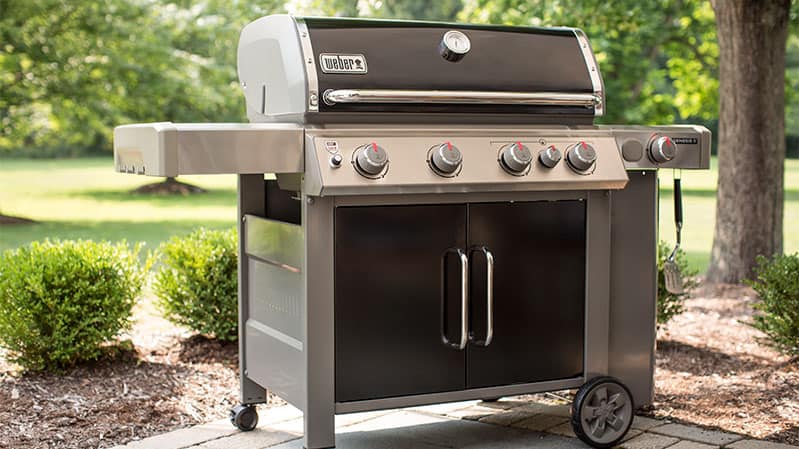 The Weber Genesis II Grill is perfect for everyday grilling but big enough to conquer the big party.
Genesis II is their most popular grill series with three and four-burner sizes only versus the two and three-burner models of the Spirit grill or the four and six-burner Summit series.
All Genesis grills have the GS4. You choose between a three burner at 39,000 and 513 square inches or a four-burner at 48,000 and 646 Square inches plus the fold-down area.
The upgrades to the Genesis are a stainless body and stainless grates and then a side burner and sear station, much like the Spirit.
Let's take a look at Weber Genesis's most popular models.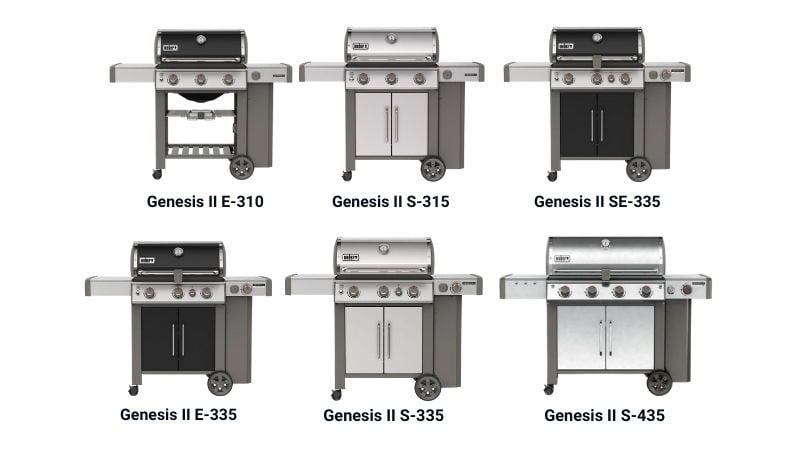 Weber Spirit vs. Genesis II Series Grills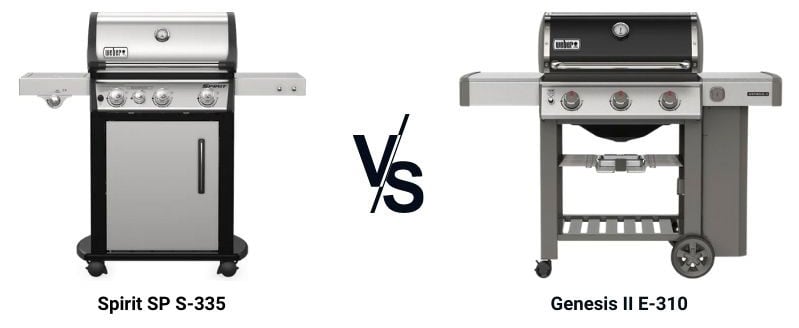 Let's look at the best Spirit SP-335 for $699 vs. the basic Genesis II E-310 grill for $749.
The Genesis has technically more BTU listed at 39,000 vs. 32,000 BTU.
However, the Spirit has the sear of 7500, another row of burners in the middle, so it's 500 BTU hotter.
The Spirit adds the side burner as well. Genesis is a larger grill at 513 square inches vs. 424 for the Spirit.
So, it's a larger Genesis grill with the GS4 improvements versus a smaller yet more fully-featured Spirit for $50 more.
Weber Summit Grill Series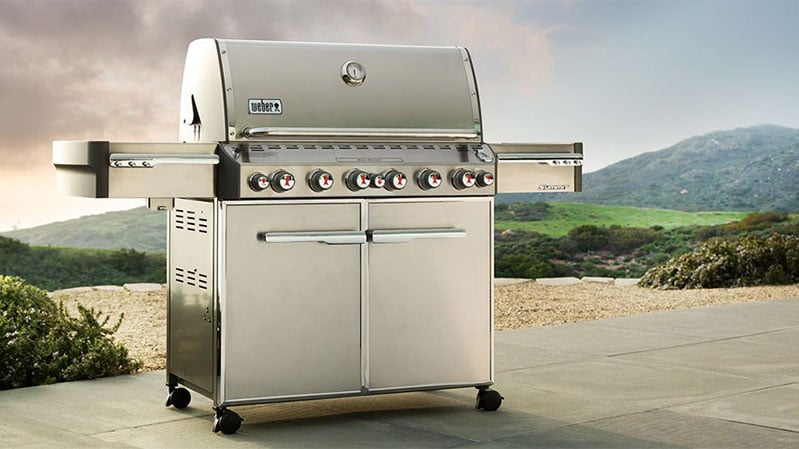 The Summit is Weber's largest and most featured grill at four and six burners, with a smoker, side burners, and a rotisserie available in 4 and six burners.
The Summit six-burner grill has 60,000 BTU, a 10,600 BTU sear, a rotisserie and rotisserie burner on the top at 10,000 BTU, and a smoker basket of 6,800 BTU to infuse flavor as well as the 12,000 BTU side burner.
Yet, Summit does not have the GS4 grilling system. The older system with a snap jet ignition, and only one set of flavorizer bars, and a different grease management system is still reliable but not improved like the Genesis.
The difference in the Summit models is four or six burners with 48,000 VS 60,000 BTU. You have a choice of stainless with stainless grates or the less expensive enamel with enamel grates.
Summit is available as a built-in as well to fit in an island
Let's take a look at the Weber Summit's models.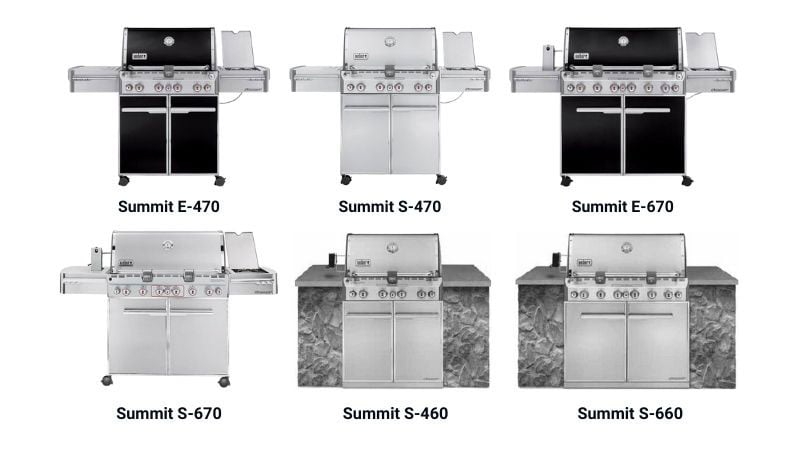 Weber Summit vs. Genesis BBQ Grills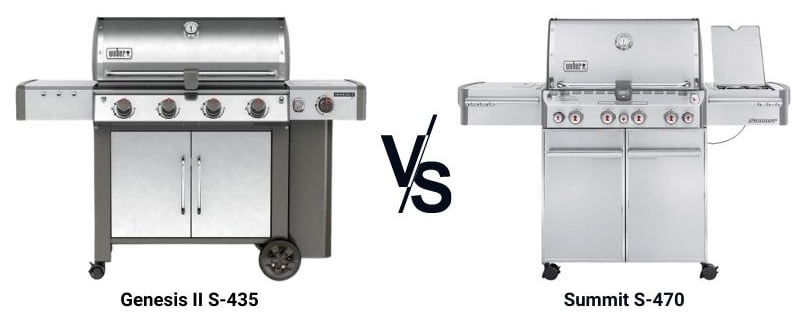 Comparing Genesis vs. Summit is like comparing two different types of grills.
The best Genesis before the Smart series is the S-435 at $1,249 with stainless body and grates, 12,000 BTU side burners, and 9000 Btu sear zone.
You would compare this grill to a four-burner stainless Summit grill at $2,199.
Although they are both 48,000 BTU and have the same side burner output at 12,000 BTU and similar sear zones.
The four-burner Genesis is larger at 646 square inches versus 468 for the better Summit. The Genesis is also less expensive at $1,249 vs. $2,099 for the Summit.
However, the Summit will allow you to grill differently with a rotisserie and a 10,000 BTU infrared burner on the top.
It's an important distinction. You can probably buy an aftermarket rotisserie, but it will not be as even without the burner. Infrared is intense heat and perfect for a rotisserie.
The Summit will also have a 6800 BTU smoker basket allowing you to infuse flavor by adding different types of wood chips.
The Sear Stations are almost the same. Summit is 10,600 vs. 9,500 BTU for the Genesis. It's just a row of burners and not a true infrared sear like the professional types.
The Summit can do more like smoke and effectively rotisserie for $800 more than the larger Genesis with the better GS4 system.
Summit, as I said, also has the largest grill with all the features at $2,799.
Weber Summit vs. Other Professional Grills
The Summit is an excellent grill for the money. You won't be cheated buying an almost $3,000 grill.
Technically, it has all the features of a Lynx, DCS, or Hestan professional grill.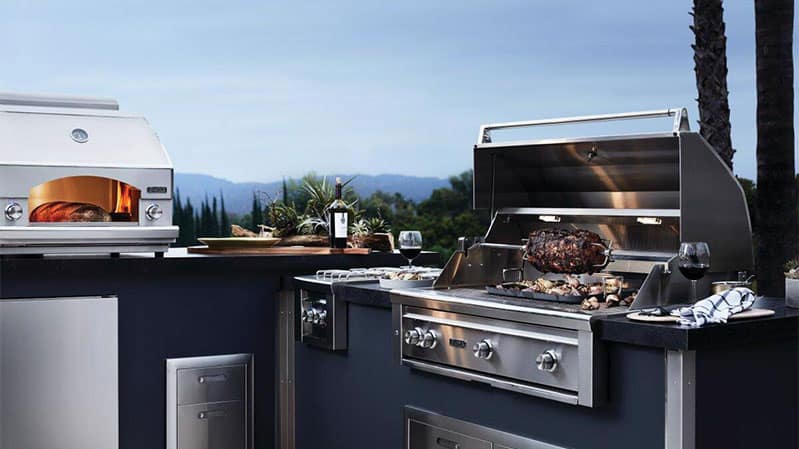 Lynx Professional Built-In Grill
However, a professional grill will have higher BTU burners at 23-25,000 BTU versus more than 10,000 BTU burners for the Summit.
You can cook faster in a pro grill due to the higher heat burners.
You also have a better rotisserie at 50 pounds with a hotter infrared burner located in the back.
The Lynx Sedona has a 14,000 BTU infrared versus 10,000 for a Weber.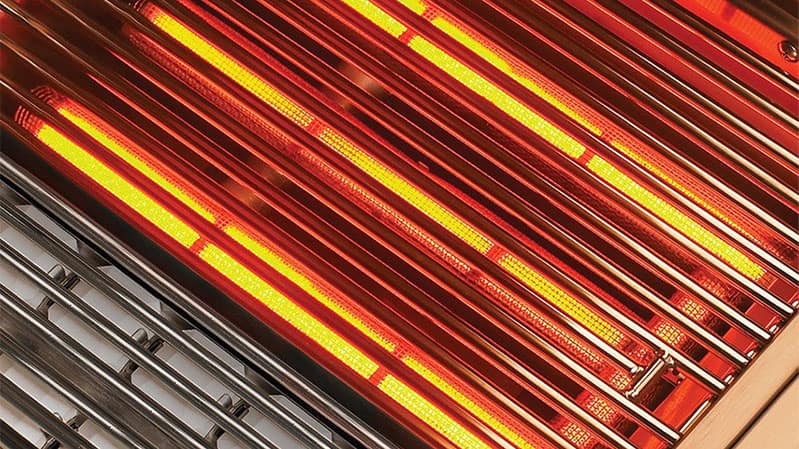 Lynx BBQ Grill Infrared Burner
The sear on a professional grill is infrared as well. We cover infrared vs. gas in other articles.
It's more intense direct heat, whereas a gas burner spreads the heat further.
The Sear Station of a Weber is just another row of burners versus the infrared of a pro grill.
If you want lines on your meat or quickly sear the outside of your meat, then the Pro will be better than the Summit.
You will pay over $4,000 for a professional grill vs. $2,799 for a Summit.
What About Weber Smart Grills?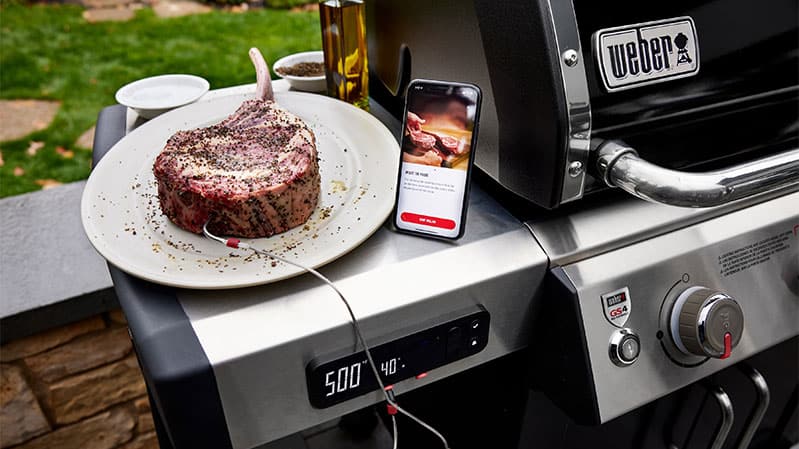 First, any grill can be smart with Weber's iGrill app and accessory.
It's Bluetooth meat probes, so you can track your food on your phone through an app.
It will tell you when to turn that burger or when you should remove it.
Only the Spirit and Genesis lines have smart grill models with the iGrill built-in.
You can even see the internal temperature right on the grill.
The Spirit starts at $799, and Genesis has Smart grills from $1,299.
Read More: Are Weber Smart Grills Worth the Money?
Should You Buy A Weber Spirit, Genesis II, or Summit Grill?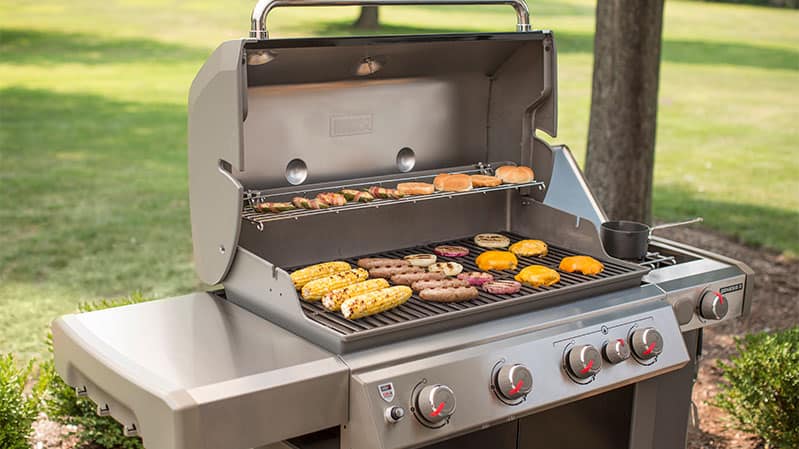 The Spirit has the smallest and the least expensive, starting at $379 for their Spirit II.
The Summit has the largest and most full-featured with six burners, rotisserie, smoker, side burners at $2,799.
Weber doesn't have a perfect grill for everyone. That's why there are so many options.
To determine the right Weber for you, you have to assess how you grill.
If it is a few items, the Spirit is a great grill. The better Spirits have decent features.
If you are a regular griller and like to infuse your food with flavor and use the rotisserie regularly, then a Summit is a good option.
That said, Genesis is their most popular grill for a good size with powerful burners at a reasonable price.
So, match whatever Weber grill suits your particular cooking style.
Additional Resources
Want to know the latest information on all the best grills? Download the Yale BBQ Grill Buying Guide with features, BTU outputs of all the grills, and detailed profiles of all the best brands. Well over 900,000 people have read a Yale Guide.
Related Articles
Why Should You Trust Us?
It seems that every appliance review has nothing but glowing comments about almost every product, yet you read customer reviews and they are almost universally bad.
We are here to fill in the disconnect. We'll give you the best features, and the drawbacks as well, including reliability based on over 37,000 calls performed by our service team just last year. Our goal is to give you ALL the information so you know what's right for you.
Please consider subscribing or adding to the conversation in the comments below. We appreciate you stopping by.
Chris Tavares
Chris Tavares is an Appliance Sales Associate at Yale Appliance and has been with Yale for over 17 years. When not helping clients, Chris is a huge Patriots fan and enjoys cooking.

Schedule a showroom visit with me
A Note About Pricing
Pricing on this blog is for reference only and may include time sensitive rebates. We make every attempt to provide accurate pricing at time of publishing. Please call the stores for most accurate price.