How to Plan Your Kitchen Lighting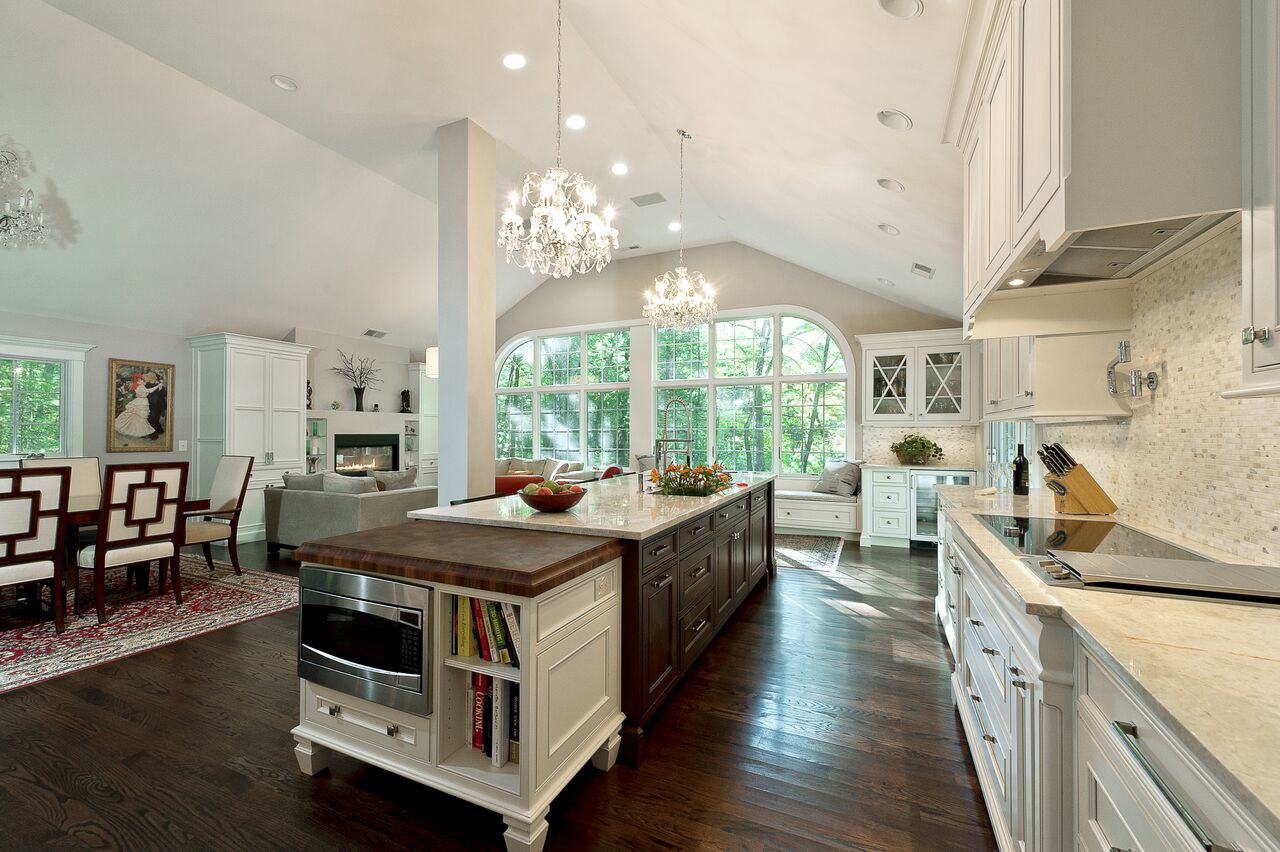 Lighting is one of the most agonizing purchases you will experience in your home renovation.
It's even harder when there are multiple decision-makers all with different ideas of style.
A friend and designer of mine helped me with my house. She liked Shabby Chic, and I have a more contemporary taste. Baubles and clean edges do not work well together, and neither did we.
We are still friends, and I still respect the heck out of her despite our design differences.
Kitchens and baths are the only rooms you need to plan your lighting ahead of time.
You can always add lamps in other places, and most of the time, you are turning lights down to watch TV or read on your iPad in separate rooms.
In this article, I will tell you what you need to do so that you won't eat or cook in the dark. I will explain the four elements of lighting and how they work in a room.
Then I will tell you to relax and pick what you want for decorative fixtures. Lastly, I will show you how to save the most money and still buy high-quality lighting.
There is one warning to keep in mind if you are buying lighting. Lighting is the most highly returned item in home improvement at 12-14%. Buying lighting off the internet more than doubles that to almost 30%.
How it fits in your room may differ from how it looks in a showroom or online. So, be careful and plan. Here's how.
Know Your Basics
First, you need to know your lighting basics such as what your ideal quality of light should be, your different styles of lighting, and, most importantly, the four elements of lighting.
Quality Of Light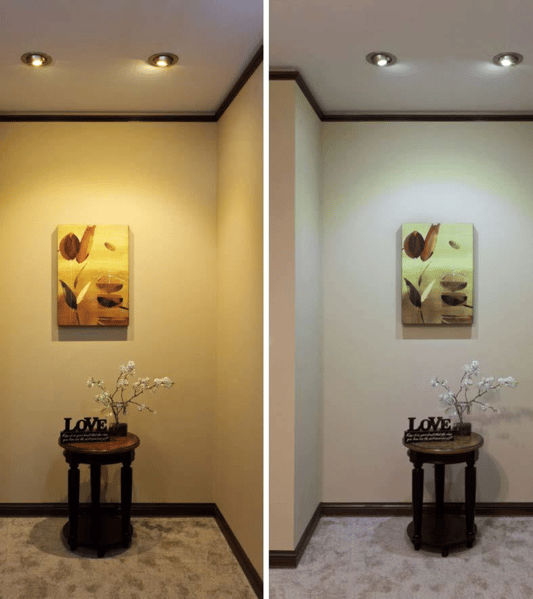 Incandescent lighting has the best quality of light, but it's inefficient at only 10%. LED is more efficient at 90%, and can closely resemble an incandescent light if purchased between 2700-3000 degrees kelvin.
Do not purchase anything over 3,000 degrees kelvin for a kitchen.
3 Most Common Styles Of Lighting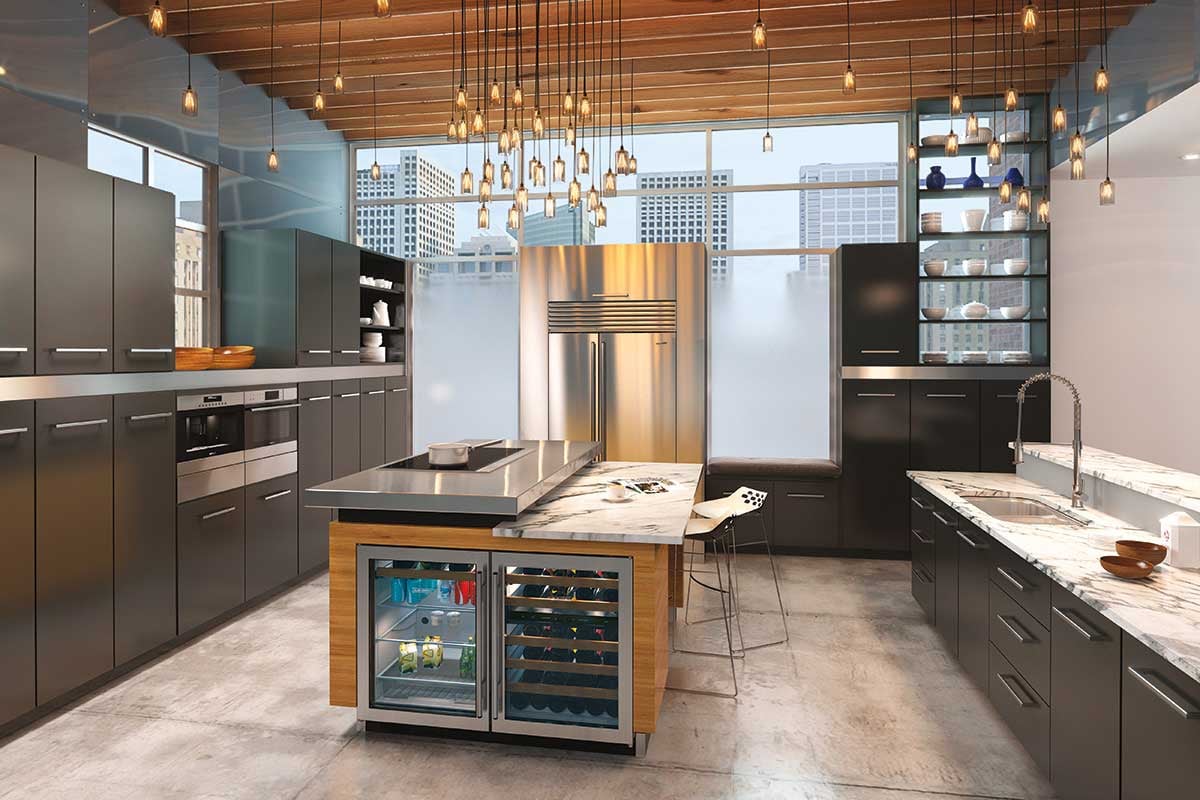 Traditional Style Lighting
Traditional style lighting encompasses classic, timeless designs that are orderly, tranquil, and versatile. It generally includes rich tones, arches, and built-in cabinets with elegant furnishes.
Contemporary Style Lighting
A contemporary style focuses on the look and feel of what's popular now. Contemporary differs from modern because it adds color and blends a bit of traditional and transitional styles.
Transitional Style Lighting
Transitional style lighting is a combination of traditional and contemporary. It blends vintage styles with modern twists. Aim for unique, bold finishes, appointed features, and interesting shapes.
Whatever your style is, your lighting should complement your design.
4 Elements Of Lighting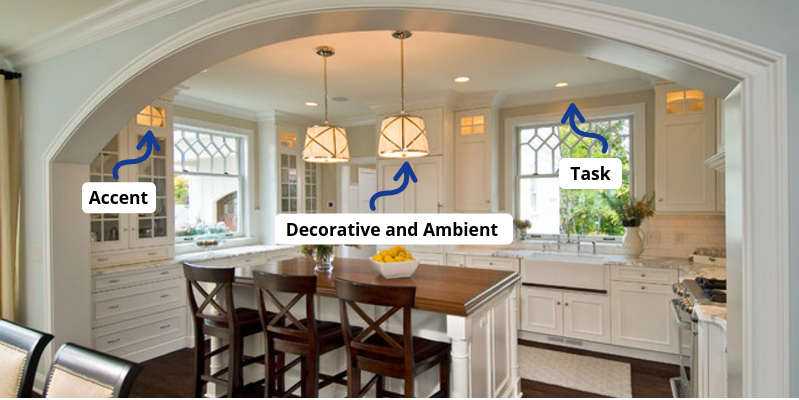 Task: The skeleton of your plan as defined by recessed or track and under cabinet lighting
Accent: Highlighting different objects of interest
Decorative: Chandeliers and sconces personalizing the space
Ambient: Up-lighting with sconces, pendants or tape
Having one light to illuminate your entire room is the biggest misconception in lighting. Your room will have a glare bomb in the middle and no task lighting around the room.
Decorative lighting cannot and should not be the only source of lighting to light your room.
Here is the good news. You only need to worry about the kitchen and bath as I said before.
However, since we combined the kitchen and formal dining room into one space, we have more to light, especially if you have a kitchen island in the middle. In larger rooms, you need more light.
You can have a decorative sconce to up-light the ceiling for two elements at once. Under-cabinet lighting can provide task lighting for your counters and accent lighting throughout your kitchen.
How To Plan Your Kitchen Lighting
First, the kitchen is the room in the house with the greatest need for task lighting. You want to focus on the high traffic areas like the sink, stove, and refrigerator.
If you start with the four elements of lighting, you'll have a unique yet functional space.
1. Start with task lighting.
Task lighting is the general lighting for your space. Think of task lighting as the skeleton of your lighting plan.
Most task lighting in kitchens are recessed, track, and under cabinet lighting.
Start at the sink and plan your recessed lighting for every 3-4 feet. New lights have greater output because of the enhanced LED bulbs for plenty of light.
Do NOT place the lights behind you. This will create shadowing.
After your recessed lighting is done, plan your under cabinet lighting. You can use tape or fixtures, but under cabinet lights the countertops and can also provide a safety light at night as well.
Recess and under cabinet lighting provide the skeleton or the task lighting elements.
2. Next, look at decorative lighting to personalize your space.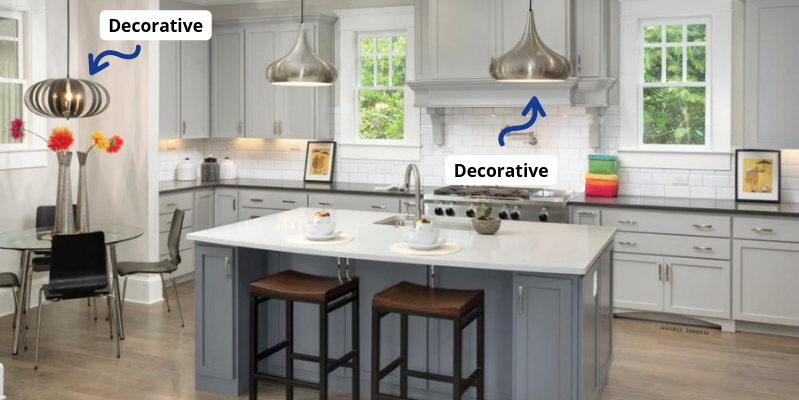 Decorative lighting, like chandeliers, flush mounts, pendants, and sconces add personality to the room. A common mistake is using decorative lighting as the main source of light.
Decorative lighting does not light your entire room (I know we've said it more than once).
Also, a fixture with high wattage bulbs will add more glare than functional lighting.
To learn more about how to convert watts to lumens, check out our buying guide with everything you need to know about kitchen lighting by clicking here.
3. Third, plan your ambient lighting.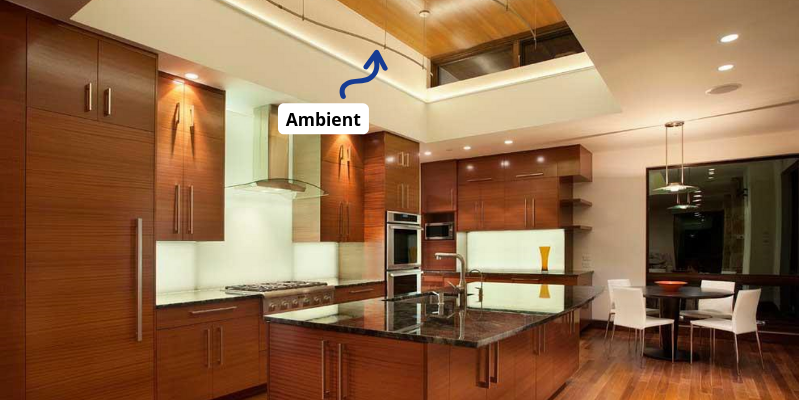 Ambient lighting is the most overlooked element, yet it provides the main environmental lighting. It's lighting the ceiling or up-lighting in general. It can be accomplished by pendants, flush mounts, and under cabinet lighting.
Sconces, semi-flush mounts, and pendants can reflect up to the ceiling providing ambient lighting as well.
In this picture, there is under cabinet lighting mounted in the ceiling around the space reflecting up.
4. Lastly, finish with accent lighting.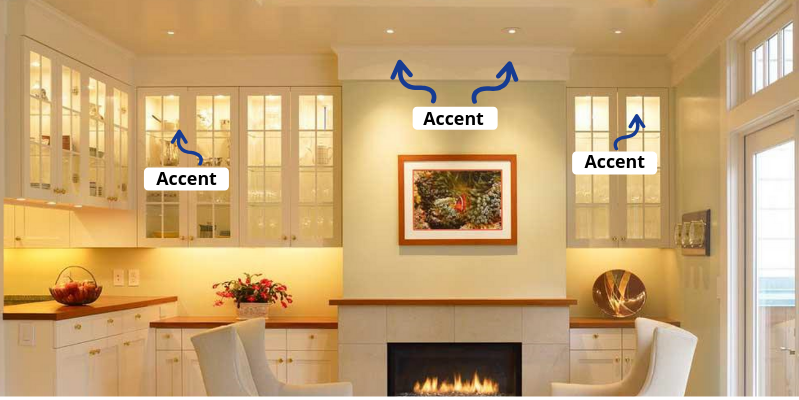 Accent lighting highlights objects such as pictures, works of arts, flowers, and glassware. This is usually accomplished with a low voltage or LED Spotlight.
In the picture above, recessed is placed in the glass cabinet. It looks good with the glass shelving on the right hand side. However, with solid shelving, or shelves with many objects, the lighting doesn't reach all areas in the cabinet. For a more uniform look, light along the sides of the cabinets.
You never want to light any room with just accent lighting. It's called the Nightclub Effect where objects are better lit, and are more important than lighting people or overall space.
How To Light A Kitchen Island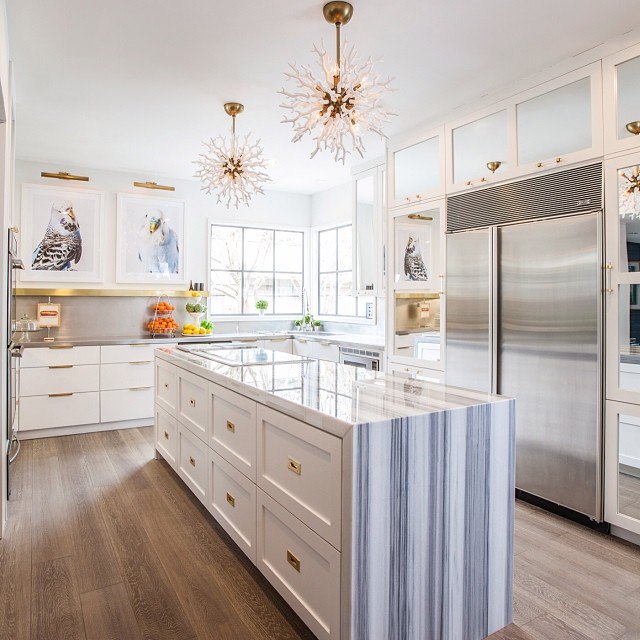 You may have the question of how many pendants do you put over an island. That depends on the island and the fixture.
3-4 smaller pendants would be good on a standard size island whereas 1-2 larger chandeliers would be appropriate for the same space.
Let's look at the finished product of a properly lit kitchen.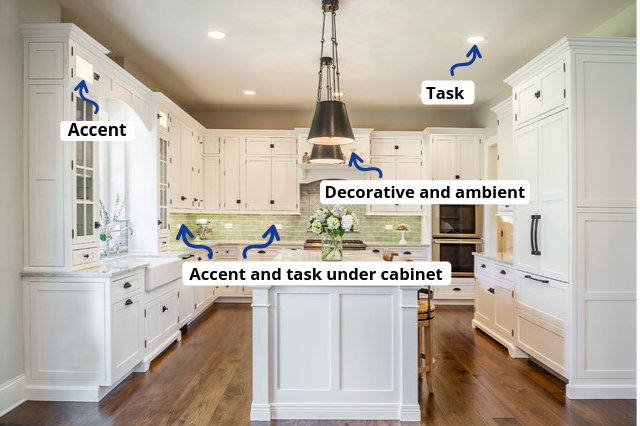 If you're interested in learning how to properly light your kitchen island, click here for our buying guide with our best recommendations, tips, and design examples.
How To Buy Kitchen Lighting And Save The Most Money
The return rate on lighting is 12-14% in a showroom and 30% online.
It doesn't mean they are bad lights. It means they didn't fit the space. Also, lighting is a fashion business.
Sometimes, that trend doesn't translate well. Often, the same fixture will sell well in New England and die in Miami because home renovation and style is different in many areas of the country.
However, this doesn't mean that returned light is wrong for your space.
Right now, if I am guessing correctly, lighting showrooms and internet sites are conservatively sitting on millions of dollars of lights.
If you want a great deal, find one of these showrooms/internet sites and ask for their catalog of discontinued or slow-moving lights.
You could save 20-50%.
Our Final Advice
Our best tips for planning your kitchen lighting are:
Do not place lighting behind you because it casts shadows.
Start at the sink or stove with recessed lighting.
Remember, you can always add lights in other rooms, except for your kitchen. Make sure to plan well.
Don't forget the 4 elements of lighting.
Additional Resources
Get the Yale Kitchen Lighting Buying Guide with features, how to's, and tons of pictures to assist you in lighting your kitchen. Well over 580,000 people have read a Yale Guide.
Why Should You Trust Us?
It seems that every appliance review has nothing but glowing comments about almost every product, yet you read customer reviews and they are almost universally bad.
We are here to fill in the disconnect. We'll give you the best features, and the drawbacks as well, including reliability based on over 37,000 calls performed by our service team just last year. Our goal is to give you ALL the information so you know what's right for you.
Please consider subscribing or adding to the conversation in the comments below. We appreciate you stopping by.
A Note About Pricing
Pricing on this blog is for reference only and may include time sensitive rebates. We make every attempt to provide accurate pricing at time of publishing. Please call the stores for most accurate price.