Best Lighting Ideas for Small Bathrooms (Reviews)
I just remodeled a small bathroom, so I understand the problems of finding the right fixtures without overwhelming the space. In this article, you will learn how to light a smaller space, what fixtures to consider, and what NOT to do.
Bathroom featuring Decorative Lighting and Sconces
How to Light a Small Bathroom
The logic of illumination differs in a smaller area than a larger space. In many spaces, you should layer the light between accent, task, ambient, and decorative to create an effect. In a smaller space, you may not have the luxury.
My best suggestion for you is to focus on the mirror first.

Mirrors are where you need light the most to apply makeup, shave, do your hair, and so forth. For my bathroom, I placed two Kate Spade lights on either side of my mirror.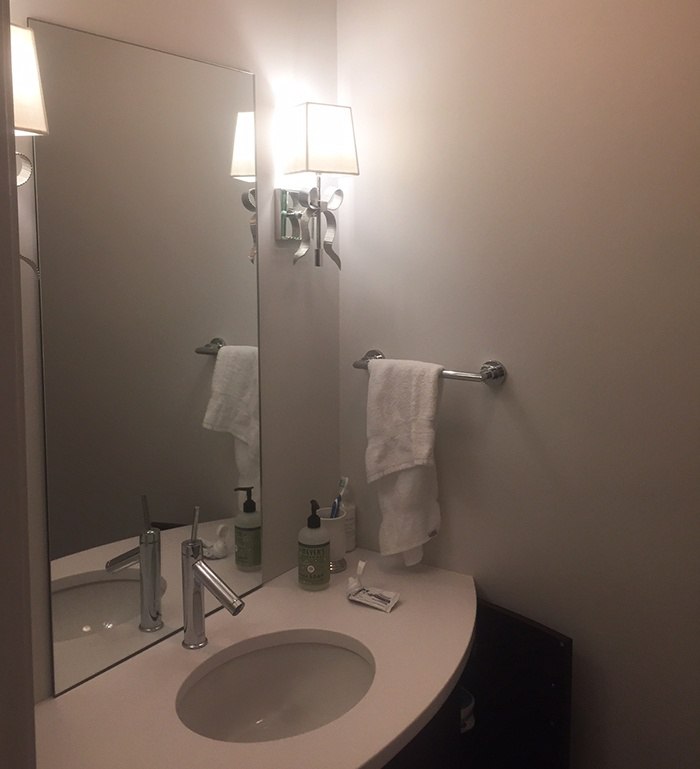 Sconces placed on both sides of the mirror for cross illumination.
The best place for sconces in a small bathroom is on either side of the mirror or sink. By placing sconces on the sides, you can have the best cross illumination for shaving or applying makeup.
Short on time? Get our free Bathroom Lighting Buying Guide
You can even mount recessed lights on either side of the sink for the same effect. If necessary, you can mount a sconce on top of the mirror.
If you do not have wall space, you can hang pendants as well.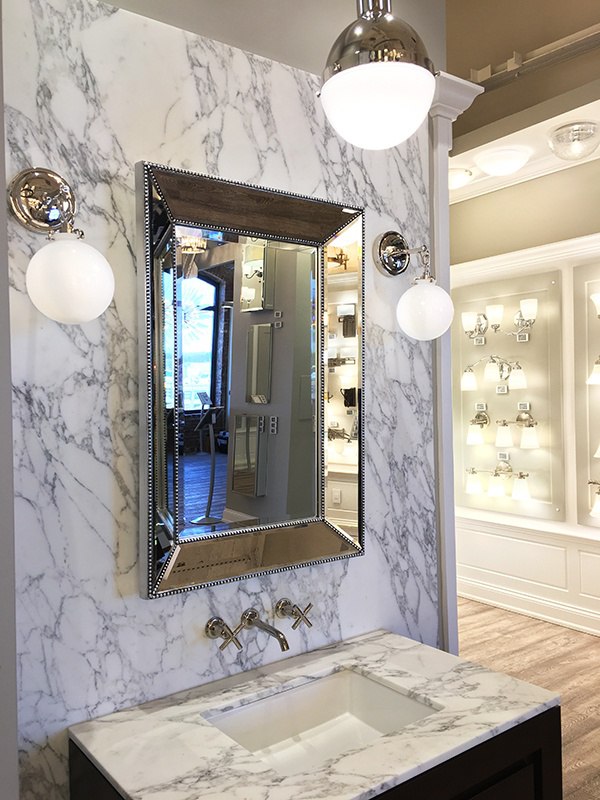 Boston Showroom Lighting Display for a Small Bathroom
Do NOT place lighting behind you as it creates shadowing and becomes much harder for applying makeup at the mirror.
I also placed a non-matching surface light on the ceiling. Why? Because I liked it. You can again do recessed but decorative lighting personalizes the space, in my opinion.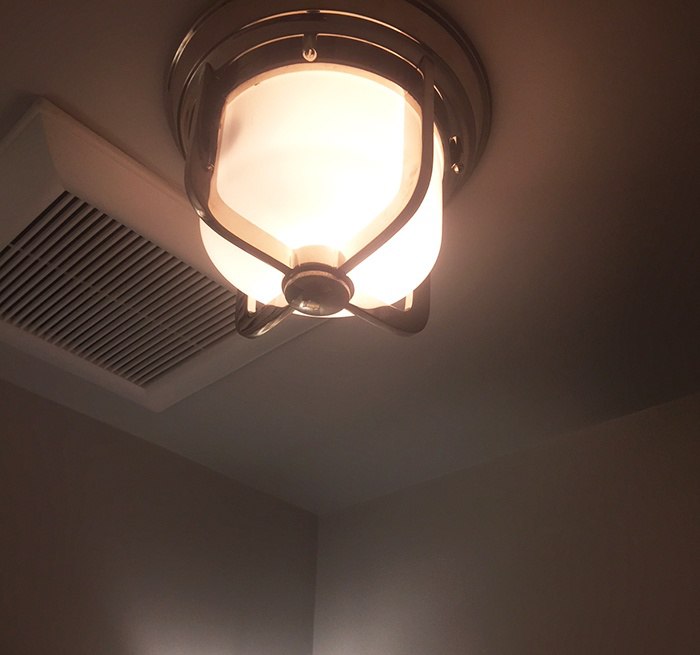 Decorative Flush Mount Ceiling Light
You have plenty of options and in many cases, lights on the mirror may be enough.
Chambers Hotel Bathroom
I recently stayed at Chambers Hotel in New York City. It's one of my favorite places to stay. The rooms are bigger than your typical New York hotel, service is very good, and it's located in the middle of everything.
However, their bath lighting could be a bit better.
Have a look.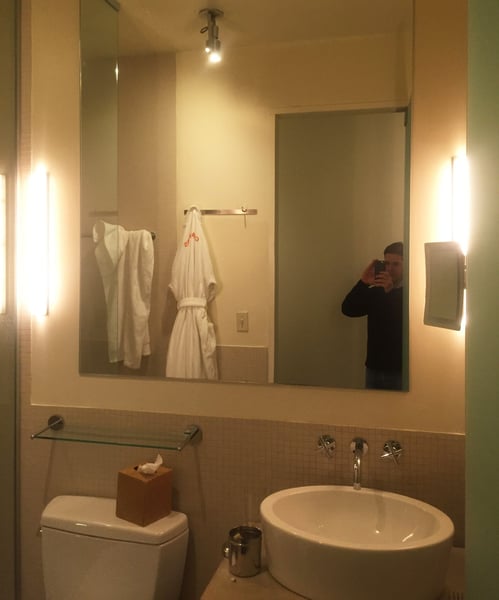 At first glance, it isn't bad but these sconces are older with not much output causing the lighting to be dim.
| | |
| --- | --- |
| Sconce on the Side of the Mirror | Ceiling Light |
The main ceiling light is behind the sink, causing your reflection to have shadows. Consequently, I had to dig my face into the mirror to shave. It's a monopoint track head. That can work if you like the style.
Possible solutions are newer LED-based sconces with much better output or mounting the ceiling lights on both side of the sink. You can always buy a lighted magnifying mirror as well.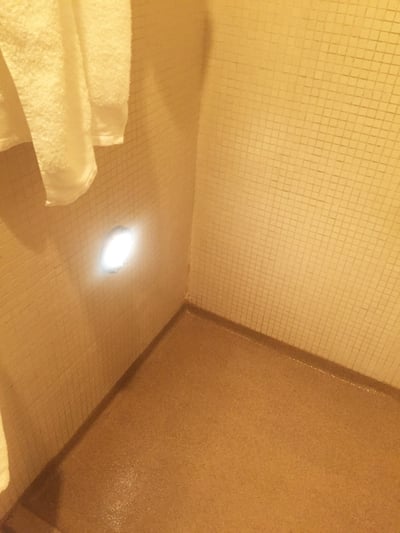 Shower Light
You would think I would caution about mounting a light at foot level like this. However, you do not need much light for soap and shampoo. You can do both without the exact optimum amount of light.
Final Thoughts
Ultimately, there are a few key rules you should follow when lighting a small bathroom.
The Do's and Don't of Lighting a Bathroom:
1. Focus on the mirror.
2. Cross illuminate by putting lighting on either side of your mirror or sink.
3. You can use recessed lighting (Don't be afraid to add style with decorating lighting, too).
4. Don't place your main ceiling light behind you.
Additional Resources
Get the Yale Bathroom Lighting Buying Guide with features and plenty of picture to inspire your next lighting project. Well over 260,000 people have read a Yale Guide.

Related Articles:
Steve Sheinkopf
My goal has always been simple: I want Yale to be the best retail experience anywhere. I have tried to create a compelling environment for customers and employees alike.
A Note About Pricing
Pricing on this blog is for reference only and may include time sensitive rebates. We make every attempt to provide accurate pricing at time of publishing. Please call the stores for most accurate price.