Thermador vs. GE Monogram Integrated Refrigerator Columns (Reviews / Ratings / Prices)
Thermador has a newly integrated refrigerator with customizable storage. The new GE Monogram has Wi-Fi and is convertible from the refrigerator to the freezer. Which is better? We compare prices, capacity, and features between Thermador and GE Monogram integrated refrigerators.
You may have noticed integrated refrigerators have become popular in high-end kitchens surpassing the more professional looking, top compressor refrigerators. Integrated refrigerators fit seamlessly because of their shallow depth and are flush with the cabinet. Nothing protrudes.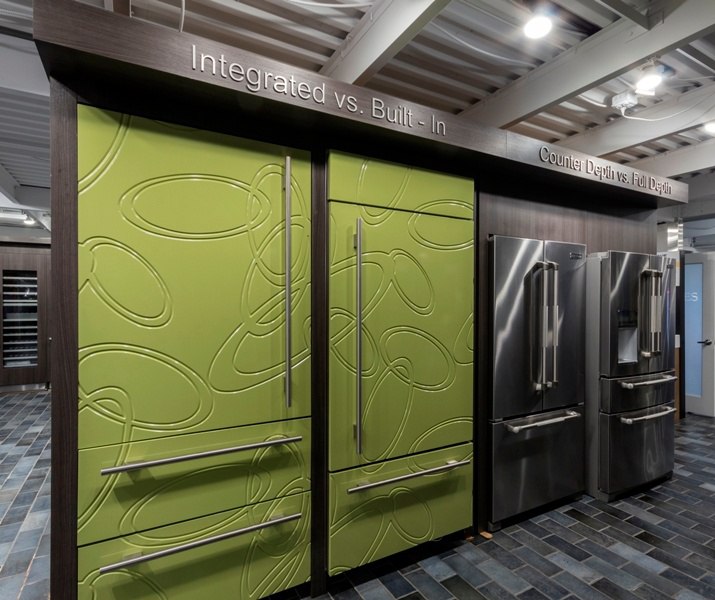 Take a look at the other shallow built-in and overlay refrigerators (not integrated). Although they can be paneled to match the cabinetry, the doors and handles would protrude from your cabinets.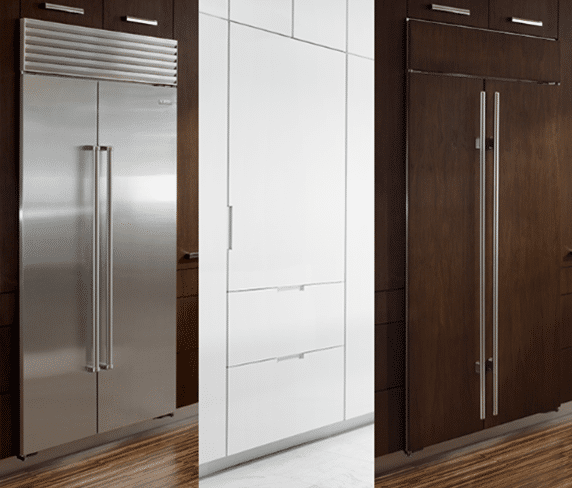 Left: Built-In Middle: Integrated Right: Overlay
Another reason for integrated refrigerators' growing popularity is their energy efficiency. There are new energy guidelines for manufacturers. Integrated refrigeration is the most efficient because of their shallow profile. While looking at refrigerators, you will see smaller columns rather than large refrigerators.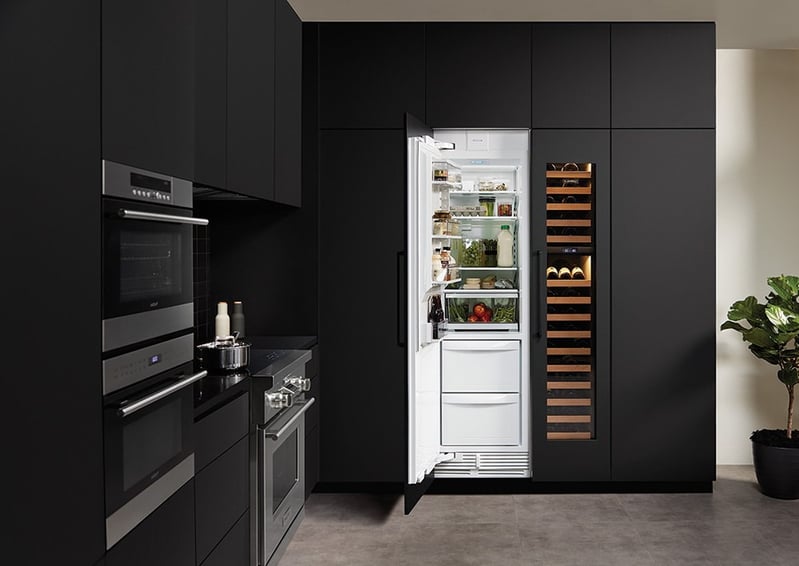 There are more brands for you to consider as well. You should look at Sub-Zero, Viking, as well as the new Dacor now owned by Samsung. Thermador and GE Monogram are two other popular brands. Both of these brands have improved greatly since our original comparison in early 2016.
Let's look at the brands, Ge Monogram and Thermador.
Short on time? Get our free Counter Depth Refrigerator Buying Guide
GE Monogram
GE Monogram is the premium luxury appliance line of the GE appliance company, now owned by Haier of China. They are mainly sold to builders.
GE was the first company after Sub-Zero with built-in refrigerators and the first with a 42-inch professional refrigerator. They have been late to integrated refrigerators. In fact, a quick scan stills show only two 30-inch models.
Yale does not sell any GE products nor has any immediate plans to do so.
Thermador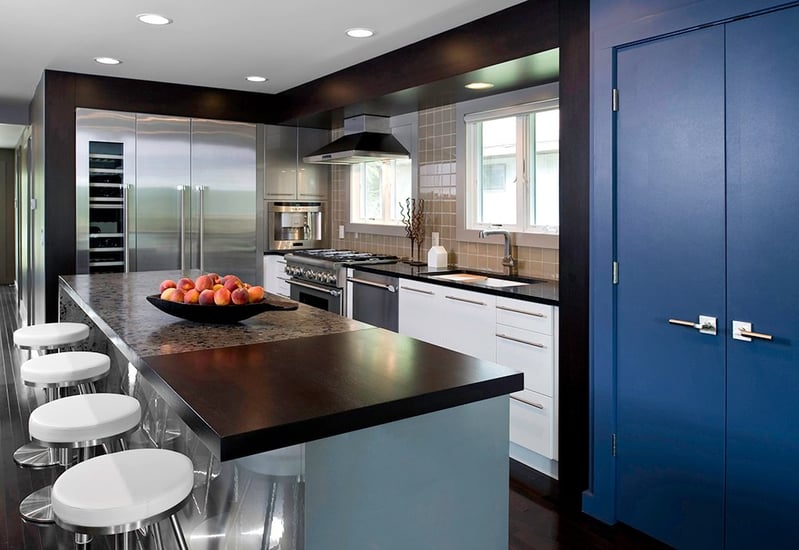 Thermador is the fastest growing luxury line of appliances. It's high quality, but also highly promoted. They have a rebate program for free dishwashers and hoods with qualifying purchases.
Thermador also originated the integrated column with an all refrigerator or all freezer in 18, 24, 30, and finally, a long-awaited 36-inch column. Check out our short video about Thermador's new integrated refrigeration line.
Thermador's New Integrated Refrigerators
We will be comparing their 24-inch refrigerator against the GE Monogram similarily priced unit. Both brands can be paired with an 18-inch and 24-inch freezer column. Thermador also has expansive options of having a 30 or 36-inch freezer with an internal icemaker, or you can combine an 18 and 24-inch freezer with an external icemaker or external water and ice dispenser.
Let's take a look.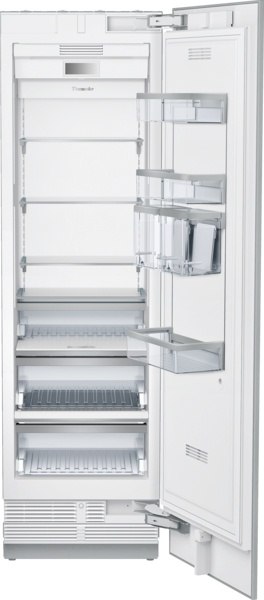 Features:
New Auto Door Opening - Provides the opening of the door with just a slight push or pull. You are also able to calibrate sensitivity.
Handle-less Design - Panel ready or you have the option of a stainless-steel finish
Smooth Filter Lighting - Clear and easy viewing of storage
Soft Closing Drawers- Easy access and controlled storage
TFT Touch Display - Manages dual temperature
ThermaFresh System - Humidity and temperature-controlled drawers allow food to last 3x longer
Cantilever Door Shelves - Allows micro height adjustment
13 Cu. Ft. Capacity
GE Monogram ZIF240NPKII - $6,100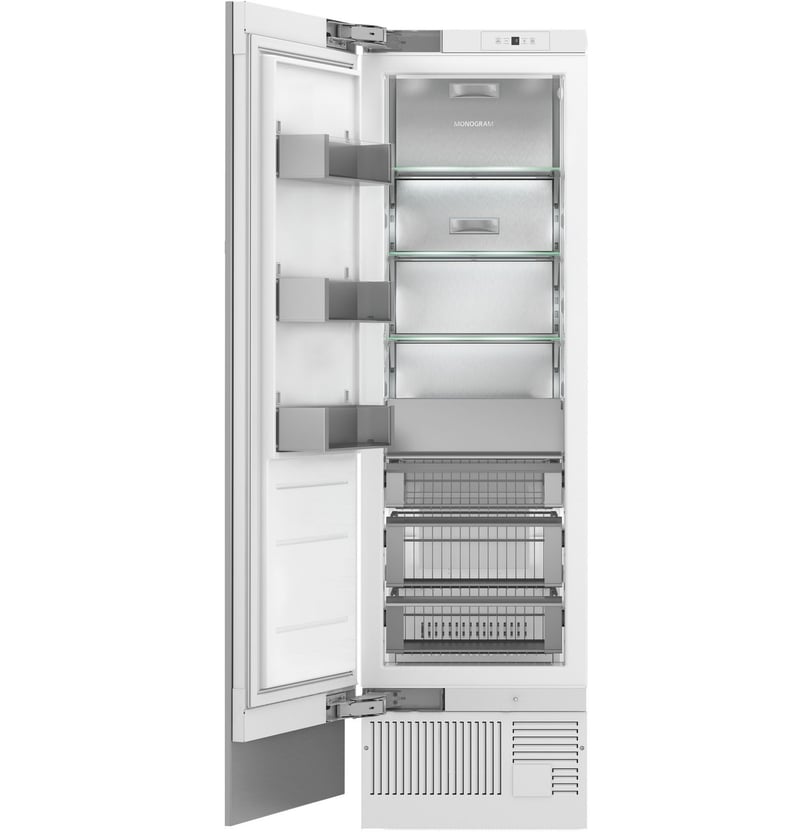 Features:
Ramp-Up LED Interior Lighting
Stainless Steel or Panel-Ready
Wi-Fi Connectivity with Smartphone to Adjust Temperature
Aluminum Door Bins
12.5 Cu. Ft. Capacity
Which Should You Buy?
Many companies today are transitioning to 21st-century technology with the addition of Wi-Fi. Home Automation has been integrated into residential appliances in recent years. There are subtle changes to the GE product line, other than adding Wi-Fi remotely to adjust the temperature. GE is one of the first to offer this feature which allows you to remotely change your refrigerator or freezer temperature. You can adjust the fridge or freezer to colder temperatures before you arrive home to prolong your food's shelf live. One caveat with this new feature is security. It is not encrypted, meaning this can be easily hacked.
Thermador did a complete overhaul facelift. Removing their shelves from the door and replacing them with customizable bins, as well as smaller shelves, maximizes storage space and flexibility.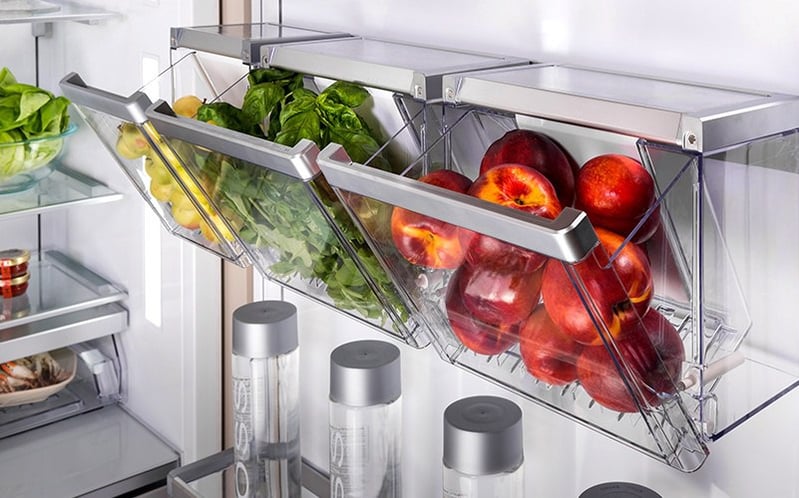 Thermador Produce Bins
As for it's exterior, the cool factor is that the refrigerator can be handle-less, panel-ready, AND is flush with your cabinetry. It blends seamlessly into any kitchen design.
The new TFT Touch Display is user-friendly and attractive. It lets you control 70% of your refrigerator's functions such as the ThermaFresh temperature bins. Similarly, Thermador's ThermaFresh system allows separate temperature control to prolong your food's shelf life.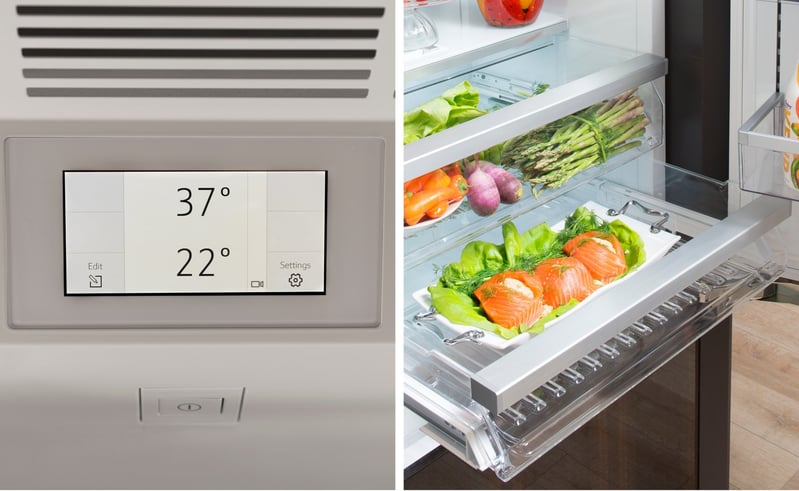 TFT Display (Left) and ThermaFresh System Example (Right)
The Free-Flow Cold Air System is another distinctive feature, exclusive to Thermador that gives you cold air flow through the door to maximize preservation. We all have the habit of opening the refrigerator or freezer door frequently throughout the day. The Free Flow Cold Air system keeps shelves cold to preserve longer life.
Thermador also has a 1, 2 free promotion for a free dishwasher or hood for qualified purchases and it is more reliable. Ultimately, make sure to base your decision on your lifestyle, reliability, and budget if you are considering either of these two options for your home.
Additional Resources
Download the Yale Counter Depth Buying Guide with features, specs and inside tips to all the brands like Sub-Zero, Thermador, Jenn-Air, Viking, Gaggenau, Monogram and more. Well over 235,000 people have read a Yale Guide.
Related Articles
A Note About Pricing
Pricing on this blog is for reference only and may include time sensitive rebates. We make every attempt to provide accurate pricing at time of publishing. Please call the stores for most accurate price.