Thermador vs. GE Monogram Integrated Refrigerator Columns (Reviews / Ratings / Prices)
You may have noticed Integrated refrigerators have become popular in high end kitchens surpassing the more professional looking top compressor refrigerators.
There are more brands for you to consider as well. You should look at Sub-Zero, Viking as well as the new Dacor now owned by Samsung.
Thermador and GE Mongram are two other popular brands. Both have improved greatly since our original comparison back in early 2016.
We will look at both companies, both products and then compare. First, we will define integrated refrigerators so you have a better understanding.
Short on time? Get our free Counter Depth Refrigerator Buying Guide
Integrated Refrigerators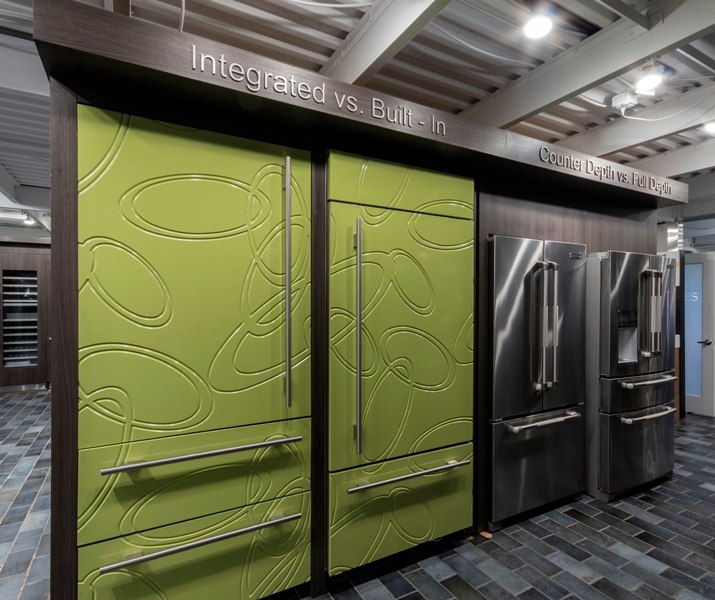 You may be familiar with counter depth refrigerators. It is a shallower refrigerator and a way better look in your kitchen. Many refrigerators are counter depth in regular and professional series.
The chassis of a counter depth is covered by your cabinet, but the door and handle protrude.
Integrated is different, because it fits totally within the cabinet itself. In fact you should not be able to distinguish between refrigerator and actual cabinet.
It is a much more refined look, but you lose cubic foot due to the decreased depth.
Integrated Columns vs Refrigerators
I have no idea how these terms are started. Maybe it is to confuse you. However, a column is typically an all refrigerator or all freezer whereas a refrigerator is a combination of both.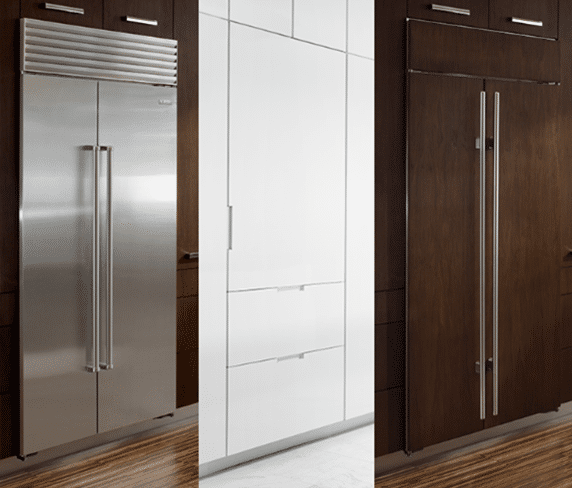 Left: Built-In Middle: Integrated Right: Overlay
So let's look at the brands.
GE Monogram
GE Monogram is the premium luxury appliance line of the GE appliance company, It is now part of the Haier company based out of China.
GE is predominantly sold through larger builders and is not as popular with the other name high end brands
Yale does not sell any GE products nor has any immediate plans to do so.
Thermador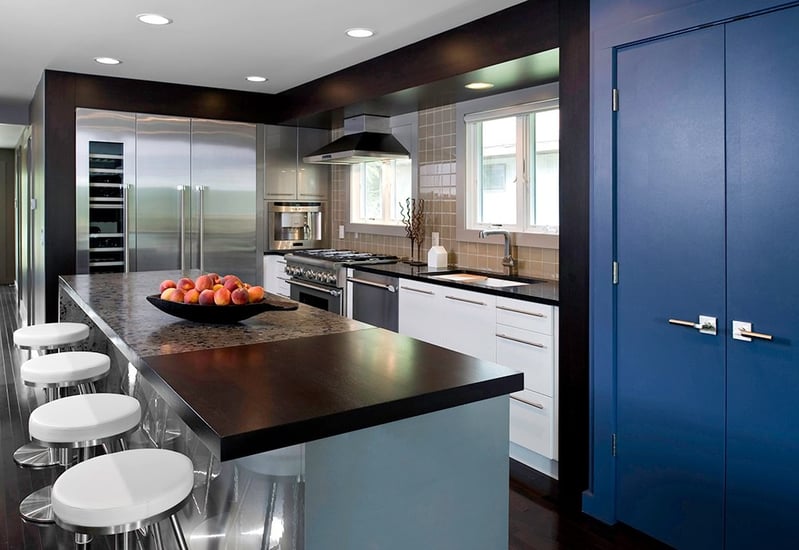 Thermador is the fastest growing luxury brand with decent quality at a typically lower price. Bosch has been the owner since the late 1990s.
They were the first to manufacture the column in different sizes like 18, 24 and 30 inches. Unlike Monogram, they have a larger refrigerator at 36 inch as well.
Thermador's New Integrated Refrigerators
We will be comparing their 24" refrigerator against the GE Monogram similarly priced unit. Both brands can be paired with a 18" and 24" freezer column, thou Thermador has an expansive option of 30" and 36" freezer with internal ice maker or 18" and 24" freezer with external ice maker or external water and ice dispenser.
Let's take a look.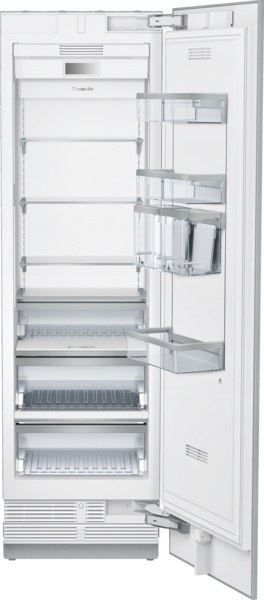 Features:
New Auto Door Opening - Provides the opening of the door with just a slight push or pull. You are also able to calibrate sensitivity.
Handle-less Design - Panel ready or you have the option of a stainless-steel finish
Smooth Filter Lighting - Clear and easy viewing of storage
Soft Closing Drawers- Easy access and controlled storage
TFT Touch Display - Manages dual temperature
ThermaFresh System - Humidity and temperature-controlled drawers allow food to last 3x longer
Cantilever Door Shelves - Allows micro height adjustment
13 Cu. Ft. Capacity
GE Monogram

ZIR240NPKII

- $6,100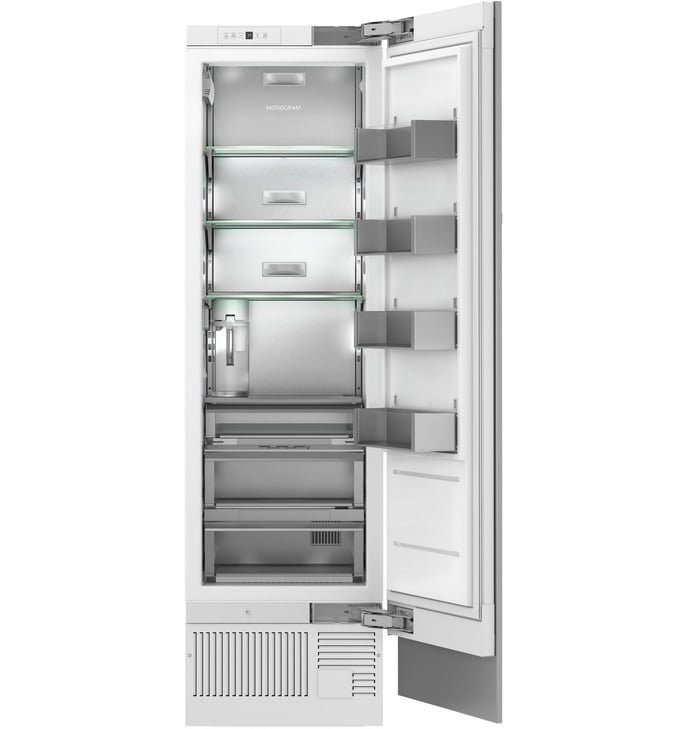 Features:
Ramp-Up LED Interior Lighting
Stainless Steel or Panel-Ready
Wi-Fi Connectivity with Smartphone to Adjust Temperature
Aluminum Door Bins
12.5 Cu. Ft. Capacity
GE Monogram vs. Thermador
Ironically, the price will be the same in a kitchen package. GE has up to a $3000 rebate versus Thermador free hood, dishwasher and slightly lower price.
They both use ramp up lighting.
So lets compare the features:
The Door
Monogram has aluminum bins versus Thermador's more customizable, adjustable bins. Also, there is a cold air intake directly to the metal door. The items on the door will be at the same temperature as the rest of the refrigerator.
The refrigerator door can be programmed to shut automatically as well in 1-10 second intervals. With a hidden, integrated refrigerator, you will never have to worry about the door being closed.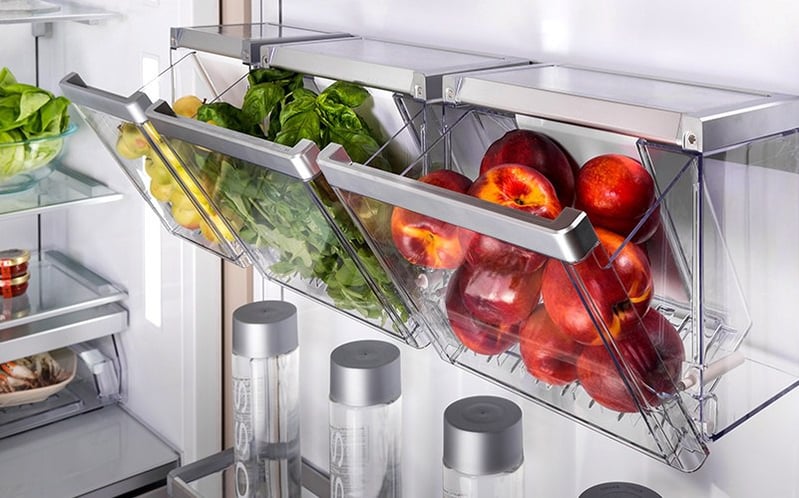 Thermador Produce Bins
Controls
Both are electronic, but you have more setting options with the Thermador than Monogram. 70% of the operating manual is incorporated in the Thermador.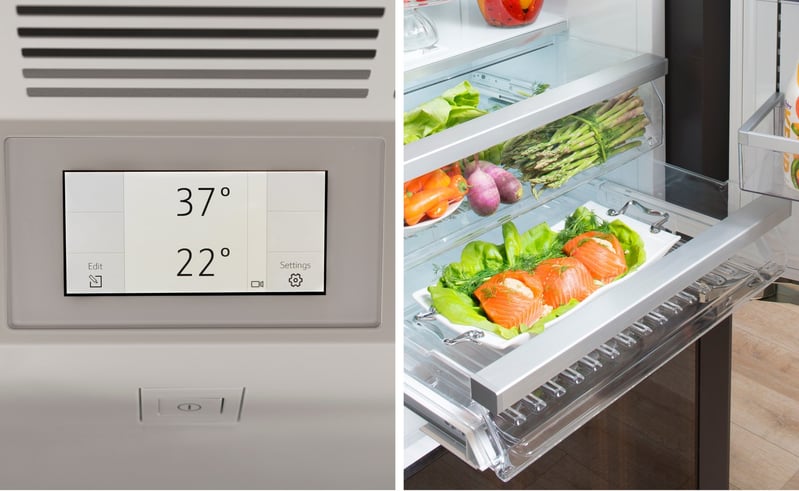 TFT Display (Left) and ThermaFresh System Example (Right)
Advantage GE Monogram
Wi-Fi: You can set the temperature via remote app. It is an interesting option. However, Smart appliances are unsecured, so be careful.
Convertibility: Not on this model, but the GE Monogram the freezer can be convertible in their refrigerators.
Advantage Thermador
ThermaFresh Drawer: Filters ethylene gasses to minimize spoilage and cross contamination
Size: Thermador is slightly larger, but they do have a much larger 36 inch model at 20 cubic feet versus 14 for Monogram.
Which do you choose?
Both are better than in 2016. However, Thermador has built a better refrigerator based on a freshness story with better bins and door.
The WiFi on Monogram will be a great feature when further developed. Perhaps like Samsung, you can look inside from your phone or automatically sending you a shopping list. They are not there.
So it depends what you value and when you buy the appliance.
Additional Resources
Download the Yale Counter Depth Buying Guide with features, specs and inside tips to all the brands like Sub-Zero, Thermador, Jenn-Air, Viking, Gaggenau, Monogram and more. Well over 235,000 people have read a Yale Guide.

Related Articles
Steve Sheinkopf
My goal has always been simple: I want Yale to be the best retail experience anywhere. I have tried to create a compelling environment for customers and employees alike.
A Note About Pricing
Pricing on this blog is for reference only and may include time sensitive rebates. We make every attempt to provide accurate pricing at time of publishing. Please call the stores for most accurate price.