In the early 1990's, Bosch was first imported into the US and became a hit. In fact, by emphasizing quietness, Bosch changed the dishwasher industry. They also popularized the odor-resistent stainless steel tub, and Bosch dishwashers have always been reasonably priced.
Bosch has replaced most of its line and lowered their prices across the board. It is somewhat puzzling, because price has never been the issue. It is much cheaper than the quality obsessed Miele and not much more expensive than the commodity lines of Frigidaire, GE and Whirlpool.
Bosch manufactures four types of dishwashers: the Ascenta, integrated, panelled and regular faces. The first three letters indicates the series. The fourth number indicates the amount of cycles and the last two digits is color. So a SHX43R55UC is an integrated, 4 cycle dishwasher in stainless steel. Let's look at a few: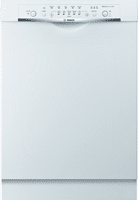 Ascenta SHE3ARL2UC $399 after $100 in rebates: The Ascenta is Bosch's inexpensive line of dishwashers. It still has the stainless tank, but the bottom is plastic. The door is lighter, and the control is a cheaper plastic than the regular line. Still, for $399, the Ascenta is a decent dishwasher.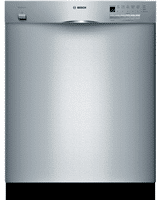 Regular SHE43P25UC $649 after $150 in rebates: The SHE43P25UC is the most popular Bosch dishwasher. It is quiet, has the main cycles and the stainless tank. The 5 series or the SHE55M15UC has a delicate cycle for $70 more after rebate.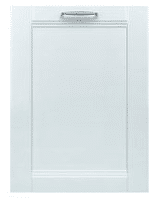 Panelled SHV43P13UC $809 after $100 in rebates: Last year, a Bosch panelled dishwasher was $1,000. Anyway, if you plan on buying a dishwasher for custom panels, the European brands do not protrude and are a better choice than American brands (BTW, Bosch dishwashers are manufactured in North Carolina).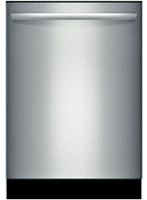 Integrated SHX43R55UC $764 after $150 in rebates: An integrated dishwasher has hidden controls. It is, however, the same functionally as a regular dishwasher, just nicer looking. The SHX43R55UC is the least expensive integrated dishwasher with a stainless tank.
How does Bosch compare to KitchenAid and Miele? Read these posts:
Confused about dishwashers in general? Download our Dishwasher Buyers Guide.