Best LED Under Cabinet Lighting 2018 (Reviews / Ratings)
Under cabinet lighting along with recessed lighting is the most important lighting in your house. It provides functional task lighting for chopping veggies and other kitchen activities.
You can also Leave under cabinet lighting on by itself for safety lighting.
In this article, you will learn about the importance of choosing the right quality of lighting, a brief history of LED and then the newest LED under cabinet lights as well as a comparison at the end.
What is Kelvin Temperature?
The picture above shows under cabinet lighting in your kitchen. There are tons of under cabinet lighting systems available today. We will look at the four best, but first, let's look at LED lighting.
LED has evolved greatly over the years. Early LED products had a high Kelvin of 5,000, so they produced a fluorescent-like light and washed out the colors of your countertop.
Just as a very brief explanation, the Kelvin scale was designed to describe the effects of different types of light.
5000 degrees is similar to sunlight. You may think sunlight is good, but it washes the color out. Ironically, you should use it in closets, because you will be able to distinguish navy blue and black colors better.
Short on time? Get our free Under Cabinet Lighting Buying Guide
At the other end of the spectrum is candlelight or 2500-2700 Kelvin. Candles and fire emit a yellowish glow. You look softer in that type of lighting. Incandescent lighting bests imitate a candle. It is also better for lighter colors.
Now LED is produced at 2700-3200 Kelvin, so it will accentuate the earth tones of your granite counters.
There are no standards or governing bodies in lighting, so look at the light before you buy it.
LED Lighting
LED (Light Emitting Diodes) is a solid-state lamp using diodes as the source of light. The technology has been around since the 1980's and is 90% efficient. It compares favorably to incandescent lighting, invented in the 1880's but is only 10% efficient.
It's safe to say you should be using LED today. LED is more efficient, uses less electricity and emits far less heat.
LED's are also cool to the touch, so it will not melt the peanut butter in your cabinets like an incandescent bulb (can heat to 350 degrees, which is the reason you cannot touch it).
A good quality LED lightbulb can also last for up to 50,000 hours versus 850 hours for an incandescent bulb. At 4 hours use per day you can expect over 23 years without replacing a bulb.
Under Cabinet Lighting
Under cabinet lighting is a staple in most kitchens because it provides many different sources of light. It is task lighting for chopping vegetables and other activities on the counter.
Your backsplashes are highlighted better with under cabinet lights. You can also leave them on at night for safety as well. Have a look:
Let's look at the best LED under cabinet systems to consider.
Best LED Under Cabinet Lighting Products
Legrand Under Cabinet Lighting System
Legrand is a modular system, almost like the track. It allows you to move lights, sockets, Bluetooth speakers and ipad docking stations around.
The huge benefit is flexibility with outlets as part of the under cabinet system, but you do not have to cut your backsplash for electrical outlets.
Look at how clean the backsplashes are in the pictures. Way nicer. You can always charge your Apple ipad or iPhone as well.
American Lighting 3-Complete
Another 120V option you can look at is one of my favorite options!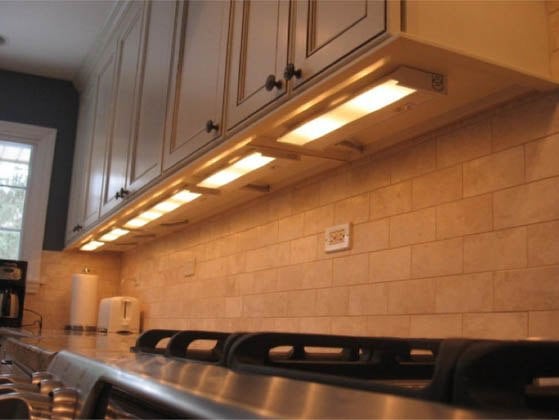 You have 3 color temperatures in one fixture! Typically, the different Kelvin temperatures are better for different types and colors of granite. With American Lighting, you can match the light to your granite
Finish options come in white and bronze, you don't have to worry about seeing the dots from the LED on your countertop.
There's a full length extruded acrylic lens so you don't see the diodes (or dots on your granite).
Pretty cool to have 3 different color options on one! They are available in strips.
8" $62
16" $83
24" $105
32" $126
Light Bars
GM Lighting - LARC6 Dimmable LED Linear Light Bar
The LARC6 bar lights have been a huge hit over the last couple of years. You will like the slim profile if you do not have a reveal under your cabinet.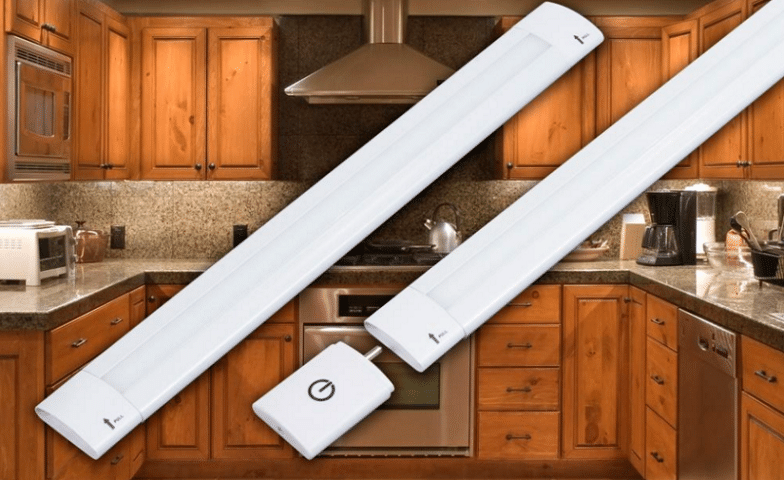 The LARC6 is also a 24 Volt system, so the light will not fade at the end of longer runs.
Warm White 3000K
50,000-hour LED life
24V system requires a remote transformer or driver
Slim 3/8" thickness
Dimmable with a rigid inline touch dimmer or with a dimmable power supply
Can be interconnected in series from one 24V power supply
Sizes available are 8" ($38), 16" ($58), 24"($74), or 32" ($106) white only
Plug in or hard wire Transformer/Driver sold separately and can range from $51-$180
Connectors and accessories sold separately
Can be hardwired and controlled from a wall switch or dimmer. There is also a plug-in version and dimmer/switch controls that can be added to the product directly.
The LARC6 light bar is available in 8", 16", 24" and 32" width. It is rated at 3,000 degrees Kelvin, adjustable and only 3/8 of an inch. Its 24V power emits 5 watts per foot. The strips can be joined together simply as well.
The tape may be easier to install, but these shielded bars illuminate evenly. They do not show dots like LED tape.
(We sell and ship LARC6 light bars - Contact us here)
LED Flexible Ribbon (Tape)
GM Lighting- Flexible 12V LED Linear Ribbon
Tape lighting is best used for accent lighting, for example: if you have a glass cabinet it would be great to illuminate the cabinet with the tape lighting behind the hinges. The installation is simple and it bends around corners easier.
Tape lighting can also be used for under cabinet. The exposed tape will show the diodes or dots on your counter, unlike shielded light bars.
Channels for the tape lighting is also available.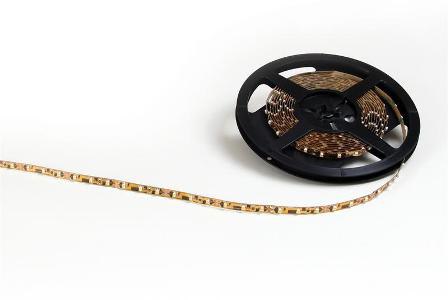 Available in 2700K, 3000K, 3500K, and 4200K
Flexible LED ribbon comes in 39" strips as well as a cut-able 16ft run for any custom installation
Rated for 50,000 hours LED life
Only 1/8" thick
Available in standard and high output
Requires a plugin or hardwire transformer/driver
Dimmable with a dimmable power supply and low voltage magnetic on/off wall dimmer
3M double stick mounting tape for easy installation
Also available for outdoor/wet location area
39" Standard output $56, high output $86
16ft Standard output $200, high output $350
Transformer/Driver can range from $51-$200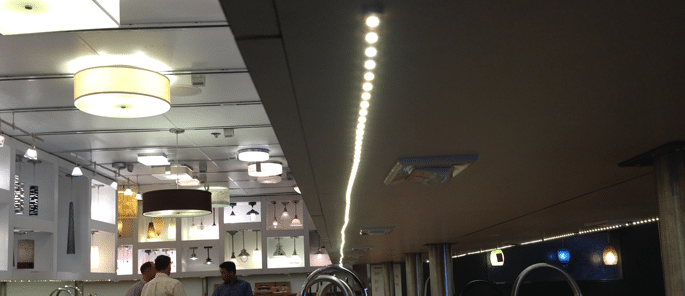 What could be easier than LED ribbon? You measure it. Cut it. Then attach it to the LED driver (also known as transformer). The ribbon is thin and unobtrusive for any type of cabinet, so all you see is light. Buy it with the appropriate Kelvin rating (many will still render blue) and with high output for proper illumination.
Once again (it is worth mentioning again) there is one minor downside. The ribbon is basically LED diodes ganged together. You can see those diodes on granite and marble surfaces at certain angles. They look like dots.
Another under cabinet lighting option you should consider is the WAC LED button lights. You would call them puck lights.
Over the last couple of years, I have had clients who like the pucks still. You can recess or mount a puck flush, unlike strips or tape.
These button lights are low voltage and will require a transformer.
Power: 24V, 5W
CRI: 90
ELV Dimming: 100% - 5%
Rated Life: 100,000 hours
Cutout: 3 1/4" for recessed applications
Can be surface mounted or recessed
Super thin profile at 1/2"
Edge-lit LEDs reduce glare and assure even light distribution
Anti-microbial paint (white only)
Color options:

Black
Brushed Nickel
Dark Bronze
White

Color temperature
The one I have been waiting for to introduce is GM Lighting SlimEdge!
Just like the larc6 but the light is edge lit!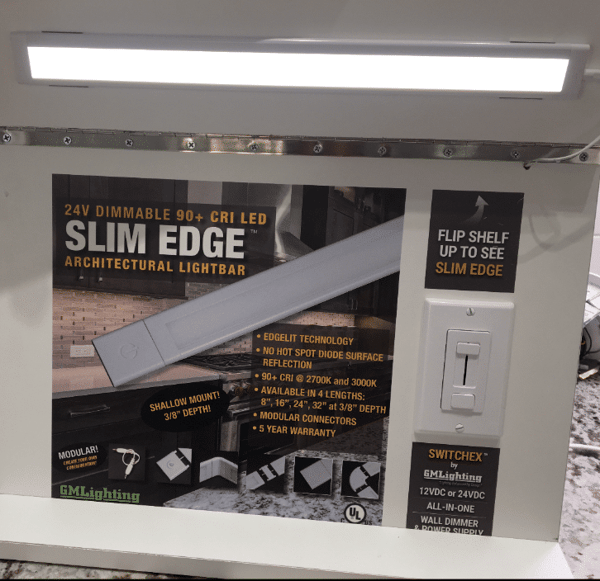 Slim Edge
Key Features:
Rigid modular edge lit lightbar
0-90° with optional mounting clips
Mounting clips and screws included
Units join securely together with modular connectors
Dimmable
Class 2. Maximum run on a given lead is 16'
Finishes-bronze or white
Electrical:
24VDC remote power supply required
Rated at 3.5W per foot
50,000 hr. operation
Optics:
Edge-lit technology results in diode-free imaging on polished surfaces
90+ CRI
2700K, 3000K
Warranty:
What is even more exciting and new is the switch EX LED wall dimmer by GM Lighting!
It is a driver (transformer) and dimmer all together, all that fits standard electrical boxes. This eliminates trying to figure out where to put the transformer, and not having to worry about what dimmer will work.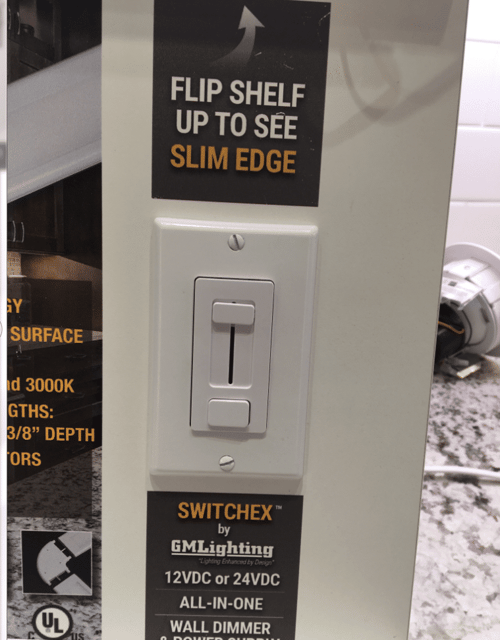 SwitchEX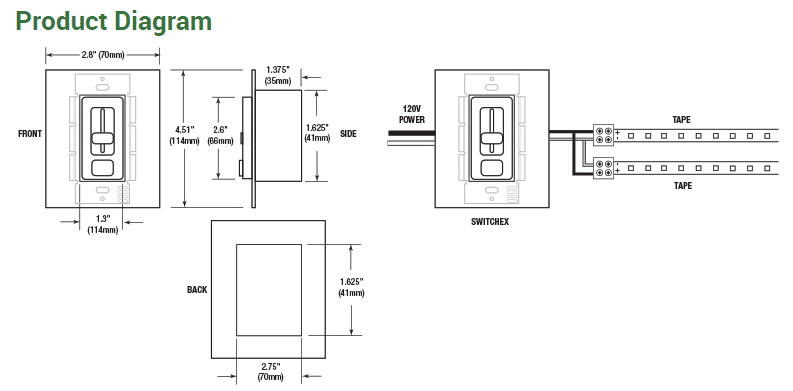 Key Features:
All in one power supply and wall dimmer
Eliminates compatibility issues found in other dimmers
Fits in standard recessed electrical box
100% - 1% smooth dimming
No minimum load
Single pole preset dimmer with on/off sliding switch
Adjustable voltage output dial
Includes a voltage barrier partition that enables installation of high and low voltage circuit in the same box
No de-rating required when ganging units
Power failure memory
Includes Gloss White, Gloss Light Almond and Gloss Dark Brown faceplates. Trim plate by others.
Warranty:
Which is Right for You?
These are great options for under cabinet lights and are great for task lighting. You would need to choose the appropriate one depending on what is right for your home. A couple of considerations:
If you are replacing - if you are old lights that are installed has a 120V direct wire, it may be best to go with the American Lighting 3-Complete. Since the wires are already there, it would be much easier to replace the fixture with one that is direct wire.
If it's a new construction or a remodel - I would recommend the LARC6 bars or the new slim edge, flexible ribbon or even the Legrand under the cabinet. The LARC6 and the slim edge will provide more lighting than the LED strip lighting. 24 volts would be better for longer runs.
Aesthetically, the Legrand is the best option, because you do not have to cut outlets on your backsplash.
Additional Resources
Get our free Under Cabinet Lighting Buying Guide with tips, trends and reviews on all the best brands. Over 355,000 people have already found answers in a Yale guide.

Related Articles
WHY SHOULD YOU TRUST US?
A few review sites have placed this at the bottom of their articles. So here is our take: Our mission is to find reliable products for you to buy. Other review sites may say this as well.
However, we don't love every product. Quite frankly, it costs us way too much money in repair costs to support less reliable brands.
In fact, we sell fewer brands than most appliance stores. Here is why:
We feel it is our responsibility to repair your appliances after you buy them.
We now have 30 service technicians, each averaging 8-10 calls a day Monday through Friday, plus another 110 on Saturday. That's over 30,000 service calls logged in one year.
The labor rates of fixing an appliance do not come close to the true cost in any product's warranty period.
That is why no major retailer has a service department. It costs too much labor, money and time.
Our Blog is a bit different than most others you will read. We cannot write glowing reviews of unreliable products.
Hopefully, the bloggers and organizations who write such glowing product reviews for every brand consider servicing these products first. Only then they will understand the consequences of their marketing.
Steve Sheinkopf
My goal has always been simple: I want Yale to be the best retail experience anywhere. I have tried to create a compelling environment for customers and employees alike.
A Note About Pricing
Pricing on this blog is for reference only and may include time sensitive rebates. We make every attempt to provide accurate pricing at time of publishing. Please call the stores for most accurate price.