Best Convection Wall Ovens (Reviews / Ratings)
In the market for a new wall oven? By now, if you've done your research, I bet you've seen countless articles peppered with the word "convection."
As if shopping for an oven or range weren't difficult enough (lots of bells and whistles to consider), now most wall ovens and ranges are equipped with very different convection systems.
You used to be able to compare the same single convection oven. Now there is twin convection, tri-convection and even blower convection without fans. I have spent the last 8 months baking in all of the ovens from every brand and will show you the actual results. Before I show you, let's look at what is convection.
Short on time? Get our free Wall Oven Buying Guide
What is Convection?
In a conventional oven (thermal oven), radiant heat is the main heat source used to cook the food. The majority of this heat ascends from the bake element housed in the lower part of the oven. Depending on which cooking mode you are using, the remaining heat emanates from the broil element located at the top of the oven cavity. With radiant heat, the heat surrounds the food to cook it, so in theory, there tends to be a higher concentration of heat toward the bottom of the oven.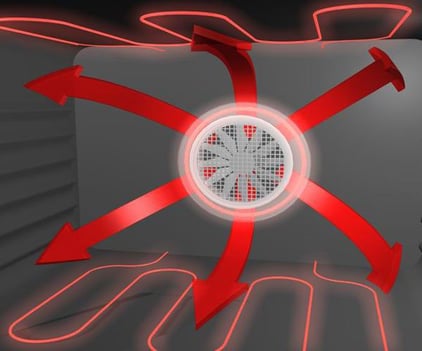 The term "convection" is actually a fan used to distribute heat evenly within the oven cavity. In the most basic terms, the fan blows hot air onto the food to facilitate faster cooking and browning. The 'forced hot air' feels more intense, therefore produces faster results.
Convection ovens continuously circulate the heat to ensure the oven cavity is of equal temperature and that there is no specific area with a higher concentration of heat- no hot spots! In addition to the fan, convection ovens have a bake element and a broil element just like thermal ovens.
Different Types of Convection
European Convection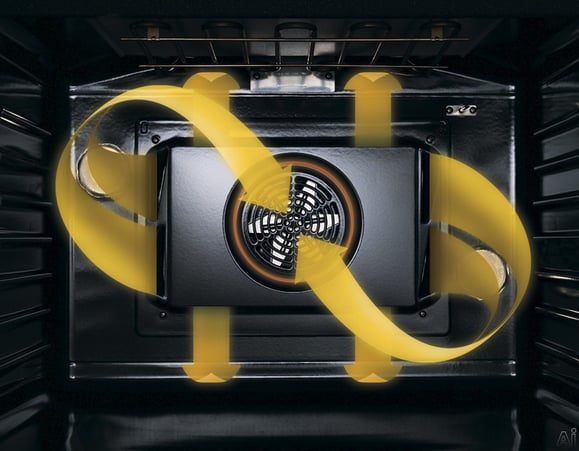 To get a bit more technical, a "True convection" or "European convection" system is a convection oven includes a heating element wrapped around or placed behind the fan.
To use the "true convection" setting would imply using only the heating element around the fan and the fan itself. This type of convection system is highly coveted by bakers and pastry chefs alike for its dry atmosphere which lends itself beautifully to flaky pastries and crisp meringues.
Double Convection
The majority of convection ovens come equipped with a single convection fan. However, there are a handful of brands with double convection fan systems. Nine times out of ten, a single fan will suffice if you're a modest cook or bake once in a while.
If you're looking for technical performance, you're an avid baker, or you do a lot of multi-rack cooking/baking, then you might want to consider a dual convection system.
Radiant to Convection Cooking
Of course with any new feature, there is a small learning curve. When using convection, there is the "Rule of 25" (or the "25/25 Rule"); using convection requires a decrease in temperature by 25 degrees and a reduction in time by roughly 25%.
For example, if you typically bake cookies at 350°F for 20 minutes, in a convection oven you would bake them at 325°F for 15-16 minutes. This reduction is a direct result of the forced hot air coming from the fan which is why food cooks faster.
Think of it this way, when you walk outside on a 28˚F day in February, you acknowledge that it's really cold. "Convection" would be like walking outside on a 28˚F day with 30 MPH winds., the forced air, whether hot or cold, is what intensifies the temperature!
The Convection Test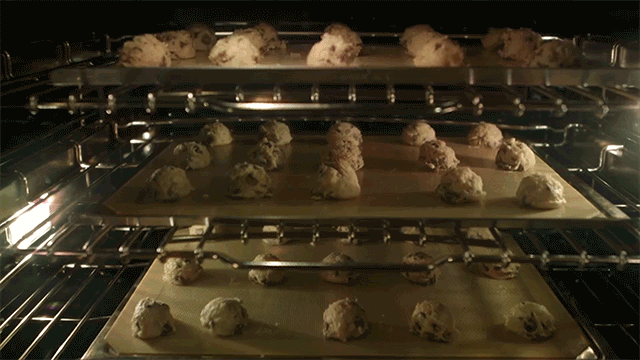 A couple months ago, I completed a multi-rack baking experiment using the convection ovens in our live kitchens; among the brands used were Wolf (M series and E series due to different convection systems), Miele, Jenn-Air (V1 and V2 due to different convection systems), Gaggenau, and Thermador (Masterpiece series and Professional series). See below for pictures and details.
Wolf "M Series" Verticross Convection System with Dual Blowers

Wolf "E Series" Dual Fan Convection Systems

Miele "M Touch" Series with Dual Fan Convection System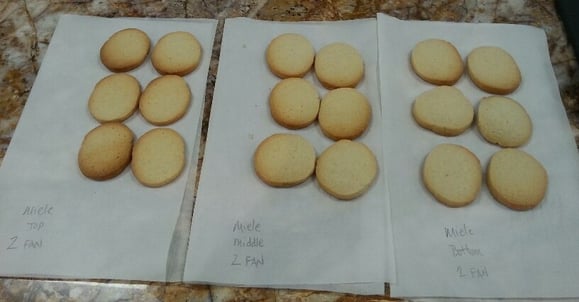 Jenn-Air V1 Single Fan System and V2 Dual Fan Convection Systems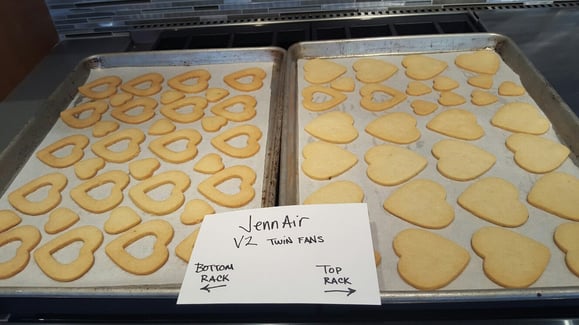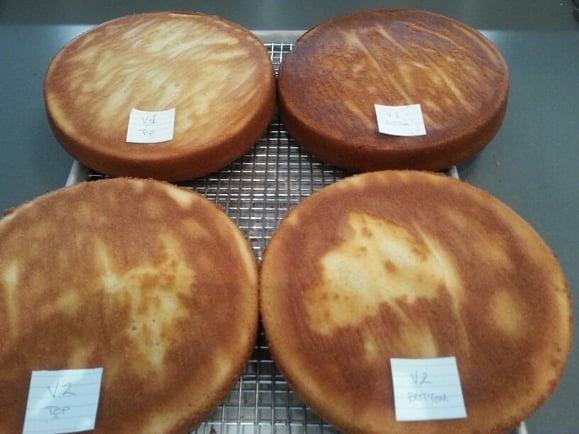 Thermador Masterpiece Series Single Fan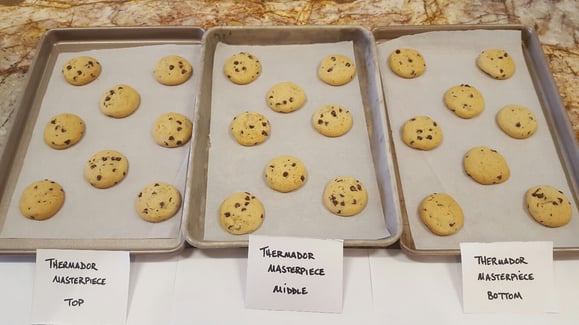 Thermador Professional Series Single Fan

Gaggenau Single Convection Fan System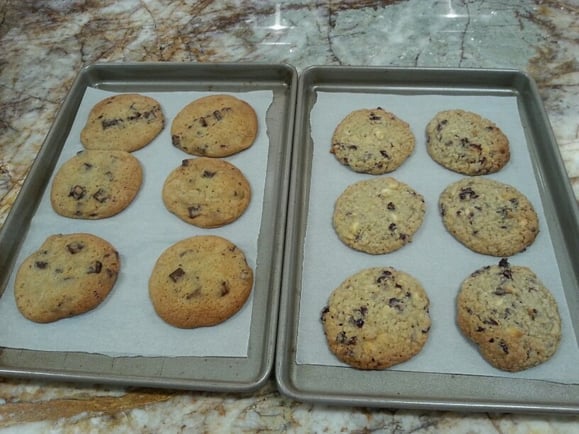 (Cookies on the left were bottom shelf, cookies on the right were top shelf)
Comparison
It is clear to the naked eye that both Wolf and Jenn-Air V2 (both dual convection fan systems) succeeded in providing the most even coloring to the baked goods displayed above.
The Thermador Masterpiece produced the best results for single convection fan systems. A trending problem that I noticed within this experiment was the cool spot that seems to be created within the direct path of the fan, typically the middle, with single convection fan systems.
However, in the Gaggenau oven that cool spot is the top shelf area which can be seen in the photo on the right. The only downside with this cool spot is that you tend to end up with under-baked food items. As a preventative measure, you are forced to rotate pans through the baking cycle in order to prevent discoloration.
As I had prefaced above, one convection fan will most certainly suffice for most of your baking needs, but if you're looking for technical precision, a dual fan convection system might be a better consideration.
Vertical dual fans in particular tend to be more effective in producing even results simply because the fans span the height of the oven. They have the ability to provide heat from the top to the bottom minimizing the chance of any cool spot in the middle from centrally located fans. My experience with convection ovens covers all our live kitchens; I have worked on all of our top brands and have seen favorable results.
After completing this experiment, my favorites are Wolf "M Series" and "E Series," the Jenn-Air V2 and Thermador Masterpiece. These convections systems have provided the best baking experience.
Additional Resources
Need more information about Wall Ovens? Get the Yale Wall Oven Buying Guide with features, specs and detailed profiles of all the major brands like Wolf, Thermador, Dacor, Jenn-Air, Miele, Gaggenau, Viking and more. Well over 150,000 people have read a Yale Guide.

Related Articles
Nicole Parmenter
Nicole Parmenter is our resident Chef at Yale Appliance + Lighting; she has multiple culinary degrees and is an appliance expert. Chef Nicole can teach you how to use your new appliances and give you tips, recipes and honest opinions on products.

Schedule a showroom visit with me
A Note About Pricing
Pricing on this blog is for reference only and may include time sensitive rebates. We make every attempt to provide accurate pricing at time of publishing. Please call the stores for most accurate price.