What Appliances You Should and Should Not Place in a Kitchen Island
So, you are planning a new kitchen. It is a great idea to do whatever you want.
Yet, it can be daunting when your contractor hands you that blank sheet of paper and tells you to complete the design. But guess what? It does not have to be that hard.
This article will teach you how to choose appliances for any kitchen with an island regardless of size.
Better yet, you will also learn what appliances do not belong in a kitchen and why.
Let's get started.
Your Kitchen Island and You
Before designing what to put in your kitchen, you have to think about how and what you currently use.
For example, do you need more refrigeration or cooking appliances? Then you add accordingly.
The size of the island also has significance. The larger sizes will fit more. Typically, the most common cabinet sizes are 24 and 30 inches, so you will have plenty of opportunities to add secondary appliances.
Just decide what might be right for you and your lifestyle. But first, let us look at what may not be your best options.
What Appliances You Should Not Put in a Kitchen Island
Your Stove Top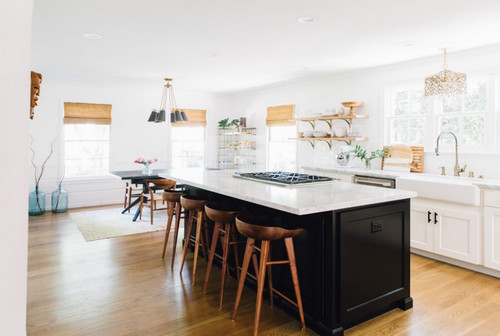 Transitional Kitchen
You look at this picture and think this is a well-designed kitchen. You have the sink strategically placed under the window. The kitchen is designed tastefully with a distinct color island from your typical white kitchen.
Now, look at the professional range in the middle. Behind the range is a downdraft that cannot correctly vent a high BTU (British Thermal Unit) professional gas rangetop. It is a common mistake.
Downdrafts provide no capture area, reverses where steam travels, and needs to be vented too far to be effective.
If you cook at all, a downdraft installation is a problem and not easily corrected once installed. Overhead vents are the only way to vent a cooktop effectively.
You can buy good-looking vents from several different manufacturers. You can also design your own hood with wood or another material by installing the motor inside. Then you vent it just like any other range hood.
Now you do lose that clean sightline by installing an island vent—also, it is harder to add lighting over your island with the sink in the way.
Grills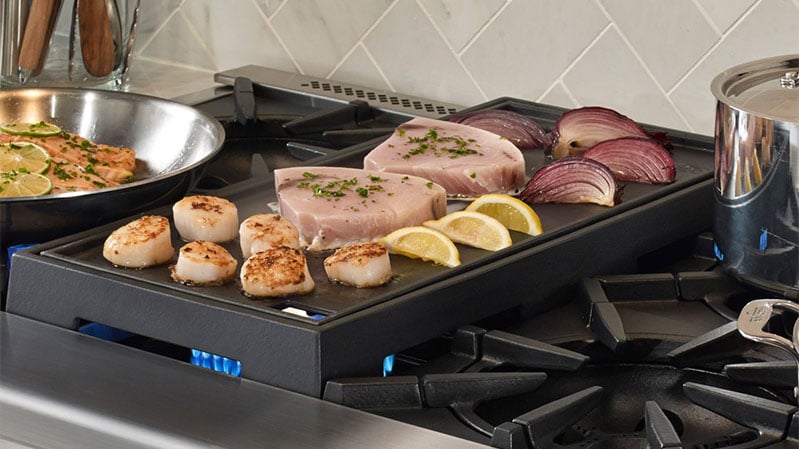 BlueStar Professional Range with Grill Accessory
I am not talking about outdoor grills inside your house. It's best to never consider that option. The grills on professional ranges are now up to 16,000 BTU with infrared heat. For comparison, a Lynx professional grill has a sear element of 23,000 BTU.
Grills belong on the outside of your house, or you should max the CFM (Cubic Feet per Minute) of your overhead hood.
Wall Ovens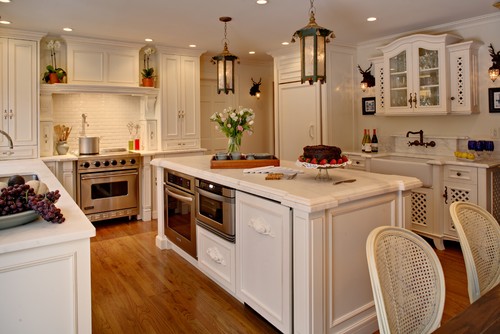 Wall Oven Placed in a Kitchen Island
Maybe because I am now firmly middle-aged, wall ovens belong on a wall. You can place them on an island, but you will be bending quite a bit for your food on the bottom rack.
Cooking is not where you start in a kitchen. It does affect the flow and layout of your kitchen as to how you will vent.
However, start with the most used appliance in your kitchen. Oddly enough, it is not an appliance at all.
What Appliances You Should Place in a Kitchen Island
Sink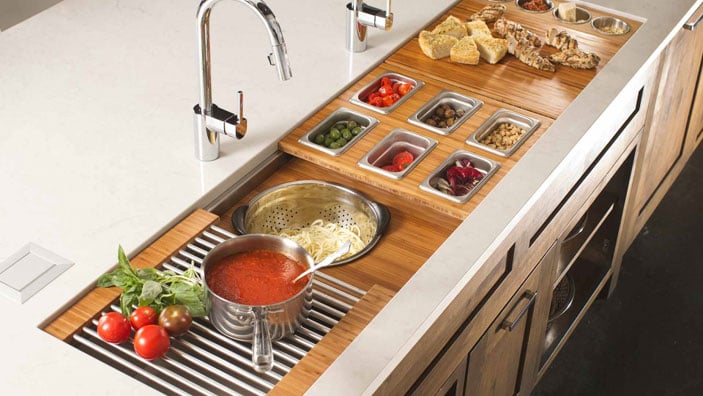 Galley Workstation and Sink Placed in a Kitchen Island
You use a sink more than any appliance in your kitchen. Placing a sink in the middle is also a brilliant idea because it is easier to complete "the kitchen triangle."
You never want to be more than one step from your cooking surface and dishwasher, the other two most used items.
Also, if you burn food on your cooktop, you want to move quickly to extinguish it. A strategically placed sink will do that.
You can also add pendant lighting much easier with the sink in the middle (we used to sell lighting for 96 years).
Dishwasher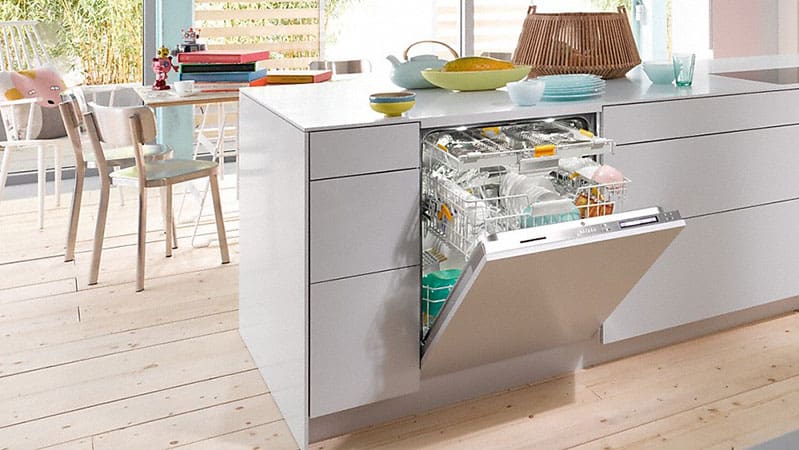 Miele Dishwasher in a Kitchen Island
Your dishwasher is usually located next to the sink. If your island is open to your family room, think about buying a quieter 44 dB (decibel) dishwasher. You can watch TV without listening to the dishwasher at 44 dB and under in the kitchen.
Sink placement and your choice of cooking appliances, whether a cooktop and wall oven or a range, are the only decisions to affect the overall flow of your kitchen.
We talk about your cooking choices in other articles.
But what else can you place on your island? The answer is everything, and it depends on the size of the island.
Let us look at some common options. All will fit within standard cabinet sizes.
Microwaves or a Speed Oven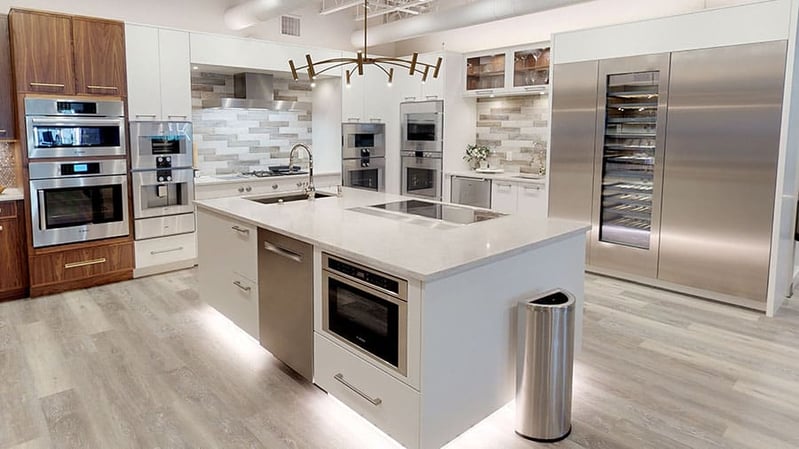 Bosch and Gaggenau Kitchen at Yale Appliance in Hanover
Microwaves can be placed anywhere. You can centralize near your sink, over a wall oven, or even under a cabinet. It all depends on how you use it. I do not use my microwave often, so it is located outside the island.
Speed ovens add the convection element to the microwave, so you can use it as a microwave, convection oven, or both to save time without losing flavor and texture.
Refrigerator Drawers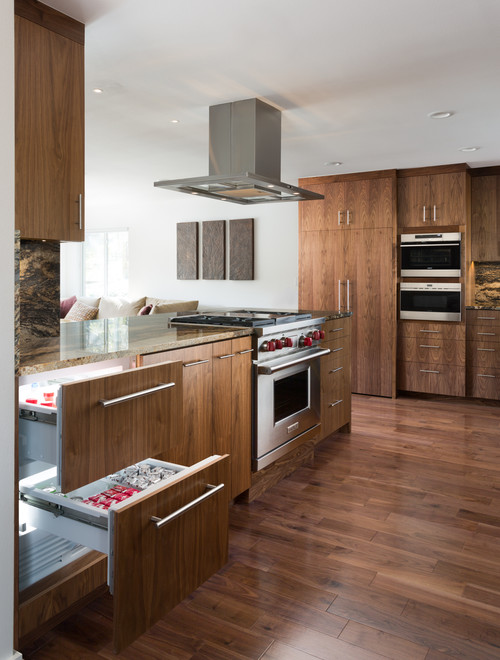 Refrigerator Drawers
Refrigerator drawers allow you extra storage wherever you need it. Many people will place drawers on the island and keep snacks for their kids or vegetables for chopping near a prep sink.
Wine or Beverage Centers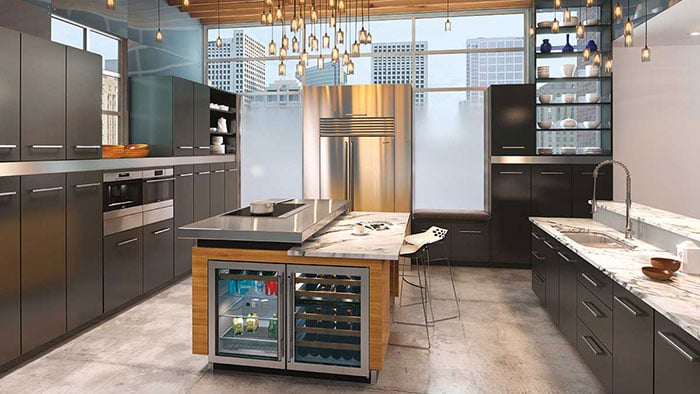 Sub-Zero Wine and Beverage Centers at the End of a Kitchen Island
The difference between wine and beverage centers depend on how often you drink wine. Beverage centers can store all kinds of beverages with limited storage for wine.
However, wine storage units are designed to keep wine for a more extended period yet have no provisions for other drinks.
Ice Makers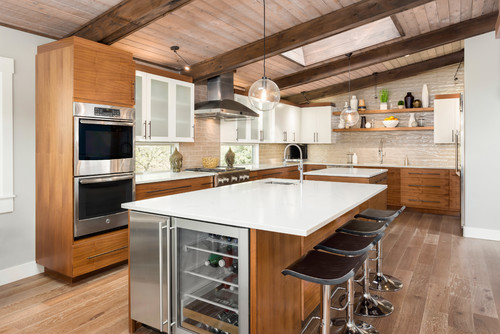 Ice Maker Next to a Beverage Center in a Kitchen Island
Ice makers have become popular because you no longer have cloudy ice from your refrigerator. You can buy an ice maker with a clear ice cube without impurities or even a chewable slushy cube better for soft drinks.
Please do not buy an ice maker unless you plan to clean it at least twice a year.
Warming Drawers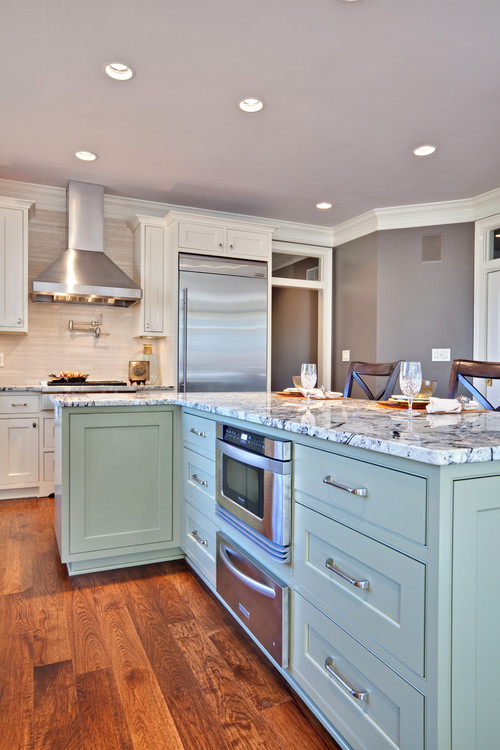 Warming Drawer Below a Microwave
Warming drawers keep food warm for up to three hours without dehydrating. You can place them on an island as well. However, a better place is near or under your wall oven.
Key Takeaways
Starting at your sink is preferable. You can only place a range or rangetop with an overhead ventilation hood.
After that, decide the location of whatever you use the most for secondary appliances. You can choose between cooking appliances like a microwave, wall oven, warming drawer, or refrigeration like drawers, beverage centers, or wine storage.
The kitchen should match your lifestyle and how you use it. We explain this strategy in our webinar, How to Build a Luxury Kitchen. It does not have to be about luxury. It just shows you the possibilities in a larger kitchen.
Additional Resources
Want more information on the worst renovation mistakes to avoid? Get The Book of Bad Renovations to learn how to avoid a renovation failure. Well over 1 million people have read and trusted a Yale Guide.
Related Articles:
Why Should You Trust Us?
It seems that every appliance review has nothing but glowing comments about almost every product, yet you read customer reviews and they are almost universally bad.
We are here to fill in the disconnect. We'll give you the best features, and the drawbacks as well, including reliability based on over 37,000 calls performed by our service team just last year. Our goal is to give you ALL the information so you know what's right for you.
Please consider subscribing or adding to the conversation in the comments below. We appreciate you stopping by.
A Note About Pricing
Pricing on this blog is for reference only and may include time sensitive rebates. We make every attempt to provide accurate pricing at time of publishing. Please call the stores for most accurate price.