Thermador vs. Sub-Zero Refrigerator Columns (Ratings / Reviews / Prices)
Refrigerator columns are extremely popular in today's high-end kitchen renovations. You will definitely consider a column versus a pro built-in refrigerator for your renovation. Sub-Zero and Thermador dominate this niche.
Sub-Zero had better features, but Thermador was less expensive with better promotions like a free dishwasher and hood.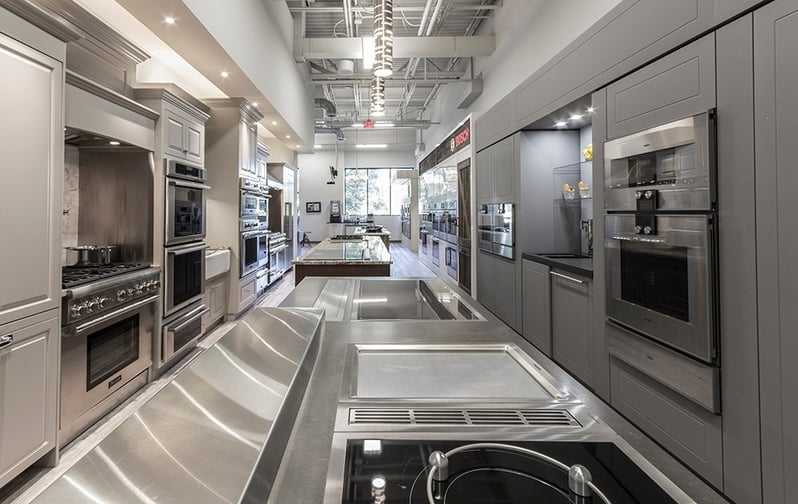 Now, Thermador has introduced a new series at similar prices as Sub-Zero's with new features, making them a worthy competitor. We will compare their new features versus Sub-Zero, but first, we will look at columns.
If you need a quick recap of the differences between counter depth, professional, and integrated refrigerators, check out our 2 minute video below, or feel free to breeze by it to our Column Advantages section.
Counter Depth, Professional, and Integrated Refrigerators
Column advantages
There are some major advantages to considering columns. Columns sit flush with your cabinetry and hidden hinges so your refrigerator and freezer can be completely indistinguishable from your cabinets. Even if you want to go with a stainless door, columns offer a very sleek high-end look.
The second advantage to refrigerator and freezer columns is customization of capacity. Refrigerator and freezer columns are bought as two separate appliances and are typically merged together. You can customize how much space you want to allocate toward a refrigerator and a freezer.
If you value refrigerator space and you don't need much freezer room, you can order columns to suit your personal needs.
The third advantage is customization of location. Since refrigerator and freezer columns are sold as separate appliances, there is no rule saying that you need to put your refrigerator and freezer side-by-side.
Although the side-by-side configuration is still common, columns give you the freedom to put your refrigerator on one side of the room, and your freezer on the other.
Sub-Zero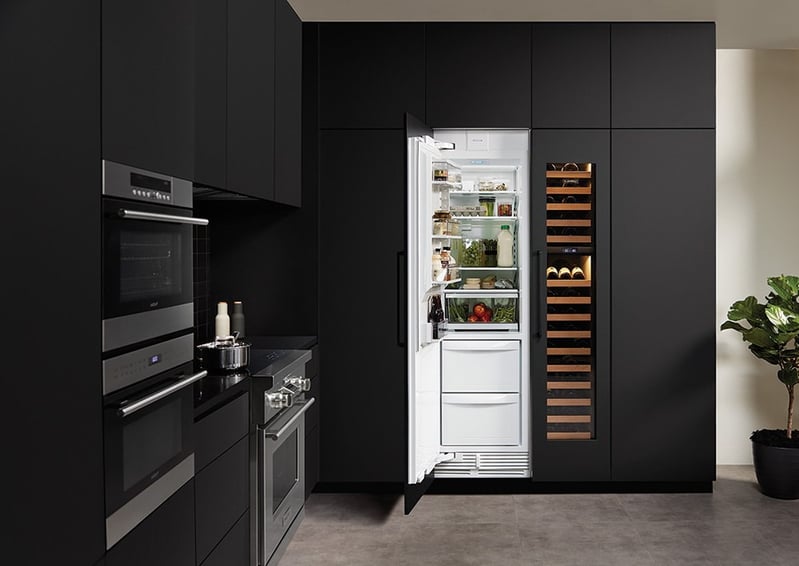 Sub-Zero was the original industry pioneer for built-in refrigeration about fifty years ago. Today, they are a leader in manufacturing high-quality refrigeration and wine preservation. Sub-Zero specializes in refrigeration and owns the cooking company, Wolf.
Over the past several years, Sub-Zero and Wolf released many products in various sizes and aesthetics. There is some promotional packaging when combining Sub-Zero refrigeration with Wolf cooking products.
Sub-Zero Refrigerator Column Offerings:
| | | |
| --- | --- | --- |
| | Price (panel-ready) | Capacity (cubic ft.) |
| 36'' refrigerator | $7,340 (no water)/ $7550 (internal water) | 21.4 |
| 30'' refrigerator | $6,930 (no water)/ $7080 (internal water) | 17.3 |
| 24'' refrigerator | $6,540 (no water) | 12.9 |
| 36'' freezer | $7,630 | 20 |
| 30'' freezer | $7,040 | 15.3 |
| 24'' freezer | $6,700 | 12.3 |
| 18'' freezer | $6,300 | 8.4 |
Features:
Made in the United States
Nano-coated spill-proof shelving is durable and can prevent spills from spreading
Soft-on LED internal lighting
Tested in US facility for 20 years of heavy use
Soft-close doors and drawers
Touch controls to regulate temperature
Air purification system to remove ethylene gas to keep food fresher longer
Option for internal filtered water dispenser in refrigerator
Automatically filtered ice maker in freezer with max-ice feature
Sub-Zero Refrigerator Features
Thermador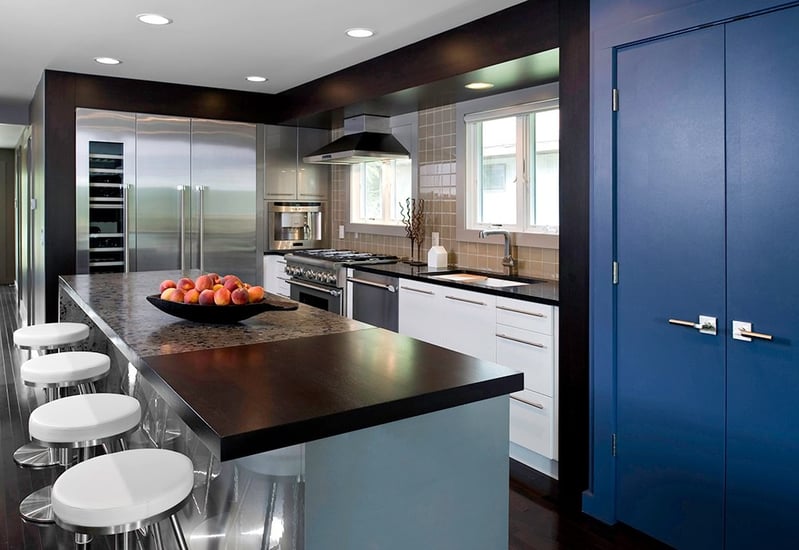 Thermador is a premium appliance brand owned by the BSH Corporation. Thermador is primarily known for manufacturing professional-style ranges. Their refrigeration is made in Turkey along with Gaggenau, Bosch Benchmark, and Miele models.
Thermador was one of the first companies to introduce column refrigeration in the US and since then, it has been a major trend. Thermador was also one of the first brands to have a "Freedom Hinge" so that their refrigeration could integrate completely flush with your cabinetry.
A few years ago, Sub-Zero introduced flush refrigeration with a different type of hidden hinge. Thermador just launched a new and improved refrigeration lineup. Below are the details:
Thermador Refrigerator Column Offerings:
| | | |
| --- | --- | --- |
| | Price (panel-ready) | Capacity (cubic ft.) |
| 36'' refrigerator | $7,249 | 19.7 |
| 30'' refrigerator | $6,249 | 17.2 |
| 24'' refrigerator | $5,649 | 13.2 |
| 23.5'' refrigerator | $5,499 | 13.2 |
| 36'' freezer | $7,049 (internal ice) | 19.7 |
| 30'' freezer | $6,249 (internal ice) | 15.8 |
| 24'' freezer | $5,649 (internal ice), $6249 (external ice) | 12.2 (internal ice), 11.3 (external ice) |
| 18'' freezer | $5,199 (internal ice), $5649 (external ice) | 8.6 (internal ice), 7.8 (external ice) |
Features:
Made in Turkey
Half-gallon produce bins on the door for more fresh food space
Door shelves and produce bins can be adjusted to any level on door for more flexibility
Open door assist, door can open with a light push to the panel, great for full integration with handless kitchen cabinets
Humidity controlled crisper drawers
Super cool feature in refrigerator allows you to temporarily reduce temp to cool foods quickly
LED internal theater lighting
Soft-close doors and drawers
TFT touch controls to regulate temperature
Option for filtered external ice/water dispenser on 18'' and 24'' freezer columns
Automatically filtered diamond ice maker in freezer
Which is better?
It may be too soon to tell as most of the Thermador series will be out in 2018. We do have a display model in Dorchester and Framingham, so here's my synopsis broken down by key factors.
The Door:
Thermador has a new type of door. You can now push to open without a handle assist. Although you will place a handle on the refrigerator to match the cabinets, it could be a benefit with your hands full.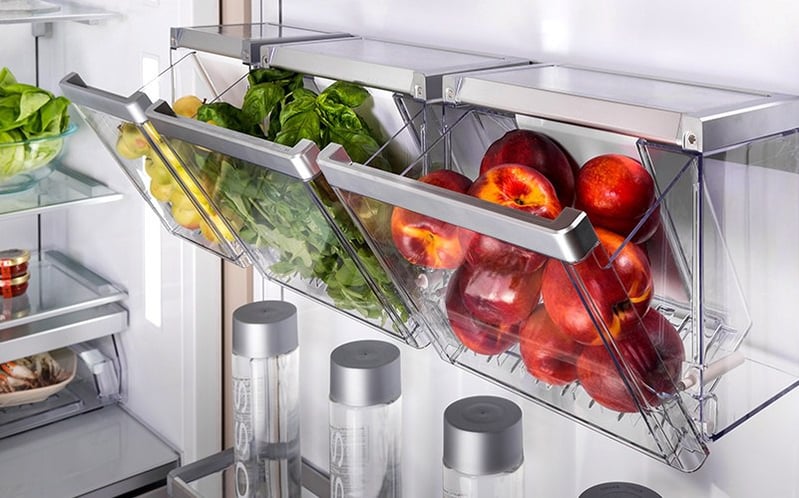 You will like the storage on Thermadors door. You can have bins on the door for mushrooms, veggies, and other more delicate foods. It is also customizable.
Controls:
They are both pretty robust, but Thermador has updated many user guide functions directly into the controls itself. You have monitoring and better diagnostic capabilities with Thermador.
Shelving:
Ever spill anything in your refrigerator? You are still finding it days, weeks and years later. Sub-Zero has the nanotechnology film so spills do not spread. They congeal.
Air Cleaning:
I am surprised Thermador did not duplicate. Sub-Zero has an air scrubber, so it scrubs ethylene gases of foods reducing spoilage and cross-contamination.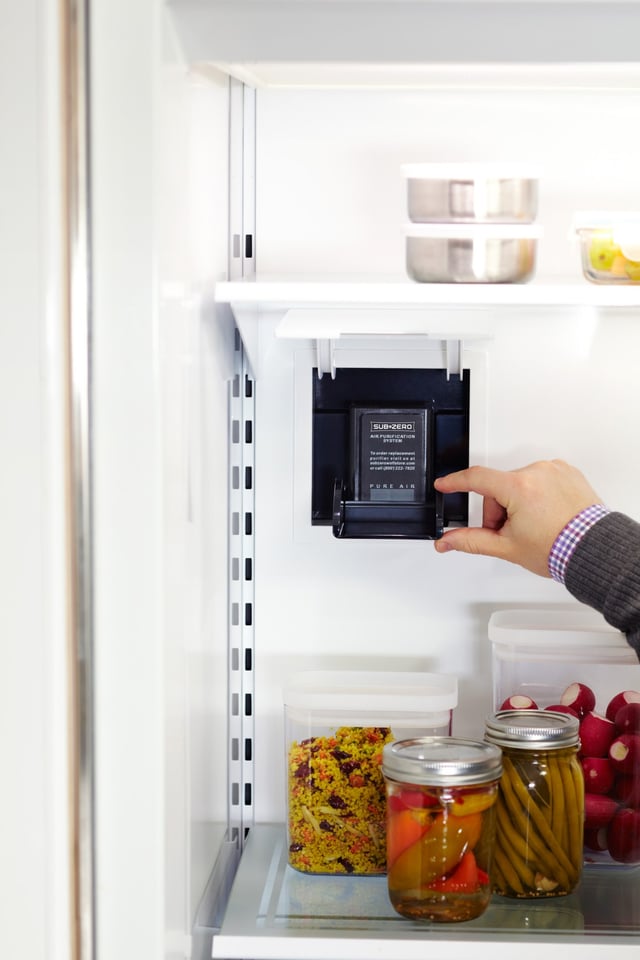 Sub-Zero is still built better with magnetic crispers and a design to keep air out of the refrigerator. Thermador is very cool, and I like the bins and more flexible storage.
However, Sub-Zero is still the choice, but the new Thermador, especially with the heavy promotion, has closed the gap and is worth considering.
Additional Resources
Get the Yale Counter Depth Refrigerator Buying Guide with features, specs and inside tips to all the brands like Sub-Zero, Thermador, Viking, Miele, Gaggenau, Liebherr and more. Well over 235,000 people have read a Yale Guide.

Related Articles:
Steve Sheinkopf
My goal has always been simple: I want Yale to be the best retail experience anywhere. I have tried to create a compelling environment for customers and employees alike.
A Note About Pricing
Pricing on this blog is for reference only and may include time sensitive rebates. We make every attempt to provide accurate pricing at time of publishing. Please call the stores for most accurate price.