Thermador Pro Steam vs. BlueStar 48-Inch Ranges (Reviews / Ratings / Prices)
The 48-inch range market is filled with verygood products. The Pro was first introduced for residential use by Viking in the 1980's and have since become an extremely popular appliance choice for high-end kitchens. Now, your options for a pro-style range are almost limitless.
Brands such as Thermador, Miele, Dacor, Wolf, Viking, Capital, BlueStar, Jenn-Air, and DCS are all manufacturers of pro-style ranges for the residential market, but that's where the similarities end.
They all have different strengths and all are worthwhile depending on how you cook.
In order to decide what is right for you, review how you use your current range. Do you like power, or simmer on the top? Do you roast or bake in the oven?
Two of the more interesting ranges to compare are the Thermador 48" Pro Steam and the BlueStar 48" Platinum Series, because they are so unique.
So we will look at each company, their products and then compare. After reading this article, you will have a better idea of what to consider.
Thermador
Thermador has been around for just about 100 years. In 1998, the brand was acquired by the BSH Corporation, better known as Bosch. Thermador's goal is innovation at an affordable price while creating a reliable product. Since being acquired by Bosch, Thermador has been one of the least serviced appliance brands in the industry.
Burners
What is exciting about this range? First, Thermador's 18,000 NYU patented star burner. Designed to cover more surface area of your pots and pans, Thermador claims that this design will heat pots and pans faster than other ranges with similar BTU's on the market.
On the other end of the spectrum, the extra low simmer burners can reach a cool 100 degrees leaving you with one of the most dynamic and flexible burners in the industry.
Because it is raised, the Star Burner is also one of the most cleanable.
Griddle/Grill
The Thermador Pro steam range comes with few configuration options. You can get the range with a griddle, grill, or sacrifice four burners and have both a griddle and grill. In any case, the griddle and grill are electric.
While the griddle is a generally well performing cast aluminum griddle—it isn't exactly unique. The titanium surface is great at preventing rust but you must apply oil to the cooking surface before using it. On the other hand, the grill option is something different.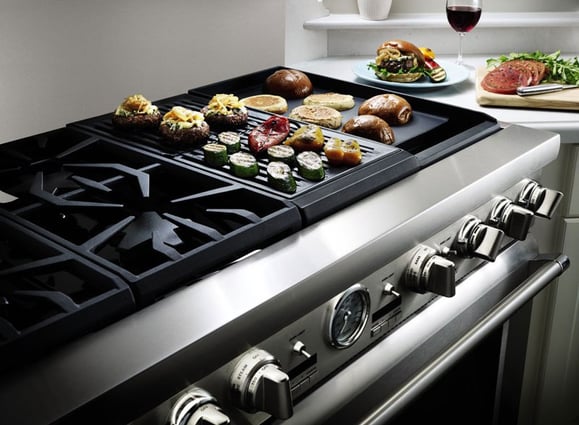 It utilizes ceramic briquettes, which closely resemble those of an outdoor grill. These briquettes aid in heat distribution and also assist in the flavoring of your food. As drippings fall into the lava rocks and cook-off, the flavor will be reintroduced to your food as it burns back up into whatever it is that you may be grilling.
One small note: The Miele and Wolf infrared gas grills are better at searing meats.
Ovens
The main oven is single convection, but the smaller oven is actually a fully functional steam oven. Steam cooking is simply a healthier way to cook. It allows the food to conserve vitamins damaged in other forms of cooking. It also allows you to cook with less butter and oil. The oven can be used as a steam oven, a convection oven or a combination of the two.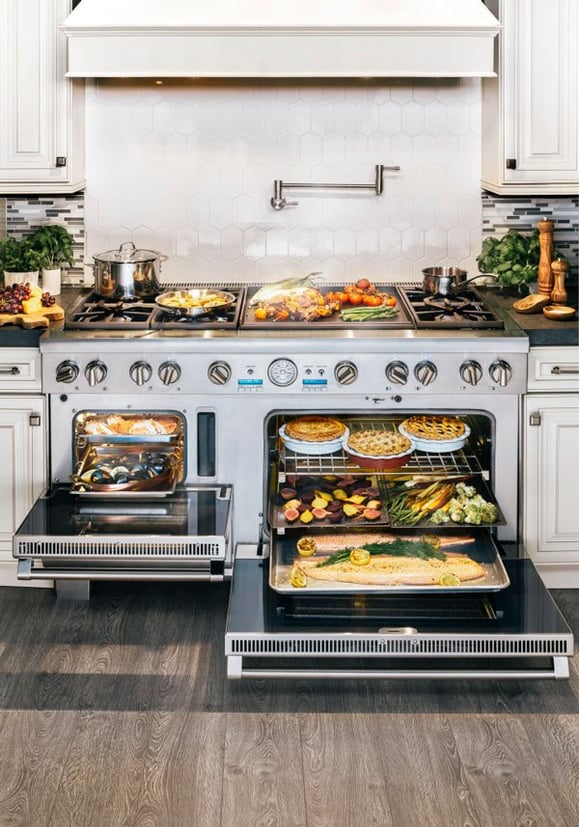 On the right side of the range, Thermador provides a full size, 5.1 cu. ft. electric convection oven complete with European convection, self-cleaning, a temperature probe, and smooth, gliding telescoping racks.
Warming Drawer
Right below the steam oven, they provide another potentially useful feature - a warming drawer. Warming drawers are not only excellent for entertaining but for busy families as well. You can use them for warming plates prior to serving, and they are also wonderful at keeping meals warm. Warming drawers also do not dry out foods like a microwave.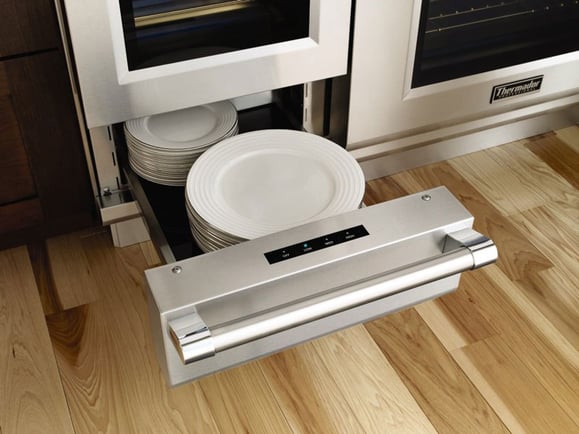 Other Considerations
Thermador ranges feature a full two-year warranty. They also typically offer rebate incentives such as a free dishwasher with the purchase of this range. Make sure to ask about current promotions.
Final Tally
6 Star Burners
27 Easy Cook Programs
9 Advanced Conventional Cooking Modes
Power Burner (NG/LP):22,000/18,000 BTU (Right-Front)
Griddle Interchange with Grill Accessory
Ovens and Warming Drawer
Self-Clean Cycle
Meat Probe
Star-K Certified
Capacity 1.4 Cu. Ft. Steam Cavity
Steam Clean Function
Thermador Steam Pro Range Features Video
Thanks for reporting a problem. We'll attach technical data about this session to help us figure out the issue. Which of these best describes the problem?
Any other details or context?
message
BlueStar
BlueStar is perhaps a lesser known name in the residential world but certainly a product to consider. BlueStar is an American manufacturer designing and assembling professional style products in their Reading, Pennsylvania factory. BlueStar is truly a commercial type range.
It does not feature some of the auto cooking features of other ranges out there nor does it have a clock or timer. However, customization and pure power are its focal points.
BlueStar 48" Platinum Series BSP488B - Starting At $11,675
Burners
The BlueStar Platinum series offers unrivaled cooking power and customization. The interchangeable burners are an open burner system allowing extremely high BTUs, which are the most powerful open burners on the market topping out at 25,000 BTUs.
While sealed burners may be easier to clean, BlueStar makes it incredibly easy to disassemble the open burners and bring them to your sink for easier cleaning. Finally, BlueStar allows you to choose from 22,000 BTU, 18,000 BTU, 15,000 BTU, and 130°F simmer burners to finish the range top.

Interchangeable Griddle/Charbroiler
The Platinum series allows you to choose between a cast iron griddle, charbroiler, or neither. (Accomplished by utilizing 8 burners.) You can keep these accessories on hand and insert the griddle or charbroiler anywhere on the range when your menu calls for it. The grill is really a griddle with lines.
Oven
The oven, too, is unique. BlueStar is the only European gas convection oven. Gas heat is moister than electric and superb for roasts and meats. Electric heat, as seen in the Thermador, is better for baking cookies and cakes.
BlueStar's true power shines again in the 1,850 degree infrared broiler. The oven capacity is also impressive; it accommodates a full-size 18" x 26" commercial baking sheet.
Other Considerations
As previously mentioned, customization is a big part of BlueStar's Platinum series range. It is available in 750+ colors and finishes. If you are looking for a professional range with limitless color options, Blue Star may be of interest.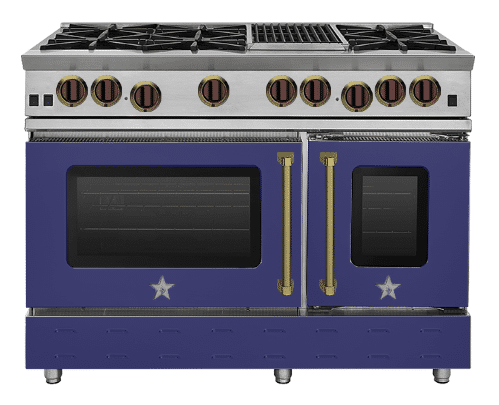 Final Tally
Available in 750+ color and finish combinations

Features 25,000 BTU burner, plus 22,000 BTU

, 18,000 BTU, 15,000 BTU and 130° degree simmer burners

Cast iron interchangeable griddle

charbroiler

system

Extra-large oven with True European Convection and 1850° infrared broiler

Accommodates full-size commercial 18" x 26" baking sheet

Removable, dishwasher-friendly stainless steel drip trays

Infrared Broiler and Interchangeable Griddle

Charbroiler
BlueStar Platinum Series Range Features Video
Thanks for reporting a problem. We'll attach technical data about this session to help us figure out the issue. Which of these best describes the problem?
Any other details or context?
message
BlueStar vs. Thermador Pro Ranges Comparison: Which Do You Buy?
The answer depends on what you like:
On the top, Thermador has the better simmer with a sealed burner, whereas BlueStar has a more powerful burner set topping at 25,000.
The griddle and grill are better with Thermador. BlueStar should have a decent griddle because you are placing it under such extreme heat. It is not thermostatically controlled like Thermador.
The broiler is better with BlueStar and gas convection is better for roasting as well. However, Thermador is better for baking and is self-cleaning.
Perhaps the answer is steam cooking. We demonstrate convection almost every weekend and by appointment. It is fantastic and absolutely the best way to cook....but it needs to be learned.
BlueStar has 750 colors and will even customize the trim 8 ways. So if you are sick of stainless, BlueStar has the best options.
Both ranges are very solid and should be considered.
Additional Resources
Have questions on Pro Ranges? Get the Yale Pro Range Buyers Guide with the only fair comparisons between Thermador, Wolf, Miele, Ge Monogram, Viking, Jenn-Air, BlueStar and more. Well over 200,000 people have read a Yale Guide.
Recommended Reads
Why Should You Trust Us?
It seems that every appliance review has nothing but glowing comments about almost every product, yet you read customer reviews and they are almost universally bad.
We are here to fill in the disconnect. We'll give you the best features, and the drawbacks as well, including reliability based on over 37,000 calls performed by our service team just last year. Our goal is to give you ALL the information so you know what's right for you.
Please consider subscribing or adding to the conversation in the comments below. We appreciate you stopping by.
A Note About Pricing
Pricing on this blog is for reference only and may include time sensitive rebates. We make every attempt to provide accurate pricing at time of publishing. Please call the stores for most accurate price.