The Benefits Of Cooking With Steam (Reviews / Ratings)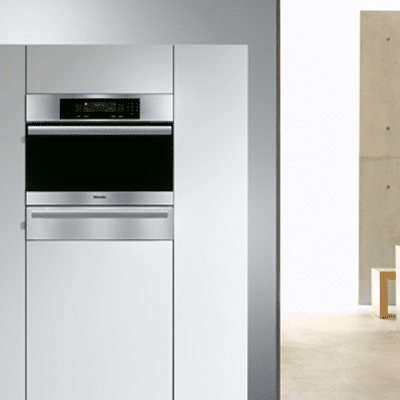 Although steam cooking is a growing trend in today's market, the science of steam cooking has been around for centuries.
The first recorded use of steam cooking was in Ancient China where cooks would place reed or bamboo baskets over water-filled hot woks. The French invented pressure cookers in the 1950s which became a convenient way to prepare meat and vegetables.
In recent decades, restaurants have used steam cooking to cook food quickly and keep it warm until serving time. Currently, restaurants now use steam and water baths to cook foods using the "sous vide" method to a precise temperature. Several residential appliance brands produce steam ovens so you can now have access to this technology in your home.
.
Updated December 2014
I wrote this blog about two years ago and wanted to provide an update. Since my last post there have been several changes in steam cooking. Specifically, there has been a huge introduction of steam products into the affordable luxury market under the Bosch and Jenn-Air names. Steam is now available at lower prices than ever before and is available in bigger sizes as well. Miele and Wolf make the largest 24'' steam ovens in the industry (which can be outfitted with a trim kit to measure 30"). Although many brands still make steam (only) ovens, steam convection ovens are more popular for the added versatility.
Short on time? Get our free Speed + Steam Oven Buying Guide
How does it work?
When the oven is turned on, the oven heat turns water into steam. Many steam ovens have a removable reservoir that needs to be refilled when you use the oven; some high-end models are connected to a water line. The oven has a valve to release pressure of the steam similar to a pressure cooker or a tea kettle. Steaming works well for delicate foods such as custards and croissants. Many people also use steam to cook vegetables, fish, meats, and add moisture back into leftovers.
What makes it great?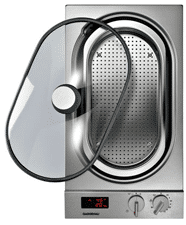 Before I delve into the benefits I need to admit that I am a diehard fan of steam cooking. Back in 2000, we installed a Gaggenau Counter Steamer in our kitchen and since then I have not been able to eat vegetables prepared any other way! Imagine going out to a really nice restaurant and complaining that the vegetables you ordered are inferior to the ones you make at home… this is a common occurrence in my life.
In recent years, appliance manufacturers have moved to steam ovens. Steam ovens have the same steaming capability, but are not built into your countertops. Some models are convertible to a regular oven as well so they have both steaming and browning capability. Some steam ovens are designed to sit on your countertops like a microwave but many of the higher end models are built into your cabinets like a wall oven. What is all of the hype about?
Efficiency
Steam cooking is faster than a convection oven when it comes to cooking vegetables, small cuts of meat and fish. I really like to eat, but I dislike leftovers. I am in my 20s and typically only prepare meals for one person. This creates a whole lot of leftover food which almost always goes straight from the Tupperware to the trash. I dislike when my leftovers come out dry and flavorless from the microwave. Steam ovens solve this problem. Steam restores the lost moisture into your meals so that they taste as good as they did when they were first cooked. Steam ovens also have the capability to reach high temperatures when on the convection setting.
Healthiest Cooking Technology
Steam cooking is the healthiest form of cooking. Today there is an enormous cultural emphasis on living a healthy lifestyle. Your overall health largely depends on how your food is prepared. Steam cooking retains more nutrients, vitamins and minerals than other forms of cooking so that your produce looks and tastes better, and is healthier.
Steamed vegetables are moist rather than oily or mushy. My least favorite way to eat produce is when it is pan fried with butter or oil; I might as well have ordered French fries. With a steam cooking product I eat more healthy produce than I otherwise would because steam cooking is so easy and is not dependent on oils.
Versatility
A great benefit to having a steam oven is that it can accommodate a greater food capacity than a countertop steamer. Steam ovens can be stove-sized or the size of a microwave. It can cook a wide variety of items. You can cook, bake, roast, grill, steam, defrost, and warm leftovers making these ovens some of the most versatile appliances in the industry. Although many people would be reluctant to do this, manufacturers claim that you could theoretically cook fish on one rack and muffins on another rack and your muffins will not taste like fish. For busy chefs who like to cook many dishes simultaneously, steam technology is projected to eliminate flavor transfer. The majority of steam ovens have very good temperature and humidity control as well.
Cleanability
I dislike cleaning, especially cooking products. Steam ovens are the easiest appliances to clean because of the built in steam which helps lift food splatter from the oven surface. After you are finished cooking you should be able to wipe down the inside of the oven and any spills should come off relatively easily.
Wicked Good Steam Ovens
At Yale we carry steam ovens produced by the best brands in the industry: Gaggenau, Thermador, Wolf, and Miele, as well as Bosch and Jenn Air. These companies produce high quality appliances that last for several years. As I mentioned before, I began cooking on my Gaggenau steamer 13 years ago. My prediction was correct; steam technology is now an emerging trend within the affordable luxury brands.
5. Bosch Benchmark HSLP451UC - $3,099

Bosch is one of our favorite affordable luxury brands due to a strong service history. Their Benchmark series products are their premium line. I really like this steam oven for the pricepoint.
4. Thermador PSO301M - $3,999

Thermador is one of the most popular appliance brands we sell at Yale. One of the benefits of choosing the Thermador steam convection oven is with qualifying Thermador cooking products and refrigeration the purchase of a steam oven will land you a free top-of-the-line Thermador dishwasher. Thermador also makes a 48'' Dual-fuel range with a built in steam-convection oven also.
3. Wolf M-Series CSO30TM/S/TH - $4,219

Wolf makes the largest steam oven in the industry right now. This steam oven also factors into the "Dream Kitchen Rebate" for qualifying Wolf/Sub Zero kitchens which makes it a popular choice.
2. Miele DGC6800XL - $3,899

Miele makes a great steam oven for the price. It has the Masterchef control panel which takes the guesswork out of cooking with steam and a broil element for top heat. It is the only steam convection oven where you can customize exactly how much steam/ convection you want. This is a really popular steam oven choice for many of our customers.
1. Gaggenau BS485610 - $7,999

This oven is the best because it is the most customizable. It is the only steam convection oven where you can customize exactly how much steam/ convection you want to use and where you want the heat to come from. I also love the fit and finish, the side-swing touch-to-open door is great and the hard plumbing takes the work out of having to fill a reservoir.
Related Articles
Additional Resources
Download the Yale Speed and Steam Buying Guide with features, specs and inside buying tips on all the speed and steam ovens. Over 40,000 people have read a Yale Guide.
Steve Sheinkopf
My goal has always been simple: I want Yale to be the best retail experience anywhere. I have tried to create a compelling environment for customers and employees alike.
A Note About Pricing
Pricing on this blog is for reference only and may include time sensitive rebates. We make every attempt to provide accurate pricing at time of publishing. Please call the stores for most accurate price.