Best Dual Fuel 48-Inch Professional Ranges (Reviews / Ratings / Prices)
This category used to be simple to shop and compare. You would have one large oven and one small oven and would usually decide by seeing which brand offers the better burners on the cooktop. Now brands are offering a wide range of ovens and unique features.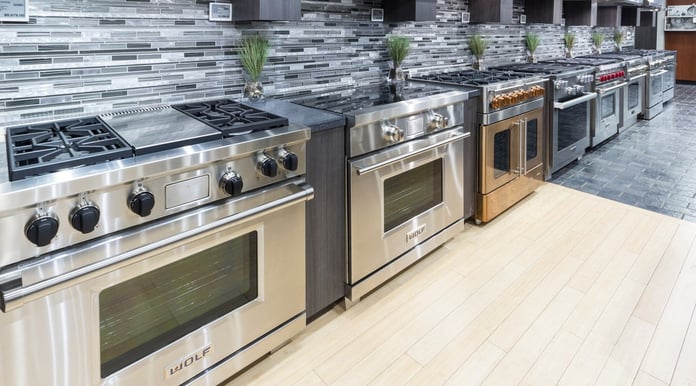 You can choose steam ovens, warming drawers, one touch controls and dual convection configurations. It is a bit more complicated. We will look at the best 48-inch dual fuel ovens and companies. First you should understand the difference between all gas and dual fuel ovens.
Short on time? Get our free Pro Cooking Buying Guide
All Gas vs. Dual Fuel
Dual fuel has the perception of being way better. Most brands do offer better features on their dual fuel stoves with better controls, enhanced output and even self-cleaning. However, gas convection is a moister heat and better for roasts and meats. BlueStar produces only all gas ranges and is worthwhile to consider.
Electric convection is a dryer heat and better for baking. You need 50 amps for an dual fuel range and typically it could cost $2,000 or more to buy.
Best 48-Inch Dual Fuel Ranges
The Best 48" Dual-Fuel Pro Ranges
Thanks for reporting a problem. We'll attach technical data about this session to help us figure out the issue. Which of these best describes the problem?
Any other details or context?
message
Miele HR 1954 - $12,499
Miele is a bit of a late-comer to the market but offers the most great versatility. Being a family owned company, they're able to strictly stick to their "Forever Better" mission statement and create extremely reliable appliances. They seem to have incorporated the best of all the other brands and incorporated into their model, but added technology.
The output on the Miele is 19,000 BTU on the power burners. Like Wolf, they use the infrared grill and griddle for faster sear and better cleanability.
The oven is twin convection like Wolf and Jenn-Air, but the side oven is a speed oven. You can cook, microwave, convection or combination. The warmer drawer below will allow you to keep food up to three hours without dehydrating foods.
Miele offers two exclusives: It is a steam assist oven in the main compartment, so it can harden foods and bake breads. You also have incredible technology in this stove. All you have to do is pick a food, how you like it cooked and touch a button. The oven does the work. Watch the video if you have time.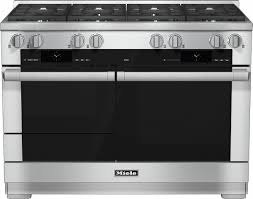 Dual Stacked Burners
Moisture Plus feature in the oven
Optional griddle or grill option
Speed Oven
Warming Drawer
Miele MasterChef Controls
Thanks for reporting a problem. We'll attach technical data about this session to help us figure out the issue. Which of these best describes the problem?
Any other details or context?
message
Thermador is part of the German based BSH company that also produces appliances under the Bosch and Gaggenau brands. They have a number of configurations, but we will look at their steam oven.
First, Thermador has an excellent cooktop. Each burner is 18,000 BTU with two extra low simmer burners on the right side. So you do have the best simmer on this range.
The grill and griddle are electric, not gas. It is even, but does not give you the quick sear and clean ability of infrared.
The main oven is single convection, not twin convection like Miele, Wolf and Jenn-Air. However, Thermador does offer a steam oven as the smaller oven. Miele is steam assist, which is more of a mode. You can cook fully in steam in a Thermador.
Steam is the healthiest way to cook, because you are adding moisture and not baking out nutrients. It is incredibly worthwhile to learn how to use (we have steam demos all the time).
Like Miele, you have a warming drawer below.
Patented Star Burners
Optional griddle, grill or both
Steam oven
Warming drawer
Wolf is part of the family owned Sub-Zero company. It is a solid range, which has good features everywhere.
The top maxes out at 20,000 BTUs and all the burners have a decent 500 BTU simmer. The infrared grill and griddle are probably the best performing.
Their ovens don't have steam capability, but their dual convection is thermostatically controlled for both fans. So Wolf will be the most even in temperature.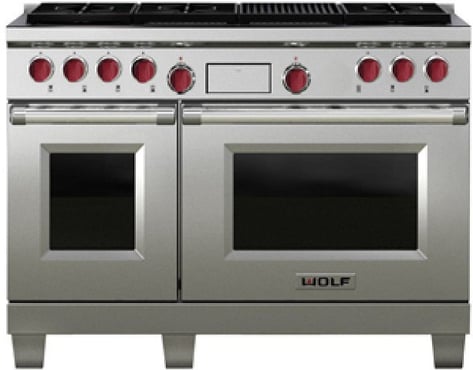 Dual Stacked Burners
Optional griddle, grill, both or french top
Dual Convection in the main oven
Signature cobalt oven interior
Low 300 BTU simmer
Jenn-Air is owned and operated under Whirlpool Corp. Their range is price competitive and offers a ton of features. They have two 20,0000 BTU burners, so you have decent power in this unit. They offer an electric griddle with a chromium finish. It is slower than gas, but chromium is easier to clean.
The main oven has twin convection, like Miele but not thermostatically controlled like Wolf. Their LCD control screen is actually quite good. It offers convection conversion, so your regular recipes are converted automatically with a touch of a button.
Two 20,000 BTU burners
Chrome infused griddle
Dual Convection in the main oven
Touch Screen LCD to operate cook settings
Viking VDR7488BSS - $13,699
Viking is a known for being one of the first to introduce commercial style appliances into residential settings. Although we were one of the first Viking dealers, we do not sell Viking and have no plans to do so in the immediate future.
Like Thermador, Viking has a few different models, but this new model is somewhat interesting. The cooktop has four 23,000 BTU burners, which is the hottest of any sealed burner professional range. BlueStar has 25,000 BTU but is an open burner configuration.
Their oven is single convection with no special features like steam, steam assist or dual convection.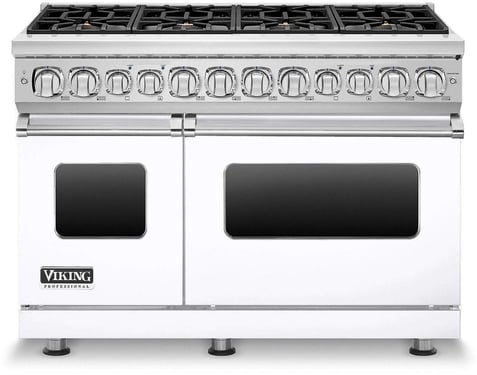 Brass burners designed to offer high BTU as well as low simmering
Chromed and reversible griddle/grill option
Glass enclosed infrared broiler
Which Do You Buy?
There is no easy answer.
If you are looking for power, Viking is a good choice. However, you have to be prepared for their reliability issues. Jenn-Air and Wolf are also good considerations.
Thermador has a great simmer and good overall burner. Their steam oven is fantastic if you learn how to use it. You can cook anything in steam, btw.
Miele simplifies everything. Their MasterChef even has 15 automatic modes just for breads. The microwave convection is a good unit to use as well.
Wolf does not have special cycles, but is the best overall top in terms of BTU and infrared grill and griddle with even distribution of heat in the oven.
Jenn-Air is another good overall unit. Their chromium griddle is super easy to clean.
All are decent considerations; the best one for you depends on how you use it.
Reliability
Appliances have become way more complicated, so service has to enter the conversation. We wrote an article discussing reliability, but for 2016, Thermador and Wolf were the most reliable. Miele is too new to know either way.
Additional Resources
Need more information about pro ranges? Get the Yale Pro Range Buying Guide with features, specs, BTU outputs of every range as well as detailed profiles of every major brand. Well over 210,000 people have read a Yale Guide.
Related Articles
Why Should You Trust Us?
It seems that every appliance review has nothing but glowing comments about almost every product, yet you read customer reviews and they are almost universally bad.
We are here to fill in the disconnect. We'll give you the best features, and the drawbacks as well, including reliability based on over 37,000 calls performed by our service team just last year. Our goal is to give you ALL the information so you know what's right for you.
Please consider subscribing or adding to the conversation in the comments below. We appreciate you stopping by.
Tam Nguyen
Tam is an Appliance Sales Consultant at Yale Appliance. In his spare time he enjoys watching and playing sports and spending time with his two children.

Schedule a showroom visit with me
A Note About Pricing
Pricing on this blog is for reference only and may include time sensitive rebates. We make every attempt to provide accurate pricing at time of publishing. Please call the stores for most accurate price.