Best Professional Outdoor BBQ Grills (Reviews / Ratings / Prices)
Free Delivery & Assembly of Grills Over $499
So, you are looking for a professional grill?
It's not an easy choice, because they appear to be so similar. However, they differ greatly with some features like a rotisserie, infrared capability, and overall construction.
In most of our articles, we will say there is no one best brand. It depends on how you use a product and what features you value to determine your choice. Everyone is a bit different.
So is this article. There is a single best grill you can buy.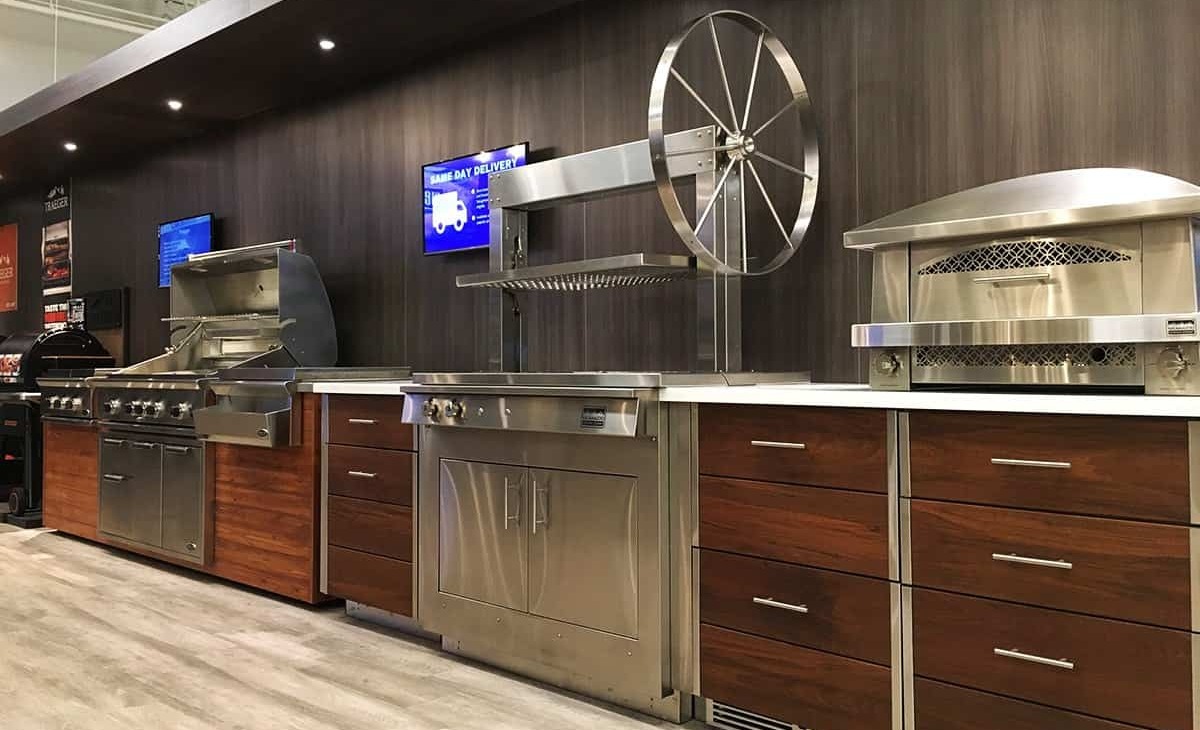 Built-In Professional Grills featuring Kalamazoo at Yale Appliance in Framingham
Kalamazoo is the best without question. However, the price of their grills starts at $15,000.
What you should buy in the next tier between Hestan, Lynx Pro, and DCS is not as clear. It does depend on how you use the grill.
In this article, you will learn the differences between all these grills and what you should consider based on how you use it.
You will also learn the other grill types like pellets and charcoal grills. They cook differently than a professional gas grill.
You should know the difference before you buy any grill. 
I included a section of how a pro grill compares to a high powered but cheaper Weber Summit grill. You may want to consider that option as well.
This article is long, with videos included. You can read it straight through or use our table of contents to jump to any preferred brands.
Pro Tip: Most of these grills heavily promote their main lines. You can and should look into buying their less expensive, less featured models.
Lynx has its Sedona line. Hestan has its less expensive Aspire line. DCS has Series 7 with a few fewer features than their Series 9 grill.
The main differences between the better and value-based pro grills are thinner grates, 23,000 per burner instead of 25,000, and a less powerful rotisserie burner as well.
Narrow down BBQ grill options with our free tool
Best Professional BBQ Grills for 2020
Most professional grills are similar in BTU output and construction. Take a look at the chart below of our professional grills:
| | | | | |
| --- | --- | --- | --- | --- |
| | Hestan | Kalamazoo | DCS | Lynx |
| Fuel Type | Natural Gas (NG) or Liquid Propane (LP) | Natural Gas (NG) or Liquid Propane (LP) | Natural Gas (NG) or Liquid Propane (LP) | Natural Gas (NG) or Liquid Propane (LP) |
| Grill Type | Built-In or Freestanding | Built-In or Freestanding | Built-In or Freestanding | Built-In or Freestanding |
| BTU Output | Up to a total of 118,000 BTU | Up to a total of 110,000 BTU | Up to a total of 92,500 BTU | Up to a total of 98,000 |
| Smoking Capabilities | No | Yes | Yes | Yes |
| Rotisserie | Yes | Yes | Yes | Yes |
| Infrared | Yes | Yes | Yes | Yes |
| Side Station | Yes | Yes | Yes | Yes |
| Finish | 12 Designer Color Options | Stainless steel or marine-grade steel | Stainless Steel | Stainless Steel |
| Warranty | 1 year parts and labor | 2 years parts and labor | 2 years parts and labor | 1 year parts and labor |
Here are some differences to help you decide. Let's look at the brands below.
Best Pro Grill Overall: Kalamazoo Hybrid Fire Grill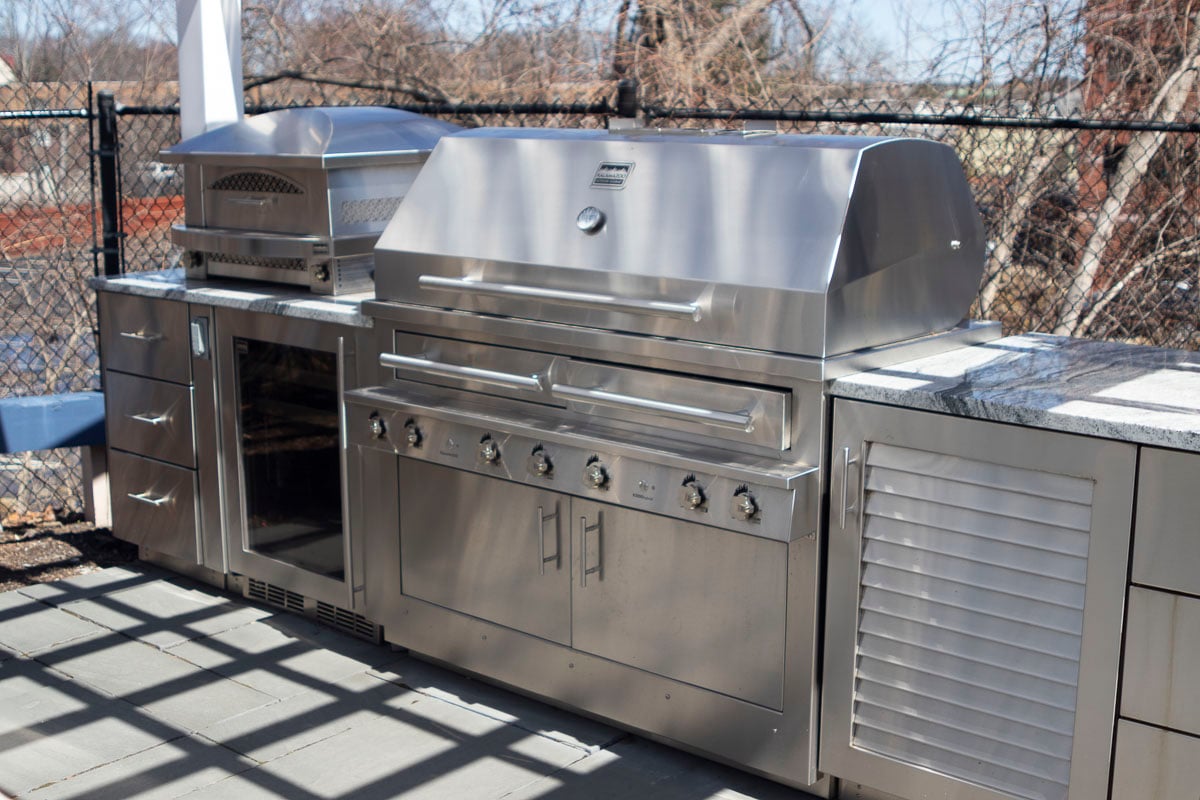 Kalamazoo Professional Outdoor Grill and Kitchen at Yale Appliance in Framingham
Kalamazoo is recognized as the World's best professional outdoor BBQ grill. Then again, it starts at $15,000 and up.
Why Kalamazoo is better can be summed up in a true story.
I was at this outside restaurant. It was an inexpensive walk-up type of place.
They had a funky type of grill. At that time, I did not know it was charcoal with wood. I asked the chef (actually, it was a guy on the grill), "Was the chicken sandwich any good?"
He stopped, turned to me, and said quite seriously, "It's the best damn chicken sandwich you will ever have."
And it was. Really.
Gas grills are fast. They can sear quickly.
However, they do not add flavor (wood) and texture (charcoal) like that grill could.
Most professional grillers will use their blend of wood and charcoal for that flavor and different texture.
Kalamazoo operates the same way. Maybe better.
First, the grill has a hybrid drawer over the gas burners so that you can infuse your food with flavor and texture.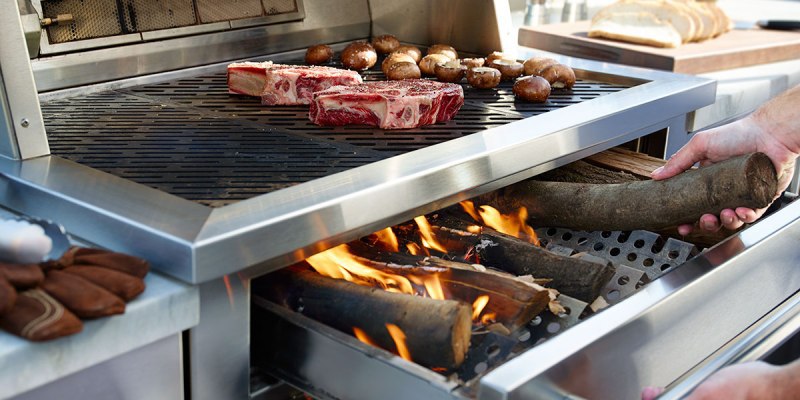 Kalamazoo Professional Outdoor BBQ Grill Hybrid Drawer
| | |
| --- | --- |
| | |
| Kalamazoo Hybrid Drawer | Kalamazoo Hybrid Drawer Close-Up |
Unlike charcoal or wood-fired grills, Kalamazoo adds the speed of pro-gas burners.
Kalamazoo is also deeper than other grill for better air circulation. It's similar to convection and will cook the food more evenly.
Why doesn't Kalamazoo Have Infrared Burners?
It doesn't need infrared. We talk a lot about infrared for the next three grills. The charcoal and wood can blaze away at almost 1100 degrees the same as an infrared, just with more flavor.
Marine-Grade Stainless Steel
Lastly, this made to order grill can be ordered in type 316 stainless. If you live by the ocean, this grill can be "marine-grade" or more resistant to rusting. It increases the price substantially.
They add molybdenum for salt resistance...It's not a guarantee.
You still have to maintain your grill, and it will rust in spots. Marine Grade is the best for outside air, but not a fail-safe.
Pro Tip: To prevent premature rusting, clean your grill, and keep it covered.
Kalamazoo Pro Hybrid Fire Grill K1000HT - $26,995
Cooks with any combination of charcoal, wood, and gas
51-inch four-burner grill with primary grilling area measuring 1,012 square inches
Cast brass burners weigh in at 14 pounds each and offer 25,000 BTUs of awesome grilling power
Deep firebox engineering delivers a more even heat at the grill grate and more dynamic heat circulation for rotisserie roasting and smoking meats.
Custom, laser-cut grill grates create amazing grill marks in a selection of patterns optimized for different types of food.
Marine-Grade Stainless (316 Stainless)
Kalamazoo Hybrid Fire BBQ Grills
Best Pro Grills For Infrared and Connectivity: Lynx SmartGrill and Lynx Pro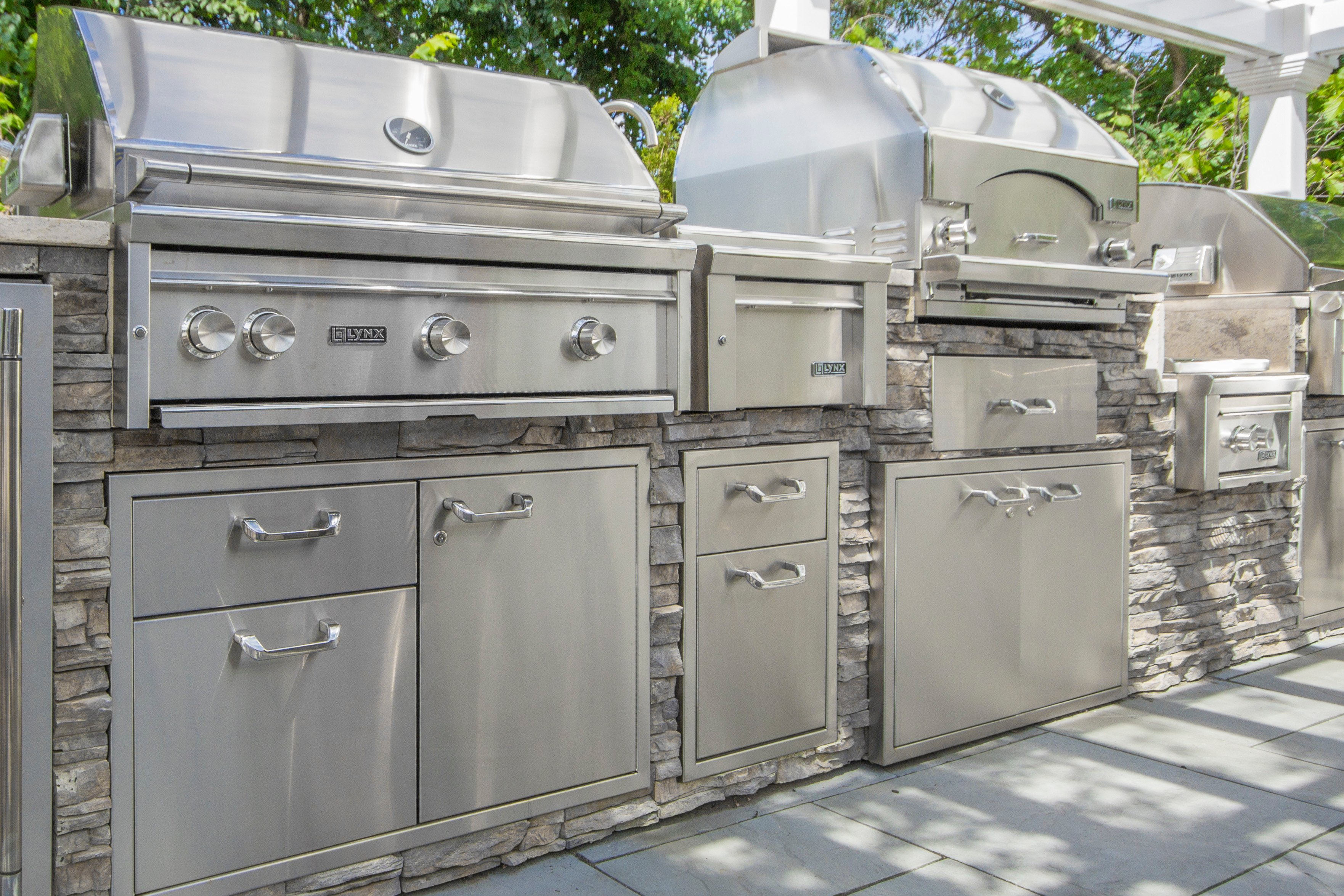 Lynx Professional Built-In Grill and Outdoor Kitchen at Yale Appliance in Framingham
Of all the companies on this list, Lynx has evolved the most. Lynx was the first high output grill. They were the first to add ceramic briquettes to increase heat and eliminate flareups.
Lynx was also the first company with a variable sear burner. You can sear fruit at lower temperatures, steak, and other proteins at higher temperatures from 300-1000.
They were the first Smart appliance starting in 2015 with MyChef.
In 2018, they changed their burner from their cast brass to ceramic.
It's a good idea. Cast iron can weather over time, but ceramic does not.
They also placed the gas underneath so drippings cannot clog the burner itself.
You can now buy a Lynx 4 ways:
MyChef (Smart) with Trident (Infrared) Burners
All Trident (Infrared) Burners
Combination of gas with one Trident burner
All Gas Burners
Here is an explanation for each:
Lynx SmartGrill with MyChef
MyChef is an app on your phone connected to sensors in the grill. It will send you alerts to flip that burger. You can also download recipes and have them automatically cook using MyChef.
It is also a learning algorithm. If your medium well is more medium than well, MyChef can cook it precisely the way you like it.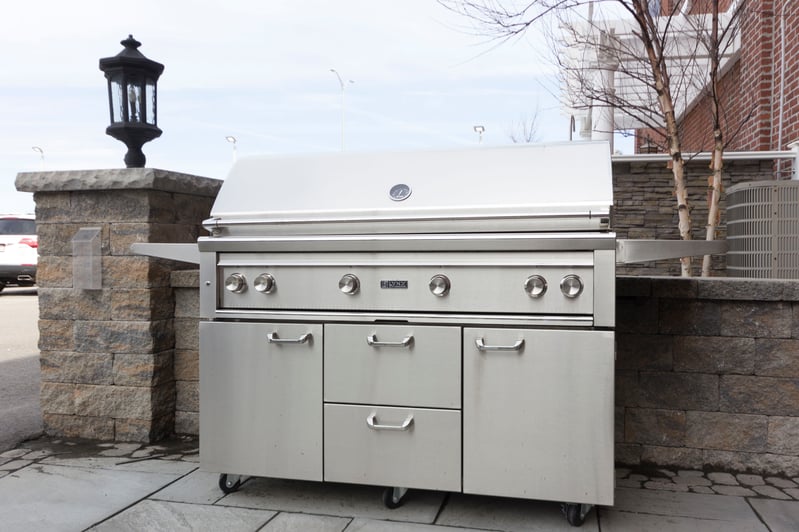 Features:
54" Freestanding Grill
Trident™ Burner and Rotisserie
Three cast ceramic burners and one TRIDENT™ Burner (98,000 BTUs)
1555-sq.-in. cooking surface (1110 primary, 445 secondary)
Premium smoker box included
Ceramic Briquettes facilitate even radiant heat distribution
You can buy Lynx in an all sear grill if you want the speed of infrared or a combination of gas and infrared.
All Trident (Infrared) Burners, Gas, or a Combination of Both
Infrared is intense direct heat, while gas diffuses the heat.
All Gas Vs. Infrared Grill Burners [VIDEO]
Best Pro Gas Grill: Hestan Pro Grill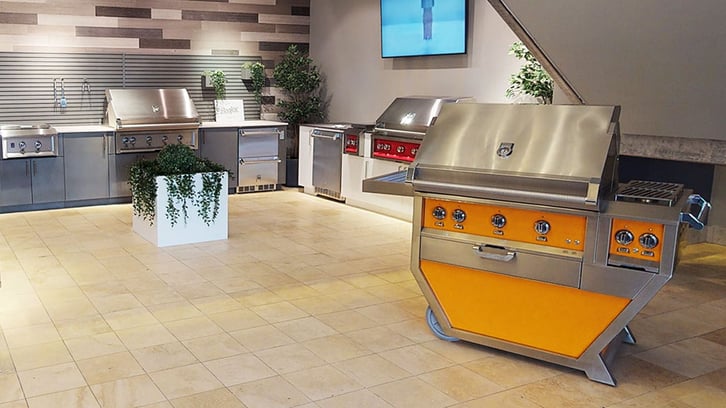 Hestan Freestanding and Built-In Professional Grills at Yale Appliance in Boston
Hestan is a newer grill starting in 2017. They have a commercial range pedigree and are a subsidiary of the huge Meyer company.
Custom Colors
You probably aren't buying a grill for its aesthetics or looks, but Hestan provides a bunch of high fashion colors.
It's an interesting departure from stainless steel.
Grates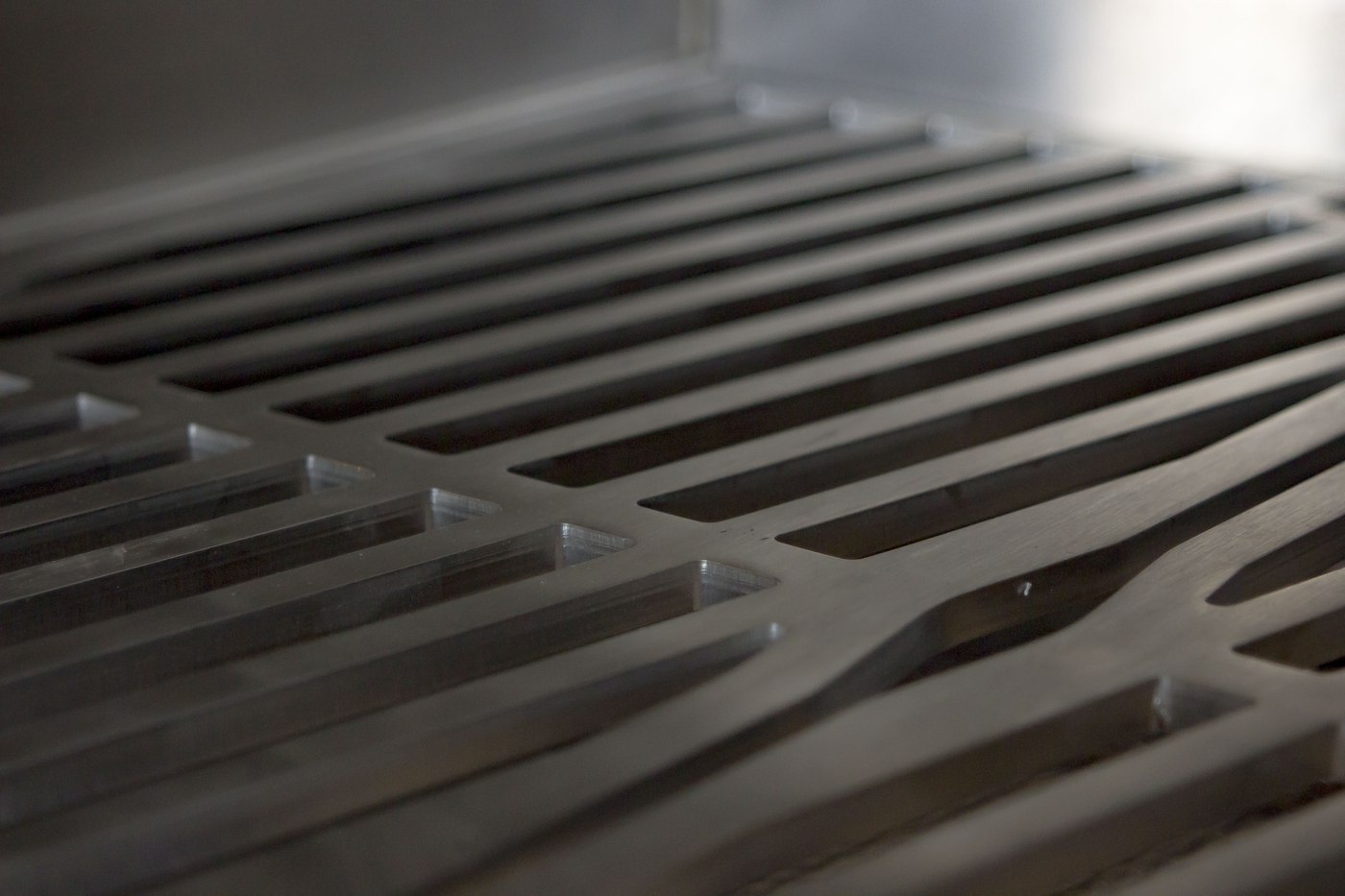 Hestan Professional Outdoor BBQ Grill Grates on Display at Yale Appliance in Boston
Hestan distinguishes itself from the others with incredibly solid diamond-cut grates.
Hestan and Kalamazoo both use thicker grates because it will hold heat better, allowing you to cook faster and more evenly.
Rotisserie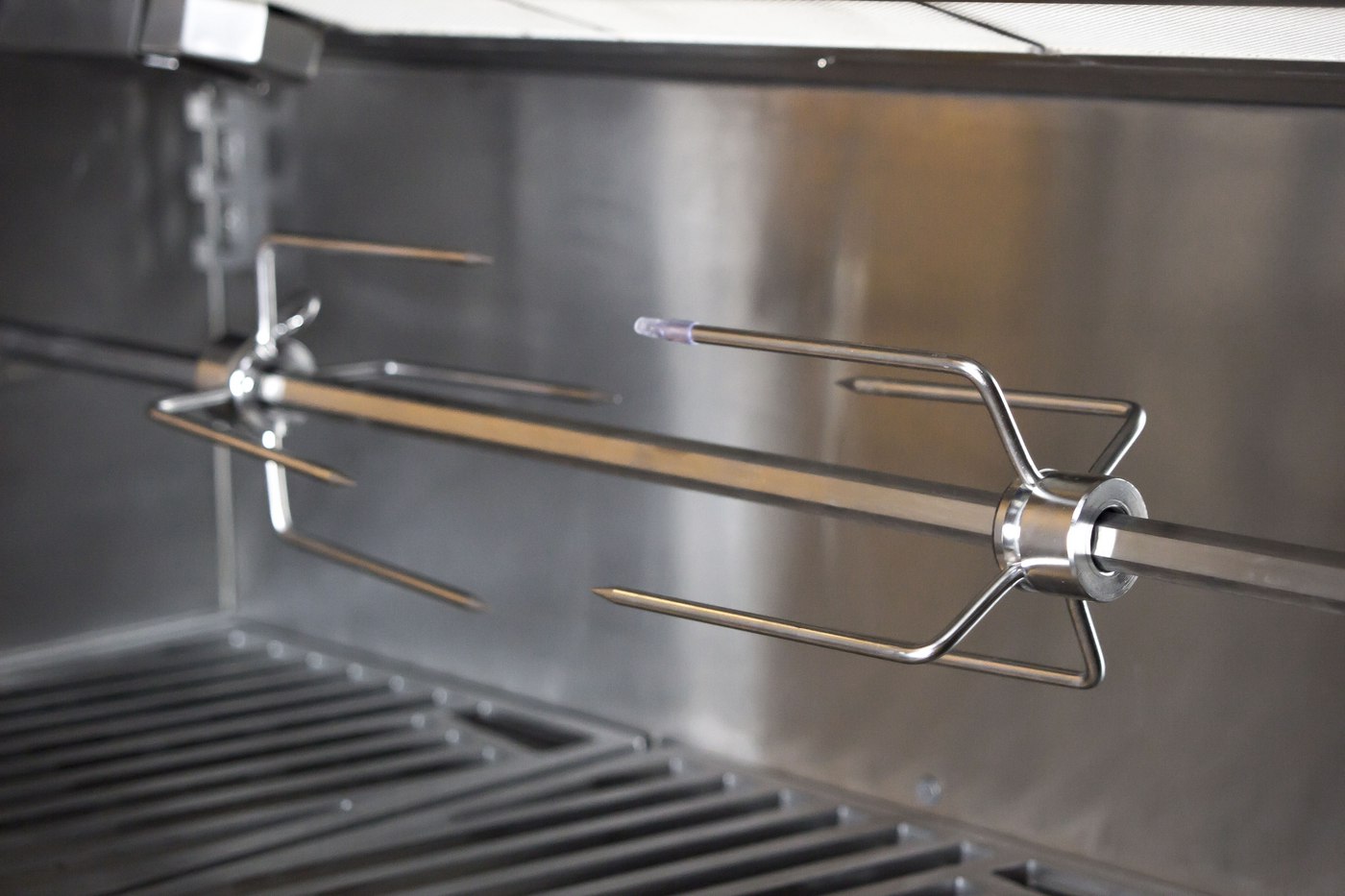 Hestan Professional Outdoor BBQ Grill Rotisserie on Display at Yale Appliance in Boston
Like Lynx, Hestan has the variable sear. Lynx is 300-1000, while Hestan is 400-1000. You can only buy Hestan with a combination of burners and infrared, not just infrared like Lynx.
Their rotisserie may be the best. You can place 50 pounds of meat on it, and Hestan is the only manufacturer with the variable infrared burner on the top.
Hestan Professional BBQ Outdoor Grill Featuring its Infrared Side Burners at Yale Appliance in Hanover
Like DCS, Hestan has an 18,000 BTU infrared top rotisserie burner, but you can adjust the temperature down to 12,000 as well.
It is powerful enough to use as a secondary burner.
Hestan Pro Grill GMBR42CX2-NG-SS - $12,638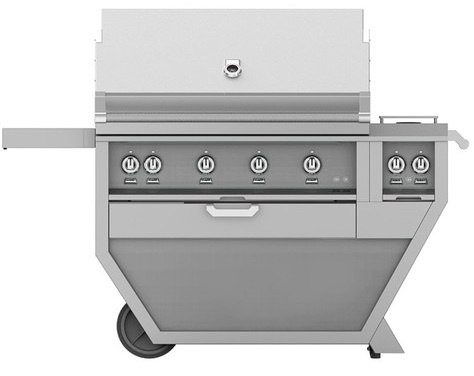 Multiple colors finish available
High-performance 321SS Trellis tubular burners and 1 Sear Burner
282 sq. in., 5/16" thick DiamondCut lasered in-house stainless-steel warming rack with 3 vertical positions + 5/16" thick DiamondCut lasered in-house stainless steel grate
782 sq. in. total grilling surface
Horizon hood with spring-assisted hinges to hold at desired heights
Concealed chain driven whisper quiet rotisserie motor system with a single speed, 6 RPM, 50 lbs. motor
The Hestan Aspire [VIDEO]
Honorary Mention: DCS Series 9 Pro Grill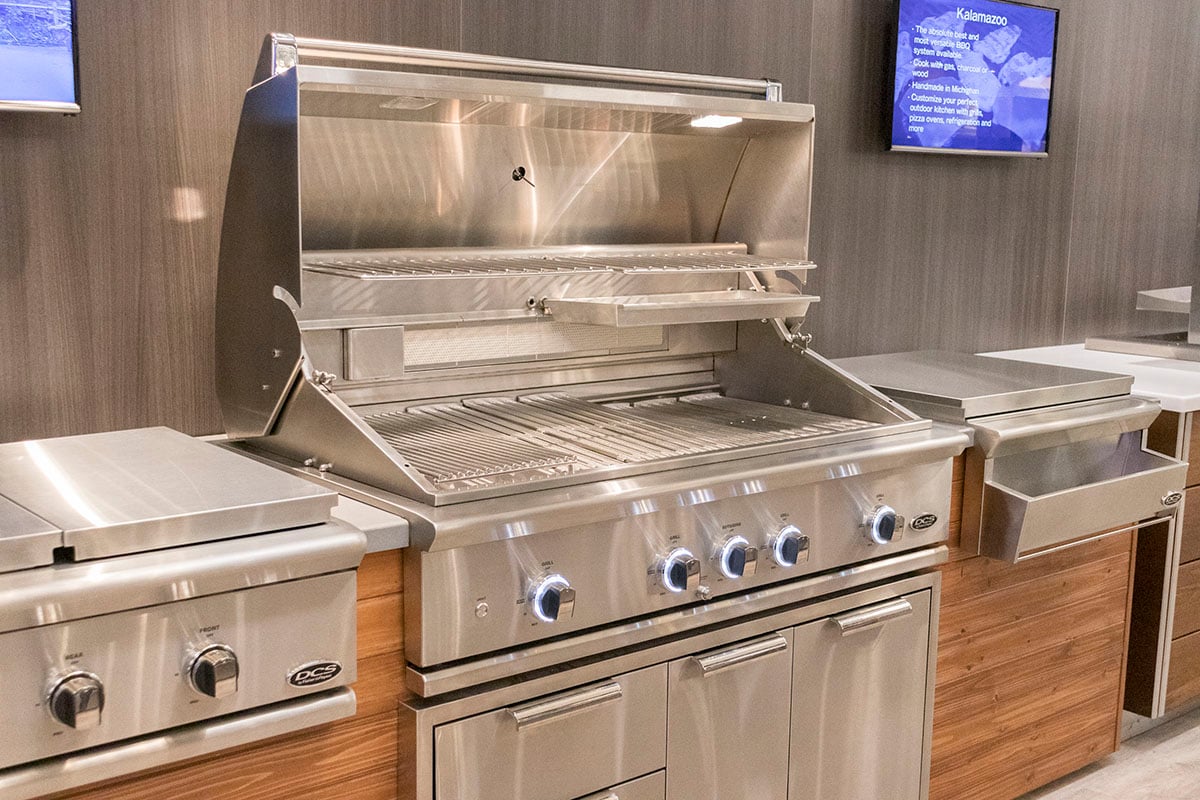 DCS Professional Built-In BBQ Grill at Yale Appliance in Framingham
DCS has rods through the grill to reduce flare-ups as the grease does not hit the burners directly.
Their main burners are all 304 Grade stainless steel and are rated at a high of 25,000 BTU per burner.
| | |
| --- | --- |
| | |
| DSC Grates | DCS Rods |
They have direct vertical ports to deliver the heat, and they have a crossfire ignition system.
This consistent and direct heat allows for high heat, 900 degrees for searing of meats, and a low of 200 degrees for vegetables.
The following will review their newly released, Evolution Series 9.
This Series 9 Built-in 48" Grill adds a charcoal tray so that you can add the flavor and texture with the speed of gas.
I like the DCS story, but gas heat is not directed heat. It may be a more cleanable grill, but will not be able to sear as well as the others.
The metal is not as thick as the others, and weathering could be an issue.
DCS Pro Built-In BBQ Grill BE1-48RC - $5,799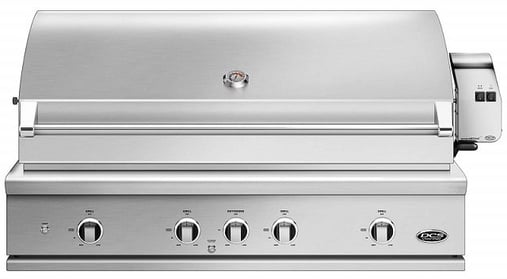 Secondary cooking surface allows you to use a wide repertoire of cooking styles and cater for a crowd
Intuitive lighting with stadium-style hood lights and bezel lit control dials
Easy to lift 90° hood for better access when cooking
Delivers 25,000 BTU total power per burner allowing you to precisely control heat from 300°F to 1100°F
Which Professional Grill is the Best?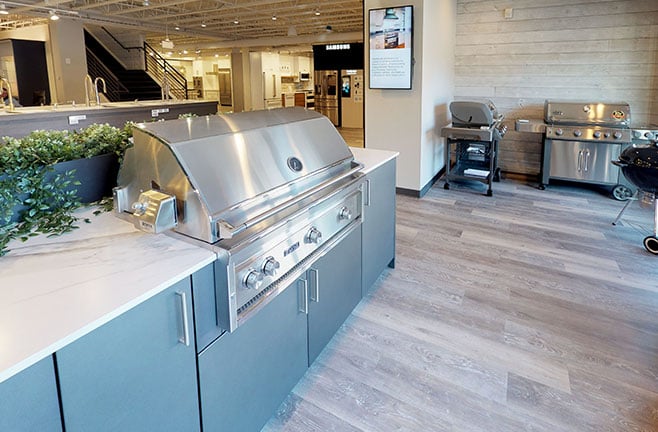 Professional Built-In and Freestanding Grills at Yale Appliance in Hanover
First, they all have their merits. All will give better heat output, rotisseries, and sear burners.
Kalamazoo is the best grill with the ability to cook with wood, gas, and charcoal, but $15,000 plus for a grill is steep.
If you want a grill to cook automatically and at your desired temperature, then the Lynx Smart MyChef is a good choice.
Lynx also has a good all-around grill. Their all sear is another excellent consideration.
If you like to roast, then Hestan is a good choice for you. It has the variable infrared and the ability to hold up to 50 pounds with its rotisserie.
Remember: You can buy these grills in their less expensive series. The Hestan Aspire is the best of these lower-priced pro grills at $4600 for a 36-inch grill and cart.
How Is A Professional Grill Different From A Regular Grill?
There is no official definition of what makes a grill professional.
However, This class of grill is all stainless with higher BTU output at 23-29,000 BTU per burner versus 6-10,000 on regular grills.
You are also buying features like the ability to rotisserie, sear, or smoke your foods in most pro grills.
However, a pro grill is $5,500 and above versus Weber's best grill with similar features at $2,749.
Is It Truly Better Than The Best Weber Grill?
First, let's look at Weber's best grill, the Weber Summit S-670.

Features:
74" Freestanding Gas Grill
769 sq. in. Cooking Area
6 Stainless Steel Burners
Stainless Steel Grates

Infrared Rotisserie

Sear Station
Side Burner
LP Gas
The specs are impressive at first glance. At half the price, it is a grill still worth considering, but it's not a professional grill, and here's why.
BTU Output: The total BTU output of 60,000 is competitive compared to most professional grills, but it is achieved by six 10,000 BTU burners
Whereas pro grills have fewer burners but are more powerful at 25,000 BTU each to quickly cook, char, and sear.
Rotisserie: The Summit is good at 10,600 with the direct, infrared heat. However, pro grills are almost double at 18,000 BTU to quickly cook the meat. You can also use it as an ancillary burner to cook on the top shelf.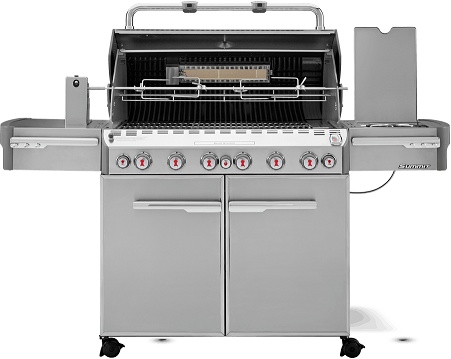 Weber Summit Rotisserie
Smoker: Weber has a 6,800 BTU smoker to infuse the meat with wood or other flavors. Kalamazoo and DCS have far better ways of smoking.
Grates: I never thought we would ever talk about grates in an article, but thicker grates hold the heat better than thinner stainless grates of regular grills.
Weber Summit Burners
Briquettes: Lynx, DCS, and Hestan have briquettes to increase heat to the surface and eliminate flare-ups for faster and safer grilling.
Do you need to spend $6,000-$24,000 versus $2,799 for a Weber?
Certainly not, but a pro grill will grill quicker and more thoroughly than even the best conventional grill.
Pellet and Charcoal Grills
Before you buy any grill, you should look at all your alternatives. We cover this more thoroughly in other articles.
The two main grill alternatives are pellet and charcoal grills.
Pellet Grills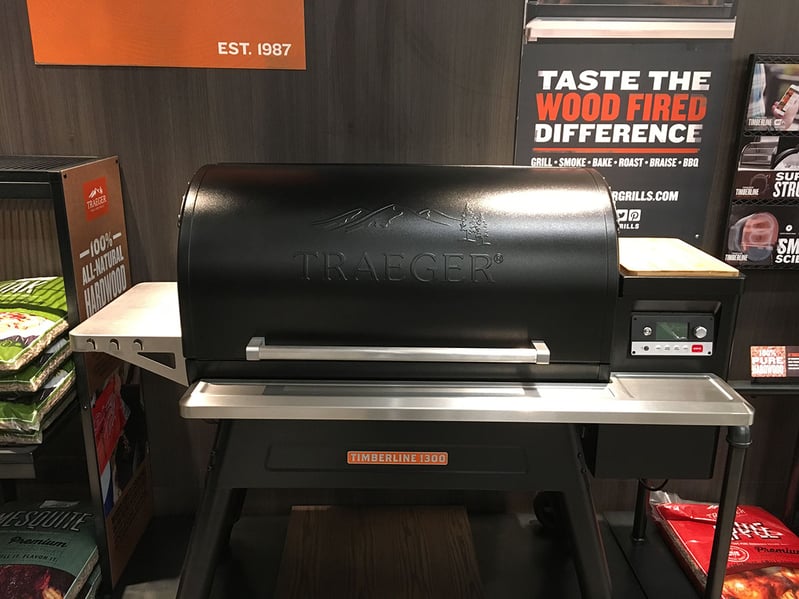 Traeger Pellet Smoker
Pellet grills are powered by wood pellets which then heat your burners. The convection fan spreads the heat produced from the wood pellets throughout the grill.
The upside to this grill is flavor.
Pellet grills are not grills at all. They should be considered smokers.
The top temperature of a pellet is 600 degrees. A pro grill can heat to 900-1100 degrees to sear and char your food.
Pellet grills do not have that capability or the ability to cook quickly.
Charcoal Grills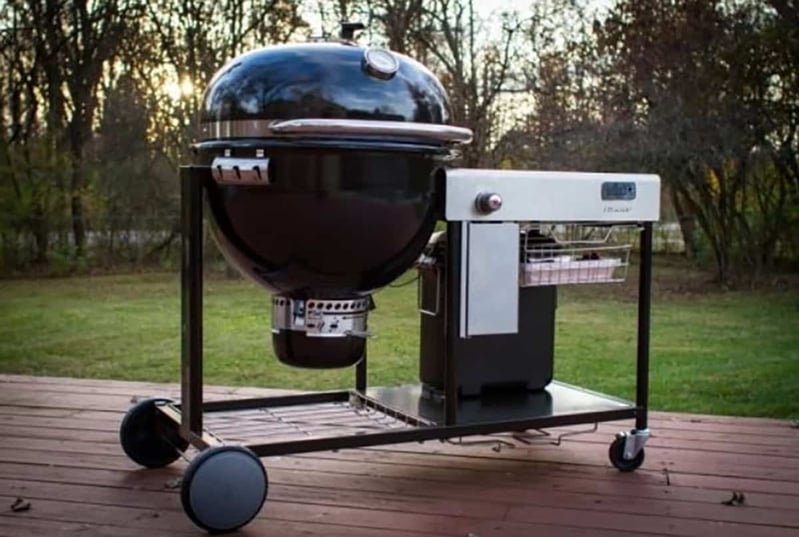 Weber Summit Charcoal BBQ Grill
Charcoal grills have the heat and add texture to food, unlike gas grills. Charcoal can reach the high temperatures of gas.
The downside to charcoal is adding and removing the ash. The temperature can vary, unlike the more precise grills.
(You may want to try our grill configurator to determine what is important to you).
Additional Resources
Download our BBQ Buying Guide with features and ratings of all the major brands. Over 800,000 people have already found answers in a Yale guide.
Related Articles:
WHY SHOULD YOU TRUST US?
A few review sites have placed this at the bottom of their articles. So here is our take: Our mission is to find reliable products for you to buy. Other review sites may say this as well.
However, we don't love every product. Quite frankly, it costs us way too much money in repair costs to support less reliable brands.
In fact, we sell fewer brands than most appliance stores. Here is why:
We feel it is our responsibility to repair your appliances after you buy them.
We now have 30 service technicians, each averaging 8-10 calls a day Monday through Friday, plus another 110 on Saturday. That's over 30,000 service calls logged in one year.
The labor rates of fixing an appliance do not come close to the true cost in any product's warranty period.
That is why no major retailer has a service department. It costs too much labor, money and time.
Our Blog is a bit different than most others you will read. We cannot write glowing reviews of unreliable products.
Hopefully, the bloggers and organizations who write such glowing product reviews for every brand consider servicing these products first. Only then they will understand the consequences of their marketing.
Steve Sheinkopf
My goal has always been simple: I want Yale to be the best retail experience anywhere. I have tried to create a compelling environment for customers and employees alike.
A Note About Pricing
Pricing on this blog is for reference only and may include time sensitive rebates. We make every attempt to provide accurate pricing at time of publishing. Please call the stores for most accurate price.