Best Professional Outdoor BBQ Grills (Reviews/Ratings/Prices)
Free Delivery & Assembly of Grills Over $499
The best pro BBQ brands have changed over the last few years. New brands like Hestan and Traeger have created some very good products. Other brands like Viking have become less popular due to issues (which is why their parent company bought Lynx).
In this article you will learn the best professional BBQ grills and why you should consider each one.
Narrow down BBQ grill options with our free tool
Pro Grills vs. Weber Grills
Why should you consider an expensive grill in the first place and is it truly better than a very good Weber?
First, let's look at Weber's best grill, the Weber Summit S-670.
Features:
74" Freestanding Gas Grill
769 sq. in. Cooking Area
6 Stainless Steel Burners
Stainless Steel Grates
Infrared Rotisserie
Sear Station
Side Burner
LP Gas
The specs are impressive at first glance. At half the price, it is a grill still worth considering, but it's not a professional grill and here's why.
BTU Output: The total BTU output of 60,000 is competitive compared to most professional grills, but it is achieved by six 10,000 BTU burners whereas pro grills have less burners but are more powerful at 25,000 BTU each to quickly cook, char, and sear.
Rotisserie: The Summit is good at 10,600 with the direct, infrared heat. However, pro grills are almost double at 18,000 BTU to quickly cook the meat. You can also use it as an ancillary burner to cook on the top shelf.
Smoker: Weber has a 6,800 BTU smoker to infuse the meat with wood or other flavors. Kalamazoo and DCS have far better ways of smoking.
Kalamazoo Hybrid Drawer
Grates: I never thought we would ever talk about grates in an article, but thicker grates hold the heat better than thinner stainless grates of regular grills.
Briquettes: Lynx, DCS, and Hestan have briquettes to increase heat to the surface and eliminate flare-ups for faster and safer grilling.
Do you need to spend $6,000-$24,000 on a grill? Certainly not but you will have quicker, more thorough BBQ grilling with a professional grill than a regular grill.
Best Professional Outdoor BBQ Grills
Quick Tip:
Most of these grills heavily promote their main lines. You can buy their less expensive models for less money.
The main differences are thinner grates, 23,000 per burner instead of 25,000 and a less powerful rotisserie burner as well.
These grills are: Hestan Aspire, DCS Heritage, and Lynx Sedona.
Kalamazoo
Kalamazoo is recognized as the World's best professional outdoor BBQ grill. Then again, it starts at $14,000 and up.
However, Kalamazoo is truly unique in many aspects.
First, the grill has a hybrid drawer over the gas burners, so you can infuse your food with wood and charcoal flavor and texture.
Unlike charcoal or wood-fired grills, Kalamazoo adds the speed of pro-gas burners.
Kalamazoo is deeper than other grills for better air circulation. It's similar to convection and will cook the food more evenly.
Lastly, this made to order grill can be ordered in type 316 stainless. If you live by the ocean, this grill will be marine grade to not corrode due to salt air.
K1000HT Hybrid Fire Freestanding Grill (Marine Stainless) - $26,995
Cooks with any combination of charcoal, wood, and gas
51-inch four-burner grill with primary grilling area measuring 1,012 square inches
Cast brass burners weigh in at 14 pounds each and offer 25,000 BTUs of awesome grilling power
Deep firebox engineering delivers a more even heat at the grill grate and more dynamic heat circulation for rotisserie roasting and smoking meats.
Custom, laser-cut grill grates create amazing grill marks in a selection of patterns optimized for different types of food.
Marine-Grade Stainless (316 Stainless)
Kalamazoo Hybrid Fire BBQ Grills
Hestan
Hestan is newer grill having started production in 2017. They have a commercial range pedigree.
The Hestan distinguishes itself with incredibly solid Diamond cut grates. These grates will hold heat better for faster, more thorough cooking.
Hestan was the first with the 18,000 BTU infrared rotisserie burner. You can also cook with just this burner.
GMBR42CX2-NG-SS Freestanding - $8,699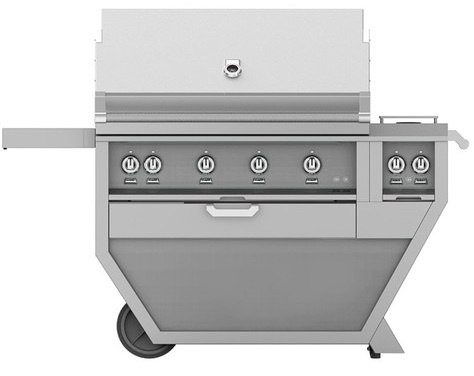 Multiple colors finish available
High-performance 321SS Trellis tubular burners and 1 Sear Burner
282 sq. in., 5/16" thick DiamondCut lasered in-house stainless-steel warming rack with 3 vertical positions + 5/16" thick DiamondCut lasered in-house stainless steel grate
782 sq. in. total grilling surface
Horizon hood with spring-assisted hinges to hold at desired heights
Concealed chain driven whisper quiet rotisserie motor system with a single speed, 6 RPM, 50 lbs. motor
DCS
For many years, most manufacturers offered a single zone for searing, where DCS, has had full-surface searing capabilities.
By strategically placing the ported stainless-steel burners, ceramic rods, and the heavy gauge stainless steel burner box, DCS has even searing temperatures across the entire grill surface. The rods also reduce flare-ups as the grease does not hit the burners directly.
Their main burners are all 304 Grade stainless steel and are rated at a high of 25,000 BTU per burner. They have direct vertical ports to deliver the heat and they have a crossfire ignition system. This consistent and direct heat allows for high heat, 900 degrees for searing of meats and a low of 200 degrees for vegetables.
The following will review their newly released, Evolution Series 9. This Series 9 Built-in 48" Grill adds a charcoal tray, so you can add the flavor and texture with the speed of gas.
BE1-48RC Built-In - $5,599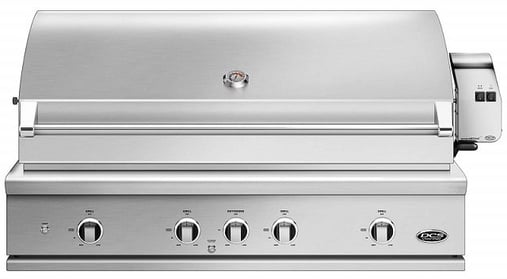 Secondary cooking surface allows you to use a wide repertoire of cooking styles and cater for a crowd
Intuitive lighting with stadium-style hood lights and bezel lit control dials
Easy to lift 90° hood for better access when cooking
Delivers 25,000 BTU total power per burner allowing you to precisely control heat from 300°F to 1100°F
Lynx
Lynx has possibly the best sear burner on the market and the most flexibility with temperatures from 285 degrees up to almost 1000 degrees.
Lynx's new 23,000 BTU Trident™ infrared burner is fully variable, allowing you to go below 300 to over 1000 degrees and then dial it back to cook delicate seafood like scallops.
The all sear grill is fast with all infrared (direct heat) burners.
However, Lynx is changing their burners from cast brass to ceramic. That may be an issue. Ceramic will not weather, but it is breakable...I would ask for a demo before buying one.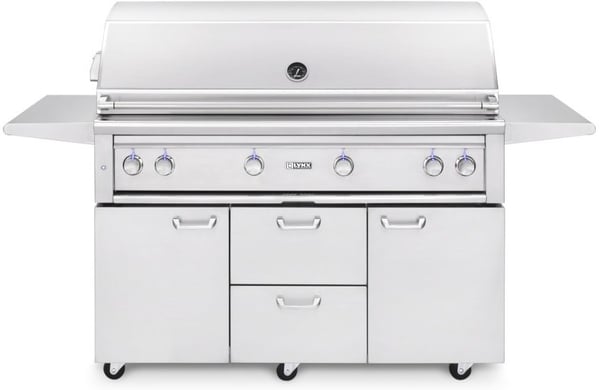 54" Freestanding Grill
Trident™ Burner and Rotisserie
Three cast ceramic burners and one TRIDENT™ Burner (98,000 BTUs)
1555-sq.-in. cooking surface (1110 primary, 445 secondary)
Premium smoker box included
Ceramic Briquettes facilitate even radiant heat distribution
Alfresco
Alfresco and Lynx were started by the same guy (he was amongst the group starting Lynx).
Alfresco is another solid pro with weather resistant chromium burners. We no longer carry Alfresco, but it is still a decent grill.
ALXE56C Freestanding with Cart included - $8,999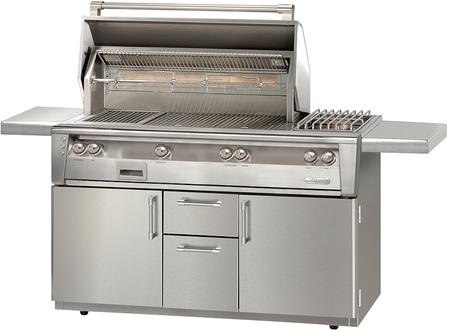 Three 18-SR stainless steel main burners producing 82,500 BTUs
Sear Zone™ with 27,500 BTU ceramic infrared burner
Integrated rotisserie system with a built-in motor and dual 15,000 BTU
infrared burners
998 sq. in. actual grilling area
Decision Making
First, they all have their merits. All will give better heat output, rotisseries and sear type burners.
Kalamazoo is the best grill, but $14,000 plus for a grill is steep.
The new Hestan grill has been impressive in cooking demos. The food is more evenly cooked.
DCS and the series 9 could be another very good grill to consider. It has decent output. Their ceramic rod design is great for high heat temperatures. The charcoal burner will add different flavor and texture than the other grills.
Remember: You can buy these grills in their less expensive series. The Hestan Aspire and DCS Heritage are the best of these lower priced pro grills.
Additional Resources
Download our BBQ Buying Guide with features and ratings of all the major brands. Over 310,000 people have already found answers in a Yale guide.

Related Articles:
Steve Sheinkopf
My goal has always been simple: I want Yale to be the best retail experience anywhere. I have tried to create a compelling environment for customers and employees alike.
A Note About Pricing
Pricing on this blog is for reference only and may include time sensitive rebates. We make every attempt to provide accurate pricing at time of publishing. Please call the stores for most accurate price.