Should You Downdraft a Pro Rangetop or Stove?
It depends on how you cook, but for high volume cooking, you should...
Have a look at this picture
Or this one
You are starting to see downdrafts being utilized in kitchen designs with professional rangetops or even stoves. I think this is an exceptionally bad idea and will dedicate this article for you to rethink this design. It will not catch fire and it is not a safety issue, so many manufacturers are still approving the downdraft for this application.
However, a downdraft will not effectively vent the heat, grease and smoke associated with high volume cooking.
So we will look at how a downdraft works and alternatives to pro rangetops, but first let's look at how to vent properly.
How to Vent a Professional Rangetop / Stove
You probably already know that high volume cooking requires a more powerful exhaust. Motors are measured in CFM or cubic feet per minute. This translates to how many cubes of air are exhausted in a minute.
All these hoods have high CFMs. Downdrafts can have high CFMs as well.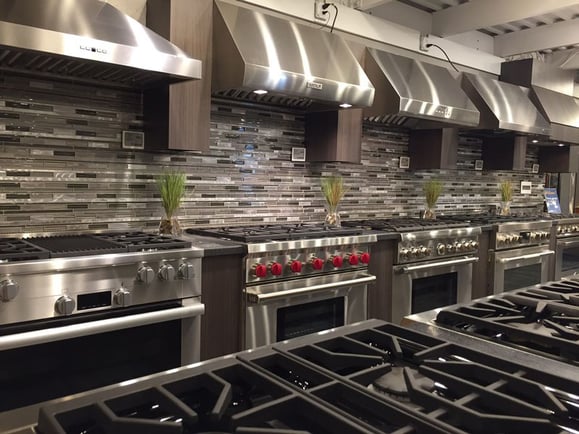 However, if we look at a professional hood, it has a 24"-27" depth because smoke is channeled, captured, and then exhausted to the outside. It is not immediately exhausted to the outside.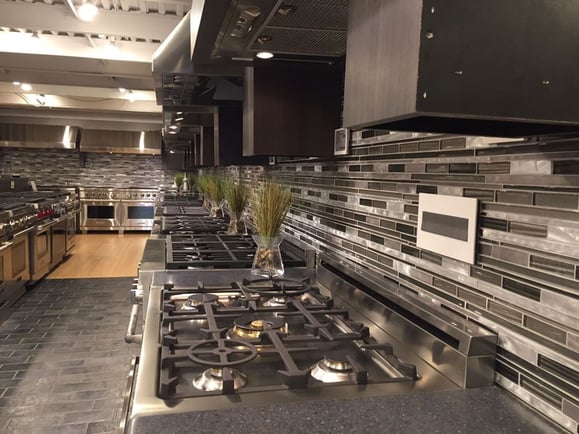 Smoke can actually bypass shallower 21" hoods. 24" hoods cover the burners.
Lastly, hoods work because the smoke is already headed in that direction. If you can vent straight up through your ceiling, there is no reduction in static flow of smoke through the ductwork.
Now let's compare this to a downdraft.
Downdrafts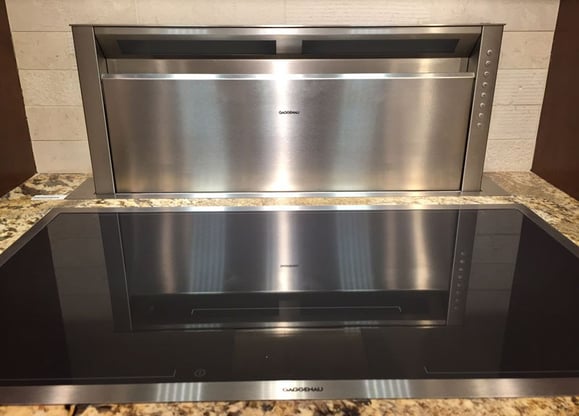 Downdrafts have a 2 inch capture area versus 24 inch for a hood. If you grill, wok, griddle or fry, this will not be enough.
Downdrafts also work against gravity and have to pull the smoke down. The vent exhaust run becomes more complicated because you now need to install an elbow in the duct.
Elbows decrease the efficiency of the smoke leaving your home, because the air cannot be pushed or pulled by the motor through a turn.
Possible Remedies
First, I like the idea of placing a rangetop in an island. Back in 1986 when I started you had an awful selection of hoods. Now you can buy a good looking hood.
You can always build your own. Just buy the blower with a liner and place it in a custom hood.
For products, consider an induction cooktop. It does not emit the heat of a professional rangetop, so the vent requirements are less.
You can always just buy a regular gas cook top, but many now have high output burners, so you will have the same problems.
Final Thoughts
Please resist the temptation of using a high output rangetop with a downdraft. You will hate the performance. Consider a hood or different product options…or you can use just one burner :-)
Additional Resources
Ventilation has always been an issue, because people think of it last. We wrote a Ventilation Buyers Guide covering CFMs per product, how to plan a vent, the importance of ducting, downdrafting and inside vs outside blowers.
You can access it here. It is about a 20 minute read, but well worth the time.
Steve Sheinkopf
My goal has always been simple: I want Yale to be the best retail experience anywhere. I have tried to create a compelling environment for customers and employees alike
A Note About Pricing
Pricing on this blog is for reference only and may include time sensitive rebates. We make every attempt to provide accurate pricing at time of publishing. Please call the stores for most accurate price.