New Jenn-Air Downdraft Range (Reviews/Ratings/Prices)
A downdraft range has an integral vent, so it pulls the heat, steam, odor and grease through the range into the duct and to the outside.
Back in the 1980's, GE, Roper, Modern Maid, Thermador and Jenn-Air all marketed a downdraft range. Downdrafts were popular, because it allowed you to place a range in an island or in the middle of the kitchen without requiring an overhead vent.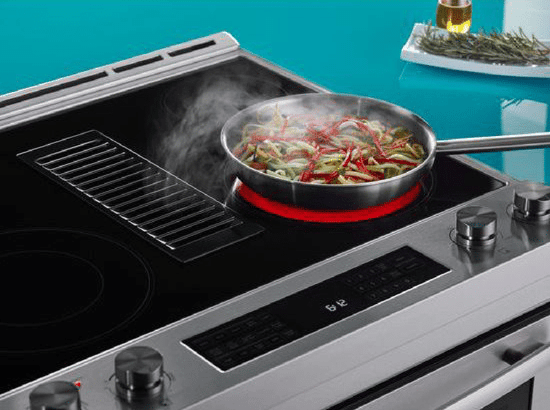 Short on time? Get our free Ventilation Buying Guide
Hoods back then were not aesthetically pleasing (to be kind). A downdraft also allows you to place a range anywhere a vent is not possible.
Today, Jenn-Air is the only company actively promoting a downdraft range (although it will also be marketed under the KitchenAid label).
Is this range worth buying? That all depends on whether you are replacing an existing downdraft or buying for new construction, because the answer is different.
We will review Jenn-Air, the new range and then answer whether it should be considered in your new home.
Jenn-Air
Jenn-Air started as a company specializing in cooking based out of Indianapolis. They manufactured the original downdraft range and cooktops as well as being the first American company to produce convection.
Jenn-Air languished for years after their takeover from Maytag in the 1990's. New parent Whirlpool has invested 300 million in Jenn-Air all in cooking. This will be their 4th major release since 2007.
New vs. Old Jenn-Air Downdraft Range
For people currently owning a Jenn Air, they did improve slightly over the years, but a major overhaul was needed.
Below is a picture of the old and new side by side.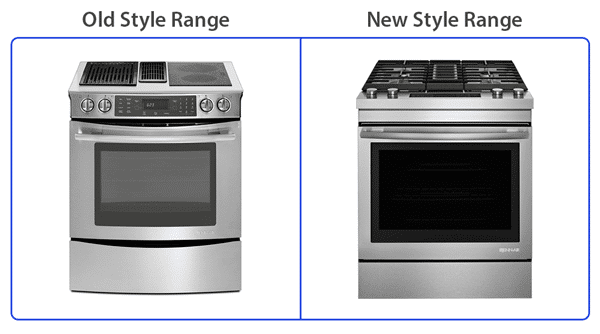 There are big changes between the old and the new. The grill has been discontinued so you have 4 burners with better output.
You can also recirculate the downdraft and eliminate the ductwork entirely, which is great especially in the city and other spaces where venting is impossible.
The Dual Fuel Model - JDS1750ES
This range features four fixed brass burners with a price of $3,499. All of the burner output is significantly higher than their predecessor, including a 17,000 and 15,000 BTU burner as well as a 5,000 BTU simmer burner. Brass burners react better with heat; and are utilized on professional cooking equipment.
The Electric Model - JES1750
This range will offer a dual zone element allowing you to tailor the size of the burner, for larger or smaller pans sizes is priced at $3,099. This element will reach up to 3,000 watts. There is also a "melt" function if you prefer to cook more delicately.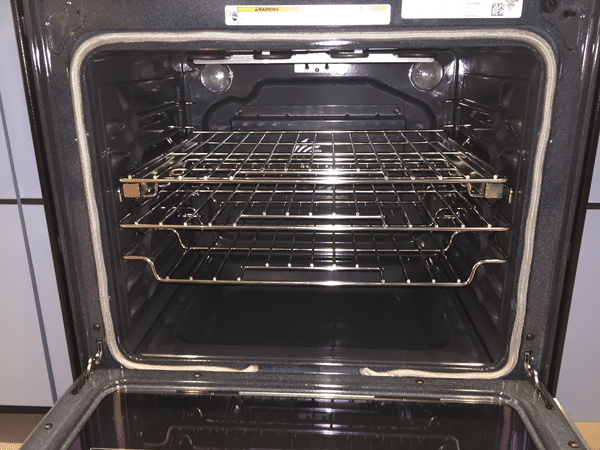 The oven is far superior in terms of size, increasing from 4.3 cubic foot capacity to 6.2 cubic feet in the new unit with better lighting, full extension racks and a larger viewing window. It is convection, but the controls can convert your recipes from a normal cooking to convection with a touch of a button.
Jenn-Air will also have an exclusive Aqualift self-clean option for a 40 minute cleaning cycle versus the normal 3 hours. You place a quarter cup of water in the bottom of the oven, and this will act as a natural steam clean, cleaning at 220 degrees, instead of scorching the oven at the traditional 550 like the older traditional self-clean cycles.
Should You Buy?
It really depends. For replacement of the old Jenn-Air ranges, I like the new features especially the output, easy to use convection, bigger oven and self clean.
You can use the existing ductwork. Ironically, I like the recirculating feature as venting is important. Although heat will escape, recirculating a vent can still trap smoke, grease and odors.
Jenn-Air, however, did not improve a key area. The downdraft motor is still 310 CFM or about the same as an over the range microwave. 310 in a small intake pushing the air in an opposite direction is not effective with heavier cooking. You should consider an overhead hood wherever possible in new construction.
I would not design your new project around this range unless absolutely the last resort. As I said, it does work for existing applications.
Additional Resources
Get the Yale Ventilation Buying Guide with features, specs and inside tips. Well over 110,000 people have read a Yale Guide.

Related Articles
Neil Katz
Neil Katz has been in appliance sales at Yale for over 25 years. Neil spends time following the Sox and Patriots and watching the stock market.

Schedule a showroom visit with me
A Note About Pricing
Pricing on this blog is for reference only and may include time sensitive rebates. We make every attempt to provide accurate pricing at time of publishing. Please call the stores for most accurate price.