How to Buy a Custom Hood Insert (2023 Update)
A custom wood range hood is a great way to add a unique touch to your kitchen, but it's important to ensure that it is also effective at removing smoke, grease particles, and fumes from your home.
In this article, we'll explain the basics of ventilation and help you choose the right hood insert for your custom wood hood.
Let's get started.
Short on time? Get our free Ventilation Buying Guide
How to Buy a Custom Hood Insert
What Is a Range Hood Insert?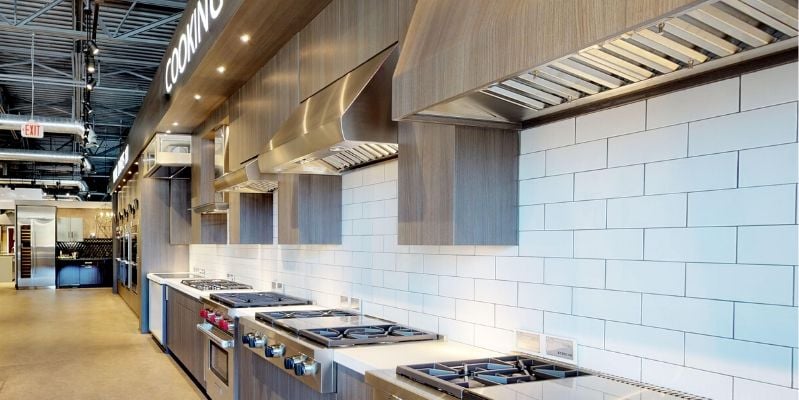 Range Hoods and Blower Inserts at Yale Appliance in Framingham
Many people need help understanding what they are buying. It can be confusing, and I do this for a living.
A range hood insert is an exhaust fan or blower that powers your custom hood.
Think of it as if it were the guts of your range hood. It's the innermost part of the hood and includes the filters, lights, blower switches, speed controls, and exhaust motor.
How Do You Install a Hood Insert?
Installing a hood insert is not difficult. First, you will need to install a liner, which is a metallic rectangle that attaches to the hood.
Then you will attach the light and filter control unit to the liner. The blower can be installed internally, inline in the duct, or outside your home.
Venting Your Kitchen Range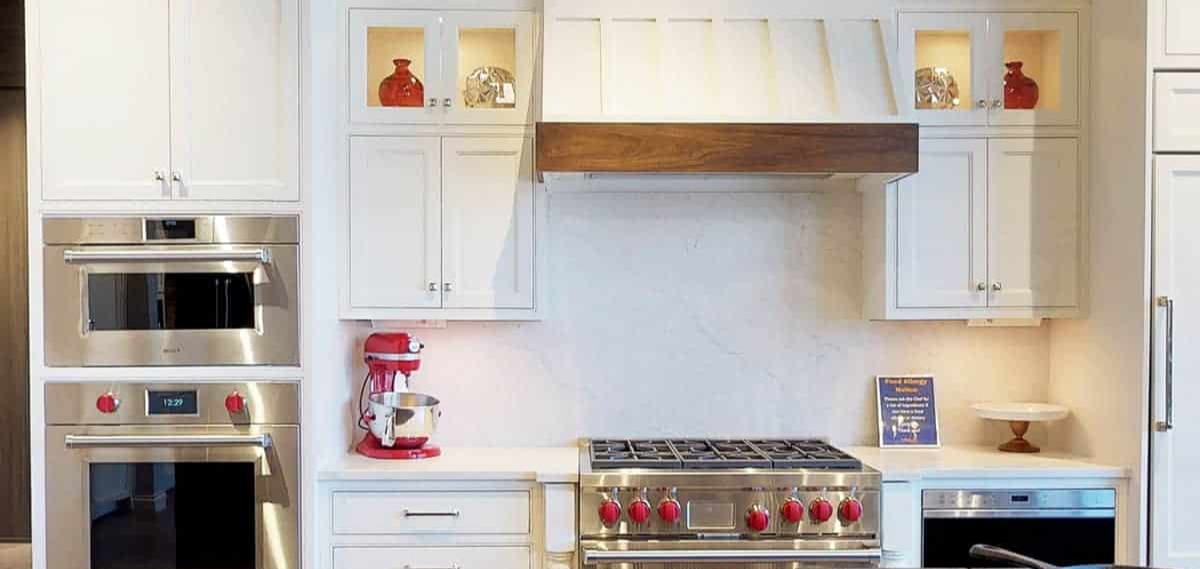 Wood Custom Range Hood at Yale Appliance in Framingham
Before buying a range hood, it's important to understand the basics of ventilation. Cooking, especially with gas, can emit fumes such as carbon dioxide, formaldehyde, and nitrogen dioxide.
Your range hood should remove these fumes along with smoke, grease particles, and odors from your home.
Below are the principal components for venting your kitchen range the right way:
CFM (Cubic feet per minute)
CFM measures how many cubic feet of air is exhausted by the fan every minute of operation. Range hood inserts vary from 300-1500 CFM.
The amount you need will depend on your stovetop and how you cook.
For example, if you use your stovetop frequently with high heat, a 600 CFM range hood is sufficient for a 30-inch range.
Capture Area
The capture area of your range hood is a key factor in ventilation. It refers to the area in which your range hood can effectively trap and channel air to the blower to be exhausted. The capture area is measured by the width, height, and depth of your range hood.
The depth is especially important, as you typically cook on the more powerful front burners at 23-24 inches deep, while many hood vents are only 16-21 inches deep.
The smoke billows past that hood into your room, even with a high CFM motor - I should know. My new apartment has an over-the-range microwave.
Ducting
It's important to use the specified ducting, typically 8-10 inches in width. The ductwork should be stainless steel and not flexible to prevent the accumulation of large grease particles.
Always vent straight up or straight back if possible, as transitions or bends in the ductwork can reduce airflow.
Inside vs. Inline vs. Outside Blowers vs. Recirculating
Outside blowers offer the most CFM, up to 1500. They are harder to repair and are more prominent in your home.
Inside blowers are more accessible for service, and use a smaller wall or roof cap for a better appearance outside your home. However, they can be noisier.
Inline blowers are installed in the duct for quieter operation, but you will need additional space to access them for service.
Recirculating systems should only be used as a last resort, as they only filter grease and smoke, and not harmful fumes.
Mesh vs. Baffle Filters
Baffle filters allow air to pass through more easily and are often used in restaurants. They are also easier to clean than mesh filters and are dishwasher-safe.
Range Hood Lighting
Proper lighting is important in the kitchen, as it is a workspace that needs to be well-lit. LED lightbulbs provide even lighting and, at a 50,000-hour rating, never have to be replaced.
Halogen and low voltage lighting last 500-1000 hours, doesn't provide as-even lighting, and will have to be replaced three to five times at least, depending on how much you use the hood.
I can't believe any non-LED lightbulb is still in a hood or even available.
Hood Insert Availability
One word of caution: Many range hood inserts are hopelessly back ordered.
Thermador has a good range hood insert. It's a reasonable price at zero cost if you buy qualifying Thermador appliances as part of their One-Two-Free rebate program.
Some companies are quoting seven months or more, so be careful.
Now, let's look at your best range hood insert options for a custom wood hood.
Best Custom Hood Inserts
Also available:
Introducing the Yale Appliance PINS628SS, PINTR634, and PINTR134SS range hood inserts. We spent four years designing these inserts to accommodate different depths and serve as a solution for any custom hood size and shape.
The PINS628SS has a shallow depth of 15.75 inches, while the PINTR634 and PINTR134SS offer an increased depth of 18 inches, providing flexibility in terms of installation options.
With a powerful CFM level of 600-1200, these inserts can handle even the most demanding cooking tasks, making them the perfect companion for professional or high output ranges.
Whether you're using a wok, grill, or griddle, these inserts will provide the necessary output, blower flexibility, and filtering to keep your kitchen clean and fresh-smelling.
Features:
Multiple Blower Placement - With the 1200 CFM models, you can place the blowers inside the hood and inline or outside with a separate kit. You don't have to worry about swapping out a blower or returning the unit and waiting for three months for another.
Baffle Inserts - All these inserts are also designed with commercial baffle filters to neutralize the maximum grease, smoke, and odor. Once again, baffles are better than the mesh offered by most other manufacturers.
Heat Sensing - This hood will activate when you are overheating on your cooktop.
Noise Suppression - You will hear less noise with the noise suppression system.
LED Lighting - You have up to 2160 lumens of light from 4 LED light bulbs to illuminate every inch of the stove below.
Style - The recessed knobs don't protrude past the hood.
5-Year Warranty - Best of all, the warranty on all Yale hoods is five years, well over the standard 1-2 of every other manufacturer.
BEST produces many blowers at every CFM, and the BEST CP55IQ369SB hood insert has a powerful blower system. The blowers are capable of working both inside and outside, as well as in-line, giving you complete control over your cooking space.
Another notable feature of the CP55IQ369SB is its advanced filtering system. The hood insert features mostly baffle filters for better airflow, but with a mesh composite that provides a balance of efficiency and durability.
This unique combination ensures that the hood can effectively filter out smoke, odors, and grease, keeping your kitchen air fresh.
In addition, the hood insert is equipped with a heat-activated feature that automatically starts working once the heat level reaches a certain point.
This ensures that your kitchen is always well-ventilated, no matter what you're cooking.
Features:
Powerful 600-1200 CFM airflow level
3-speed electronic controls
Bright LED lighting for illuminating the cooking surface
Dishwasher-safe, easy-to-clean stainless steel baffle filters
Heat Sentry detects excessive heat and adjusts the fan speed accordingly
7-inch round duct size
Available in different widths to fit any custom hood.
Best Wood Range Hood: ZLINE Designer Wall Mount Range Hood 321GG-36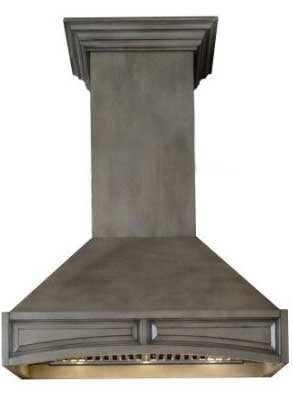 This sleek wood range hood has a built-in design, an 800 CFM blower system, and four-speed settings. The hybrid baffle filters are dishwasher-safe and feature a clean filter reminder.
With the Heat Sentry feature, the hood automatically adjusts the blower speed in response to excessive heat.
The 10-minute delay option allows for continued air filtration even after you're done cooking, ensuring your kitchen is free of smoke, grease, and odors. To save energy and maintain fresh air in your home, this hood can be used with optional Universal make-up air dampers MD6TU, MD8TU, or MD10TU. These dampers replace the air exhaust from your home only when the hood is turned on.
Additionally, if you live in Massachusetts, you may appreciate that this hood complies with Massachusett's make-up air laws requiring range hoods to exhaust at least 400 CFM.
Features:
4-speed electronic controls
Two 6-Watt LED lamps (3000K)
Hybrid aluminum mesh and stainless steel baffle filters
Heat Sentry
8" round duct connector with a backdraft damper.
Optional ACR3 Remote Control allows the cook to stay in control from anywhere in the kitchen.
Non-ducted capability for those who cannot vent out or do not want to spend the pretty penny associated with it.
Code Ready Technology can reduce CFM levels to 300 or 400 CFM to address local codes or make-up air requirements.
How to Buy a Custom Hood Insert: Key Takeaways
When it comes to selecting the perfect hood insert, it's important to keep in mind the same crucial factors as you would when choosing a regular range hood.
Choose the right CFM and make sure the hood covers the burners. Lastly, ensure the hood insert is attached to the liner properly.
Please call us with any questions. Our team of experts are available to assist you and have experience installing range hood inserts throughout the Boston area. They've probably run into whatever challenges you are facing.
Additional Resources
Get the Yale Ventilation Buying Guide with features, specs, and inside tips for every brand and hood type. Well over 1 million people have read a Yale Guide.
Related Articles:
Why Should You Trust Us?
It seems that every appliance review has nothing but glowing comments about almost every product, yet you read customer reviews and they are almost universally bad.
We are here to fill in the disconnect. We'll give you the best features, and the drawbacks as well, including reliability based on over 37,000 calls performed by our service team just last year. Our goal is to give you ALL the information so you know what's right for you.
Please consider subscribing or adding to the conversation in the comments below. We appreciate you stopping by.
A Note About Pricing
Pricing on this blog is for reference only and may include time sensitive rebates. We make every attempt to provide accurate pricing at time of publishing. Please call the stores for most accurate price.