How High Do You Hang a Range Hood?
Editor's Note: You can replace appliances fairly easily. If you buy a loud dishwasher, you can always buy a quieter one. It's inconvenient, but an easy fix.
What you don't want to have is a ventilation issue. To replace a vent, you almost have to rebuild that part of your house.
Let me share a not so funny story.
I was called to consult a client with a vent issue. He placed a vent over a BBQ grill in a three-season porch (never a good idea to place a bbq grill on a three-season porch).
I made a visit and bought some chicken sausage to cook on the grill to see where the smoke would go. Before I started cooking, I knew the problem immediately by looking at the hood.
It was too high, too shallow, and underpowered.
The smoke went everywhere in that house except in the hood.
The total cost of rebuilding that chimney, tearing down the ceiling, replacing the duct, and finally purchasing a deeper hood with a more powerful blower came to $40,000.
You don't need that on your 'Things To Do' list. You want to get your ventilation right the first time. So, here's how.
Short on time? Get our free Ventilation Buying Guide
How High Do You Hang a Range Hood?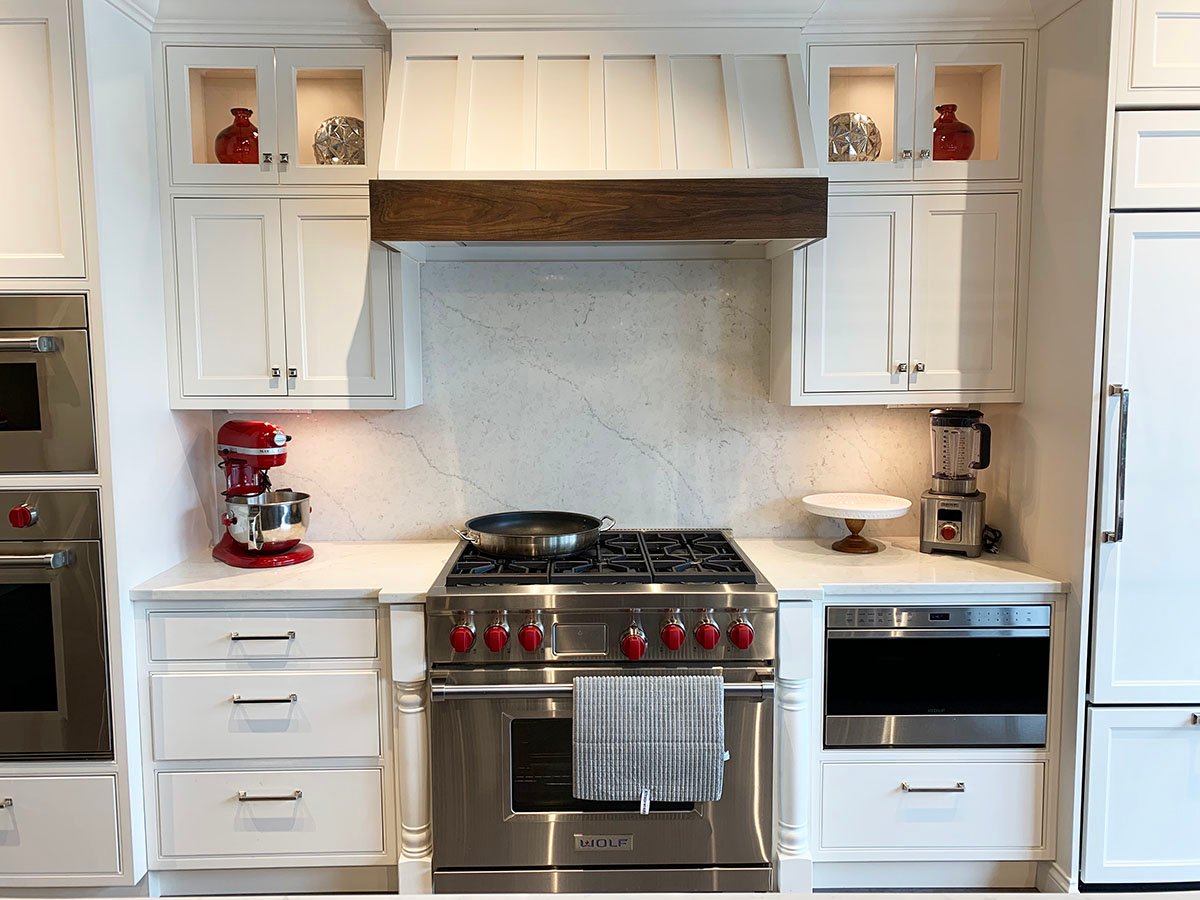 Wolf Kitchen Featuring A Gas Professional Range And Custom Hood At Yale Appliance In Framingham
Let's say you're buying that professional (pro) range or have a low or maybe high ceiling. Now, you're probably wondering what is the right height for your range hood?
According to the leading ventilation manufacturer Broan, 4 quarts of grease is left in under-ventilated kitchens.
So you want to avoid greasy, under-ventilated kitchens by following a few simple rules.
Here are some key factors you should consider when looking to purchase a vent hood:
What style vent hood do you like?
What type of cooking product will you be using?
What type of cooking do you do?
How high is your ceiling?
Will you need makeup air?
In order to remove grease and odor out of your kitchen, you should have the right vent hood for your type of cooking.
It is also important to have proper ductwork, a good capture area with a deeper hood, and a good blower for moving air.
For example, you can have powerful ventilation but if it's not vented properly it will not be efficient. So don't buy a powerful blower for poor or undersized ducting.
The vent hood shouldn't be too close to the flame or too far for the steam and smoke to dissipate before it goes into the vent hood.
Now that you have the basics, let's discuss how high you should hang your range hood.
I will break this down between gas and electric cooking products because that does change the height.
Also, these specifications are generalized for most installations. We don't sell every brand, so consult the installation specs before you buy any hood.
Gas Cooking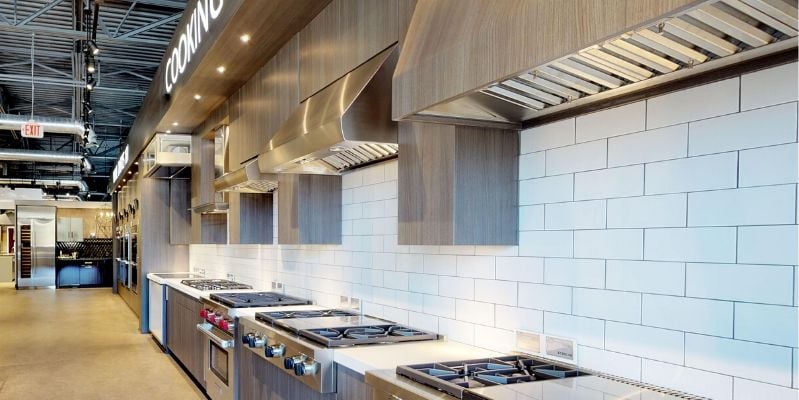 Ventilation And Under Cabinet Hoods At Yale Appliance In Framingham
There's traditional gas cooking and there is professional gas cooking.
Professional gas ranges and rangetops tend to have a higher burner output, so certain restrictions apply when installing a range hood above it.
You have to be careful with regular gas stoves because many now have 1 or 2 high output burners.
Here are some guidelines to follow when you have a gas cooking product:
The most common range hood over a professional gas cooking product is the 18-inch high professional canopy wall hood.
This type of range hood requires a distance of 30-inch to 36-inch above the cooking surface. That is from the cooking surface to the bottom of the range hood.
Another option for ventilation above a professional cooking product would be a vent hood insert or liner.
This type of vent is made to be built inside a custom cabinet above the cooking product. In other words, your cabinet is the shell with the filters and blowers integrated into that cabinet.
Since most custom hoods are made out of wood, this would require a greater clearance above the cooking surface. The minimum distance above a professional cooking product would be 36-inch.
Below is a picture of a custom vent wood hood insert above a professional gas range.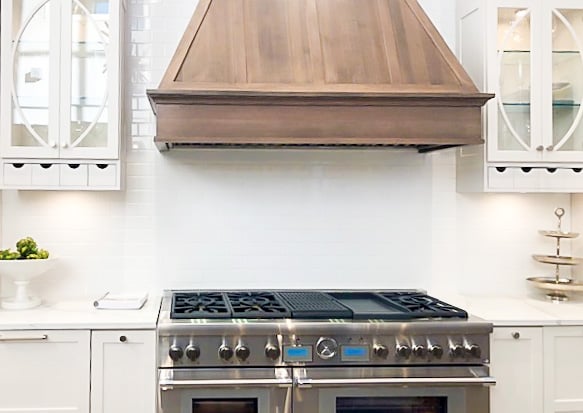 Thermador Kitchen Featuring A Custom Vent Hood At Yale Appliance In Boston
The next ventilation types are the traditional under cabinet hood and the chimney-style hood. Both of these range hoods require a 30-inch clearance from the cooking surface to the bottom of the hood.
Below is a picture of an under cabinet range hood.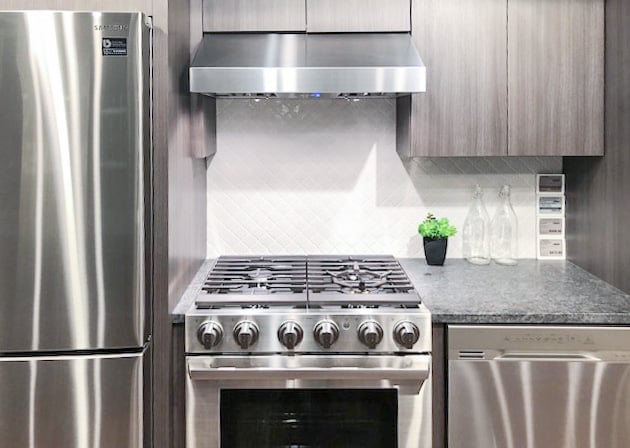 Samsung Kitchen Featuring An Under Cabinet Range Hood At Yale Appliance In Boston
Below is a picture of a chimney-style range hood.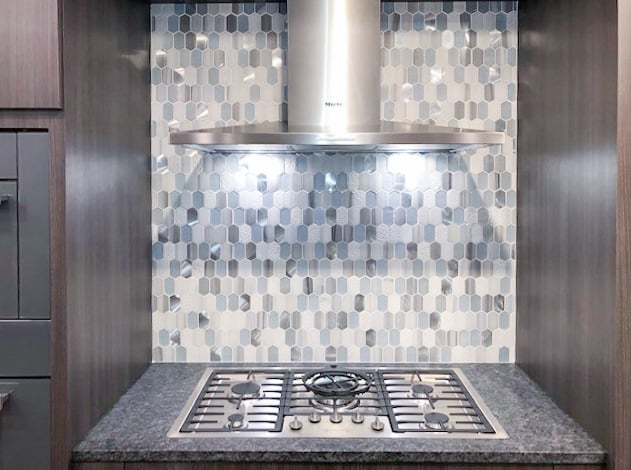 Miele Kitchen Featuring A Chimney-Style Range Hood At Yale Appliance In Boston
This is a freestanding range hood hung from the ceiling above a cooking surface. It is supported by the ceiling, not by the wall.
Generally, you would follow the same rules with an island hood as you would with the previous models.
A stainless steel island hood would need a minimum of 30-inch clearance above the cooking surface with 36 inches for a wood hood.
For best performance, an island hood should be a little wider than the cooktop. For example; if you have a 30-inch cooktop, go with a 36-inch island hood. It will give you a better capture area.
Below is a picture of a stainless steel island hood.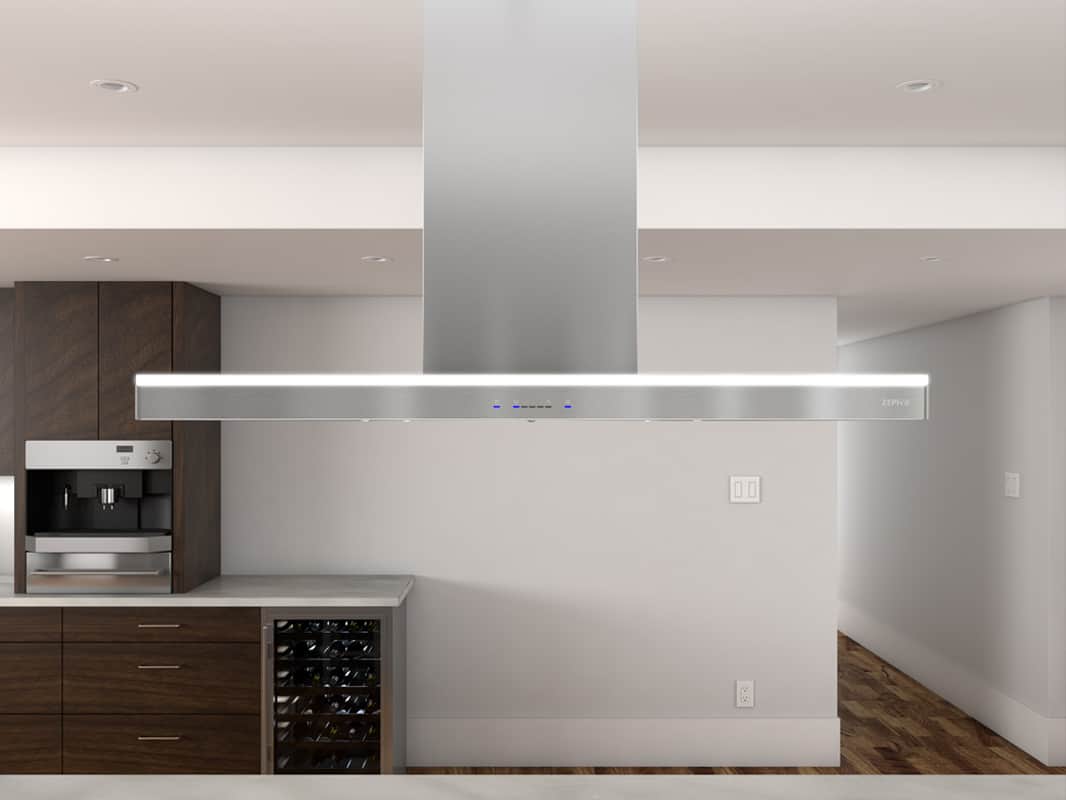 Stainless Steel Island Hood By Zephyr
Ready to learn more about choosing the proper ventilation for your gas range or cooktop? Click here for our free Ventilation Buying Guide.
Electric Cooking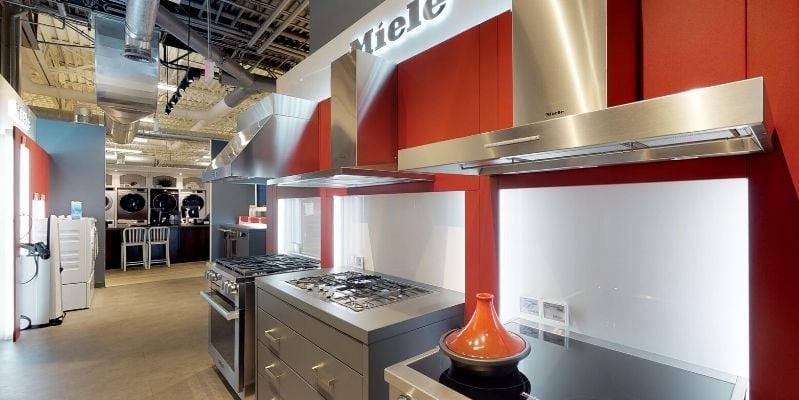 Miele Ventilation Hoods At Yale Appliance In Framingham
Any of the range hoods above can work with electric cooking products.
Most people tend to go with a smaller vent hood above an electric cooking surface instead of a professional range hood, because there is less heat, smoke and grease escaping.
With an electric cooking surface, the range hood can be installed even lower than the recommended 30" clearance.
A recommended height would be 24-inch - 32-inch above an electric cooking surface. Just keep in mind the height of your cookware.
How Far Can You Run A Range Hood Vent Duct?
For the best performance, make sure the air duct run is short and straight. Vertical is the best because smoke travels up. The vent is just pushing it where the smoke I already going.
You would want to keep the duct run with a maximum length of no more than 50 feet. Some may go as long as 60 to 70 feet without any turns.
Remember, the longer the duct and turns, the less effective the vent will be. Avoid elbow turns whenever possible.
Each elbow turn is equivalent to 6-8 feet of the duct run. Turning once lessens the flow of the smoke. You should replan your ducting with more than one.
Are Range Hoods Hardwired?
Most range hoods come ready for hardwired installations but can also be converted with a plug-in cord.
You may want to check with your electrician for codes in your area before converting.
How many CFM's should my range hood be?
It's always a good idea to make sure you have enough CFM's for the type of cooking product you're using.
The general rule should be 100 CFM for every 10,000 BTUs on the cooking product.
But that rule was established long before pro ranges with massive volumes of smoke with grills and griddles.
It doesn't cost that much more for a larger vent. You should consider 600 CFM for any pro range with just burners in 30 or 36 inches.
Grills and griddles should have 900 CFM at a 36 inch with 1200-1500 for a 48 inch Pro.
To learn more about what CFM is, check our our free Ventilation Buying Guide. We explain why CFM is not enough to calculate venting your stove in our free Ventilation Buying Guide.
What Are Common Ventilation Mistakes To Avoid?
Ceiling heights are usually one of the biggest issues. Always know your ceiling height before ordering a range hood.
You must install galvanized not louvered duct pipe or the grease will embed in the louvers.
Pro Tip: Buy the right duct size. We have seen dryer duct installed at 4 inches when the pro range duct should be 8-10 inches round.
Our Final Advice
Installing a hood at the proper height is part of the equation. You have general guidelines in this article depending on what you buy.
We do not sell every brand, so consult the specs of any hood as part of the planning.
It is very important that you look at the specification sheet of the cooking product itself before installing a range hood above it.
A range hood spec sheet may say that it can be installed 24"-34" above the cooking surface, but the specification sheet of that cooking product may say it requires minimum 30" clearance.
Always check with your local town officials to see if you will need to install a makeup air system with your new range hood.
Makeup air is needed when a vent hood above 400 CFM is installed in new construction or a home with tight sealed doors and windows.
Makeup air brings in fresh air from the outside when your vent hood is turned on and pushing air out.
Additional Resources
Get The Yale Ventilation Buying Guide with features, specs and inside tips to every brand and hood type. Well over 620,000 people have read a Yale Guide.
Related Articles
Why Should You Trust Us?
It seems that every appliance review has nothing but glowing comments about almost every product, yet you read customer reviews and they are almost universally bad.
We are here to fill in the disconnect. We'll give you the best features, and the drawbacks as well, including reliability based on over 37,000 calls performed by our service team just last year. Our goal is to give you ALL the information so you know what's right for you.
Please consider subscribing or adding to the conversation in the comments below. We appreciate you stopping by.
Roger Pontes
Roger Pontes has been with Yale Appliance for over 10 years. He's worked in both the lighting and appliance department over the years. Roger truly enjoys helping people. He's a married father of 2 kids, a boy and a girl. On his spare time Roger enjoys spending time with his family and playing sports.

Schedule a showroom visit with me
A Note About Pricing
Pricing on this blog is for reference only and may include time sensitive rebates. We make every attempt to provide accurate pricing at time of publishing. Please call the stores for most accurate price.