Should I Buy the New Jenn-Air Integrated Column Refrigerator? (Reviews / Ratings / Prices)
Shopping for an integrated refrigerator has just become more interesting. Jenn-Air has just introduced their new column. We first commented on their series 9 months ago at the Architectural Digest Design Show.
In this article, you will learn a bit about Jenn-Air, then their new refrigerator, and then see a brief comparison between Jenn-air, Thermador, and Sub-Zero the industry leaders for the best-integrated column refrigerators.
You can click on any of the sections. If you have general questions about integrated refrigerators, they will be answered at the end of the article.
A Brief History of Jenn-Air
Jenn-Air was founded by Louis Jenn in Indianapolis. Along with Thermador, they were among the top American premium cooking manufacturers.
Jenn-Air was the first with downdraft ranges (Yes, that was high-end back then) and convection ovens. When I started in 1986, Jenn-Air was still an independent high-end company.
Then Maytag bought Jenn-Air and never invested in new products. Instead, you bought Maytag products with a Jenn-Air label and paid more.
Whirlpool bought Maytag in 2001 and reinvested in the Jenn-Air label. Now they have a very good professional (pro) ranges and wall ovens.
The Jenn-Air integrated column refrigerator is the next wave of premium products. Their "Noir" and "Rise" series are due to be released by May. They are exceptional and will be a serious competitor to other premium labels.
Short on time? Get our free Counter Depth Refrigerator Buying Guide
The New Jenn-Air Integrated Refrigerator Review
The New Jenn-Air Integrated Refrigerator [Video]
I seldom ever look at marketing collateral and don't allow manufacturers to place any of it at Yale. Most talk about unimportant features just to confuse you.
But their new features are interesting. Jenn-Air integrated refrigerators are the next wave of premium products from Whirlpool.
Main Features:
Temperature Management: You have three environments for the refrigerator and two for the freezer. You can keep each crisper different temperatures as well as the main compartment.
In simpler terms, you can keep your fruit, meat, and veggies kept in different environments. It's the only integrated refrigerator with that capability.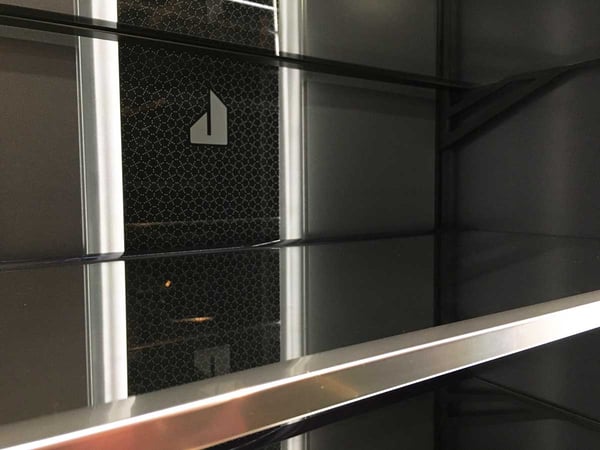 Jenn-Air's Nanotechnology Shelving
Nanotechnology Shelves: The coating on the shelves absorbs stains and doesn't let them spread. You will like this feature because spillovers in refrigerators are nearly impossible to clean thoroughly (think about sticky juice spills). Sub-Zero offers nanotechnology in their shelving as well.
Wi-Fi: Samsung and Dacor have Wi-Fi in their refrigerators, but Jenn-Air adds Amazon's Alexa voice control as well.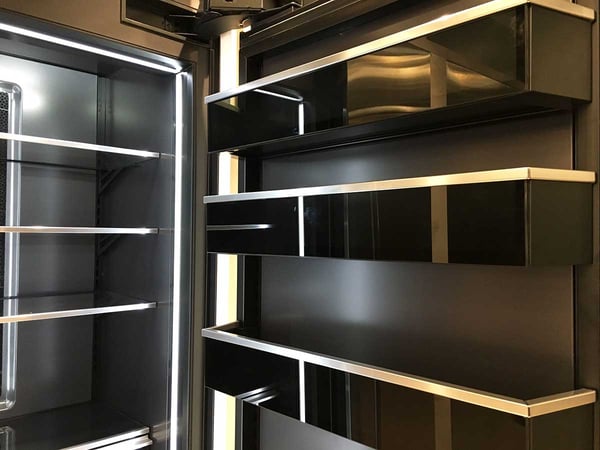 Jenn-Air's Steel and Aluminum Refrigerator Bins
Aluminium Bins: These bins are better than the industry standard plastic and can support any heavier item.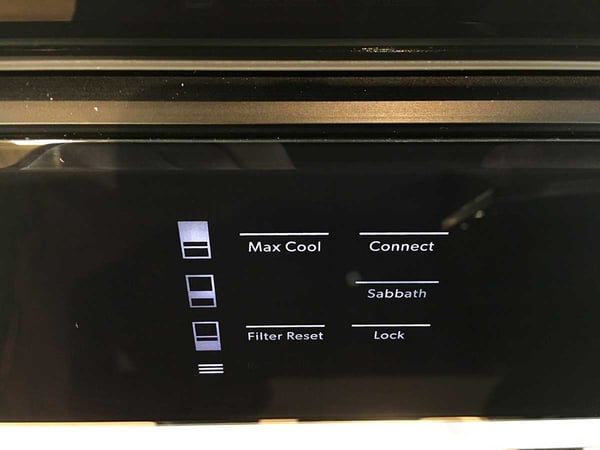 Jenn-Air's Control Board
Easy Access Control Board: Maybe because we repair refrigerators, this is the simplest to access. It will save you a ton of labor charges when you need service (hopefully you never will).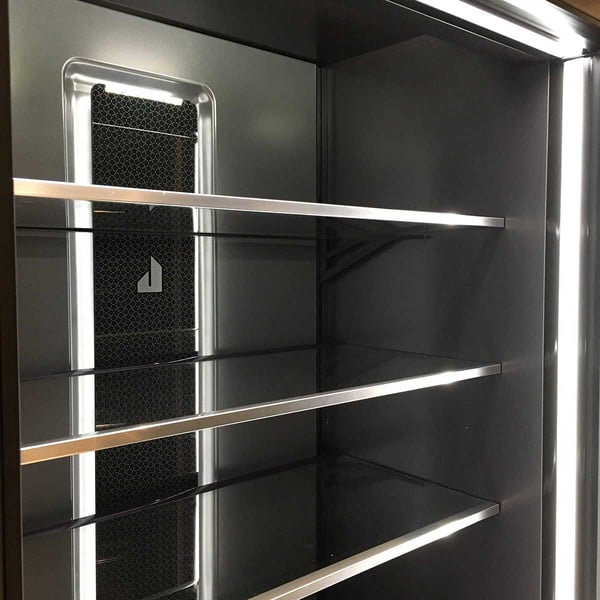 Jenn-Air's Interior Lighting
Lighting: I never discuss lighting in appliances. It's odd because we sell lighting. However, your new kitchen will have plenty of lighting due to the more powerful LED recessed overhead in the Jenn-Air refrigerator.
Still, the lighting accentuates the interior of the refrigerator. Like Samsung and Dacor, it is well lit.
Quiet: Jenn-Air will be claiming the quietest kitchen appliances. This has to be tested.
Sizes and Prices of the Jenn-Air Refrigerator
Jenn-Air 18-inch Integrated Column Refrigerator - $5,599

Jenn-Air 24-inch Integrated Column Refrigerator - $6,199

Jenn-Air 30-inch Integrated Column Refrigerator - $6,699

Jenn-Air 36-inch Integrated Column Refrigerator - $7,099

Left Swing:

Right Swing:

Left Swing:

Right Swing:

Left Swing:

Right Swing:

Left Swing:

Right Swing:
You will note Jenn-Air is now the second most expensive brand after Sub-Zero. Can they compete at that price?
Sub-Zero vs. Jenn-Air Integrated Refrigerators
Jenn-Air 36-inch Integrated Column

Refrigerator - $7,099

Sub-Zero 36-inch Integrated Column Refrigerator - Call for Pricing
Sub-Zero
Sub-Zero earned their reputation by keeping food fresher for a longer period.
Vacuum Seal: Its tough to open a Sub-Zero door because its designed to keep air out of your refrigerator. Jenn-Air has a full magnetic seal. We will have to test both.
Magnetic Crispers: Once again, air doesn't infiltrate into your crispers to keep food fresher for a longer period.
Air Scrubber: Scrubs the gas off spoiling foods and prevents cross contamination.
Jenn-Air
Wi-fi Connectivity: Jenn-Air has Wi-Fi in their integrated refrigerators with Amazon's Alexa voice control.
Three Zones: The three zones are compelling with good temperature management.
Bins: Jenn-Air is steel and aluminium vs plastic.
Thermador vs. Jenn-Air Integrated Refrigerators
Jenn-Air 36-inch Integrated Column

Refrigerator - $7,099

Thermador 36-inch Integrated Column Refrigerator - $7,299
Like Jenn-Air, Thermador just introduced integrated column refrigerators 5 months ago. Between the brands, the following are the features to consider in both brands.
Thermador
Bins: The customizable crisper bins on the door are exceptional. You can also order whatever kind of bins you will use.
Push to Open Door: The push to open door is an interesting feature because you can open the door with both hands full. You just push the door.
Jenn-Air
TFT Display: Almost all your functions and controls can be accessed by the controls on the top Jenn-Air.
Three Zones: The three zones are pretty compelling (if it works). You should have better temperature management with Jenn-Air.
Nano Shelving: It's useful because we are always leaving milk rings or spilling juice.
Wi-Fi: Once again, if this works, having auto fulfillment from Amazon has value. However, I am not sure about voice activation…what do you say to a refrigerator? We will also be testing this.
Should You Buy the Jenn-Air Integrated Column Refrigerator?
In terms of features, Jenn-air is competitive with the best brands. It looks good and has decent unique features like the three-zone cooling, better bins, and nanotechnology shelving.
Certain other features, like quietness and the magnetic seal, have to be tested. The big IF in any new product is reliability. We will know first since we have techs in the field.
Typically, you also don't buy just any integrated refrigerator for your kitchen. You will probably stay with the same brand for the rebates and continuity of look.
Jenn-Airs new line of professional ranges and wall ovens will be available in May as well. The rest of the line is equally compelling.
Frequently Asked Questions:
What is a column refrigerator?
Columns are refrigerator or freezer single units to be placed in your kitchen. Typically you would buy one or more of each.
What is an integrated refrigerator?
An integrated refrigerator fits within a 24-inch cabinet so it is completely hidden by the cabinet.
What's the difference between integrated and column refrigerators?
As it turns out not much as all columns are integrated. You can buy an integrated refrigerator and freezer in one unit as well.
Can any refrigerator be built-in?
No, most refrigerators are 32-36 inches deep. You can build your cabinet out to achieve a similar look.
What's the difference between shallow depth and integrated refrigerators?
Shallow depth is 24 inches plus door and handle. The unit will be hidden, but the door will protrude. Integrated fits within 24 inches.
You will notice a shallow depth refrigerator, but the integrated refrigerators will be indistinguishable from the cabinetry.
Additional Resources
Download the Yale Counter Depth Refrigerator Buying Guide with features, specs, and inside buying tips to all the major brands of regular, professional and integrated counter depth refrigerators. Well over 355,000 people have read a Yale Guide.
Related Articles
Why Should You Trust Us?
It seems that every appliance review has nothing but glowing comments about almost every product, yet you read customer reviews and they are almost universally bad.
We are here to fill in the disconnect. We'll give you the best features, and the drawbacks as well, including reliability based on over 37,000 calls performed by our service team just last year. Our goal is to give you ALL the information so you know what's right for you.
Please consider subscribing or adding to the conversation in the comments below. We appreciate you stopping by.
A Note About Pricing
Pricing on this blog is for reference only and may include time sensitive rebates. We make every attempt to provide accurate pricing at time of publishing. Please call the stores for most accurate price.