Best 24-inch Integrated Refrigerator Columns (Reviews / Ratings / Prices)
Columns are thin refrigerators or freezer units designed to fit within a 24 inch cabinet. You are seeing them more than ever for a couple of reasons.
First, they fit seamlessly into your kitchen and can totally disappear.
You can place the refrigerator anywhere in the kitchen and match it with an 18", 24" or 30" integrated freezer to match. A refrigerator column offers tons of design flexibility.
Columns are also the most energy efficient refrigerators because of their smaller profile. They meet all the Federal Government efficiency laws.
We will look at each the best manufacturers then compare products at the end.
Short on time? Get our free Counter Depth Refrigerator Buying Guide
Best 24" Refrigerator Columns
Miele 24" Refrigerator Column KS37471iD - $3,099
Features:
FlexiLight - Individually adjustable glass shelf lighting
DynaCool - Store food anywhere in the refrigerator
ComfortClean - Door shelves are cleaned in the dishwasher
Soft-closing doors
Automatic SuperCool - Food is chilled quickly
Miele just recently has released a new PerfectCool series of integrated refrigeration. You will notice many similarities to the Liebherr refrigerator column as they both have the same refrigerator box.
Miele does enhance many of the components and electronics inside. Like the Liebherr this is just under 70" in height but has the same venting requirements through the top where it will require 78 ¾" for proper venting.
There are some nice features in regards to food preservation such as the PerfectFresh Pro bins that will keep fruits and vegetables fresher for a longer period of time. They also have a perforated cover over the bin that keeps them at the ideal temperature for freshness.
I also like the FlexiLight LED shelves in the refrigeration unit that are adjustable to give you the best lighting no matter where food is stored.
Liebherr is a German company that focuses mainly on refrigeration. They are known for producing some of the most energy efficient units on the market.
Also, their lower price when compared to some of the other brands makes them an intriguing choice.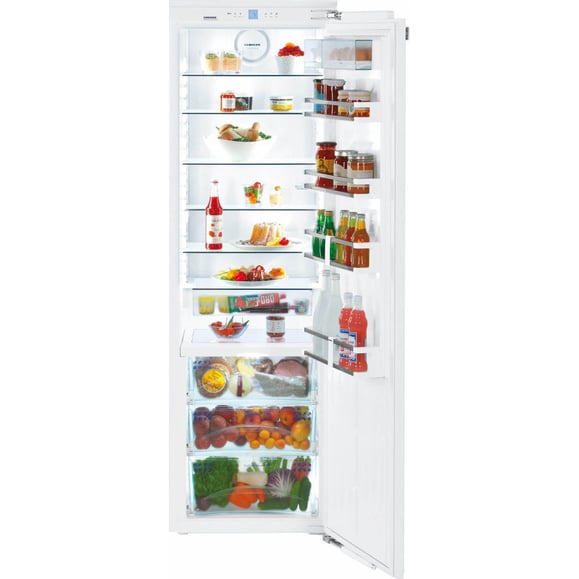 Features:
8 cubic foot capacity
3 BioFresh bins
Glass door shelves with stainless trim
Interior LED lighting
Liebherr can be a difficult machine to service since they do not have front controls. If you choose one of their units it is important to purchase from a self servicing dealer who has experience with the brand. Unlike the other columns which stand at 84" in height, these refrigerators are just under 70".
It is also important to look at their venting requirements. These units vent out through the top and if there is not enough space left for this, it can cause the units to fail at a much faster rate.
Thermador 24" Refrigerator Columns

T24IR900SP

- $5,649
Thermador is a part of the BSH corporation that also includes Bosch and Gaggenau. They were originally founded by William E. Cranston in 1916, and their specialty has historically been in cooking products such as cooktops, wall ovens, and professional ranges.
Their integrated refrigerator columns have been very popular; and they were the first with a full suite of integrated refrigerators.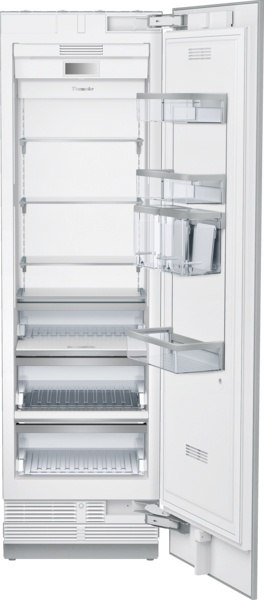 Features:
Made in Turkey
Half-gallon produce bins on the door for more fresh food space
Door shelves and produce bins can be adjusted to any level on door for more flexibility
Open door assist, door can open with a light push to the panel, great for full integration with handless kitchen cabinets
Humidity controlled crisper drawers
Super cool feature in refrigerator allows you to temporarily reduce temp to cool foods quickly
LED internal theater lighting
Soft-close doors and drawers
TFT touch controls to regulate temperature
Option for filtered external ice/water dispenser 24'' freezer columns
Automatically filtered diamond ice maker in freezer
In most refrigerators it is actually not recommended to keep milk on the door, because that is typically the warmest place in the refrigerator. That's why most times you will see condiments, salad dressing, etc in the doors.
Thermador has a great feature in their refrigerator columns that when the doors are closed, the vents at the top and bottom of the refrigerator line up with vents in the door that allows the cold air to travel down the entire door. This allows the food on the door bins to stay as cold as possible.
They also have a separate temperature-controlled bin on the bottom that has settings for meat, fish, or produce. This is great in order to keep those items fresher for a longer period of time. The articulating hinge on the columns also supports up to 200lbs which gives you extreme flexibility when planning a panel to put on the doors.
Gaggenau has been around since 1681 beginning as an iron works company in the German town of Gaggenau. They were acquired in 1995 as the super-premium brand in BSH which also includes Bosch and Thermador.
They are known for their unique style and are also one of the most reliable brands carried at Yale at an extremely low 2.9% service rate in the first year.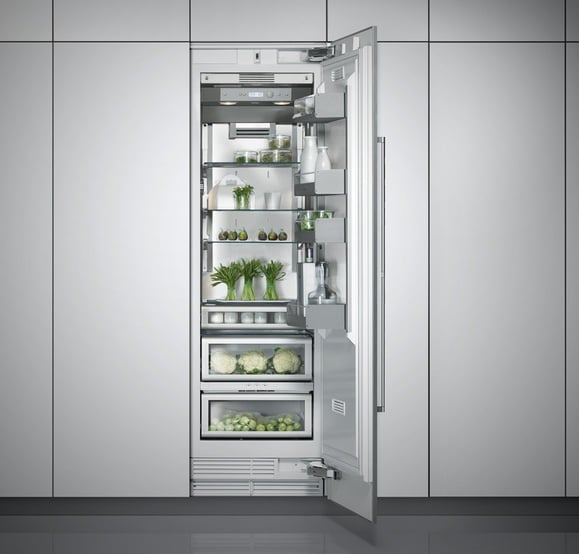 Features:
Dynamic cool air distribution with Multi-Flow Air system
Activated charcoal air filter
Bright interior lighting with LED sidewall pillars
Motorized glass top shelf
Dynamic cool air distribution with Multi-Flow Air system
Since Gaggenau and Thermador are both part of the BSH family, you will see many similarities between their refrigerator columns. For example, they will both have the articulating hinge that supports up to 200lbs, the air flow system that goes through the door to keep a more consistent temperature, and the individually temperature controlled bin.
Of course like many Gaggenau products they have a very unique style that makes them stand out. I like the stainless steel interior instead of the white plastic, as well as the glass shelves that give the refrigerator a truly elegant look. Also the aluminum door bins are a nice feature that retains the coldness better than traditional plastic bins.
Sub Zero 24" Refrigerator Column IC-24R - $6,399
Sub-Zero is one of the largest family-owned appliance companies in the world. They are located in Madison, Wisconsin and have been in business since 1945. They are known for their professional refrigeration and for pioneering the dual compressor system to completely separate the refrigerator and freezer compartments for better food preservation.
Sub-Zero was the first to market an integrated refrigerator in the U.S at 27".
In 2014, they introduced a new integrated series that allows the unit to sit completely flush in at least a 25" deep cabinet. They have many proprietary features designed to keep food more fresh for longer periods of time.
Features:
Nano-coated spill-proof shelves for easy clean-up
Air purification System
Smart-touch controls for streamlined access to more settings
Soft-on LED lights for varying degrees of brightness
Soft-Close drawers
Their refrigerator columns all come panel ready, with the option to purchase a stainless door and handles, or provide your own custom panel. I am a big fan of the air purifier system in the refrigerators that scrubs the air of gasses that causes fresh foods to spoil at a slower rate.
In addition, their shelves are Nano-Coated spill proof that prevents any spills from spreading across the shelves.
Their digital interface (same as your smartphone) can change temperatures within 1 degree as well as keep more consistent temperatures.
Comparision
The Miele and Liebherr are really different than the others where they are only 70" in height. They are also less expensive. If you have a smaller kitchen you should definitely consider these.
Sub-Zero is the best of the units. Their air scrubber, vacuum seal and temperature interface are the best designed in the industry.
However, Thermador and Gaggenau both have different value propositions. Thermador has aggressive rebates of free dishwashers and hoods with qualified purchases. In addition to a stainless steel interior, Gaggenau will offer up to 7 years on the warranty in a package of other Gaggenau products.
Additional Resources
Do you want to learn more Integrated Refrigerators? Then download the Yale Counter Depth Refrigerator Buying Guide with features, specs and complete profiles of every integrated refrigerator as well as professional and regular counter depth products. Well over 120,000 people have downloaded a Yale Guide.
Related Articles
Why Should You Trust Us?
It seems that every appliance review has nothing but glowing comments about almost every product, yet you read customer reviews and they are almost universally bad.
We are here to fill in the disconnect. We'll give you the best features, and the drawbacks as well, including reliability based on over 37,000 calls performed by our service team just last year. Our goal is to give you ALL the information so you know what's right for you.
Please consider subscribing or adding to the conversation in the comments below. We appreciate you stopping by.
Francesco Froio
Francesco Froio is the General Manager at Yale Appliance in Boston. Francesco has over 15 years of sales experience. In his spare time, he likes to spend time with his wife and three boys. He also is, of course, a big Boston sports fan.

Read more about Francesco here.
A Note About Pricing
Pricing on this blog is for reference only and may include time sensitive rebates. We make every attempt to provide accurate pricing at time of publishing. Please call the stores for most accurate price.