New Thermador Integrated Refrigerators (Reviews / Ratings / Prices)
Thermador has released upgrades to their incredibly popular Freedom Collection of integrated refrigerators. We will show you the new features, sizes, and then compare them with their older models.
Thanks for reporting a problem. We'll attach technical data about this session to help us figure out the issue. Which of these best describes the problem?
Any other details or context?
message
New Features:
The Door
First, the door is pretty amazing. You have the option of push to open or pull with a handle. A push to open allows you to open with your hands full or if you like the look of a door without a handle. The door will shut automatically in 1-10 seconds if it is left open.
While we are on the topic of the door, you can customize the layout of the door with bins or racks. You can even order accessories. This is handy because you can store various items better.
Lastly, the food on the door remains cold because air flows into the door from the compressor.
Controls:
The new Thermador refrigerator displays allow you to do more:
Set lighting levels
Set temperature in the refrigerator and bottom drawer
Sabbath mode
Eco modes
Diagnostics
VitaFresh Drawer
The new drawer allows the ethylene gases to escape prolonging the life of your fruits and veggies.
Theater lighting
They have installed much larger, brighter lighting on the sides.
Sizing
They offer bottom-mount freezer refrigeration in standard 30 and 36-inch sizes and have the option of a French door or single door style on the 36-inch model only.
Columns are where they really become versatile in size. They offer 18, 24, 30, and newly introduced 36-inch column sizes in both integrated refrigerators and freezers. They also offer wine storage columns at 18 and 24-inch widths as well.
The biggest addition to Thermador's column sizing is the fridge column that comes in a 23.5-inch size. You may be wondering why would they have an odd size like that?
The answer is actually, quite simple. Some other built-in fridge manufacturers will require openings like 47.5 or 41.5 inches instead of the full 48 or 42-inch openings. For that reason alone, Thermador brings this new size into play to give you the opportunity to replace a pre-existing built-in refrigerator.
Short on time? Get our free Counter Depth Refrigerator Buying Guide
Models to consider
Now let's take a look at a few of my top pics in this new line up, with all the new features they have to offer.
36" Panel Ready, French Door Refrigerator
Model – T36IT900NP - $7,499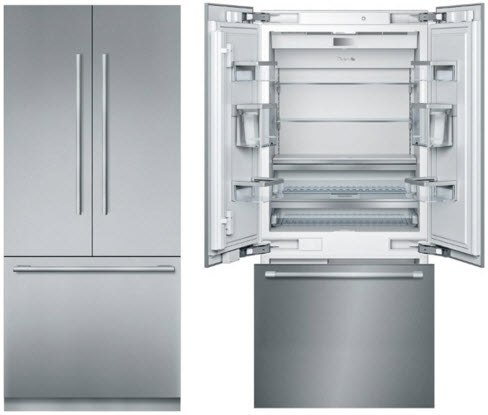 36" Panel Ready, All Fridge Column
Model – T36IR900SP - $7,249.00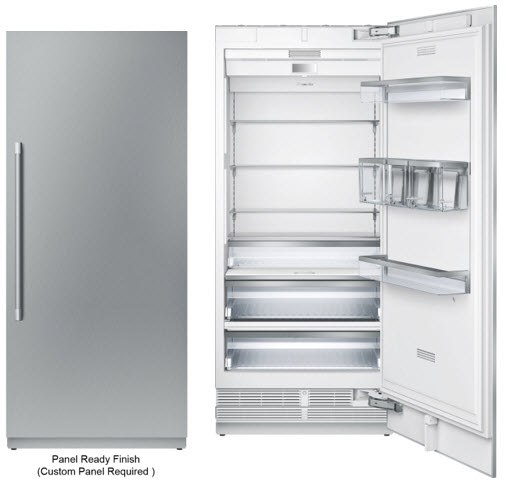 Model – T24ID900LP - $6,249.00 (Panel Ready)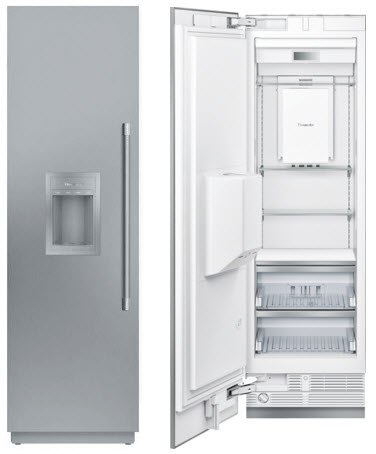 Features:
2 Year Manufacturer's Warranty – All parts and labor for 2 years
External Ice and Water Dispenser – Provides ease of access to water and ice with the touch of a button and not having to open the door.
Panel Ready – Accepts a custom wood panel to match your cabinetry.
Open Door Assist – This auto opening door allows you to open the door by just applying pleasure on it, giving you the option to not require a handle on your custom panel.
TFT Display – A touch-screen display panel for controls and access to 70% of the information in the use and care guide.
Delicate Produce Bins – Protect your fresh fruits and vegetables with these soft close, removable, door bins to reduce bruising and ease of access.
Thermafresh System – This humidity and temperature regulated system will keep your vegetables fresh for up to 3 times longer.
Custom Interior – A railing system on the door allows you to customize your bin layout giving you more storage options.
Theater Lighting – A diffused and filtered lighting system that gives you great visibility while limiting hot spots.
Comparison
These are much-needed upgrades to an older product. Overall, the controls are much easier to use and allow you to operate the refrigerator without a guide. The door is very cool, aesthetically. The lighting is an upgrade. The bins on the door are very useful for certain applications, too.
However, it is now in the same price range as a Sub-Zero at just $300 less depending on the unit.
It has more features than the Sub-Zero and better promotions with a free dishwasher and hood with other purchases. However, Sub-Zeros' execution of keeping food fresh for a longer period of time is still true.
We discuss that in detail tomorrow.
However, this refrigerator is far better than the previous model and a good comparison to the market leader.
Additional Resources
Download the Yale Counter Depth Refrigerator Buying Guide with features, specs, and inside buying tips for regular, pro, and integrated counter depth refrigerators. Well over 240,000 people have read a Yale Guide.

Related Article:
Jason Anemaet
Jason Anemaet is an appliance sales consultant at Yale Appliance and Lighting. Prior to working for Yale he spent 12 years building, installing, and designing custom kitchen cabinetry. He is very passionate when it comes to kitchen appliances and layouts. His main concern is doing what is best for the costumer's interests and needs. On his free time he enjoys spending time with his son, exercising, and cooking.

Schedule a showroom visit with me
A Note About Pricing
Pricing on this blog is for reference only and may include time sensitive rebates. We make every attempt to provide accurate pricing at time of publishing. Please call the stores for most accurate price.