Gaggenau vs. Sub-Zero Refrigerator Columns (Prices/Reviews/Ratings)
Refrigerator and freezer columns have become a popular option in the integrated refrigeration world. You will appreciate the versatility because you can now place your refrigerator and freezer anywhere in your kitchen.
Integrated columns look better than a traditional counter depth refrigerator as well. They fit within a 24 inch cabinet, so they are indistinguishable from the cabinet itself.
Gaggenau and Sub-Zero are the two leading manufacturers of columns. You have very different features to compare before consider a purchase of either. We will look at each brand, their products and then compare at the end (we will be comparing their 30 inch columns).
Short on time? Get our free Counter Depth Refrigerator Buying Guide
Sub-Zero Features
Thanks for reporting a problem. We'll attach technical data about this session to help us figure out the issue. Which of these best describes the problem?
Any other details or context?
message
Refrigerator Column Sizes
While nearly all columns are 84 inches tall, their width varies. They are available in either 18", 24", 30" or 36" wide so you have every different cabinet configuration from 18 to 60 inch widths available.
Columns also provide the flexibility of being installed in different areas throughout the kitchen. Freezer columns feature an interior icemaker while some models have an external ice and water dispenser.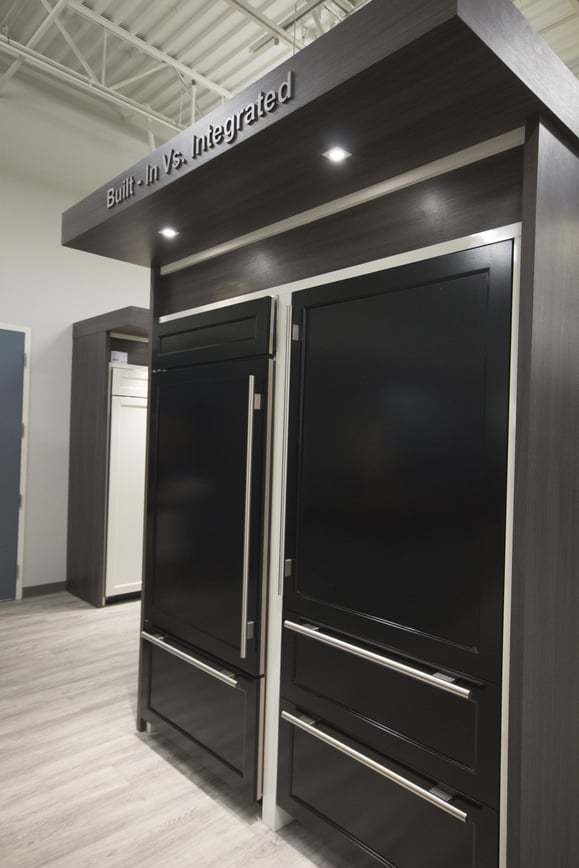 Let's look at the companies next.
Gaggenau
Gaggenau originated back in the late 1600s, making them the oldest appliance company in the world. The brand is named after the German town in which it was founded. They were acquired by BSH family in 1994 as the most premium brand in this corporation.
Gaggenau appliances are manufactured in several countries throughout Europe as well as North America. Their product line includes everything from cooktops and wall ovens to modular units such as steamers and deep fryers as well as refrigeration and other specialty items.
The Dutch stereo manufacturer Bang & Olufsen designed Gaggenau products for their modern, chic appearance.
Their refrigeration, however, along with Thermador and Bosch is manufactured by Arcelik in Turkey. The main benefit to the Gaggenau is a stainless interior and an incredible warranty.
Gaggenau Vario 400 Series RC472701 - $6,399.99
Width 30"
Stainless steel interior – a unique feature which optimizes temperature control
Generous LED lighting concept
Solid aluminum door bins
Net volume 17.1 cu. ft
Temperature controlled drawer (32°F to 37°F)
One motorized glass shelf, adjustable when fully loaded
Energy Star qualified
Quiet Operation
Sub-Zero
Sub-Zero is an American company based out of Wisconsin and leads the world of built in refrigeration. The brand was founded in 1945 by Westye Bakke, marking their 70th anniversary in 2015.
In 1955 they were the first to introduce dual refrigeration – "separate, sealed systems for the refrigerator and freezer – ensures optimum preservation conditions for each type of food and eliminates flavor transfer."
Sub-Zero has improved their columns to include digital temperature controls, which can be set to the degree. An air cleaner is employed to preserve foods by scrubbing the ethylene gasses off spoiling foods.
Their shelving has nano technology to eliminate spills from spreading as well as a vacuum seal to prevent air from infiltrating into the refrigerator.
Sub-Zero IC30RRH - $6899.00

Two refrigerators shown side by side
Air Cleaner: An electronic air cleaner scrubs the gasses off spoiling food. Food has a longer shelf life in a Sub-Zero and it also eliminates the gasses from contaminating other food
Pure Water Filter: Sub-Zero has the industries best water filter
Vacuum Seal: Opening a Sub-Zero is unlike any other refrigerator. The gasket and seal is designed to keep air from entering the refrigerator.
GUI interface technology works like your phone and allow precise temperature control
Nano technology Shelving: Spills congeal on the coating and do not spread
17.3 cubic feet
Gaggenau vs. Sub-Zero Refrigerator Columns
Both products are competitive and should be considered for your kitchen.
Gaggenau has the stainless interior which is technically the most hygenic of all surfaces. Their 10 year warranty (when combined with other Gaggenau purchases) is the best in the industry. In fact, I do not know of any product with a better warranty. Lastly, Gaggenau products are statistically very reliable.
Sub-Zero has a whole different set of features. Their warranty is decent at 2 years covering all parts and labor as well as up to a 12 year warranty on the compressor.
However, Sub-Zero is designed to keep food fresher longer with an air scrubber, pure water filter as well as a better vacuum seal and magnetized crispers to keep air in or out of the refrigerator. It can also be set to 1 degree.
So the question is warranty versus technology. What do you think?
Additional Resources
Confused about integrated or counter depth refrigerators? Read the Yale Counter Depth Refrigerator Buyers Guide with features, specs and profiles of every brand like Sub-Zero, Miele, Bosch, Viking, Thermador, Liebherr, Jenn-Air and more. Over 135,000 people have read a Yale Blog.
Recommended Reads
Steve Sheinkopf
My goal has always been simple: I want Yale to be the best retail experience anywhere. I have tried to create a compelling environment for customers and employees alike
A Note About Pricing
Pricing on this blog is for reference only and may include time sensitive rebates. We make every attempt to provide accurate pricing at time of publishing. Please call the stores for most accurate price.