Front load washers have become more complex for you to buy. Currently, two of the most popular brands have introduced new washers.
Electrolux has a new third pump for pre-mixing detergents for better cleaning action. Of course, since 2010 they've been the only brand with a separate second pump for a fresh water rinse available.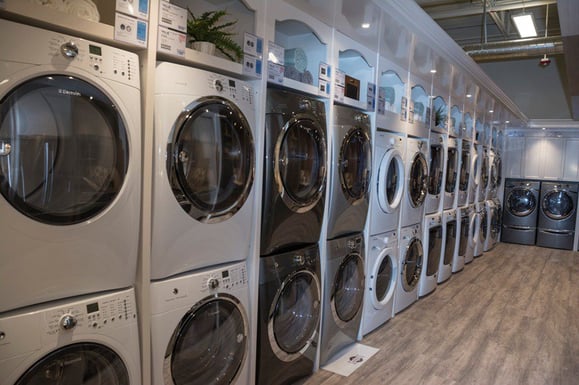 Samsung has a new washer with the AddWash door. You can now safely add clothes mid-cycle without turning off the machine. Your mismatched pairs of socks may once again be united within the same cycle.
We will look at each company's machines as well as prices and then compare at end.
Electrolux
Electrolux is an international appliance company, based in Sweden. The company manufactures both commercial and residential appliances. You may know them from their Frigidaire subsidiary.
Even though they're headquartered in Stockholm, Sweden, most of the products sold in the US are made in North America. Their laundry is made in Mexico.
Electrolux is the second largest company in the appliance industry after Whirlpool.
Samsung
Samsung is a huge conglomerate based in South Korean consisting of many subsidiaries. The company has a hand in almost every industry including electronics, engineering and financial services.
You probably know Samsung from their Android phones, but they are the fastest growing appliance company in the world.
Their hallmark is style and innovation from their years of competing with and learning from Apple. Their washers are manufactured in Korea.
Features:
Smart Boost - dedicated third pump system to premix water and detergent
Perfect Steam - introduces steam from the bottom
15 Minute Quick Wash
Samsung Washer WF7500 - $999
Features:
AddWash - smaller door enabling addition of clothing during a cycle
Super Speed - improves washing times by 50%
PowerFoam - adds air and water to the detergent
Comparison
Samsung's AddWash door is nice for the sock scenario mentioned at the top. That sock can be added after the cycle has been started through the smaller door located on the main door without stopping the cycle.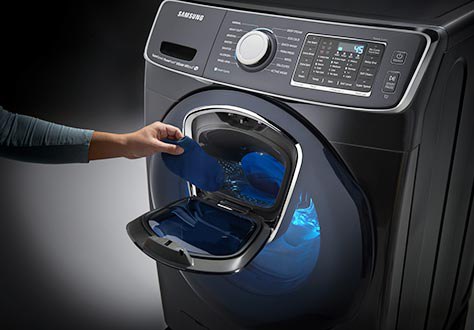 Cleaning
The PowerFoam is another unique feature that helps premix detergent with water and air to create foam.
Electrolux has the three pump system in this series to offer the industry one of the best washing results. The detergent and water is premixed and pumped saturates the clothes for better cleaning.
They wash so well that the organization creating test guidelines uses Electrolux as the standard.
Speed
Both models offer many similar features in terms of improving washing results and utilizing quick cycles. Electrolux uses their multiple pump system to achieve the 15 minute quick wash while Samsung has the Super Speed process to achieve a 30 minute wash.
Steam
Steam is available in both units and both introduce steam from the bottom of the chamber. You can loosen tough stains by employing a steam cycle.
Vibration
The two models seem similar. However Electrolux has a second floor guarantee for vibration. So if you are planning to place your new laundry next to the bedroom, only Electrolux guarantees no vibration.
Special Cycles
The third pump may be new, but the second pump may be better for you. The second pump injects a fresh water rinse before the spin. Your clothes will be free of lingering detergents with a fresh water rinse. As of this writing, Electrolux is the only company offering this feature.
Reversible Door
Samsung offers it on the dryer. Electrolux has a reversible hinge on both washer and dryer.
Final Thoughts
As a guy with 16 left socks, I appreciate the Samsung. The brand also has decent reliability as well, but may be a bit tougher for parts and technical support. With their surge of popularity, this situation may become worse.
Still, this washer is a great idea from a truly innovative company.
Electrolux may have more practical innovation. They do not have an AddWash door, but have a second and third pump to insure proper wash and rinse.
It is another reliable machine with better support.
Additional Resources
Need more information on new laundry? Read The Yale Washer Buying Guide with features, specs, capacities of each machine and detailed profiles of every major brand. Well over 170,000 people have read a Yale Guide.
Related Articles