GE Vs Electrolux Front Load Washers (Reviews / Ratings Prices)
In terms of technology, the most advanced appliances are wall ovens. However, after that, laundry is a close second or Whirlpool top loads with simple temperature controls.
My first laundry sale in 1986 was a Maytag with one speed.
Now you can buy a washer with Wi-Fi, Smart dispensers, and special cycles for any type of fabric.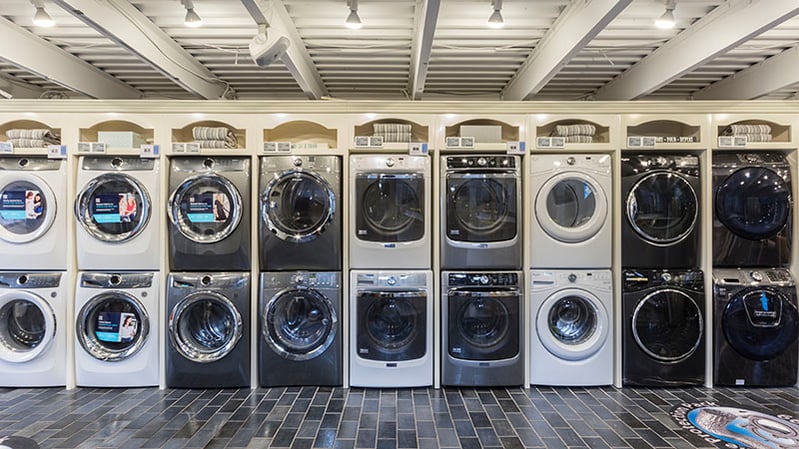 Front Load Washers at Yale Appliance in Boston
Two of the most advanced washers are the new GE and Electrolux. You will learn about both companies, their washers, their similarities, and the technical differences as well.
Let's start with GE. GE is not the same company as you once may have been familiar with.
GE
GE is a division of Haier, a huge Chinese appliance company. GE was GE a few years ago before being sold in 2017.
Ironically, it was slated to be purchased by Electrolux before Haier swooped in and offered a few billion more.
Haier has rejuvenated GE with better management and a more focused approach. Unlike the old GE, appliances are the number priority, not a small part of a much larger conglomerate
GE's laundry is brand new, incorporating the best features of existing washers and adding a few new ones.
New GE Smart Front Load Laundry Review [VIDEO]
Electrolux
Electrolux is based out of Sweden. They are also own Frigidaire. They were the first company to produce stainless steel appliances at a more affordable price.
Recently, they are more known for their laundry than cooking appliances. They have been especially innovative in a highly competitive market.
To be transparent, we stopped selling Electrolux products in 2017.
GE Vs Electrolux Front Load Washers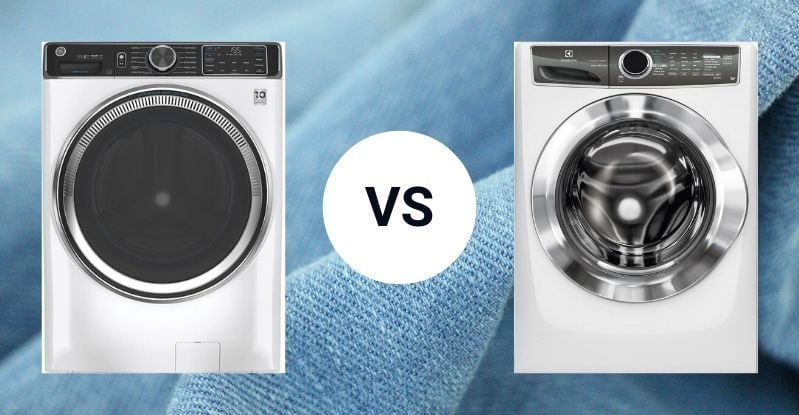 First, let's introduce the models we're comparing.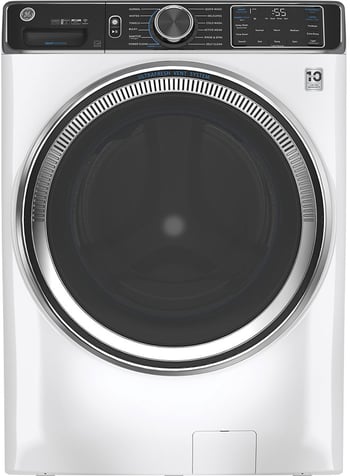 5.0 cu. ft.
12 Wash Cycles
Steam Cycle
Sanitize Cycle
Allergy Cycle
Wi-Fi
Electrolux Front Load Washer EFLS627UIW - $1,049
EFLS617SIW Features:
4.4 cu ft capacity - Easily cleans a king-sized comforter.
Perfect Steam Technology
StainSoak Option
SmartBoost for Vibrant Colors
9 Wash Cycles
15 Minute Fast Wash
Common Features Between GE And Electrolux Front Load Washers
1. Steam: Most better machines have steam. It can be argued hot water becomes steam, but a steam cycle does help power out tough stains.
2. 1300 RPM Spin Speed: Higher spins in washers wring out excess water for less drying time. 1300 is fast. The average top-load is 400, and the average front load is 1000, so both are better.
3. Reversible Washer Door: GE and Electrolux are the washers with the ability to be reversed. It's easier transferring clothes from washer to dryer. Don't reverse it yourself. It's not easy, and you don't want water flooding into your basement.
4. Channeled Venting: The vent is channeled, so it doesn't add depth to your dryer. Both can be vented on the side as well, so you have better options in tighter spaces
5. Alleged Quietness: GE offers, Dynamic Balancing Technology (dBT™) for Quiet Control and Quiet Wash. Electrolux offers a Perfect Balance® System – Load balancing for quiet operation.
I said allegedly because neither can prove quietness with a published decibel report. The only laundry company publishing decibels is Beko.
6. Size And Total Capacity: The size is not the same. GE is five cubic feet with Frigidaire at 4.4 cubics. GE is deeper by 2 inches, as well as being taller and wider.
They have a 4.5 cubic model with dimensions more in line with the Electrolux.
Laundry is one of the most returned items. It's actually second after refrigerators because today's machines are larger.
Check your hallways, doorways, and space itself before you buy your new washer/dryer.
You can download our Appliance Delivery Checklist for a reminder about the most common delivery issues.
Feature Differences Between GE And Electrolux Front Load Washers
1. Fast Wash Cycle: Electrolux has a faster cycle at 15 minutes for small loads versus GE at 20 minutes for a small load.
2. Pod Dispensing: Electrolux is the only full-size laundry capable of directly dispensing pods. Miele has one in a compact size.
3. One Step Wash and Dry: GE has the ability to wash and dry smaller loads like outfits without transferring to the dryer using, wash, spin, and venting the air.
4. Allergen Cycle: GE has a specialized cycle. Read this, especially if you have a pet.
This cycle utilizes elevated water temperature and a longer wash cycle to kill dust mites and reduce 99% of common bacteria from fabrics.
A pump purge and extended rinse are incorporated for the purpose of removing contaminants and allergens, such as pet dander.
Mold Prevention: How GE And Electrolux Handle Mold, Mildew, And Odors
Electrolux, like most machines, does not offer any protection.
GE has Microban antimicrobial technology to eliminate mold, mildew, and odors before they start.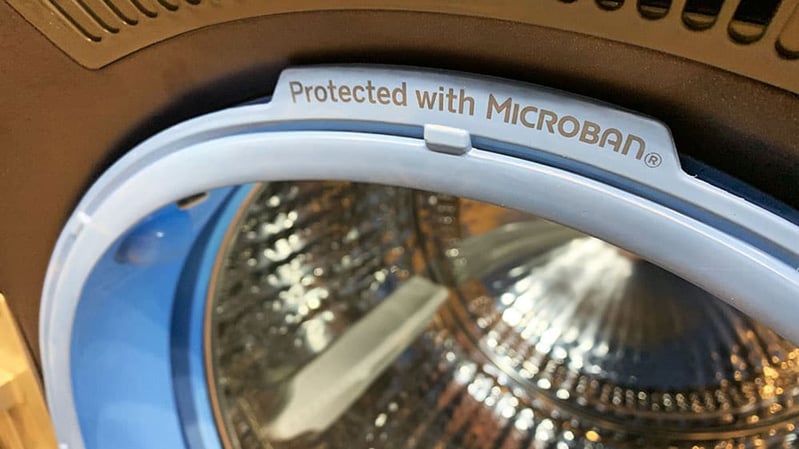 GE Smart Front Load Washer with Microban Technology for Mold Prevention shown at Yale appliance
For parents of babies and toddlers, Microban technology is covering the changing tables in public places.
I have a 3-year-old and have changed her in every museum in the city and unfortunately know this personally.
GE covers every part touching water from the drain pump to the gaskets, and even the hoses.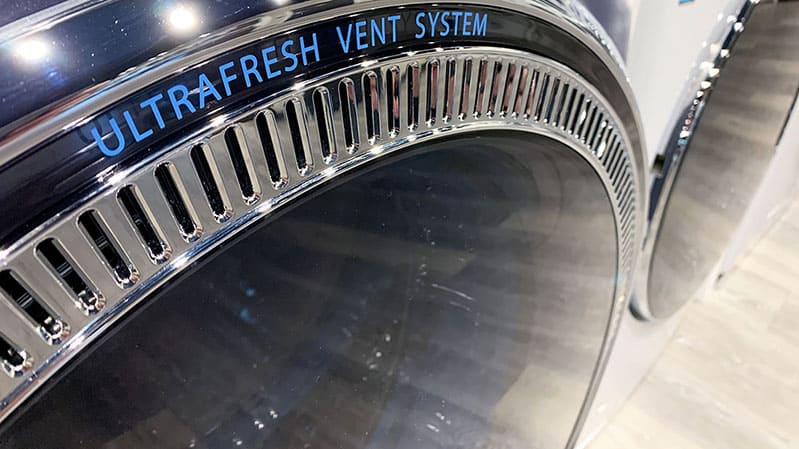 GE Front Load Washer with UltraFresh Vent System And OdorBlock at Yale Appliance
GE also offers Odorblock. Standing water is the foundation of mold, mildew, and odors. It's a fan designed to dissolve moisture in the gasket.
Smart Dispensing: How GE And Electrolux Dispense Detergent
Electrolux has SmartBoost. The machine chambers water and detergent releasing at the precise moment.
GE stores up to 50 ounces of detergent enough for 32 loads of laundry. It releases the exact amount of detergent with each load.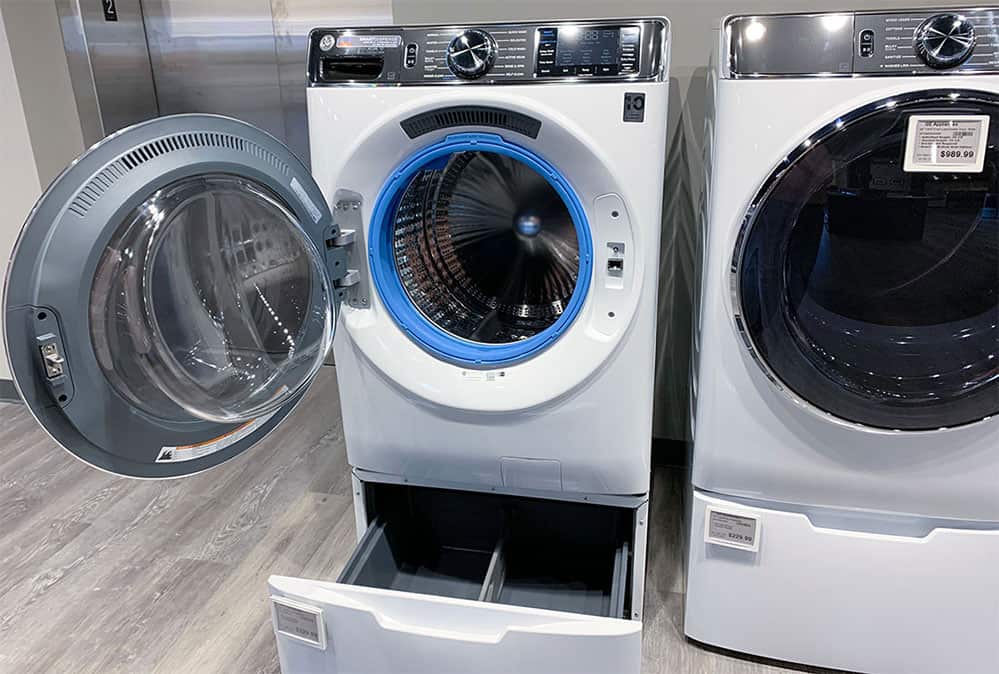 GE Smart Front Load Washer With 50-Load Detergent Dispenser (Bottom) at Yale Appliance in Hanover
Both are excellent in different ways. Electrolux chambers and mixes better, whereas GE prevents oversudsing and can dispense more than the Electrolux.
Too many suds over time can eat at the bearings and is actually one of the biggest repair problems for front load washers.
Smart Laundry: How GE Incorporates Wi-Fi Connectivity
GE has Wi-Fi connectivity. You can control your washer and dryer by an app. I do not think much about Smart functionality in many appliances, but it works well for laundry.
First, it can send alerts. Rather than watching a cycle run down for the last five or so minutes. The machine will signal you when it's done.
The machine can also signal you when you are running low on detergent.
The washer and dryer also "talk" to each other. The washer will pick the right cycle on the dryer based on the wash.
So you can't get over dry and shrink that favorite blouse or pair of jeans.
Which Front Load Washer Is More Reliable, GE Or Electrolux?
You probably want to know the reliability of both machines. The tables below are last year's and 2020's reliability.
Front Load Washer Reliability 2020 To Date
| | | | |
| --- | --- | --- | --- |
| | Serviced Qty | Shipped Qty | Service Ratio |
| Maytag | 154 | 493 | 31.24% |
| LG | 146 | 1610 | 9.07% |
| Miele | 26 | 363 | 7.16% |
| Samsung | 33 | 515 | 6.43% |
| Whirlpool | 13 | 275 | 4.73% |
| GE | 5 | 170 | 2.49% |
| Grand Total | 377 | 3426 | 11.0% |
Front Load Washer Reliability 2019
| | | | |
| --- | --- | --- | --- |
| | Service Qty | Shipped Qty | Service Ratio |
| Whirlpool | 20 | 350 | 5.71% |
| GE Appliances | 1 | 15 | 6.67% |
| LG Electronics | 161 | 2270 | 7.09% |
| Samsung | 27 | 349 | 7.74% |
| Maytag | 251 | 659 | 38.09% |
| Electrolux | 13 | 13 | 100.00% |
| Grand Total | 473 | 3656 | 12.94% |
Both Electrolux and GE are missing or incomplete. Both are also a bit of a gamble.
GE is brand new and only available in the last six months. Initial reports have been good if not exceptional, but there is not enough data to say it's reliable just yet.
We have had a more painful past with Electrolux. Their recent products were not reliable. Their first generation refrigerators had a 100% fail rate on their ice makers. Ditto on the lint screens in their dryers.
When we parted ways in 2017, they were the most serviced front load washer by almost three times.
However, they have a new CEO and are more vigilant about reliability. That may have changed.
GE Vs Electrolux Front Load Laundry: Key Takeaways
Both will wash your clothes and have plenty of cycles. Electrolux has a faster cycle, better pod dispenser, and a technically better dispensing system.
GE offers the wash and dry cycle, a better 32-load dispenser, and Smart functionality. You also prevent odors with their Microban and OdorBlock technology.
So it depends on what you value in terms of features. However, reliability is the difference-maker. The more reliable washer should also be considered.
Has Electrolux improved? Is GE reliable as early reports have shown? The answers to those questions can help unlock the better buy.
Additional Resources
Download our Yale Washer Buying Guide with all the features, terms and brands of laundry. Over 800,000 people have already found answers in a Yale guide.
Related Articles
Why Should You Trust Us?
It seems that every appliance review has nothing but glowing comments about almost every product, yet you read customer reviews and they are almost universally bad.
We are here to fill in the disconnect. We'll give you the best features, and the drawbacks as well, including reliability based on over 37,000 calls performed by our service team just last year. Our goal is to give you ALL the information so you know what's right for you.
Please consider subscribing or adding to the conversation in the comments below. We appreciate you stopping by.
Steve Sheinkopf
Steve is the third-generation CEO of Yale and a lifelong Bostonian. He currently resides in Boston, one mile from where he was born. Despite being one of the worst goalies of all time, he is a huge hockey fan of college hockey and the Boston Bruins. The love of his life is his daughter Sophie.
A Note About Pricing
Pricing on this blog is for reference only and may include time sensitive rebates. We make every attempt to provide accurate pricing at time of publishing. Please call the stores for most accurate price.