Can You Place an Outdoor Grill in a 3-Season Porch? (Review)
Free Delivery & Assembly of Grills Over $499
You are right to consider placing your grill on your 3-season porch. Your friends and party guests cannot abandon you when you are in the middle of the party. It's more civilized and far more social.
Winter, rain, the wind, and elements will also no longer be a challenge. You will have that covered (get it?).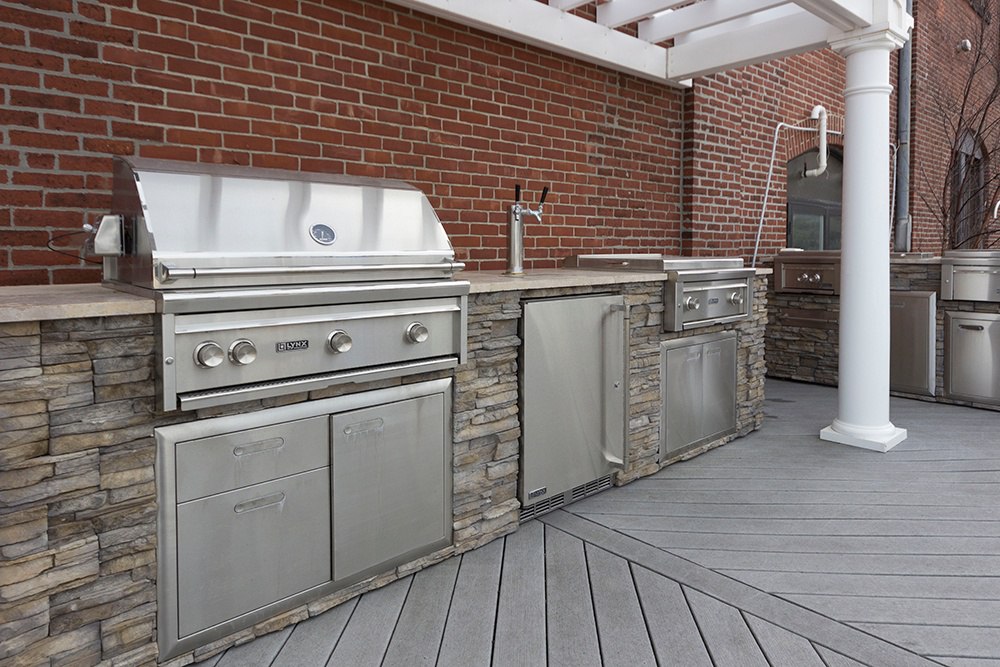 Ours is Outside
It's a very good idea until you actually do it. There will be problems you have not considered - big, unsolvable problems.
This article was inspired by a reader's email and plea for help with the title "Nightmare in the Hamptons."
In this article, you will learn why this is a bad idea. For the brave and often foolhardy, we will show you how to vent a grill properly.
Short on time? Get our free BBQ Buying Guide
Why You Should Not Place a Grill Inside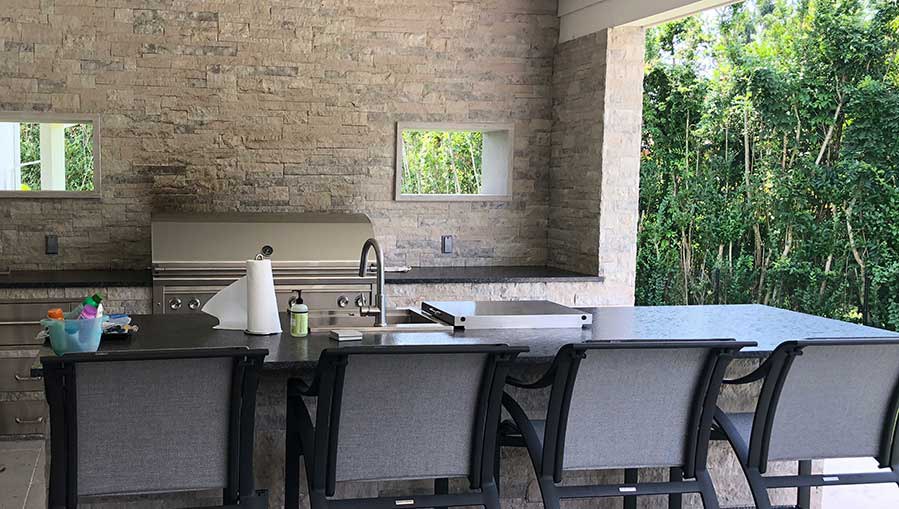 Have a look at a very nice build out.
Now the problem: Ventilation.
When they presently cook, it becomes smokey due to having no vent.
Most pro grills are a minimum of 75,000 BTU plus a sear element and a rotisserie element of 14-18,000 BTU. They also emit more smoke and grease than an equivalent professional range.
In this picture, there is no vent, so the smoke stays in the space even with the door in close proximity.
Also, the grill cover acts as a snorkel when opened pushing the smoke past any normal depth range hood. This is very different from a professional or commercial range.
You cannot even place a vent due to a deck installation on the top (must be cool up there). You also cannot vent horizontally, because the smoke would be in the house.
As a guess, the cost of materials and labor to vent after finishing the construction versus planning beforehand would be an additional $30,000.
However, with no place to locate the hood, you cannot even attempt venting this grill without removing that deck.
How You Can Place a Grill inside a 3-Season Porch
I do not recommend this.
Local codes may prevent this type of installation, so you should start there first.
Grills are better off outside where the smoke can dissipate without leaving grease, odor, and smoke inside your house.
Also, your builder, architect and interior designer are not usually qualified to understand how to vent a commercial type appliance.
You would need to hire a commercial ventilation supplier. Here is what they will probably recommend:
A Stainless Steel Hood Shell of 27" Deep or More.
A rooftop (not wall mounted) blower of 3,000 CFM or more depending on the grill

vent pipe of 12-14 inches round.
The vent must be vertical, so the motor is pulling smoke already headed in that direction. You cannot turn or elbow the duct because that will reduce the static flow of smoke.
Again, venting must be planned in the beginning or planning phases of your construction.
You will have huge problems cutting a hole through your house, adjoining floors, and roof as well as adding a blower later after the work has already been done.
Final Words
Grills should be outside. Inside a porch is a great idea, but it's also a great place for smoke to linger.
However, with the right ventilation, this is possible. Plan first with the right people and be prepared to spend plenty of money on the most powerful equipment.
Or just spend it on an awesome grill and place it outdoors instead.
Additional Resources
Get our free BBQ Grill Buying Guide for reviews, features, and specs of the best brands. Over 330,000 people have already found answers in a Yale guide.

Related Articles
Steve Sheinkopf
My goal has always been simple: I want Yale to be the best retail experience anywhere. I have tried to create a compelling environment for customers and employees alike.
A Note About Pricing
Pricing on this blog is for reference only and may include time sensitive rebates. We make every attempt to provide accurate pricing at time of publishing. Please call the stores for most accurate price.