A Chef's Take: Are Weber Smart Grills Worth the Money?
If you're considering purchasing a grill this season, there are hundreds of options out there.
However, only two, Weber and Lynx, have built-in smart functionality.
Although Weber's iGrill technology has been around for several years as an add-on accessory, Weber's smart series features Spirit and Genesis II grills with built-in Smart Grill devices.
In this article, you will learn what the Weber Smart system is and how it works. I'll also share my cooking results with you to see if a Weber smart grill is right for you.
What is the Weber Smart Grill?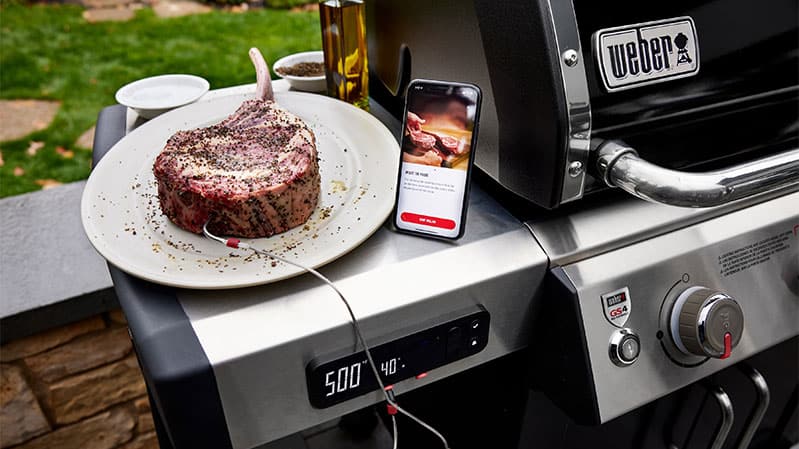 Weber Smart Grill with Probe and App
The Weber Smart grill is an extension of their iGrill Bluetooth probe technology, meaning they use probes to sense the meat and relay a signal to your phone through an app.
This monitoring device has two probe outlets as well as a temperature display for the grill.
If you typically use your grill for a simple, quickly prepared food like burgers and hotdogs, you may not want to utilize the Smart functionality.
However, it does give you the ability to cook a variety of foods simultaneously without any hassle or worrying if things are going to overcook or burn.
Short on time? Get our free BBQ Buying Guide
Weber Smart Grill Models
They have taken the grilling experience one step further by incorporating a digital monitoring device attached to the outside of their Spirit and Genesis Smart grills.
Let's take a look at Weber's Smart Grill models.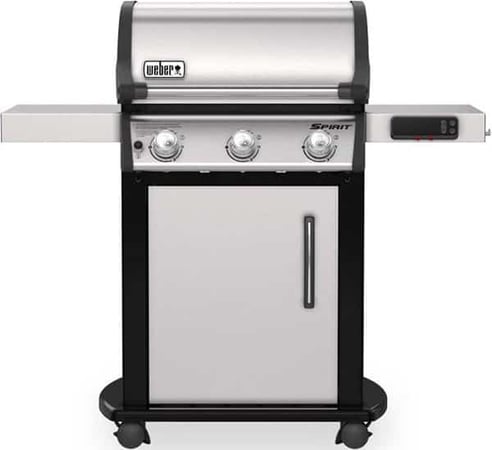 Genesis II EX-315 Smart Grill 61015601 - $999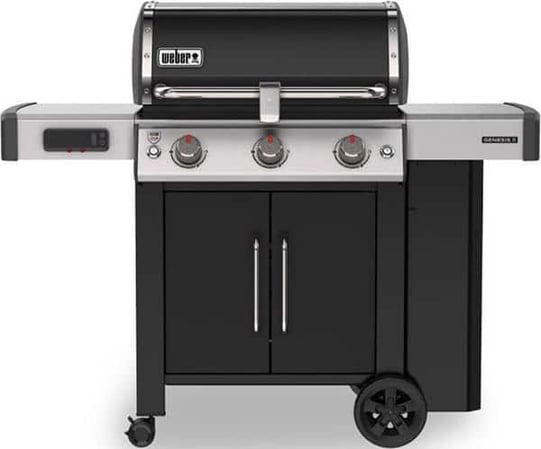 Genesis II EX-335 Smart Grill 61016601 - $1,199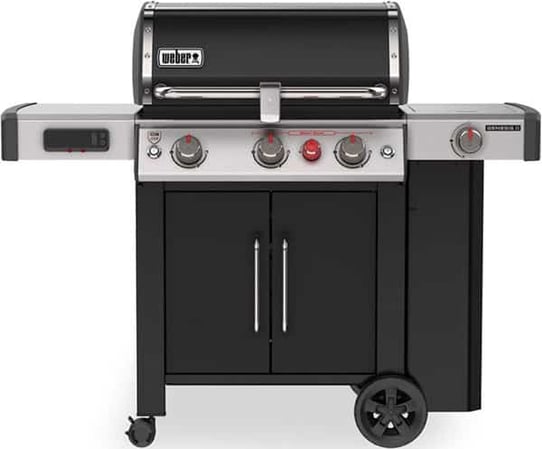 Genesis II SX-335 Smart Grill 61006601 - $1,299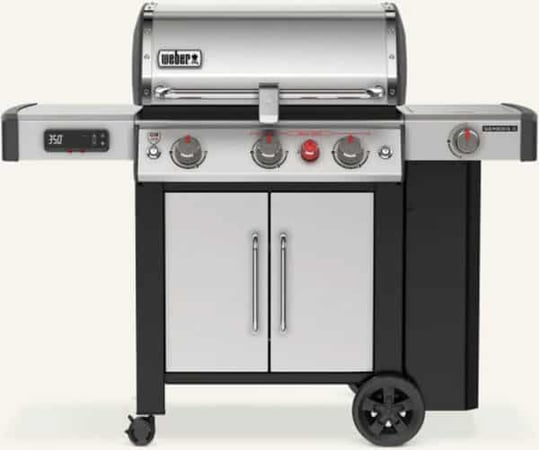 What's the Difference Between Weber Smart Grill Models?
We cover Spirit vs. Genesis in other articles. Below are the basic differences between the two.
First, the Genesis has the improved operating system dubbed the "GS4" of faster ignition, fewer flare-ups, and better grease management.
Genesis is larger than the Spirit with greater BTU output at 39,000 versus 32,000 for the Spirit.
The Spirit Smart grill is their best, with a 7,500 BTU Sear Station and 12,000 BTU side burners in a stainless body with more durable stainless instead of porcelain grates.
As for Weber's smart grills, the EX-315 is Weber's basic with a closed cart and porcelain grates
The EX-335 adds the 9500 BTU Sear Station and 12,000 BTU side burner.
Lastly, the SX-335 adds a stainless body instead of enamel, along with more durable stainless grates.
How Does Weber's Smart Grills Work?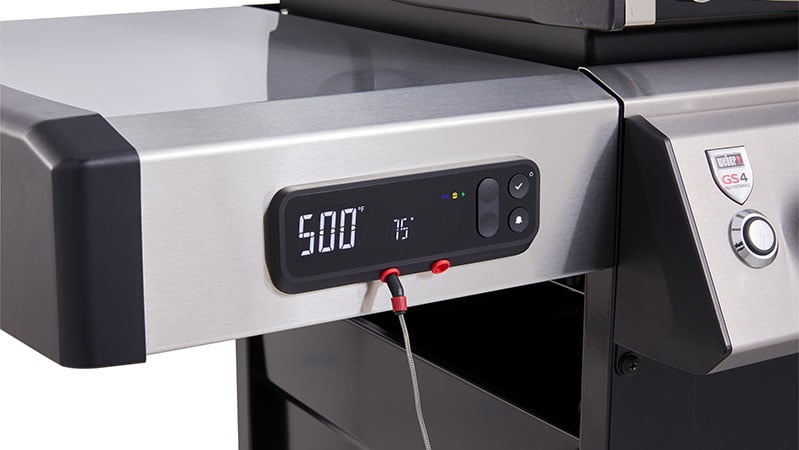 The Weber Connect App is an important aspect when using the Smart Grill features. Still, you can also program the Smart Grill device itself with desired internal protein temperature and monitor the oven temperature.
If using the app, there are several categories to choose from depending on your grilling/cooking.
Once the protein is selected, there are step-by-step instructions on preparing your food, heat your grill, and then cooking the meat.
Once you select what you would like the meat's internal temperature to be, and the grill has been preheated, follow the guided instructions.
Weber Smart Grill Feature Highlights
Food Internal Temperature Monitoring
The Weber Connect App/Smart Grill allows you to select your desired internal temperature for your food.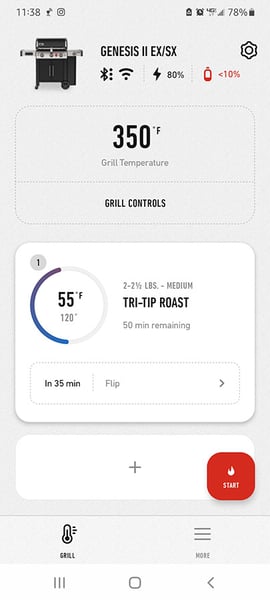 The grill then notifies you when the food has achieved this temperature.
You also can check the progress and see how far along or how much time might be left with a countdown clock.
Guided Cooking
The Weber Connect App gives you a step-by-step guided cooking experience, from setting up the grill to flipping your food to serving and enjoying!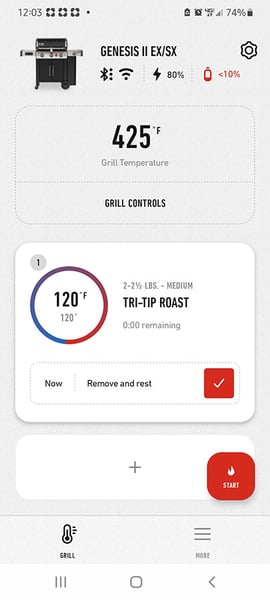 There are plenty of proteins and recipes to choose from, which will ensure excellent results every time.
Fuel Level Monitoring
The Smart Grill device also offers fuel level monitoring plus alerts. A handy feature, so you never run out of fuel mid-cook.
If you want to make sure your burgers and hot dogs aren't scorching or burning at high temperatures due to flare-ups, you can also do that through Smart Grill.
If you want to use the grill as an oven, you can monitor the app's internal temperature to ensure your food doesn't burn or undercook.
However, the app can't change the grill's temperature, but at least you will know how hot the inside temperature is and the internal temperature of the proteins you may be cooking with the probe.
Cooking with a Weber Smart Grill
From my experience cooking the roast, I recommend first searing the meat at a high temperature anywhere on the grill or the sear station.
Then you should shut down the sear station (if using) and the middle burner, keeping the outer burners at high to medium-high temperatures. This will create a convection-like system in the grill.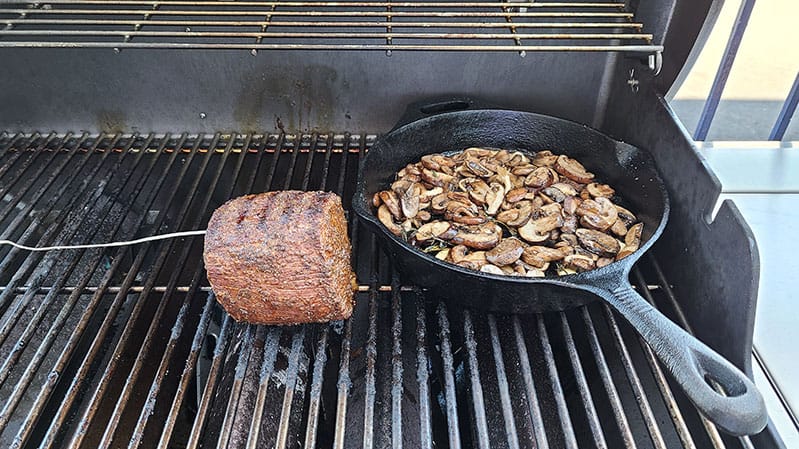 Probe Inserted Into Roast
Next, I inserted the probe into the meat (off the heat/grill) and used the indirect heat in the middle of the grill to finish cooking the protein to the desired internal temperature.
I was also able to use the outer burners for cooking vegetables and burgers while the roast was cooking in the middle of the grill.
The key here is to work quickly and do not leave the grill top open for too long. Otherwise, you lose the heat for the roast.
Trial and Error
The first time I tried to use the probe, I did manage to burn it.
I was trying to roast a boneless leg of lamb, a fattier cut of meat, which would naturally cause more flare-ups.
I also neglected to use the indirect heat method, so the roast was sitting on top of a direct flame.
I seared it on all sides for a couple of minutes and then left the meat to achieve a little more of a crust over the direct heat.
I noticed I was not getting notifications on the app, so I went out to check on the meat.
When I returned to the grill, the flare-ups from the lamb had completely charred and burned the probe.
I learned a valuable lesson here and will only use the probe over direct heat for smaller, less fatty cuts of meat that won't flare up.
Pros and Cons of Cooking with a Weber Smart Grill
Pros
You can monitor your food as it cooks as well as the grill temperature. The step-by-step guide is helpful if you've ever been intimidated by cooking different cuts of meat on the grill.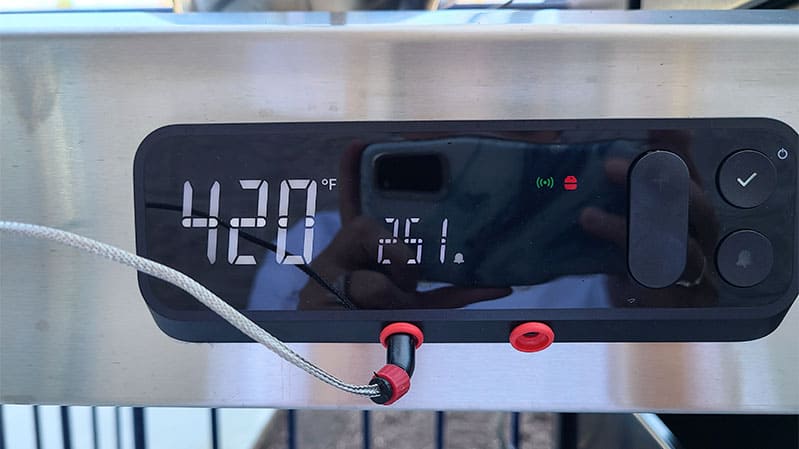 Monitoring Temperature With Weber Smart Grill Probe
The probe will allow you to check on the proteins as they are cooking and give you a countdown of when your food might be done.
Cons
I don't see too many cons about having a device like this on your grill. You will have some trial and error like anything new.
I would still monitor the grill as you normally would until you are comfortable with the technology.
You may also not want to buy a grill just for the Smart feature.
If that is the case, an external accessory called the iGrill can be purchased along with a regular grill for the same functionality.
I also recommend investing in a couple of extra probes, just if it gets damaged during the grilling process.
Are Weber Smart Grills Worth the Money?
It depends.
If you are cooking the basics like hot dogs and burgers, it's not worth the investment.
However, Weber's Smart grills can add recipes to your repertoire from their app.
Once you are comfortable, you can let the grill do the work and be present to flip or remove the food.
In that case, if you like to try the newest technology, Weber's Smart grills are certainly a good investment.
Additional Resources
Get the Yale BBQ Grill Buying Guide with features, specs, and tips to all the brands. Over 900,000 people have already found answers in a Yale Guide.
Related Articles:
Why Should You Trust Us?
It seems that every appliance review has nothing but glowing comments about almost every product, yet you read customer reviews and they are almost universally bad.
We are here to fill in the disconnect. We'll give you the best features, and the drawbacks as well, including reliability based on over 37,000 calls performed by our service team just last year. Our goal is to give you ALL the information so you know what's right for you.
Please consider subscribing or adding to the conversation in the comments below. We appreciate you stopping by.
Saba Wahid
Saba is the resident Chef at Yale. She will teach you how to use your new oven, cooktop, or range. She is skilled in every new feature, including steam, induction, convection of all types, air frying, and sous vide. Saba is also the reigning Chopped Grand Champion crowned by Martha Stewart herself. Saba is incredibly versatile with all different types of cuisine. After just one session with her, you will be a better chef.

Saba has also been featured in numerous publications such as Mashed, Eater Boston, the Boston Herald, and the Framingham SOURCE.
A Note About Pricing
Pricing on this blog is for reference only and may include time sensitive rebates. We make every attempt to provide accurate pricing at time of publishing. Please call the stores for most accurate price.