Should You Buy a Weber Spirit Series BBQ Grill?
The Weber Spirit is one of the most popular grills sold in the US. It is solid, reliable, and durable to withstand even winter in New England.
It is also incredibly confusing to buy because there are two Weber Spirit Series, the Spirit and the newer Spirit II series with the GS4 Grilling System.
However, their newest grills, including their SX Smart grill, have the old system.
In this article, you will learn the differences between the Spirit and Spirit II and what all the different Weber model numbers mean for features.
A small word of caution: Spirit and Spirit II have two of the same model numbers yet are different grills.
Then you will learn some potential problems with the Spirit series (regular and Spirit 2), so you can decide if the Weber Spirit is right for you.
We have started to publish more video content, but in this case, the blog post may be easier to understand before watching the video down below.
Short on time? Get our free BBQ Buying Guide
Why Buy a Weber Spirit Series Grill?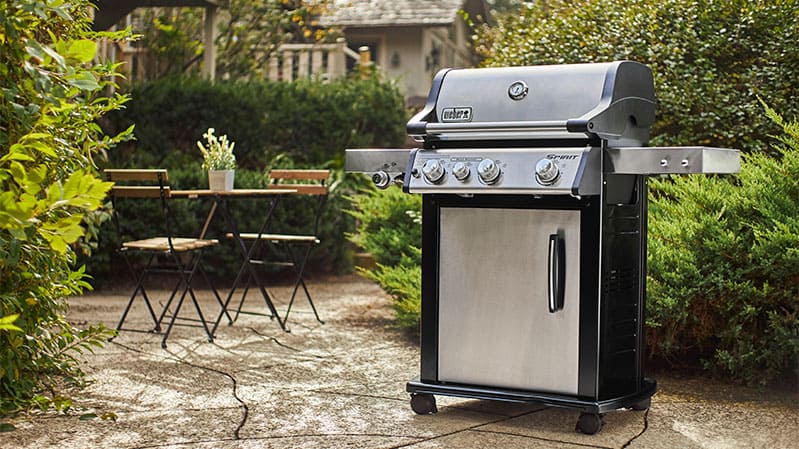 Weber Spirit Series BBQ Grills
Weber is more durable than any other brand at this price range. Over the years, we have tried every other brand.
The unit is designed and manufactured with stainless steel, hard plastic, and the base is painted.
The starting price is reasonable at $379. When you compare the construction, it should last three times longer than comparable or lower-priced grills.
Let's decipher how to buy one.
How to Read Weber Grill Codes
Weber codes can be baffling at first, but they notate color, burners, and whether the grates and Flavorizer Bars are stainless or porcelain.
Stainless is better than porcelain because it lasts longer and weatherizes better over time.
I have reviewed the most popular grill from each category, but there are three Spirit models\ with tons of variations.
Each variation is its code.
For example, let's look at the Weber Spirit E-210. "E" stands for having an enameled porcelain lid and grates, the "2" is for two burners, and the "0" is for an open cart design.
We broke down all of Weber's grill codes for each series below:
Weber Spirit Series Grills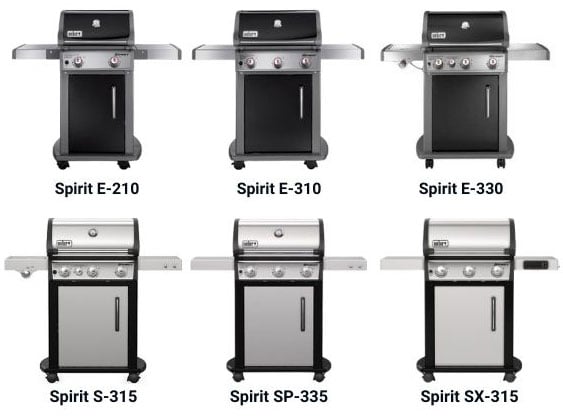 E-210 - Enameled lid and grates, two burners, closed cart
E-310 - Enameled lid and grates, three burners, closed cart
S-315- Enameled lid, stainless grates, three burners, closed cart
E-330 - Enameled lid and grates, three burners, a sear station, and side burner, closed cart
SP-335 - Stainless lid and grates, three burners, a sear station, and side burner, closed cart
SX-315 Stainless Smart grill with Stainless lid and grates, three burners, a sear station, and side burner, closed cart
Weber Spirit II Series Grills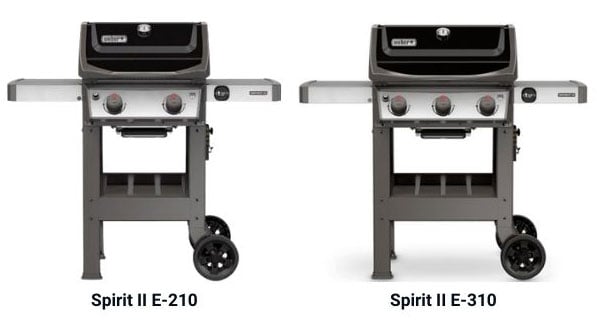 The Spirit II series adds the GS4 grilling system.
E-210- Enameled lid and grates, two burners, open cart $379
E-310 - Enameled lid and grates, three burners, open car $479 (available in natural and propane gas)
Weber Spirit vs. Weber Spirit II Series BBQ Grills
Three years ago, they changed their internal components on the Spirit II with Weber's GS4 Grilling System for better ignition and grease management.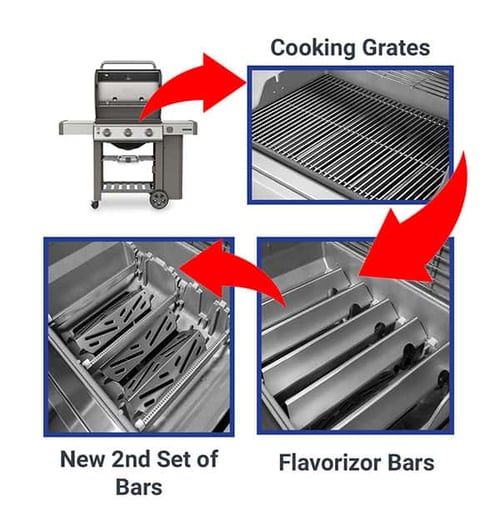 Weber added the GS4 Grilling System into all the Genesis II models but only the two least expensive Spirits.
The Spirit has the finished cabinet, whereas the Spirit II does not.
The newer Spirit II is cheaper by $50 at $379 and $479 for the three-burner versus $429 and $529 for the older series.
But what does it mean when you compare both internally?
Let's take a look.
Ignition System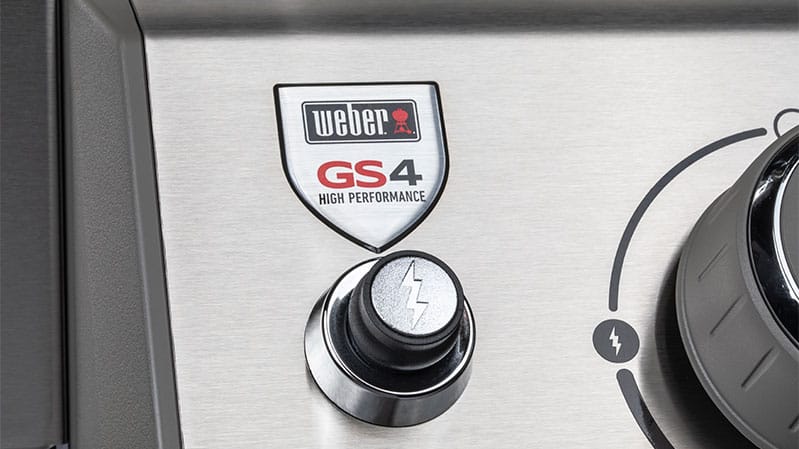 Weber GS4 First-Strike Ignition System
The Spirit II has a first strike infinity ignition system versus a still effective crossover system in the regular Spirit series.
Flare-Ups/Added Heat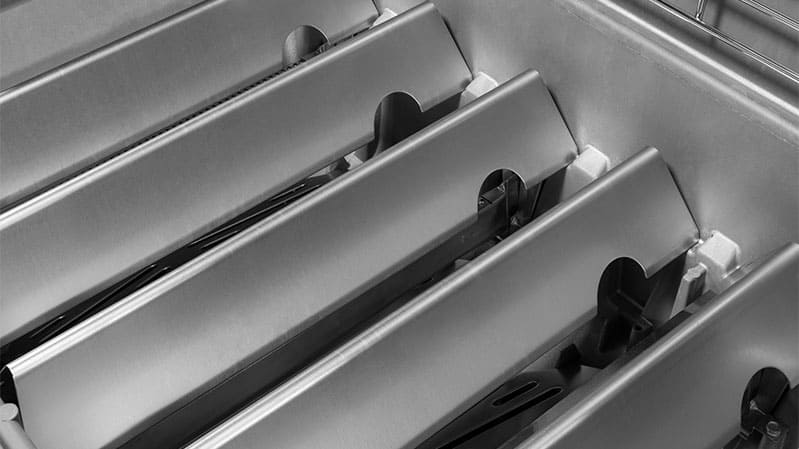 Weber Flavorizer Bars
In the Spirit II, the GS4 grilling system adds an extra set of Flavorizer bars at the bottom to reduce flareups and add residual heat.
Grease Management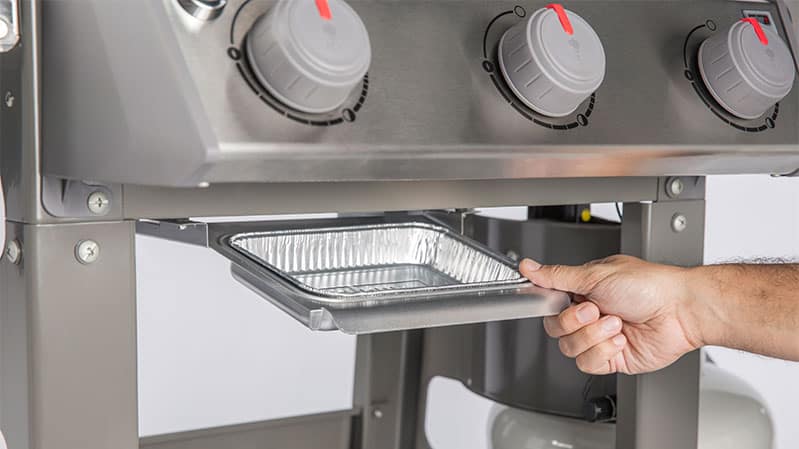 Weber Spirit II Series Grease Management System
The Spirit II has the grease tray in the center versus the regular Spirit's side with more of a pronounced angle so grease can drip into the grease tray.
Weber has the same grease trays for both to contain the same volume.
Weber BBQ Grill Reliability
Either way, Weber is one of the most reliable products sold at Yale, needing repair less than 2% of the time. Many of the parts are warrantied for up to 10 years as well.
Let's look at the grills.
All are available in propane, but only the E-310 and the S-315 models are available in natural gas.
Weber Spirit BBQ Grill Models
The Weber Spirit II Series is considered the entry-level model equipped with either a two-burner or three-burner configuration.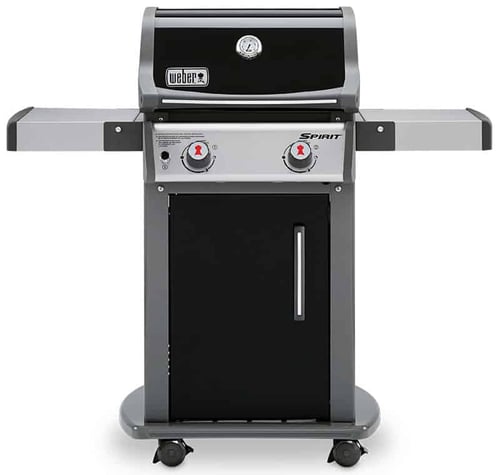 The Spirit II E-210 is Weber's base model. It offers 26,500 BTU through two burners with 360 square inches of cooking space. The Spirit with the same model number has the cabinet below for storage for $429, while the Spirit II is less expensive at $379 with the GS4 improvements.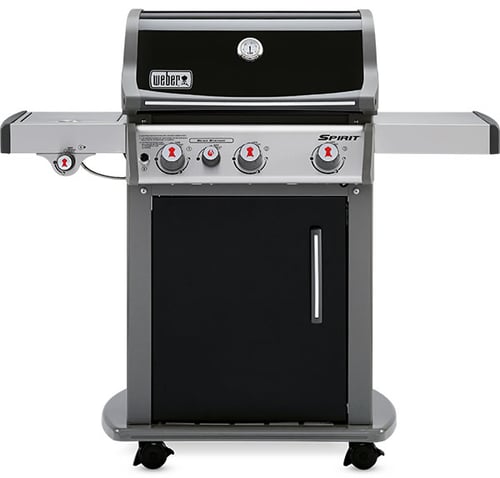 The Spirit E-310 adds another burner and more BTU at 32,000 with more cooking space at 424 square inches. Once again, the Spirit has the cabinet, and the Spirit II has the newer system.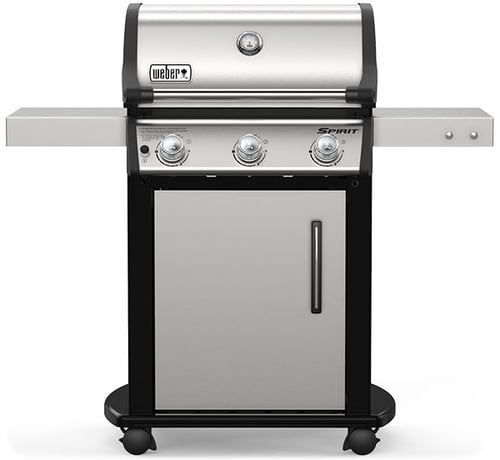 The Spirit S-315 is the newest all stainless Spirit at $599. It has the same features as the E-310 but adds the stainless steel Flavorizer bars. Stainless doesn't chip like porcelain. However, it is the older Spirit series, even though it has more features.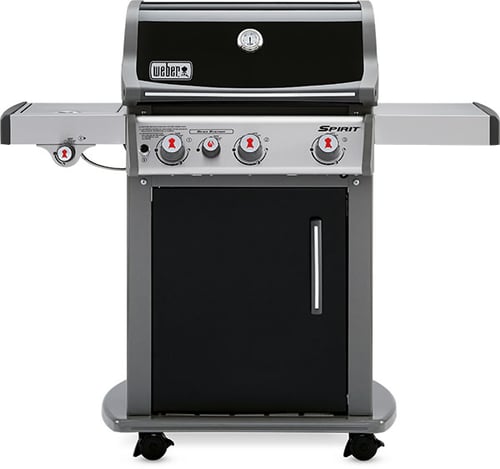 At $629, the E-330 regular Spirit offers many high-end features like a 12,000 BTU side burner. It's convenient because now you don't have to run into the kitchen to cook your corn. You can cook as you grill.
You also have a 7500 BTU sear station in the middle of the grill. In this case, it's not a sear like an infrared, it's just an additional row of burners.
The E-330 is available in black only and has porcelain Flavorizer bars.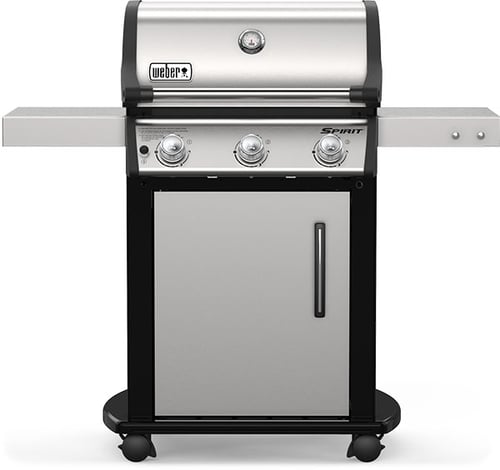 The SP-335 is the best Spirit before you learn about their new Smart grill. You have three burners in stainless with stainless Flavorizer bars along with the sear station and the side burners.
Like the other better Spirits, it does not have newer ignition and grease management.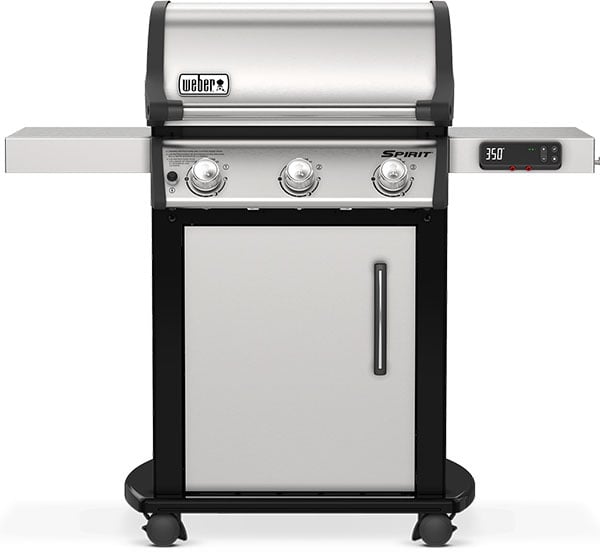 Weber has been at the forefront of smart technology with their iGrill compatible systems. Weber smart system operates through wireless Bluetooth meat probes. The high-end Lynx operates through sensors.
It's a good system as you can see the temperature through an app on your phone and receive texts to flip your burger or when the food is done. Weber has recipe tie-ins as well.
In terms of the grill, the smart is similar to the SP-335 in functionality with side burners, sear, three burners in stainless just with the added smart functionality and the digital readout on the grill itself.
You can add the iGrill probe to any grill, even other brands, but it doesn't display on the grill itself.
Weber Spirit Series Grill Problems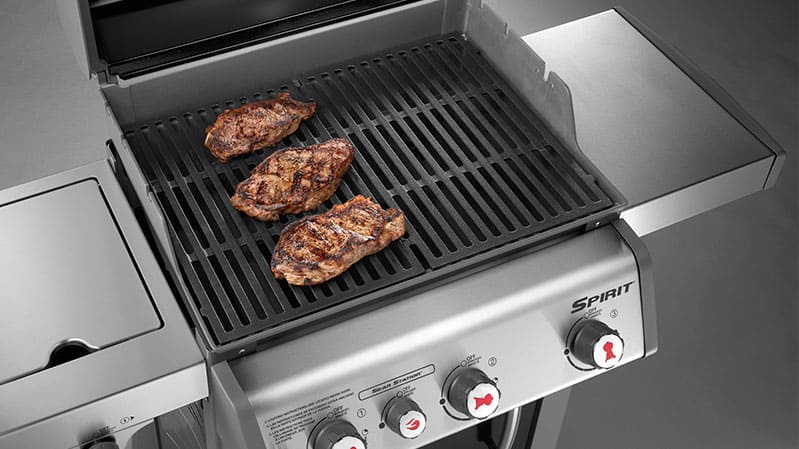 Weber Spirit Series Grill Sear Grates
Although Spirit does have a sear zone, it's just another row of burners. It will cook faster, but if you want those char marks on your food, it's not in the design.
You cannot smoke or add flavor to a spirit, but there aren't any other grills with smoking capabilities at this price.
The Weber Spirit series grills are a smaller grill. If you have a large family or like to entertain, then a four-burner Genesis II may be a better option.
Should You Buy a Weber Spirit Series BBQ Grill?
First, the Spirit is solidly built-in stainless and hard plastic. It will last better than other comparable brands. So, it is a good value.
Your upgrades are side burners, sear station, and stainless exterior with stainless Flavorizer bars and smart functionality.
However, you have two grill types.
You have to choose between a better ignition and grease management system of the Spirit II series with the GS4 improvements or the regular Spirit series' better features.
Just be careful when you buy, because the model numbers are the same.
If you want both features and a better system, you might want to consider their Genesis series starting at $749.
However confusing, The Spirit does offer a comprehensive line of affordable and durable grills.
Still, confused? Feel free to ask questions. I will be happy to answer.
Call us with any questions at 617-765-7196
Additional Resources
Get the Yale BBQ Grill Buying Guide with features, specs, and tips to all the brands. Over 820,000 people have already found answers in a Yale Guide.
Related Articles:
Why Should You Trust Us?
It seems that every appliance review has nothing but glowing comments about almost every product, yet you read customer reviews and they are almost universally bad.
We are here to fill in the disconnect. We'll give you the best features, and the drawbacks as well, including reliability based on over 37,000 calls performed by our service team just last year. Our goal is to give you ALL the information so you know what's right for you.
Please consider subscribing or adding to the conversation in the comments below. We appreciate you stopping by.
A Note About Pricing
Pricing on this blog is for reference only and may include time sensitive rebates. We make every attempt to provide accurate pricing at time of publishing. Please call the stores for most accurate price.