Traeger Wood Pellet Grills vs Weber Charcoal Grills
Planning a cookout for Memorial Day is a great way to kick off summer. Hotdogs, hamburgers, and ribs are all checked.
Now, all we need is a grill. Looking through the many available brands and models can sometimes be overwhelming but knowing what you cook will make your selection very easy.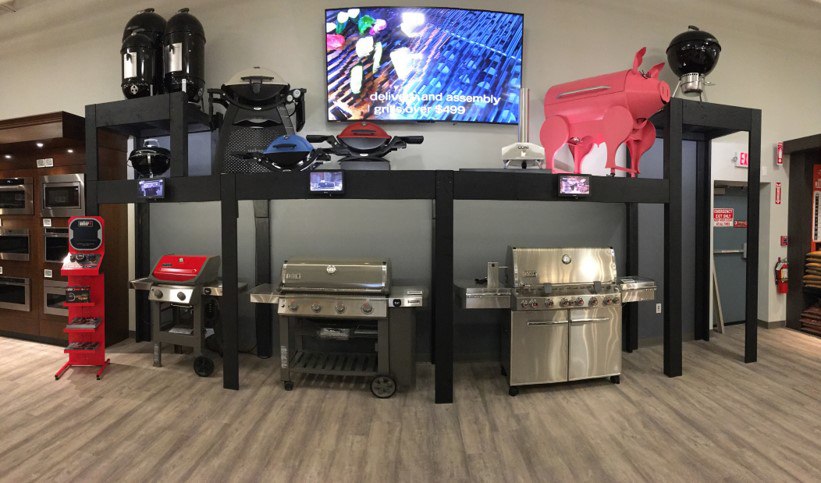 Most will go for the easy propane gas grills but if you're cooking more than just hot dogs and hamburgers and want better flavor and texture, look at wood pellet or charcoal grills.
These will enable you to smoke, roast and truly cook outdoors instead of just searing a few burgers. More importantly, you'll get the infusion of the smoky aroma into the food using charcoal or pellets as the fuel.
In this article, you will learn the benefits of both charcoal and pellet as well as the key differences. Gas is convenient and fast, but you should consider other options.
Charcoal
Simple charcoal grills are easy to setup and transport. All you need is a bag of charcoal and a lighter. This is a great option for portable grilling at the park or tailgate parties. The grill can be ready for cooking as quickly as 15 minutes when all the charcoal is lit.
Short on time? Get our free BBQ Buying Guide
Adjusting where you lay the charcoal will enable you to cook different things. Looking to quickly sear hotdogs and hamburgers? Concentrate pooling the charcoal mostly in the center.
This will create an intense area in the middle to cook and lower temperature area around the rim to keep warm before serving. Looking to roast a chicken or big cut of meat?
Concentrate the charcoal to the sides for indirect heat cooking to avoid burning the outside of the food too quickly. Big flavors will come from the fats from meats that drip onto the hot charcoal, vaporize and coming back up to infuse the flavors into the meats.
There are adjustable vents to help control the rate at which the charcoal burns. Cleanup is relatively quick and easy. You just need to extinguish the charcoal, let it coal and dispose of.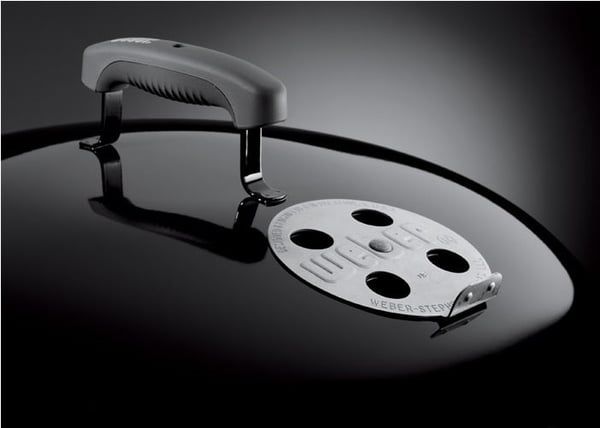 Weber Grill Vent
Pellet Grills
Pellet fueled grills are electric powered so they're not as portable as charcoal grills. What they're known for is control. Instead of worrying about controlling the gas or amount charcoal, you simply fill the hopper and set the temperature you would like to cook it.
This makes for a very popular smoking unit where it can take hours for ribs or brisket. The heat is also indirect for no flare-ups. So, what can't pellet grills cook?
Temperatures in pellet grills tend to max out around 500 degrees so searing or making pizza in these units are not ideal.
Brands
Weber
Let's look at two popular brands; Traeger for the pellet grills and Weber for charcoal grills. Weber started about 80 years ago with the Kettle Charcoal grill but has quickly become the household name for grills.
They're known for the quality and now offers a variety of sizes and options in gas and charcoal. Even though gas grills dominate the lineup, the Kettle and Summit Charcoal grills are classic designs that will achieve your quick grilling or needs.
Traeger
Traeger started in the 1980s with the mission to find alternative grilling methods using wooden pallets. This helps to control the heat and prevent flare-ups and any potential deposits getting on the food like cooking with charcoal. Operating more like a smoker, you can also use different types of wood pellets to introduce aromas into your food.
You might have already made up your mind on which grill you like but let's look at a couple of popular models for Traeger and Weber.
Features:
363 sq. in. of cooking area
Porcelain-Enameled Lid and Bowl - helps protects against the elements for long-lasting use
Built-In Thermometer - Easy temperature to manage the cooking process
Lid Handle with Heat Shield - helps to open and close the lid without heavy duty gloves on
Ash Catcher - easily remove and dispose of ash or spent charcoal
Air Vents - Swivels to regulate air and smoke
The original Kettle Charcoal that started it all. Unlike the first one made 80 years ago, the Premium unit has been upgraded with a porcelain-enameled bowl and lid, an ash catcher for easier cleanup and built-in thermometer. The simplicity of the grill is what makes it a favorite and true classic.
It's small enough to bring to the park or tailgate party while still offering enough cooking area to crank out burgers and hotdogs for a party.
Cooking a chicken or smoking ribs? It's as easy as changing how and where in the bowl you load the charcoal. This is a charcoal grill, so you do need to tend to the grill to control the heat and flare-ups.
The grill works and it is cheap
Features:
452 sq. in. of cooking area
Air Insulated Double Walled - Helps retain heat for consistent cooking
Diffuser Plate - creates indirect heat for slow cooking
Gasket Lid - Creates a heat-trapping seal to retain temperature
Gourmet BBQ System - an interchangeable system that adapts to cooking a variety of foods using the optional accessories like pizza, wok, griddle etc.
Snap-Jet Ignitor System - Quickly start the grill using propane gas
The Summit Charcoal Grilling Center might initially look like a larger Kettle grill on a cart but it's a totally different grill. You use charcoal for flavor, but there is also gas for speed
The unit is constructed with air insulted double walls to retain and control heat. This design is comparable to using ceramic but helps make the grill lighter to move.
This type of construction is important for smoking where the heat can be retained for hours using a single load of charcoal. The diffuser plate helps to prevent flare-ups and create the indirect heat environment for slow cooking.
What's great this grill is the versatility you have with different types of cooking. It's excellent at slow cooking but also can sear with the adjustable grate.
Weber offers a lineup of accessories using the Gourmet BBQ System for you to reconfigure the grill for any grilling situation. This grill is easy and simple to use with charcoal while also being very versatile to different types of food and cooking methods.
The New Weber Summit Charcoal Grill [Video]
Features:
572 sq. in. of cooking area
Digital Pro Controller - control temperatures with 15 degrees
Pellet Hopper - 18lbs capacity with easy to empty back door
Dual Temperature Probe - monitor internal temperatures without opening the lid
Easy Start-Up - One Button Electric Start
The smoker style body design creates a perfect environment for slow cooking with a lot of capacity. You can fit up to 24 burgers at a time. Traeger grills have the Digital Controller with Advanced Grilling Logic to maintain temperatures.
You don't have to be in front of the grill tending to the flame or adjusting vents like other grills. This makes for an excellent slow cooker or smoker. You can also select from a variety of different pellets like hickory or apple BBQ to infuse your food with different flavors and aromas.
Features:
WiFire - Enables you to customize a specific cooking cycle through an App
Double Wall - Insulates and maintains heat for precision cooking
Smoke Science - Convection system circulating the smoke to ensure all the food is infused with the flavor wood as well as shorten the cooking time by 20%
Adjustable grate - Moving the grate to different positions can offer smoke or sear cooking
Comparing to the Traeger model above this TFB85WLB ups the game with double wall commercial grade construction for better heat insulation.
It also has a better temperature control system that can be monitored and controlled by an app which gives you full control of the smoking process without constantly going to the grill.
Think to smoke in the winter time or not having to leave your guests to check on the grill. The cooking area is plenty for a big party. This model can cook up to 8 racks of food.
Should You Buy a Traeger Grill? [Video]
The Comparison
These grills are both great options for the backyard but are very different.
The Weber grills have smaller cooking area compared to the Traeger grills. Simple grilling for yourself or small family, both Weber's list above will do. If you're entertaining often, Traeger with the multi racks for the increased cooking area has a larger capacity.
The Weber might not have as big of a cooking area as the Traeger but since it's powered by charcoal, it can reach high temperatures for searing and quick grilling.
If hot dogs and hamburgers are your main items, then Weber would be able to cook faster.
The Traeger uses a controlled burning of wood pellets so it's put out a slightly lower heat. However, this makes for a great slow cooker or smoking.
Portability should be considered when looking at these two brands. The Traeger needs electricity to power the hopper system so access to an electrical outlet is needed for use. The Weber uses charcoal which makes it very easy to grill almost anywhere you can haul the grill.
This is a favorite for cookouts at parks or beaches. Even if you're just grilling in the backyard, the charcoal grills don't restrict you from moving the grill farther away from the house to avoid smoke blowing back onto your guests.
So, which should you buy?
Which one to buy comes down to what you do you usually cook. Both will satisfy your basic grilling needs. Traeger's grill takes another step by giving you the ability to truly cook using a grill. It has the capability to cook different types of food with multiple cooking methods. The temperature management system eliminates the worry of burning that expensive rack of ribs you just bought.
Whereas the Weber is geared towards quicker and simpler grilling. The basic models are relatively very affordable as well. For last-minute beach outings, you can quickly pick up a Kettle Grill and a bag of charcoal and you're all set. Where you're planning to station the grill can also determine which model to buy.
If you're looking for high temperature and faster grilling, go for the Weber Charcoal. Cooking thicker meats like a pork butt roast? Traeger's would be a good choice.
It all depends how you cook.
Additional Resources
Get the Yale BBQ Grill Buying Guide with features, specs, and inside tips to all the brands. Over 320,000 people have already found answers in a Yale Guide.

Related Articles
Tam Nguyen
Tam is an Appliance Sales Consultant at Yale Appliance + Lighting. In his spare time he enjoys watching and playing sports and spending time with his two children.

Schedule a showroom visit with me
A Note About Pricing
Pricing on this blog is for reference only and may include time sensitive rebates. We make every attempt to provide accurate pricing at time of publishing. Please call the stores for most accurate price.