Traeger Wood Pellet Grills Vs Weber Charcoal Grills (Reviews / Ratings / Prices)
Ten years ago, you bought a grill. It was a gas grill. You hooked it up to propane or a natural gas outlet, and you started to grill.
Gas grills are fast, precise, and easy. But what flavor does a gas grill infuse into your food?
Charcoal and pellet types are different because they do add flavor and texture, but in different ways.
In this article, you will learn the difference between charcoal and pellet grills (Hint: One can't grill).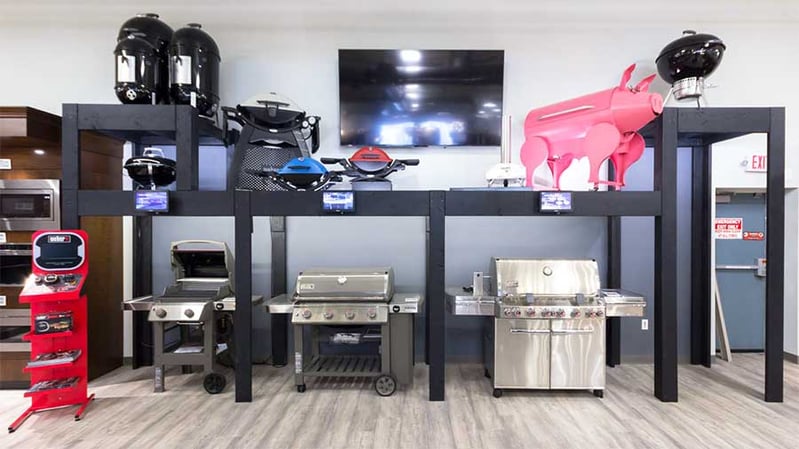 BBQ Grill Display at Yale Appliance in Framingham
There isn't one best type of grill for everyone. However, you will learn what might be best for the way you cook.
Short on time? Get our free BBQ Buying Guide
Weber Charcoal Grills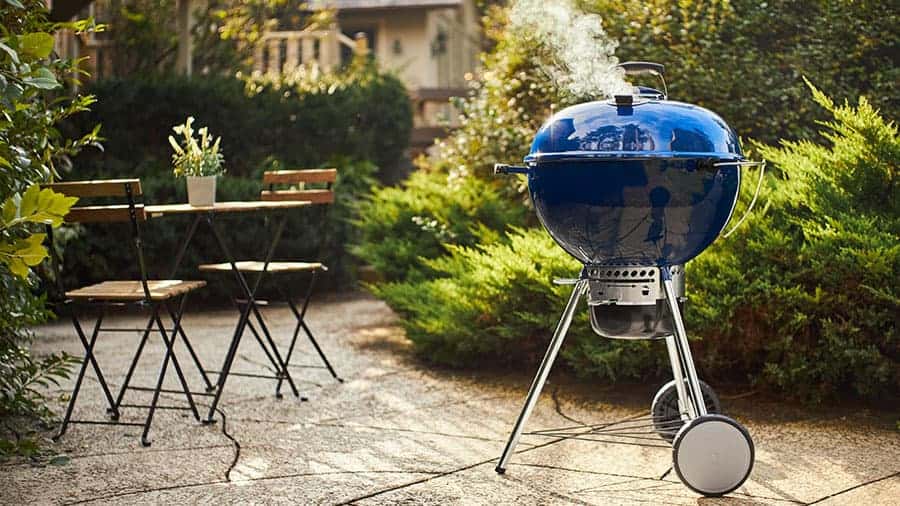 Weber Charcoal Grills
Charcoal has been around for a while. You probably have used a charcoal grill when tailgating or starting.
Weber has been at the forefront of charcoal grills. Their Charcoal Summit is the best on the market.
Charcoal can heat to 1100 degrees like a sear burner on a professional gas BBQ grill, but it adds texture and flavor gas does not.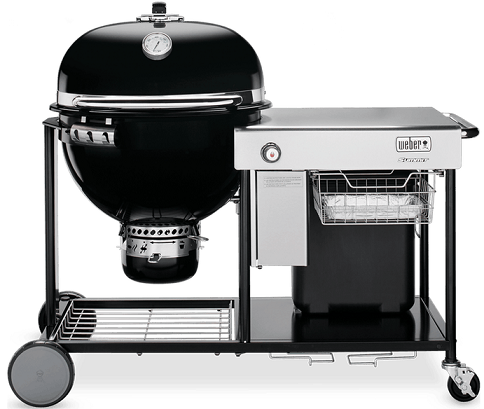 Features:
452 sq. In. of cooking area
Air Insulated Double Walled - Helps retain heat for consistent cooking
Diffuser Plate - creates indirect heat for slow cooking
Gasket Lid - Creates a heat-trapping seal to retain temperature
Gourmet BBQ System - an interchangeable system that adapts to cooking a variety of foods using optional accessories like pizza, wok, griddle, etc.
Snap-Jet Ignition System - Quickly start the grill using propane gas.
The Summit Charcoal Grilling Center might initially look like a larger Kettle grill on a cart, but it's a different grill.
You still use charcoal for flavor, but there is also gas to quickly light the charcoal.
The unit is constructed with air-insulated double walls to retain and control heat. This design is comparable to using ceramic but helps make the grill lighter to move.
This type of construction is essential for smoking because a single load of charcoal can retain heat for hours.
Pros: What's great about this grill is the versatility you have with different types of cooking. It's excellent at slow cooking but also can sear with the adjustable grate.
Weber offers a lineup of accessories using the Gourmet BBQ System to reconfigure the grill for any grilling situation.
This grill is easy and straightforward to use with charcoal while also being very versatile to food and cooking methods.
Cons: The biggest con is the unit takes up space. It is large, and there isn't a lot of cooking area compared to the size.
It is nice to have the work area but would be better with more cooking space for more items.
Cleaning out the charcoals isn't easy either. You have to use the basket on the bottom, and it can fill with ashes quickly.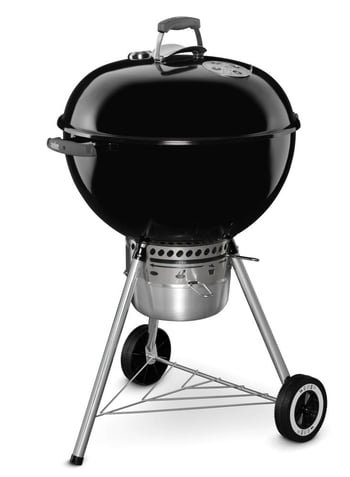 Features:
363 sq. In. of cooking area
Porcelain-Enameled Lid and Bowl - helps protects against the elements for long-lasting use
Built-In Thermometer - Easy temperature to manage the cooking process
Lid Handle with Heat Shield - helps to open and close the lid without heavy-duty gloves on
Ash Catcher - easily remove and dispose of ash or spent Charcoal
Air Vents - Swivels to regulate air and smoke
This was my first grill and still, use it at a friend's house. It doesn't have the accessories of the Summit or the LP tank. It is a great little grill. With some patience, you can cook some great food.
Pros: Easy to maneuver around. You can keep it outside on your porch, or bring it with you for that Sunday Tailgate.
Cons: Small size doesn't give you options for cooking multiple different items.
The New Weber Summit Charcoal Grill [VIDEO]
Traeger Wood Pellet Grills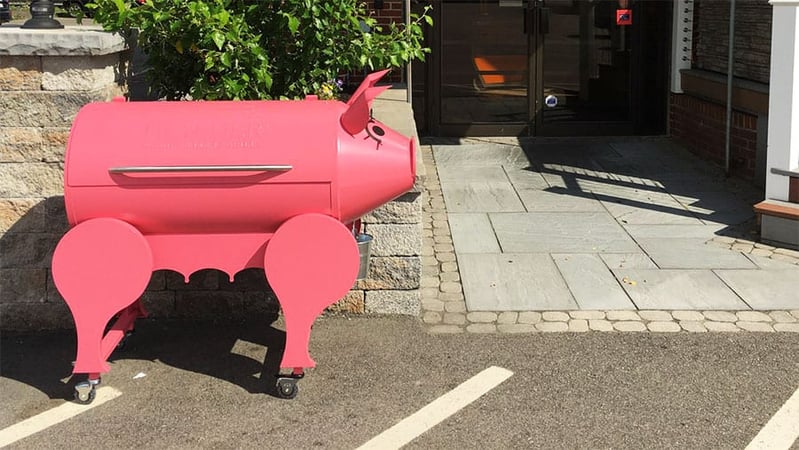 Traeger Lil' Pig Wood-Fired Pellet Grill at Yale Appliance in Boston
Pellet grills have become popular over the last 5-10 years. If you read online reviews, it is divided between people who love and people despise it.
Wood Pellets are not grills in the conventional sense. They cannot reach temperatures over 500 degrees.

Wood Pellets for a Wood-Fired Pellet Grill
However, you can control the temperatures precisely unlike charcoal.
How Do Pellet Grills Work?
We cover this in greater detail in other posts, but a motor turns a screw-like device, an auger, to feed the burn pot. The pellets are then ignited and exhausted by the chimney.

Pellets are available in almost every flavor imaginable. So you can infuse your food with Applewood, Pecan, or just about any other flavor.
Short on time? Get our free BBQ Buying Guide
Traeger Timberline 1300 Pellet Grill TFB01WLE - $1,999.99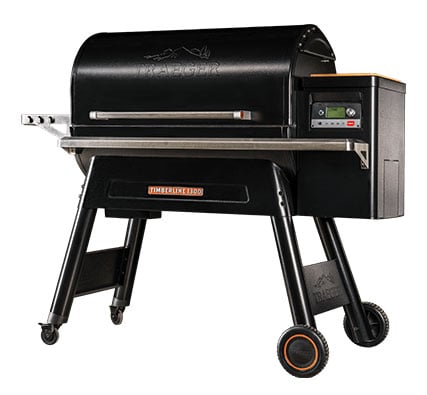 Features:
Timberline D2® Controller
WiFIRE® Technology
Timberline D2®Direct Drive
TurboTemp®
GrillGuide®
Three tiers of stainless steel grates
Double-wall stainless steel interior
Pellet Sensor
Magnetic Bamboo Cutting Board
Concealed Grease Management System
The best features are the flavor. Pellet cooking, especially with different pellet flavors, can add a level of taste second to none.
It is more of a "low and slow" smokey flavor. Chicken wings and ribs come out wonderfully.
This type of grilling is best for the all-day outdoor chef. Taking the time, having a couple of cold ones, and enjoying the day. If you want to grill burgers and dogs quickly, this grill is not for you.
Pros: You can set the precise temperature with a pellet grill. So you can follow a recipe more precisely.
Their newer grills have WiFire or the ability to control the temperature through an app on your phone.
Cons: Time. You need time. This grill only has a max temperature of 500 degrees whereas grills can heat to 1100 degrees. You cannot sear or char with a 500-degree oven, unlike charcoal.
Traeger Pro 575 Pellet Grill TFB57GLE - $799.99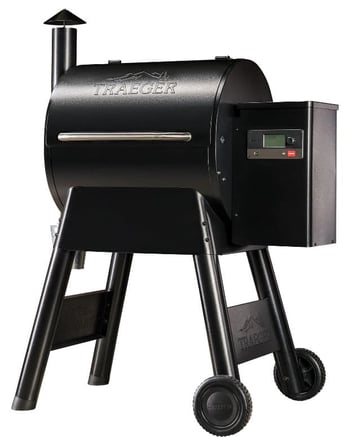 Features:
Pro D2® Controller - As easy as using an oven. Just turn the dial to the desired temp, hit ignite, and you're Traegering.
WiFIRE® Technology - Allows you to monitor and adjust your grill anywhere.
Pro D2® Direct Drive - Improves searing and allows you to cook low and slow or hot and fast.
TurboTemp® - Lightning fast start-up times and quicker recovery.
GrillGuide® - Step-by-step cooking instructions and alerts for over 1,500 recipes in the Traeger app.
Should You Buy a Traeger Grill? [Video]
Traeger Wood Pellet Grills Vs. Weber Charcoal Grills
Weber 14401001
Weber 18501001
Traeger TFB57GLE
Traeger TFB01WLE
Fuel
Charcoal
Charcoal, Gas Ignite
Pellet
Pellet
Best Feature
363 Cubic Ft
Cooking Area
Multi-Use Features
Turbo Temp
Pellet Sensor
Cooking
Quick Char
Several
Slow / Steady Single Level
Slow / Steady Single Level
Result
Char-Grilled
Depends on Use
Smokey Flavor
Smokey Flavor
Price
$165
$1999
$799
$1999
What Do Weber And Traeger Have In Common?
Full disclosure, these items don't have much in common except that they both are outdoor grilling units and alternatives to gas.
What Are Weber's And Traeger's Key Differences?
The biggest difference is the heat source.
Charcoal is for that quick sear and char flavor.
Pellets are more of a low and slow method for a smokey flavor and not put a quick sear on the product. More of a crust around the edges of the product.
With a charcoal grill, you can grill with the lid open. You would need to keep the lid closed for maximum results on the Traeger because it loses temperatures so rapidly.
Traeger Wood Pellet Grills Vs. Weber Charcoal Grills [VIDEO]
Key Takeaways
That would depend on your type of outdoor cooking. If you like to smoke the Traeger is the way to go. It will provide you with great results on ribs, wings, and briskets.
If you are having a cookout with family and friends, then charcoal will provide you with what you need. Charcoal will provide the speed of gas with better flavor and texture.
Additional Resources
Get the Yale BBQ Grill Buying Guide with features, specs, and inside tips to all the brands. Over 800,000 people have already found answers in a Yale Guide.
Related Articles:
Why Should You Trust Us?
It seems that every appliance review has nothing but glowing comments about almost every product, yet you read customer reviews and they are almost universally bad.
We are here to fill in the disconnect. We'll give you the best features, and the drawbacks as well, including reliability based on over 37,000 calls performed by our service team just last year. Our goal is to give you ALL the information so you know what's right for you.
Please consider subscribing or adding to the conversation in the comments below. We appreciate you stopping by.
A Note About Pricing
Pricing on this blog is for reference only and may include time sensitive rebates. We make every attempt to provide accurate pricing at time of publishing. Please call the stores for most accurate price.