Weber Genesis II vs. Weber Summit BBQ Grills for 2021 (Reviews / Ratings / Prices)
April 13th, 2021 | 6 min. read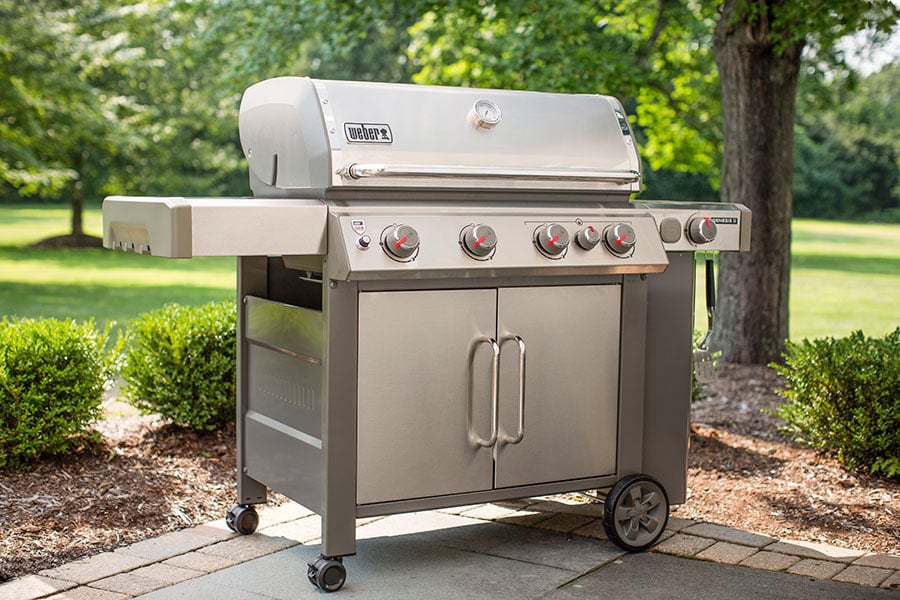 Let's say you want a better grill but don't want to spend a ton of money for a professional Lynx or Hestan.
Weber Genesis and Summit are two grills to consider in the $749-$2,749 price range.
Naturally, you would think the $2,749 grill is better than the $749. But that's not always the case.
In this article, you will learn the real differences in features and prices between both series. This article will guide you step-by-step on the pros and cons of both.
In the end, you will see a comparison between the best Genesis II series grill, the S-435, and the similar 4-burner Summit S-470.
Weber may manufacture the best value grills, but they are not always easy to understand for how to buy them.
So, let's dive in.
Weber Genesis II vs. Weber Summit BBQ Grills for 2021
First, let's look at both series and their models. We'll also show you how to read Weber's grill codes. They are a bit different for both series.
Weber Genesis II Series Grills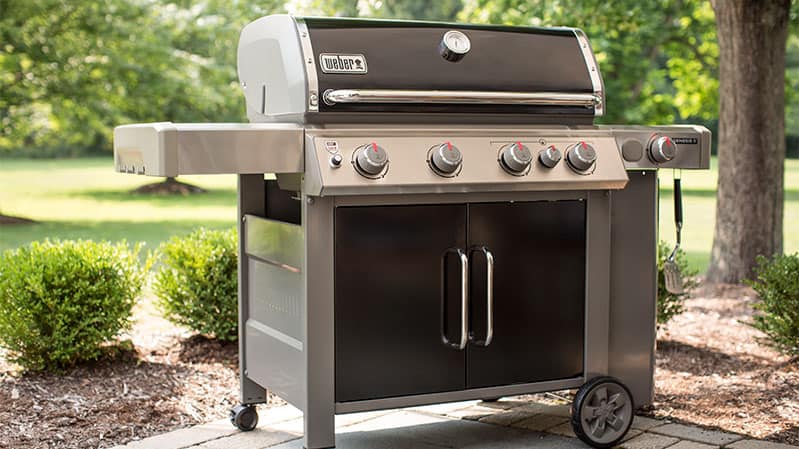 Weber Genesis II 4-Burner Grill
The Genesis II grills are Weber's most popular grill series.
Weber offers the Genesis series in three and four-burner sizes ranging in price from $749 to $1,249.
The Genesis grills have adequate burner output, temperature control, and light quickly.
Weber GS4 Grilling System
Three years ago, Weber changed their internal components for better one strike ignition, grease management, and system to reduce flare-ups, dubbed the GS4 Grilling System.
Ignition:

The GS4 has the ignition vs. the older snap jet ignition system. It ignites when you turn the knob.

Flare-ups:

The Genesis will have an extra row of flavorizer bars to increase heat and eliminate flare-ups.

Grease Management:

The grease tray is positioned in the middle for a more even flow. The Summit is a bit harder to clean.
The GS4 is only on the Genesis, not the more expensive Summit series. The Summit is still good, but the GS4 of the Genesis is a bit better.
Interpreting Weber Genesis Grill Codes
Each number and letter is significant.
E stands for an enamel finish
S means stainless
SE stands for stainless with an enamel finish in color (Copper, Red, Smoke, Ocean Blue).
SX stands for smart grill
3 or 4 stands for the number of burners
10 means open cart
15 is closed cart
30 means the grill includes a sear station, side burners with an open cart
35 means the grill includes a sear station, and side burners with a closed art
Here's a breakdown of the models and codes.
E-310 - Enameled lid and grates, three burners, open cart
E-315 - Enameled lid and grates, three burners, closed cart
SE- 310 - Enameled lid, three burners, stainless grates, open cart, better grates
E-330 - Enameled lid and grates, three burners, side burner and sear station, open cart
S-310 - Stainless lid and grates, three burners, open cart
E-335 - Enameled lid and grates, three burners, side burner and sear station, closed cart
SE-330 - Enameled lid, stainless grates, three burners, side burner, and sear station, open cart, better grates, and handle light
E-410 - Enameled lid and grates, four burners, open cart
SE-335- Enameled lid, stainless grates, three burners, side burner, and sear station, closed cart, better grates, and handle light
S-335 - Stainless lid and grates, three burners, side burner and sear station, closed cart
E-435 - Enameled lid and grates, four burners, side burner and sear station, closed cart
S-435 - Stainless lid and grates, four burners, side burner and sear station, closed cart
SX-435: Smart Grill: Stainless lid and grates, four burners, side burner, and sear station, closed cart, lit knobs, and handle light
What's the Difference Between Weber Genesis II Models?
The difference between Genesis models is the number of burners, burner output, and cooking area.
A Weber Genesis grill with three burners has a 39,000 BTU output versus four at 48,000 BTU.
As for the size difference, with a four-burner grill, you have 646 square inches vs. 513 for the three burners.
Then it's closed versus open cart.
A stainless body and more durable stainless grates are the next steps up.
Weber halted production on several grills so that the next better Genesis would be the 35 designations in enamel (E), stainless (S), and Special Edition (SE) with color and thicker, stainless grates.
You will see a comparison of the best Genesis 4 burner grill against the four-burner Summit.
Most Popular Weber Genesis II Series Grill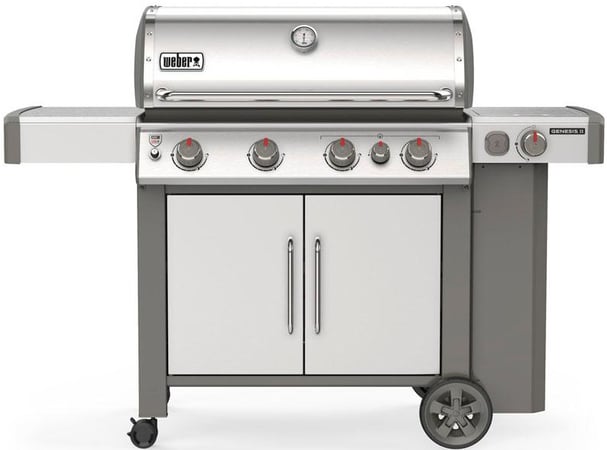 Features:
GS4 High-Performance Grilling System
Stainless Steel Flavorizer Bars
Grease Management System
7mm Diameter Solid Stainless Steel Rod Cooking Grates
Stainless Steel Lid
iGrill 3 Compatible (Accessory Sold Separately, Not Included)
Side Mounted Gas Tank
Built-in Lid Thermometer
Grill Cabinet
Stainless Steel Doors
Stainless Steel Heat Deflectors
Infinity Ignition
Weber Summit Series BBQ Grills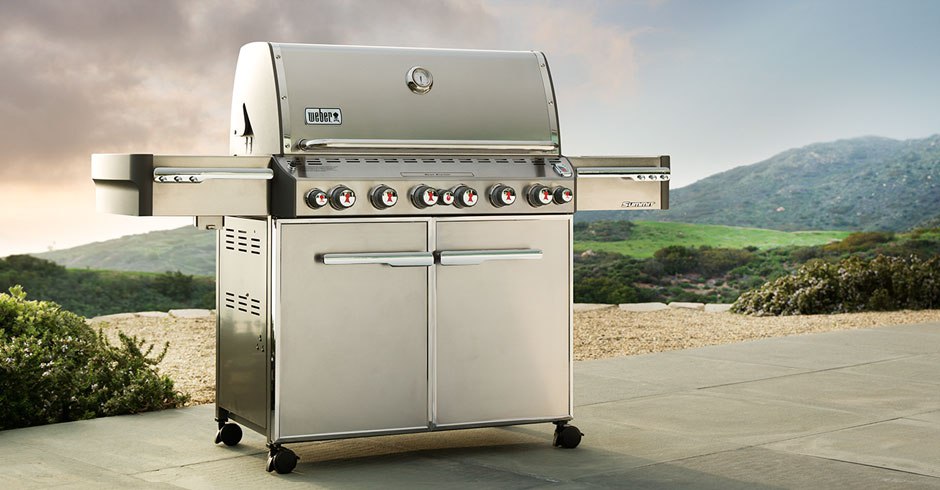 Weber Summit BBQ Grill
Weber's Summit grills are the largest and most featured Weber series at 4 and 6 burners, with a smoker, side burners, and a rotisserie.
Six-burner Summit grills have 60,000 BTU output and 624 square inches of grilling area.
Four-burner Summit grills have 48,000 BTU and 468 square inches.
Both have a rotisserie burner of 10,000 BTU, a sear of 10,600, and a smoker basket to infuse flavor at 6800 BTU.
The Summit series features the only Weber grills made in the US and offers built-in options designed for stone or brick.
Unlike Genesis, it does not incorporate the GS4 grilling system.
Interpreting Weber Summit Grill Codes
All Summits have closed carts.
E-470 means enamel with 4 burners
S-470 means stainless with 4 burners
E-670 means enamel with 6 burners
S-670 means stainless with 6 burners
S-460 means stainless with 4 burner and built-in
S-660 means stainless with 6 burners and built-in
Most Popular Weber Summit Series Grill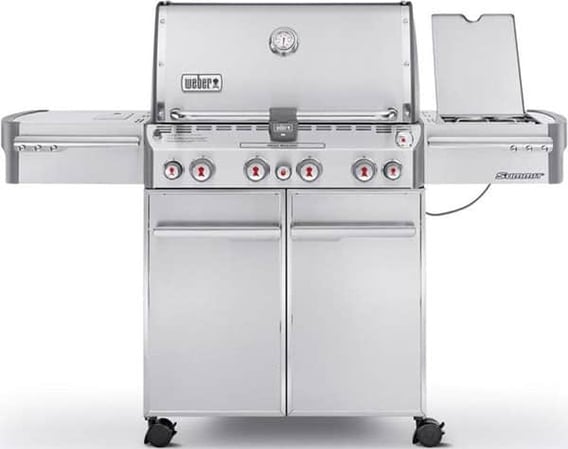 Features:
Primary cooking area = 468 square inches
Warming rack area = 112 square inches
Total cooking area = 580 square inches
9.5mm diameter stainless steel rod cooking grates
Stainless steel Flavorizer bars
48,800 BTU-per-hour input main burners
12,000 BTU-per-hour input flush-mounted side burner
10,600 BTU-per-hour input infrared rear-mounted rotisserie burner
10,600 BTU-per-hour input Sear Station burner
6,800 BTU-per-hour input smoker burner and stainless steel smoker box
Tuck-Away rotisserie system with flip-up motor and separate spit and fork storage in the enclosed cart
Snap-Jet individual burner ignition system
One Grill Out handle light
Four stainless steel burners
Weber Genesis vs. Weber Summit BBQ Grills: What are the Differences?
Smart Functionality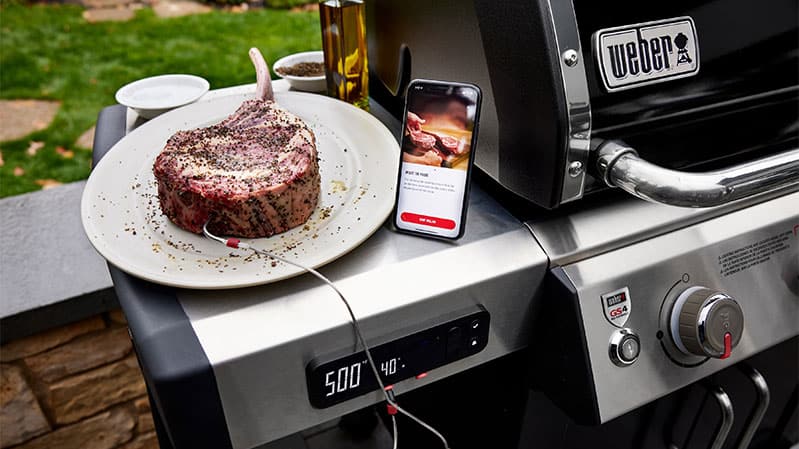 This year, the Genesis and the lower-priced Spirits have Smart Grill functionality. It incorporates their iGrill accessory and shows the temperature right on the grill.
In terms of smart functionality, Webers iGrill is excellent. Aside from Lynx, the iGrill is the best cooking app for all appliances.
You will receive a text on your phone when to flip the burger or remove your food by measuring the internal temperature through a wireless meat probe.
You also have access to recipes and can monitor your food as well.
The iGrill probes can be purchased as a $99 accessory and are compatible with any grill.
You can buy iGrill for the Summit, but the temperature won't display on the grill like it does for the Genesis smart grills.
Built-In Options
Summit allows you to build a grill into an island, whereas Genesis does not.
6 Burner:

Summit has the largest six burners. Genesis has four max.

3 Burner:

Genesis II will have the less expensive, smaller three-burner grills from $749-$999.
Colors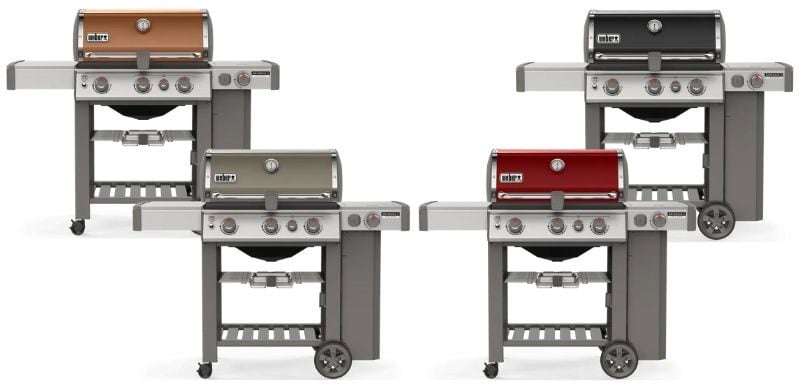 Colors other than black and stainless are only available in Genesis like Ocean Blue, Copper, Crimson, and Smoke.
Many of those colors will be hard to order due to availability this year.
For comparing size and features, the Weber Genesis II S-435 vs. the Summit S-470 is the closest comparison to highlight the differences between the two grills.
Price
Genesis II S-435 $1,249 vs. Genesis Summit S-470 $2,079.
Overall BTU Output
For both the S-435 and S-470, the BTU output is 48,000, so the output is not different.
Size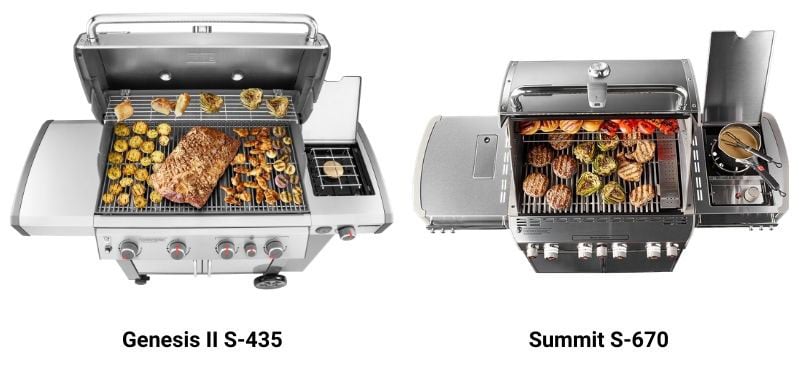 The Genesis S-435's grilling area is 646 square inches with 198 inches of a fold-down side burner for a total of 844 square inches.
The Summit S-470's grilling area is 468 square inches with 112 inches of a fold-down side burner for a total of 580 square inches.
Interesting, but the Genesis is 40% larger, which is significant.
Rotisserie Burner
Summit has a 10,000 BTU infrared burner, while Genesis does not have any burner on the top.
Infrared is intense direct heat, whereas diffuse gas heat.
For roasting using a rotisserie, infrared is excellent because you have direct heat on the top and the heat from the grill below.
Smoker Box
Summit has a 6,800 BTU smoker so that you can add wood for more flavor. Genesis does not have a smoker.
Sear Zone
The S-470 has a 10,600 BTU Sear Zone, while the S-435 has a 9,000. The difference is not that significant, mostly because it's just another row of burners.
The pro grills like Lynx and Hestan use infrared for that char and black lines on your food.
You will have increased heat on both, but not a true sear.
Weber Genesis vs. Summit: Which Grill Should You Buy?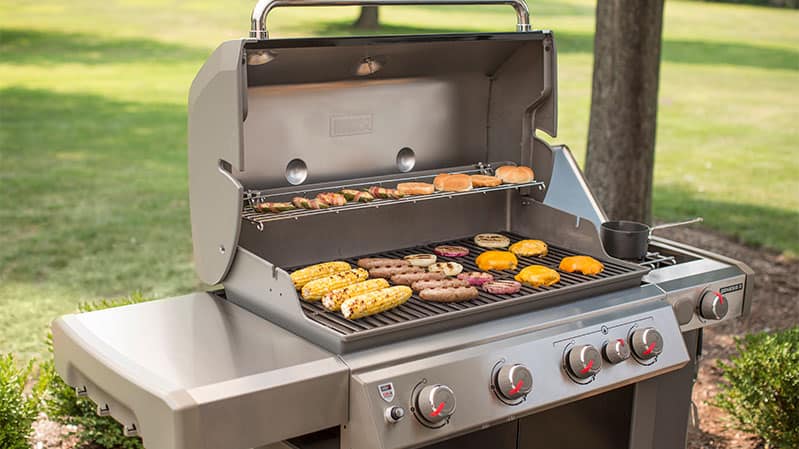 Weber Genesis II Series Grill
It depends on how you grill. They both have the same max output.
The Genesis has a larger size in terms of square inches by almost 40%. It's also 40% cheaper at $2099 vs. $1249.
The Genesis has the newer GS4 system for faster lighting, another set of Flavorizer bars to reduce flare-ups, and slightly better grease management.
However, the Summit allows you to do more on the grill.
You can effectively use a rotisserie and have your food cooked evenly. Yes, you can probably buy an accessory for Genesis, but it still will not have the burner in the back.
You can also infuse your food with flavor with the smoker box.
The answer: It depends.
Do you want the size and affordability of Genesis? Or the ability to cook differently with the Summit?
Call us with any questions at 617-765-7196
Additional Resources
Get the Yale BBQ Grill Buying Guide with features, specs, and tips to all the brands. Over 900,000 people have already found answers in a Yale Guide.
Related Articles:
Why Should You Trust Us?
It seems that every appliance review has nothing but glowing comments about almost every product, yet you read customer reviews and they are almost universally bad.
We are here to fill in the disconnect. We'll give you the best features, and the drawbacks as well, including reliability based on over 37,000 calls performed by our service team just last year. Our goal is to give you ALL the information so you know what's right for you.
Please consider subscribing or adding to the conversation in the comments below. We appreciate you stopping by.
Steve Sheinkopf is the third-generation CEO of Yale Appliance and a lifelong Bostonian. He has over 38 years of experience in the appliance industry, and he is a trusted source of information for consumers on how to buy and repair appliances.

Steve has also been featured in numerous publications, including the New York Times, Consumer Reports, The Boston Globe, Bloomberg Radio, the New York Post, The Wall Street Journal, and Entrepreneur, for his knowledge of how to buy appliances and appliance repair.

Steve is passionate about helping consumers find the best appliances for their needs, and he is always happy to answer questions and provide advice. He is a valuable resource for consumers who are looking for information on appliance buying, repair, and maintenance.

Despite being the worst goalie in history, Steve is a fan of the Bruins and college hockey, loves to read, and is a Peloton biker. The love of his life is his daughter, Sophie.
A Note About Pricing
Pricing on this blog is for reference only and may include time sensitive rebates. We make every attempt to provide accurate pricing at time of publishing. Please call the stores for most accurate price.