Should You Buy a DCS Series 9 BBQ Grill?
The DCS is another powerful professional (pro) grill.
However, it claims to be an all-sear grill, meaning you can sear on every inch, rather than buying a pro with a sear element like Hestan or Lynx. It is a bold claim because DCS does not use infrared technology like their main competitors, Lynx and Hestan.
So, we tested the DCS by cooking steak tips, burgers, hot dogs, zucchini, onions, peppers, and then roasting a chicken on their rotisserie. Then we fed our unofficial test market of salespeople and customers. You will see the results of those tests.
It is an interesting grill, but not for everyone. Then again, you may have to buy DCS for other reasons, which will be discussed later in this article.
Short on time? Get our free BBQ Buying Guide
DCS Series 9 BBQ Grill Review
DCS's literature shows their BBQ grills seem identical to other professional grills. DCS's rotisserie can hold 50 pounds and has an 18,000 BTU (British Thermal Units) infrared direct heat source behind it. That is excellent.
Yet, it's identical to the rotisserie of Hestan and Lynx. Hestan is variable 14,000-18,000 BTU.
Intuitive lighting is a notable feature because many people do not have an adequate lighting plan for a grill. However, every grill has incorporated lights, from Weber to professional grills.
Another feature DCS focuses on is the easy lifting hood. Every hood is easy to lift. Hestan will also stay in place.
You will be able to slow cook on the secondary cooking space near the infrared burner. It does not have any burners directly under it. We will talk about the ability to cook low later in the article.
DCS Series 9 BBQ Grill Models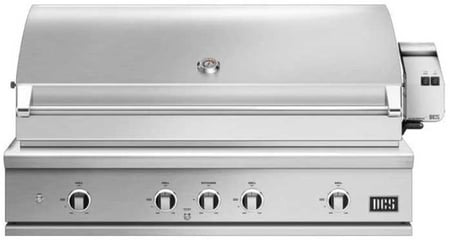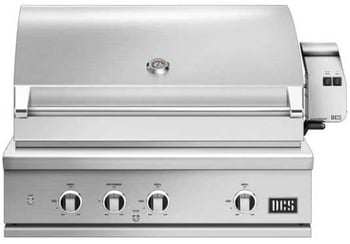 What Truly Separates the DCS Series 9 Grill from Other Professional BBQ Grills
The grill is all type 304 metal with 25,000 BTU burners. Only Kalamazoo, Lynx, and Hestan have similar construction and BTU output.
Ceramic Rods
However, DCS has more ceramic than any other grill. These ceramic rods effectively retain heat and stay hotter than almost any other grill. Kalamazoo has higher heat in their hybrid grills because of their charcoal and wood drawer.
You have a hotter grill, but also the rods effectively evaporate grease as well. While you do not have an infrared burner, this grill can sear effectively on every part of this grill.
Read More: Best Professional Outdoor BBQ Grills
Differences Between DCS Series 7 and Series 9 BBQ Grills
The overall construction of both series is the same. The Series 9 can be angled or flat for different types of cooking. This is an important addition because food can roll on the 7 series grates.
The Series 7 has a smoker burner, while the Series 9 has a smoker tray. You will learn about the smoker tray later in the article.
Available Sizes
The Series 9 is available in 36 and 48-inch sizes. The Series 7 is available in a 30 inch as well.
Let's see the cooking results.
DCS Series 9 BBQ Grilling Test
Is DCS an All-Sear Grill?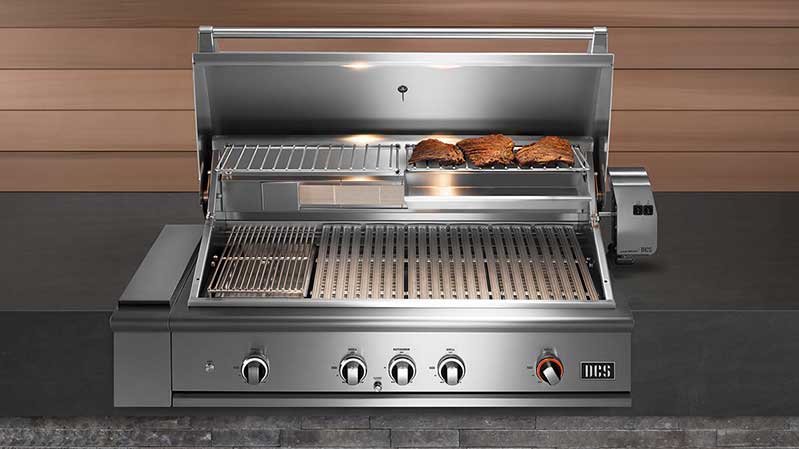 DCS Series 9 BBQ Grill Burners
Definitely. It burned the asparagus in under 6 minutes. You had a sear on the steak for 6 minutes. Like others, DCS is 25,000 BTU per burner.
However, the ceramic rod elements absorb and reflect a ton of heat. Both Hestan and Lynx have briquettes, but DCS has significantly more ceramic than both the others.
Temperature Control
Because the ceramic rods maintain the heat, you do not have much control at lower temperatures with DCS. It reminded me more of the Lynx infrared all sear than a regular pro grill. For meat, it cooks quickly.
However, it would help if you stayed on top of the less dense and more water-soluble foods like fish, fruits, and vegetables. We shut the grill off for lower temperatures, waited, and then turned it back on.
Cleanability
The grease management system is excellent. In fact, after cooking 30 or so steak tips, the tray had zero grease. The 20 or so burgers created a small pool of grease, but much less than you would expect.
Unfortunately, the rotisserie burner is situated lower than a Lynx, so it's hard to clean the back of the grates.
Cleaning is easy with a hot grill. To clean the back of the grill, you would have to wait until it's cool, then lift the grate and scrape it. It's mildly annoying and somewhat inconvenient.
Does the Smoker Tray Work?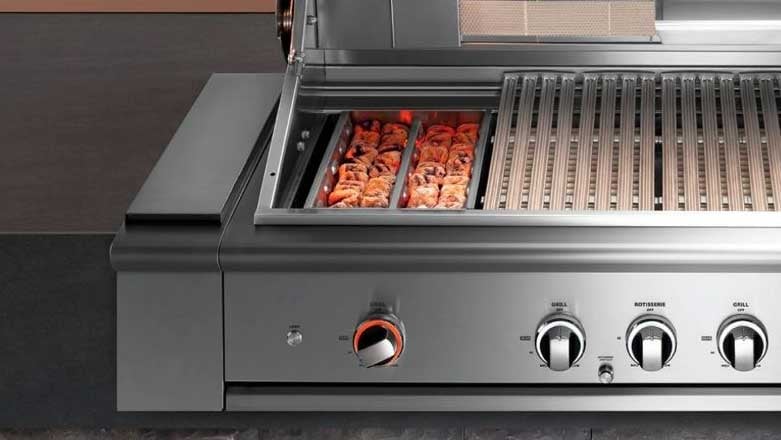 DCS Series 9 BBQ Grill Smoker Tray
I would have bet no. However, the smoker tray does infuse flavor on the grilling surface. You can control the smoke by opening and controlling the aperture of the tray to let more smoke or less into the BBQ.
The smoker tray was a pleasant surprise. The key could be that the tray is situated directly on the ceramic burners. It far surpasses the results from the series 7 which is a slide in drawer.
Rotisserie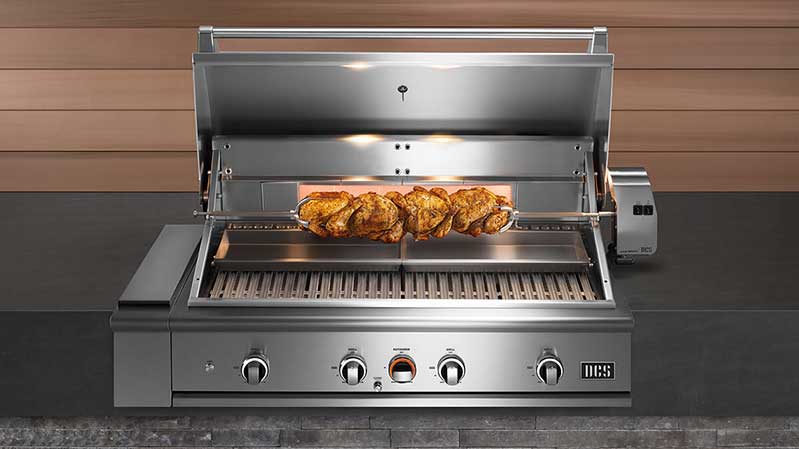 DCS Series 9 BBQ Grill with Rotisserie
The rotisserie works well. Then again, it can hold 50 pounds, and it has an 18,000 BTU infrared burner behind it.
However, you can also smoke the chicken simultaneously with the smoker tray. It does taste great and will be better than the others without an effective smoking accessory.
DCS Series 9 Grill Availability
Last year, Series 9 was not available. This year, at least in Boston, DCS is the only professional grill readily availability. Lynx will have issues until 2023. Hestan and Kalamazoo are quoting eight-week lead times.
Read More: How Bad Is the Appliance Supply Chain?
Should You Buy a DCS Series 9 BBQ Grill?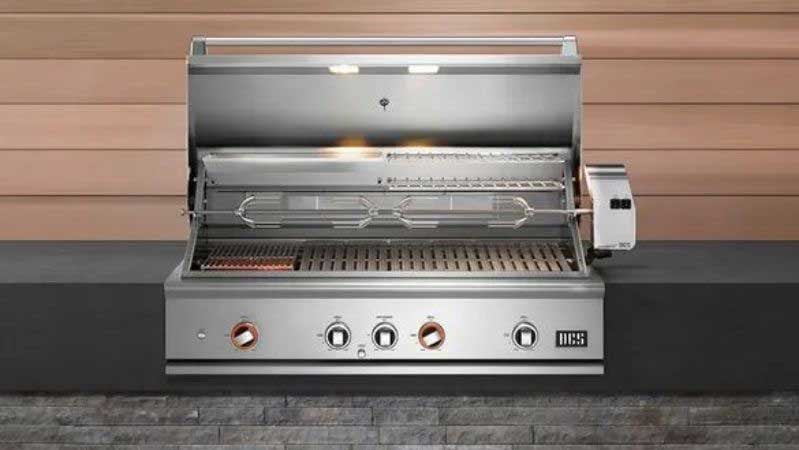 DCS Series 9 Built-In BBQ Grill in 48 Inches
Yes, you may have to buy a DCS grill, because it may be your only available option. It is a powerful, cleanable grill.
If you cook tons of meat, then DCS is great for you. The smoker tray is a unique way to infuse your food with more flavor.
However, be careful when cooking at lower temperatures or with less dense, water-soluble food. DCS is an all-sear professional grill, but it does not cook well at lower temperatures.
As I finished writing this, the grill was still hot one hour after being shut off.
Additional Resources
Get the Yale BBQ Grill Buying Guide with features, specs, and tips to all the brands. Over1 million people have already found answers in a Yale Guide.
Related Articles:
Why Should You Trust Us?
It seems that every appliance review has nothing but glowing comments about almost every product, yet you read customer reviews and they are almost universally bad.
We are here to fill in the disconnect. We'll give you the best features, and the drawbacks as well, including reliability based on over 37,000 calls performed by our service team just last year. Our goal is to give you ALL the information so you know what's right for you.
Please consider subscribing or adding to the conversation in the comments below. We appreciate you stopping by.
A Note About Pricing
Pricing on this blog is for reference only and may include time sensitive rebates. We make every attempt to provide accurate pricing at time of publishing. Please call the stores for most accurate price.