Hestan Aspire Vs. Weber Summit BBQ Grills (Reviews / Ratings / Prices)
There are tons of great grills at every price range.
Weber has its popular Spirit and Genesis series with decent output under $1,000. Lynx has its Professional All Sear grill at $7,219.
In the middle, it's tough to decide with a large number of brands and options out there.
We have tried and stopped selling six different brands, just in the last three years. Just because it says, 23,000 BTU output doesn't mean it grills well.
For example, our chef once placed her hand on a working grill to demonstrate the cold spots and unevenness of cooking of that particular brand.
If you live in Massachusetts, you should consider buying a better grill (and covering it)to prevent rusting.
Two of your best options for a better grill without spending $7,000 are the Hestan Aspire and the Weber Summit.
In this article, you will learn about both brands, their features, and then a comparison at the end. You will also learn a lot about grills in general and which may be better to buy for you.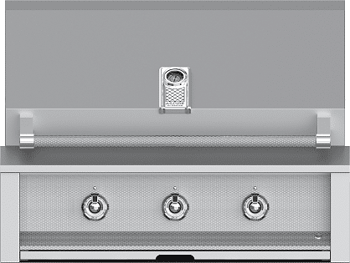 Features:
647 Sq. In. Primary Grilling Surface
83,000 Total BTUs
Ceramic Infrared Rotisserie Burner
External Rotisserie Motor
Built-In: EMBR36 - $3,899
Hestan Grill Cart ECD36 - $949
Haven't heard of Hestan? It's a newer grill that has been around for three years. However, they are a subsidiary of the powerhouse commercial brand, Meyer
Short on time? Get our free BBQ Buying Guide
They debuted the only truly colorful grills in the industry with diamond-cut grates to retain heat for a better sear.
They also have the only variable temperature for an infrared rotisserie burner. Its max output is the hottest at 18,000 BTU.
Hestan is a beautiful grill. Somehow you don't think of a style for grilling.
The Aspire is Hestan's less expensive series. It's pretty similar to their main series.
The unit features 23,000 BTU burners instead of 25,000 like their mainline. The infrared isn't as hot for the rotisserie at 14,000 Versus 18,000 BTU. They also use regular stainless steel instead of diamond-cut grates.
It's still a decent consideration at almost half the price of their regular unit.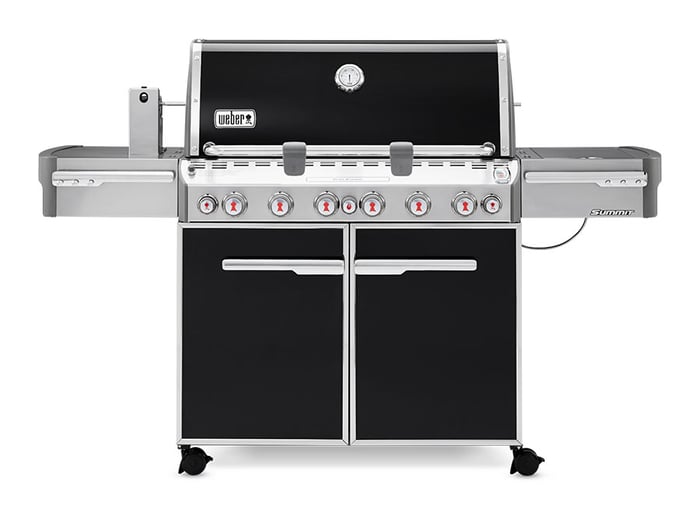 Features:
Summit E-670 Series
60,000 BTU
624 sq. in. cooking area
6 Burners
Free Delivery
Dimensions - Lid Open: 57.1" H x 74.1" W x 30" D
Dimensions - Lid Closed: 50.5" H x 74.1" W x 26.5" D
Weber is the most popular grill sold.
Their products last longer and perform better than other similarly priced grills. It's that simple.
In 2018, Weber launched its GS4 initiative for better ignition, fewer flareups, and better grease management on its Spirit and Genesis grills.
Curiously enough, Summit wasn't included in that initiative.
Summit is still Weber's best grill from a feature standpoint.
Let's look: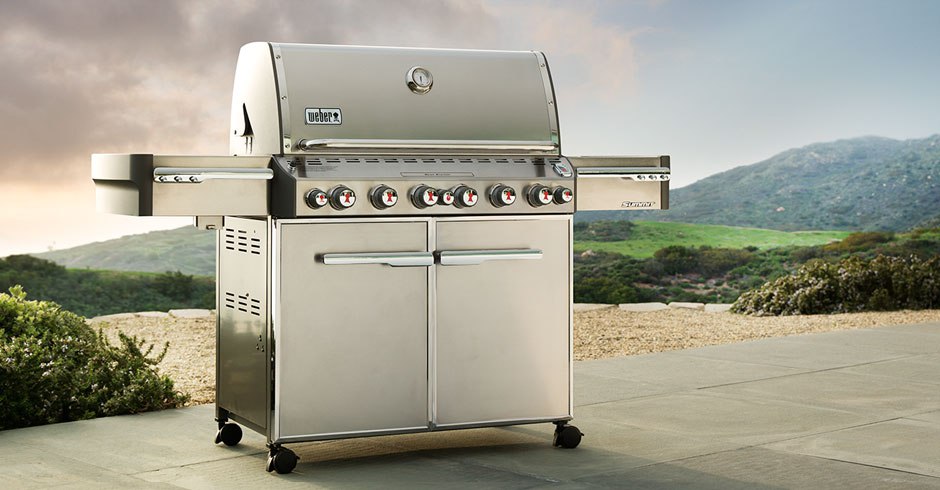 It has an impressive array of features with 60,000 total BTU burners plus sear station, side burner, rotisserie burner, and sear station.
From an output standpoint, it is competitive with a professional grill.
Or so it seems.
Hestan Aspire Vs. Weber Summit BBQ Grills
The total BTU is similar, if not higher, for Weber. The size is similar as well at 647 square inches for the Hestan versus 624 for the Weber.
However, the Hestan is three 23,000 BTU burners versus six 10,000 BTU burners for the Weber plus the sear station.
Hestan will be able to cook faster because of the hotter individual burner.
Infrared Vs. Traditional Burners
We wrote a post about this last week. Infrared is a hotter, more direct heat than a traditional gas burner. Gas diffuses the heat, whereas infrared direct it.
Weber also uses a sear station. It is just another row of burners between their regular burners for added heat.
Hestan uses the infrared. Along with Lynx, Hestan has a varying infrared between 400-1000 degrees. You can sear a piece of steak at a higher temperature or fruit and veggies at a lower temperature.
Burner Systems
Hestan, like most pro units, uses ceramic briquettes to increase surface heat and limit flare ups. Their briquettes are easy to clean because you just need to flip them.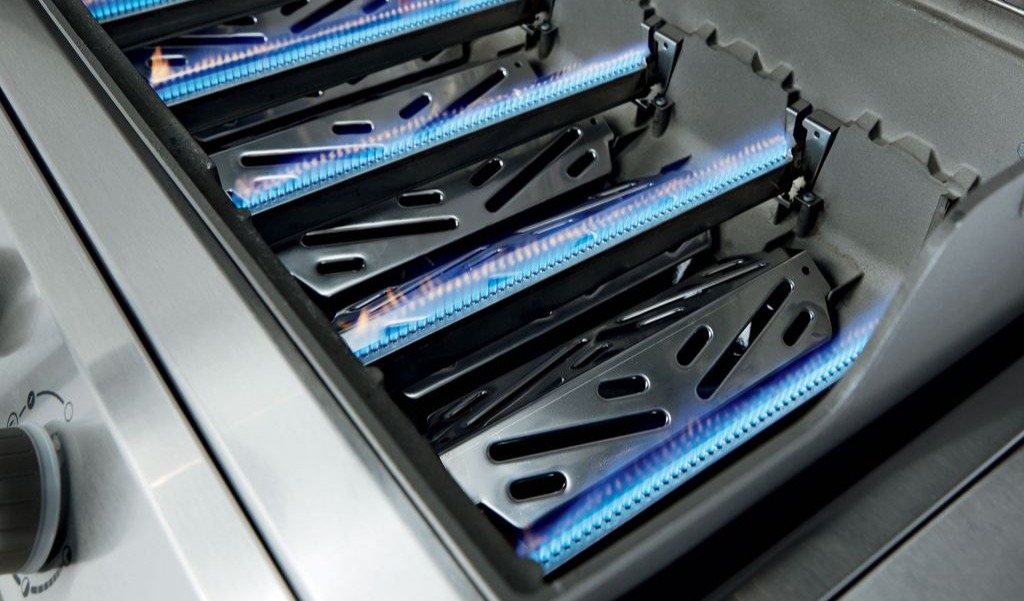 Weber Summit BBQ Grill Burners and Flavorizer Bars
Weber uses stainless steel Flavorizer Bars. The bars limit grease flareups.
Grill Options & Accessories
Rotisserie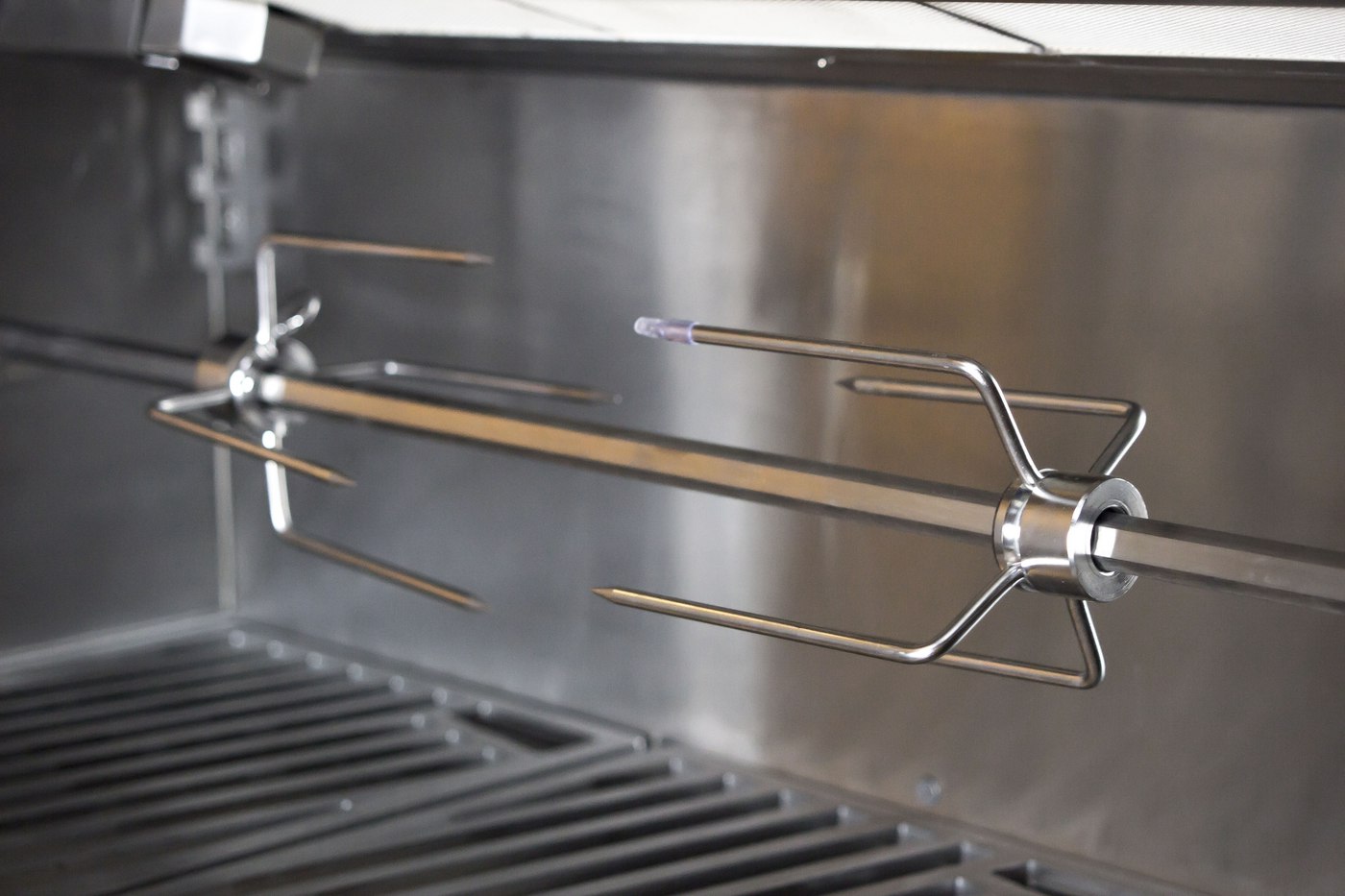 Hestan BBQ Grill Rotisserie on Display at Yale Appliance in Boston
Professional grills seem to pride themselves on how much weight their rotisserie will hold.
Hestan will hold 40 pounds with a 14,000 BTU infrared behind the rotisserie for additional heating and evenness of cooking.
Weber will hold about 20 pounds and has a 10,600 BTU infrared burner.
Smoking
Weber has a 6800 BTU smoking tray located slightly under the grill. Hestan has a tray accessory. You would add charcoal to the tray for smoking.
I don't think either should be considered a smoker per se, but both can add a smokey flavor.
Side Burners
Hestan Built-In Grill Display Featuring Side Burners on Display at Yale Appliance in Hanover
Weber has side burners. You have to buy a set from Hestan for an additional $1000-$2,500 depending on size.
Weber Summit BBQ Grill Side Burners
Reliability & Warranty
Both brands have excellent reliability and warranties.
Most Reliable Outdoor BBQ Grills For 2020
| | |
| --- | --- |
| | Serviced QTY |
| Lynx | 17 |
| Hestan | 5 |
| Wolf | 2 |
| Kalamazoo | 1 |
| Weber | 16 |
| Traeger | 0 |
| Grand Total | 41 |
The Weber warranty is ten years on parts excluding normal wear and tear. Hestan is unique with a lifetime warranty on the burners, rotisserie, and stainless construction.
It's a great warranty. You may need it if you live in a coastal city and leave it uncovered. Given time, salt air can eat through most anything.
Hestan Aspire Vs. Weber Summit: Which do you choose?
First, both are very good grills. They have similar sizes.
Hestan is almost $2,000 more than the Summit plus the cost of the burner.
However, it has better burners, and the ability to truly sear any food from steak to veggies. It's one of two grills with a variable sear.
You also have a better rotisserie with a hotter rotisserie burner.
It's a better grill with a better warranty.
Is that worth $2,000 to you?
Additional Resources
Get the Yale Professional Grill Guide for features, specs and BTU outputs of all the grills including Weber, Napoleon, Lynx, Viking, Alfresco, Kalamazoo, and Wolf. Over 800,000 people have read a Yale Guide.
Related Articles:
Why Should You Trust Us?
It seems that every appliance review has nothing but glowing comments about almost every product, yet you read customer reviews and they are almost universally bad.
We are here to fill in the disconnect. We'll give you the best features, and the drawbacks as well, including reliability based on over 37,000 calls performed by our service team just last year. Our goal is to give you ALL the information so you know what's right for you.
Please consider subscribing or adding to the conversation in the comments below. We appreciate you stopping by.
A Note About Pricing
Pricing on this blog is for reference only and may include time sensitive rebates. We make every attempt to provide accurate pricing at time of publishing. Please call the stores for most accurate price.