Lynx Napoli vs. Kalamazoo Artisan Outdoor Pizza Ovens
When building an outdoor kitchen, you may want to consider a pizza oven. You can cook a pizza quickly, but these ovens are not limited to just pizza.
You can use them for cooking desserts, roasts, steaks, plus so much more.
Cooking fatty foods is better in a pizza oven because they don't flare up like cooking in a grill.
There are many brands, but Kalamazoo and Lynx are considered the best.
Both options are gas-powered, with options for natural gas or liquid propane.
One uses infrared heat, while the other has an open flame towards the back of the oven. This will impact the cooking style and timing.
In this article, I will explain how Lynx Napoli and Kalamazoo Artisan pizza ovens work and what will be better for your cooking style.
You'll also see my cooking tests between the two.
There's a lot to cover, so let's get started.
Short on time? Get our free BBQ Buying Guide
Best Outdoor Pizza Ovens: Kalamazoo Artisan and the Lynx Napoli
First, let's look at the two pizza ovens I used for my tests.
Best for the Quickest Results: The Kalamazoo Countertop Artisan Pizza Oven AFPO-C – $7,495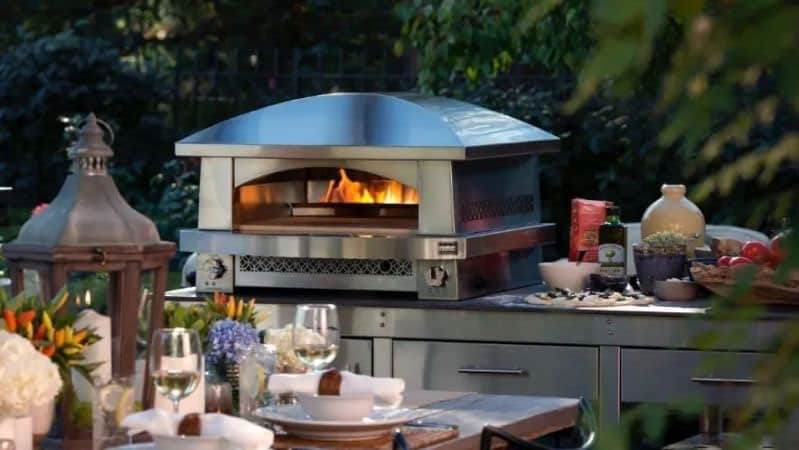 The Kalamazoo Artisan pizza ovens are a favorite for customers designing an outdoor kitchen. You can buy it as a countertop pizza oven (shown above) or built-in.
The Kalamazoo Artisan Fire Pizza Oven mimics the heat of a wood-fired pizza oven with its large open flame. It's the fastest pizza oven cooking a pizza in less than 3 minutes after a 45-minute preheat.
Unlike a wood-fired pizza oven, the Kalamazoo is responsive and gives you control of the temperature.
Features:
Available in countertop (pictured), cart, and built-in.
Low-maintenance stainless steel construction
Easy-clean debris tray
24" x 18" cooking deck
Fuel type: Wood, Natural Gas, or Liquid Propane
BTU Output: 52,000 BTUs NG or 35,000 BTU's LP
Fun fact about Kalamazoo: Every Kalamazoo team member who works on a product will sign the inside of the door to show each product is handmade.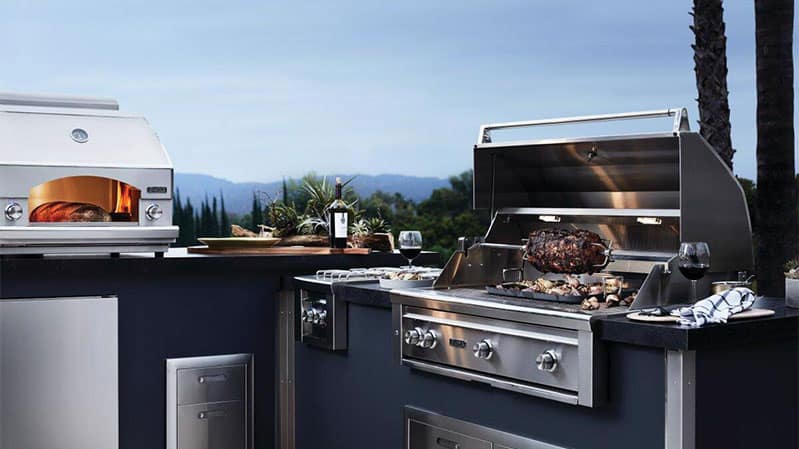 The Lynx Napoli is a 30-inch pizza oven perfect for grill lovers and pizza lovers alike. With an infrared heating system, this oven can preheat to 700°F quickly to cook a pizza in 20-minutes.
The 400 sq. ft. cooking surface pulls forward for easy access to remove your pizza from the oven. This also makes it the most accessible pizza oven to clean.
You can also customize the top chimney to vent to the front or the rear of the oven, depending on your outdoor kitchen design.
Features:
Available in countertop, cart (pictured), and built-in.
400-square-inch cooking surface
Preheats quickly to 700°F for a quick pizza cook
Variable infrared heating system
Reversible top chimney vents toward front or rear
Interior light, blue LED control knob illumination
Includes a 12.25" x 20" Pizza Peel
Fuel Type: Liquid Propane or Natural Gas
Lynx Napoli vs. Kalamazoo Artisan Outdoor Pizza Ovens
Quality
Both the Lynx and Kalamazoo are considered the best pizza ovens. The Kalamazoo will cook your pizzas faster and give you a better bottom crust.
The Lynx Heats up in 15 minutes and has a rolling track that the pizza stone sits on, which can be easily brushed off for a quick cleanup.
Fuel Type
Both can operate on either liquid propane or natural gas.
Performance
Both ovens performed well. They cooked the pizzas in a reasonable amount of time, but the pizzas cooked in the Kalamazoo had a better bottom crust.
The pizzas cooked in the Lynx had great color all around and on top, but the bottom of the pizza was always left a little soft. It was the same for all the pizzas from the first one I cooked to the last one.
Features
The Lynx has a drawer-style pizza stone that allows you to pull easily pull the pizza in and out of the oven.
Lynx also has two high-powered infrared burners on either side controlled by a knob for various high to low settings.
Cleaning
Both are fairly easy to clean, but the Lynx pull-out drawer makes it a lot easier to brush the food debris out.
Whereas in Kalamazoo, you must wait for the pizza oven to cool down before you can reach in to brush off all the debris.
Price
The Lynx is about half the price of the Kalamazoo pizza oven.
Both do a great job, but the bottom crust of the pizza coming out of the Kalamazoo oven was crispier than the Lynx pizza.
Overall, the Lynx was easier to use with less maintenance. I didn't have to rotate the pizzas, and the cleanup was super easy.
How We Tested the Best Outdoor Pizza Ovens
I tested the outdoor pizza ovens by cooking several pizzas consecutively. I allowed both ovens to preheat for at least 20 minutes before placing the pizzas in the oven.
The Cooking Tests and Results
The pizzas cooking in the Lynx were simply placed on the pizza stone drawer and pushed into the cavity of the oven.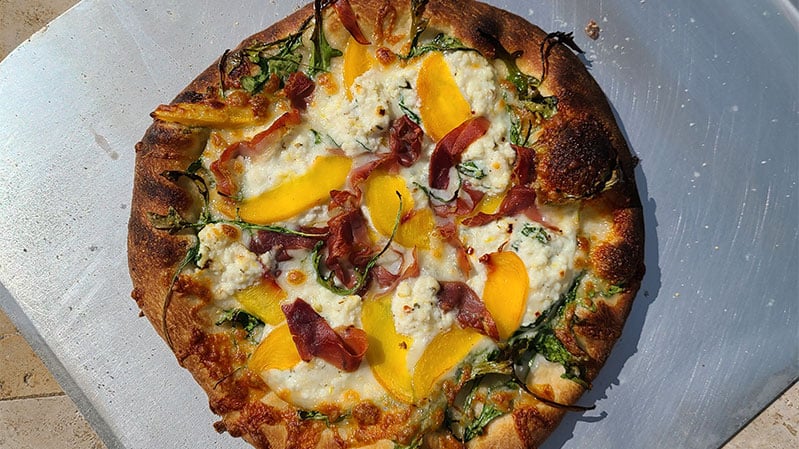 Lynx Napoli Pizza Oven Results
The infrared burners on either side crisped the crust and tops of the pizzas perfectly but left the bottom a little soft.
The pizzas cooked in the Kalamazoo were easy to slide in with a pizza peel.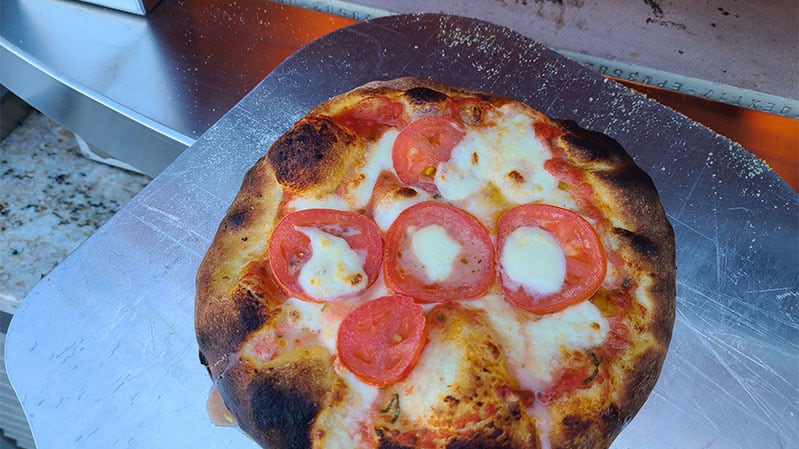 Kalamazoo Artisan Pizza Oven Results
Because of the open flame, the side of the pizza that was closest to the flame would cook faster, so they did need to be rotated every 3-4 minutes.
Kalamazoo Artisan Pizza Oven Requires Pizza to be Rotated
You can also cook other foods in either of these ovens, as they can reach temperatures upwards of 600 F. They will impart another dimension of char and flavor into your food that would be similar to a grill.
Which Outdoor Pizza Oven Should You Buy?
When trying to decide between the two different pizza ovens, you will want to consider a couple of factors:
Speed of preheating

Speed of Cooking

Ease of use

Ease of cleaning

Storage/Maintenance
Out of the two pizza ovens I tested, I would say they both have excellent qualities
Why You Should Consider a Lynx Napoli Pizza Oven
Lynx is a powerful oven at 40,000 BTU with two infrared burners. It is simple to clean, simple to load, and will give you a great crust.
You can adjust the temperature for the infrared burners from high to low very quickly, plus you can choose whether you want to turn both on or just one, depending on what it is you're cooking.
Keep in mind, you will be getting a slightly less crispy pizza bottom with this option.
The pizza stone is constructed of a thermal shock-resistant material for heat retention and durability.
The top of the oven is constructed with a solid refractory concrete dome allowing it to retain heat and perform like a traditional wood-burning oven.
There is also an exhaust vent at the top towards the back of the oven. This allows the heat to circulate through the oven's cavity before exiting from the back.
You can also adjust the direction of the chimney vent to vent back or to the front. The door of the oven is removable depending on what you want to cook.
Why You Should Consider a Kalamazoo Artisan Pizza Oven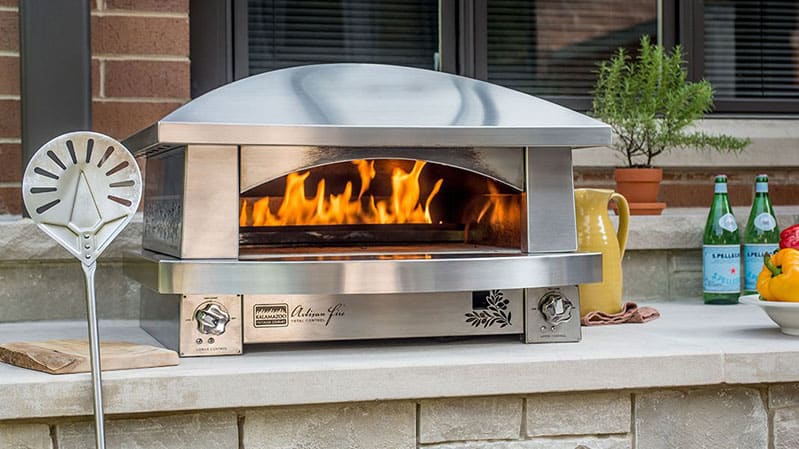 Kalamazoo Artisan Outdoor Pizza Oven for the Countertop
The Kalamazoo is at a higher price. It is the most expensive, like their grills.
It's a powerhouse at 43,000 BTU with two individually controlled burners that allow you to control the heat from the top and bottom.
This oven can reach temperatures from 350 F to 800 F with a hollow-core ceramic cooking deck extremely responsive to change in temperature.
This oven is battery-powered, so it does not need to be plugged in either.
The pizzas will have to be rotated more often in this oven, as they would with a traditional wood-fired pizza oven. (Editor's Note: I love wood-fired pizza, they are always rotating it).
However, you will be able to achieve the ideal overall texture from top to bottom.
You are not limited to just making pizzas in this oven. You can easily roast meats and vegetables and bake denser cakes and desserts.
Key Takeaways
Overall, both ovens will give you a great range of food to cook. The Lynx will give you better control of the heat, and with the sliding rack, it becomes a seamless cooking process.
The Kalamazoo is powerful and aesthetically compact, giving you a minimal silhouette for your kitchen design when compared to the Lynx. Still, you will pay a higher price point for this appliance.
Additional Resources
Get the Yale BBQ Buying Guide with features, specs, and inside tips to all the brands like Lynx, Kalamazoo, Alfresco, DCS, Viking, and Weber. Well over 900,000 people have read a Yale Guide.
Related Articles
Why Should You Trust Us?
It seems that every appliance review has nothing but glowing comments about almost every product, yet you read customer reviews and they are almost universally bad.
We are here to fill in the disconnect. We'll give you the best features, and the drawbacks as well, including reliability based on over 37,000 calls performed by our service team just last year. Our goal is to give you ALL the information so you know what's right for you.
Please consider subscribing or adding to the conversation in the comments below. We appreciate you stopping by.
Saba Wahid
Saba is the resident Chef at Yale. She will teach you how to use your new oven, cooktop, or range. She is skilled in every new feature, including steam, induction, convection of all types, air frying, and sous vide. Saba is also the reigning Chopped Grand Champion crowned by Martha Stewart herself. Saba is incredibly versatile with all different types of cuisine. After just one session with her, you will be a better chef.

Saba has also been featured in numerous publications such as Mashed, Eater Boston, the Boston Herald, and the Framingham SOURCE.
A Note About Pricing
Pricing on this blog is for reference only and may include time sensitive rebates. We make every attempt to provide accurate pricing at time of publishing. Please call the stores for most accurate price.