9 Best BBQ Grills for Boston (Reviews / Ratings / Prices)
Free Delivery & Assembly of Grills Over $499
Every year, we try new grills and discontinue other brands where the marketing wasn't equal to the performance. We demo grills on weekends throughout the Spring and Summer to better understand the best brands and features.
This year is no exception as there many and new grills for you to consider in 2018.
In this article, you will learn about the best grills for 2018 as well as the best features for your particular cooking style whether you like to use pellet, charcoal, gas or hybrid grills.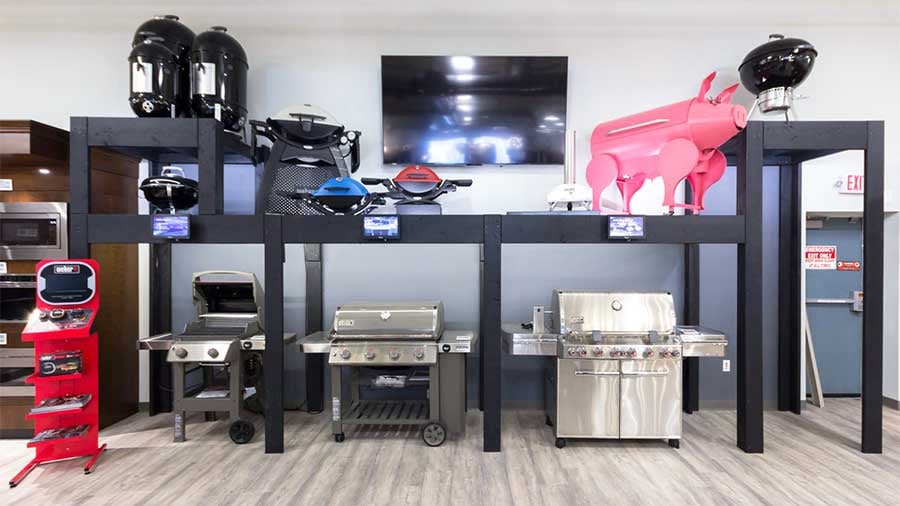 There will be plenty of pictures and videos, so you have a good idea of which grill to consider this Spring, Summer, and Fall.
Best BBQ Grills for 2018
Grills are simple when you think about it. It's fire, stainless steel, and other elements. However, there is a big difference in performance between many brands and especially technologies.
Pellet, charcoal, gas, and hybrid grills are all very different in terms of speed, texture, and flavor.
You should almost ask for a demo with your favorite food before you buy a grill. We have demos on the weekends or through our appointment scheduler at your convenience throughout the week.
You can also try out BBQ Grill Configurator. Just check off your desired features and the configurator will suggest a few grills to consider.
What's New?
In 2018, you will see more grills in each store, yet from familiar brands. DCS is back with two very solid grills, the powerful Evolution and slightly less powerful, yet less expensive Heritage.
Hestan is an amazing grill. It is powerful and has an 18,000 BTU infrared rotisserie burner. Like DCS, they have a less expensive and new grill called the Aspire.
If you love to grill, check out the new Kalamazoo Gaucho All Charcoal grill.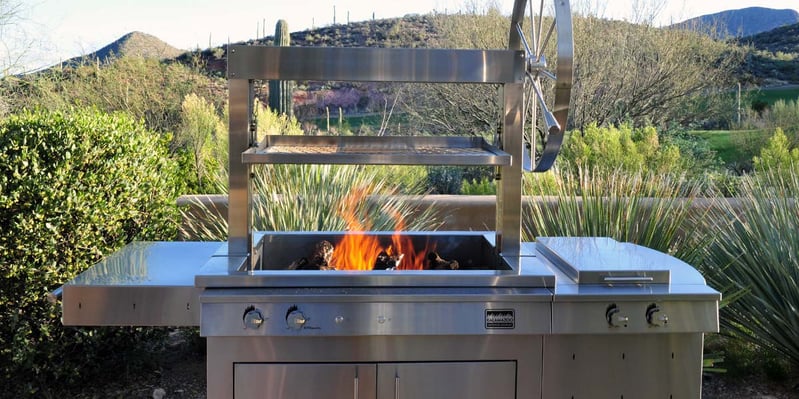 We deliver and assemble all BBQ grills over $499 for free.
The following are nine of the best BBQ grills to consider in 2018. We'll cover pellet, charcoal, gas, and hybrid grills along with the benefits of each type.
Call us with any questions at 617-765-7196
9 Best BBQ Gas Grills In Boston
9. Traeger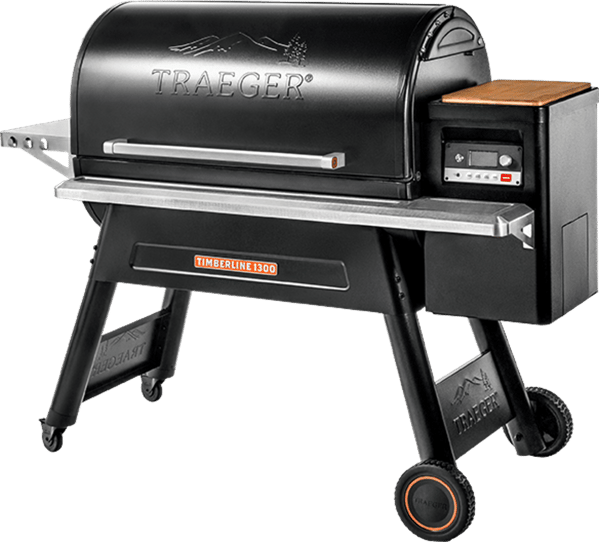 TFB57PUB - $799
TFB88PUB- $999
TFB85WLB - $1,699
TFB01WLB -$1,999
Traeger is more of a smoker. It's great for anyone who wants to lock in flavor to their favorite grilled dishes or slow cook.
You can set the temperature precisely and infuse it with a smokey flavor from the wood pellets like Mesquite, Pecan, Applewood, and a ton of different other flavors.
For Bostonians, Traeger can be placed on balconies or rooftops because it's electric.
Traeger is designed to cook like a convection oven. It cannot reach the higher temperatures like a gas grill with 500 degrees being the max.
If you like seared or charred meats or like your burger cooked quickly, Traeger is not for you. However, their low and slow method can effectively cook almost every food without flare-ups.
Also, look at their app-driven Wi-Fi enabled Timberlane grill at $1,999.
8. Lynx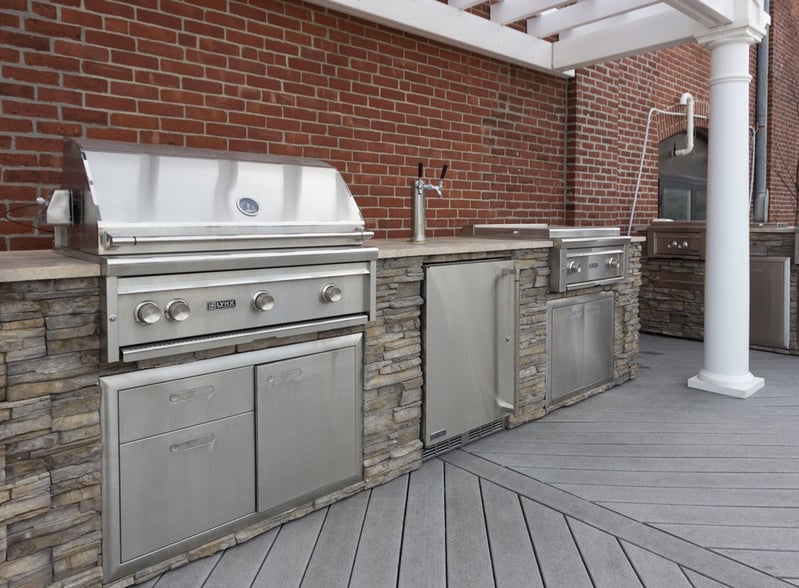 Lynx started the whole professional grill segment.
Lynx is known for their powerful trident-shaped burners. Their sear element is variable from 300-1000 degrees, so you can easily sear more delicate items like fruits and veggies as well as meats.
However, they will be replacing their cast brass element with a lighter ceramic burner, so its performance is unknown.
7. DCS Evolution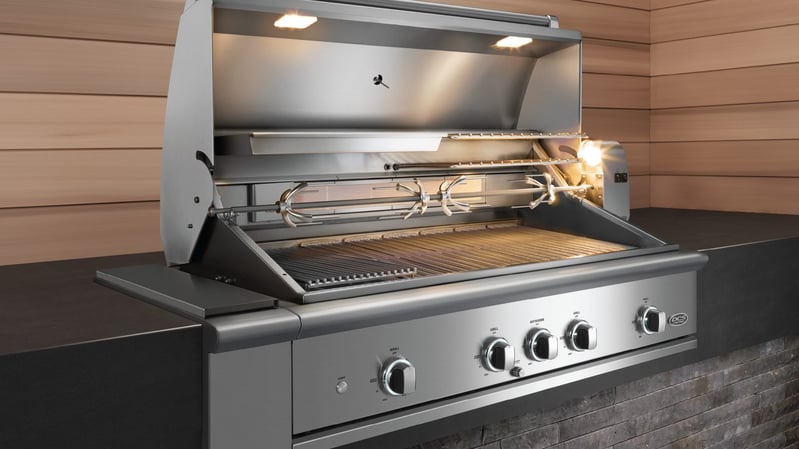 Their Evolution built-in grill series gives you the ability to grill and cook at high temperatures.
You can cook a wide variety of meals using multiple cooking zones, infrared burners, a rotisserie, and smoker trays to lock in flavor, roast, and sear like a pro.
DCS has the ceramic rods throughout the grill for better heat distribution, searing, as well as fewer flare-ups.
The Heritage is a less expensive and less powerful version.
6. Weber Summit Series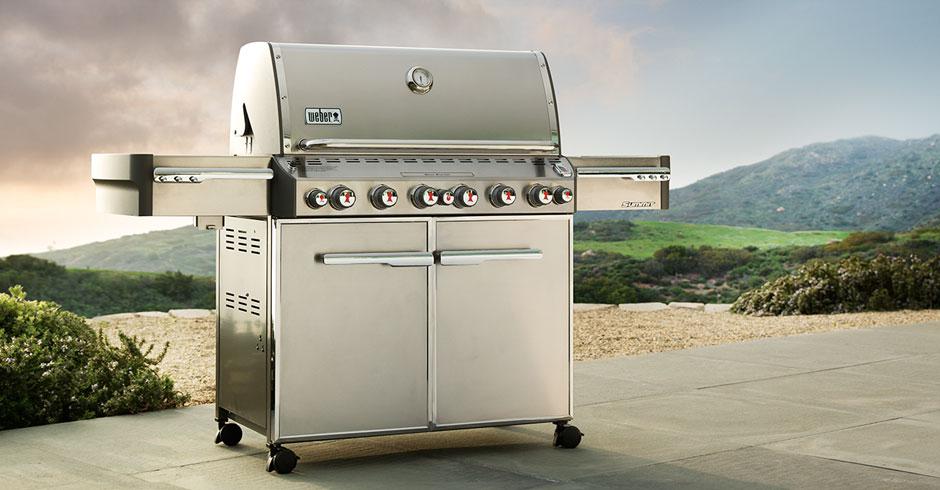 The Summit has all the features of a professional grill with a total of 60,000 BTU, a sear station, and smoker box for far less than a pro.
The price and features are very good especially with a sear zone, smoker tray and side burners at less than half the price.
A pro grill will have hotter individual burners. The average output on a pro grill burner is 23-25,000 BTU.
The Summit uses more 10,000 BTU burners, so a pro grill will still have a better sear and char as well as cook faster.
5. Weber Genesis II and II LX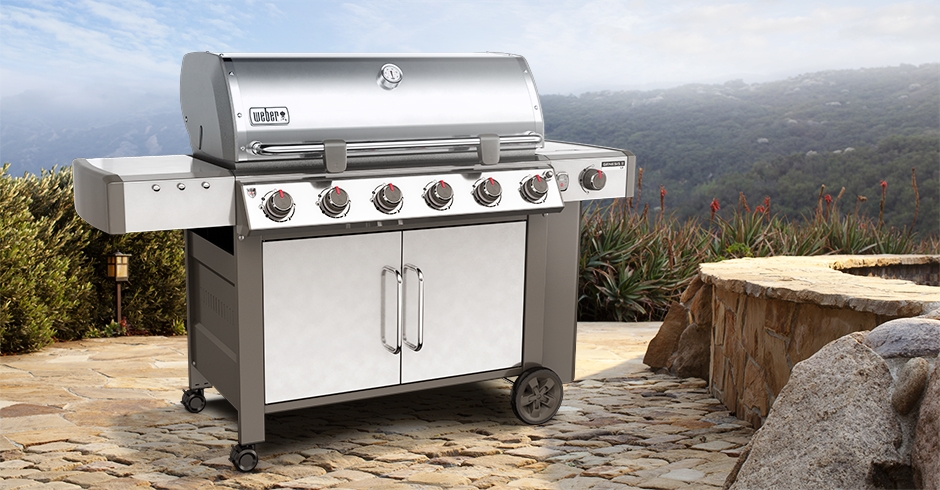 Weber completely redesigned their most popular grill last year dubbed the GS4 with a new first-strike ignition, Flavorizer burners for consistency, and a grease management system.
You can even monitor your grill with your phone through an app with the optional iGrill accessory.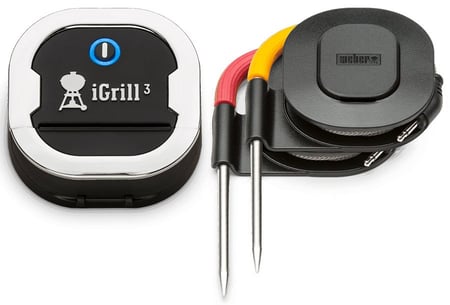 Of all the grills sold by us in the last 5 years, and there has been many, Weber is by far the most reliable and consistent in terms of cooking.
The differences between the Genesis II and Genesis II LX are the side burners, stainless steel grates, and flavorizer bars as well as a finished bottom cabinet.
Genesis II:
There are now 8 different Genesis II LX Grills:
Genesis II LX:
(We profile all the New Weber Genesis II and Genesis II LX grills here)
Honorable Mention to their less expensive Spirit II grills, which now have some similar features of the Genesis for a less expensive price of $399-499.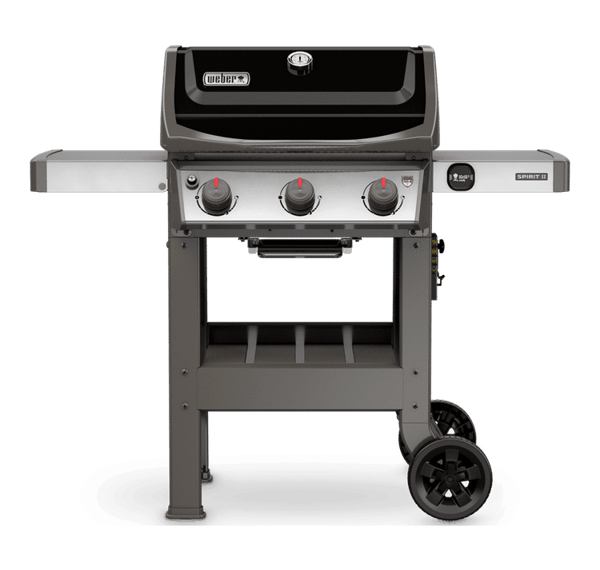 Weber Spirit II
4. Hestan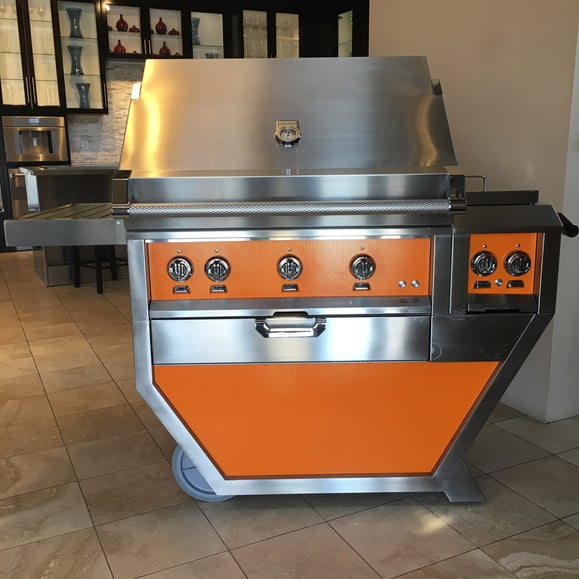 The giant commercial supplier, Meyer, is behind the Hestan grill. It already is the best-looking grill available in 12 designer finishes.
Hestan boasts a BTU output of 25,000 BTU per burner, plus 25,000 just for searing, so it's very powerful. It has the best rotisserie system holding 50 pounds of meat with a variable infrared burner of 12-18,000 BTU.
You can evenly cook the meat on your rotisserie or on the top shelf, which can cook quickly as well for a good secondary quick sear burner.
The hood will stop wherever you want, so you can open it slightly to cool down your grill. The grates are laser cut and thicker to hold more heat for a better sear.
It is worth considering.
3. Hestan Aspire
The Hestan Aspire, Hestan's new built-in grill series, provides professional cooking power for less money.
You have the option of a built-in ceramic infrared rotisserie that delivers 14,000 BTU and up to 23,000 BTU output with their high-performance infrared searing burner.
You also have 519 square inches of primary grilling space with an additional 147 square inches of a warming rack.
This commercial looking series can match any outdoor kitchen design you have in mind with up to five custom colors.
2. Kalamazoo
In this industry, this is considered the best grill, even by its competitors.
Kalamazoo is a made to order grill. The grill is deeper than any other on the market, providing a natural convection system for more evenly cooked food.
Kalamazoo also has the hybrid drawer, so you can use charcoal and/or wood along with the speed of gas. The construction is also incredibly solid.
You can even customize the grates based on the food you're grilling.
Call us with any questions at 617-765-7196
1. Weber Charcoal Summit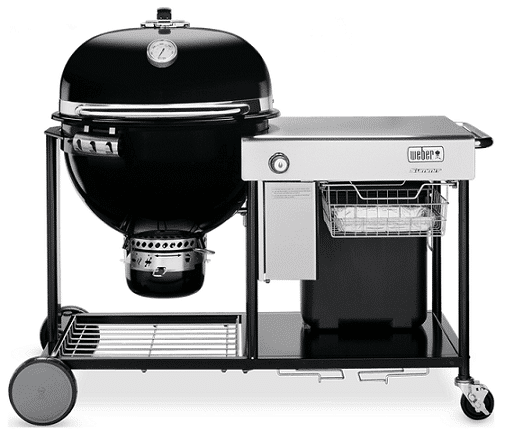 I used to cook on the Weber Charcoal Smokey Joe. Other than it was slow and small, the food was incredibly flavorful.
The Summit Charcoal is a larger charcoal grill with the added speed of an LP tank. The downside to a charcoal grill is obviously filling the grill with charcoal and removing the ash along with a longer wait for your food.
However, charcoal adds texture and flavor while gas grills cannot. With the Weber Summit Charcoal grill, you also add the speed of gas.
Final Thoughts
As I said, you'll read a lot about great grills. They are comprised of similar materials with almost strikingly similar BTU outputs. Here are a few tips on how to pick the right grill for you.
The first question is, how would you like to cook?
Pellet grills give you flavor from indirect convection heat without flare-ups. You can also customize the taste with different types of flavored pellets. They cannot reach the heat of gas, so you cannot sear and char with speed like you would with gas.
Charcoal will allow flavor and texture but again is not as fast as gas (unless you consider Weber or Kalamazoo as hybrids of gas and charcoal).
Gas is faster and can heat to 900 degrees for a better sear with different options for the rotisserie and smoker boxes. However, it does not have the flavor of charcoal and pellet grills.
In terms of brands
The best is Kalamazoo, but this is a $12,000 grill. Then again, you can do anything on this grill. Its deeper well design and ability to add charcoal and wood are the best for texture, flavor, and speed.
Hestan has the solid, diamond cut grates so it retains heat well. The rotisserie and 18,000 BTU infrared burner could be the best. Without question, look at this unit in a custom color.
DCS is a proven name for luxury grills. The ceramic tubes inside the grill are a particularly good design adding heat and eliminating flare-ups.
Lynx has proven to be a solid grill with the best sear capability. If you like a quick sear or maybe searing at a lower temperature with veggies and fruit, then Lynx is a good choice. Their new ceramic burners are unproven, just as an FYI.
Weber has a few good grills. The Summit has many of the premium features of the better grills like a smoker, rotisserie, and sear for half the price. Look at the Weber Genesis LX II for a solid, more affordable luxury grill. Their new features, evenness of cooking, and first strike ignition are reason enough to consider Weber's grill series.
Once again, ask for a demo with one of our chefs, especially if you considering buying a new brand or fuel type.
Additional Resources
Get the Yale BBQ Grill Buying Guide with features, specs, and tips to all the brands. Over 330,000 people have already found answers in a Yale Guide.

Related Articles
Editor's Note: This article was originally published on June 11, 2014. It has been updated for freshness, accuracy, and comprehensiveness.
WHY SHOULD YOU TRUST US?
A few review sites have placed this at the bottom of their articles. So here is our take: Our mission is to find reliable products for you to buy. Other review sites may say this as well.
However, we don't love every product. Quite frankly, it costs us way too much money in repair costs to support less reliable brands.
In fact, we sell fewer brands than most appliance stores. Here is why:
We feel it is our responsibility to repair your appliances after you buy them.
We now have 30 service technicians, each averaging 8-10 calls a day Monday through Friday, plus another 110 on Saturday. That's over 30,000 service calls logged in one year.
The labor rates of fixing an appliance do not come close to the true cost in any product's warranty period.
That is why no major retailer has a service department. It costs too much labor, money and time.
Our Blog is a bit different than most others you will read. We cannot write glowing reviews of unreliable products.
Hopefully, the bloggers and organizations who write such glowing product reviews for every brand consider servicing these products first. Only then they will understand the consequences of their marketing.
Steve Sheinkopf
My goal has always been simple: I want Yale to be the best retail experience anywhere. I have tried to create a compelling environment for customers and employees alike.
A Note About Pricing
Pricing on this blog is for reference only and may include time sensitive rebates. We make every attempt to provide accurate pricing at time of publishing. Please call the stores for most accurate price.