Can You Place a BBQ On a Roof/Balcony In Boston?
Free Delivery & Assembly of Grills Over $499
If you live in the City of Boston and have a patio, rooftop, deck or balcony, you may feel your grill options are limited. In this article, we'll cover everything you need to know from the City of Boston's rules to what grill options are available to you.

Can you place a BBQ grill on a roof or balcony in Boston?
If you are looking for a grill on your deck or rooftop, you do not have the same choices as a regular home.
Liquid propane (LP or LPG) gas grills are prohibited on a roof, first-floor porch, deck or balcony that is enclosed in the City of Boston. LPG grills use propane tanks that need to be changed.
If the tanks are not handled properly, the tanks can explode. LP tanks can also cause carbon monoxide issues.
We must store our forklift propane tanks outside in a special enclosure for those reasons.
However, you can still buy a natural gas, electric or pellet type grill. In this article, you will learn what you can use and the features of each.
First, a few safety tips from the Mayor's office.
"LPG grills are not permitted inside or on first floor porches, decks or balconies that are enclosed by a roof/ceiling or other confining material of any building or structure used for habitation.

Always locate a barbecue away from any combustible wall. Set up grill in an open area away from buildings, dry leaves or brush. Be aware of the wind blowing sparks.

Place grill on a level surface away from low hanging trees, deck railings, siding or any combustible materials.

It's a good idea to keep a fire extinguisher within handy reach.

Use long handled barbecue tools and flame-retardant mitts.

Do not wear loose clothing and watch for dangling apron strings and shirt tails.

NEVER leave children or pets unattended near a hot grill."
Although I will be going over some good options, you will still have to check your permits in as those can vary depending on your specific situation.
You will probably need a rigger to place a grill on your roof (call Titan in Allston).
Short on time? Get our free BBQ Buying Guide
Best Grills to Put on Your Roof or deck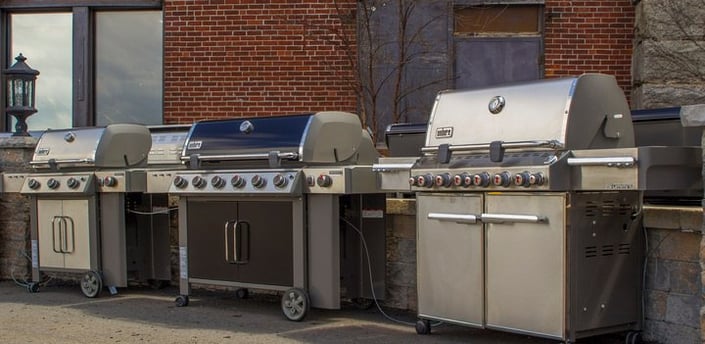 Electric Grills
An electric grill like the Weber Q 1400 series is an economical way to get to grilling in these situations. At only $299, it doesn't do a bad job.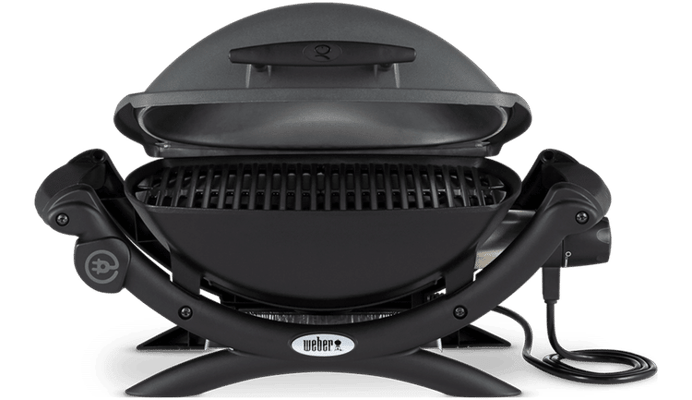 Electric grills tend to take longer to heat up and then, once heated, they do not get as hot so you need a bit of patience.
Wood Pellet Grills
Wood Pellet grills are an interesting option in electric grills. They are a decent alternative especially if you are after flavor. Traeger Grills invented this technology, so we will explain who Traeger is and how a wood pellet grill works.
Traeger Grills is an Oregon-based company known for using all-natural flavored wooden pellets. A motor turns a screw-like device called an auger to feed the burn pot. The pellets are then ignited and exhausted by the chimney.

Some of the advantages for grills that use wood pellets versus gas grills is flavor, smell, and health. All of the Traeger pellets are all-natural wood. The wood also makes it taste better than gas or charcoal. They have 11 different flavors of pellets including hickory, mesquite, apple, pecan, and even cherry.
Should you buy a Traeger Grill?
So is there a downside to pellet grills?
Yes, this is a longer cooking process as this is a smoker with an adjustable temperature. It grills, smokes, bakes, and roasts without any flare-ups using indirect electric heat.
The Pro Series is one of Traeger's most advanced models, offering better temperature control, sturdier construction, and upgraded features.
Pro Series 22" Grill TFB57PUB - $799.99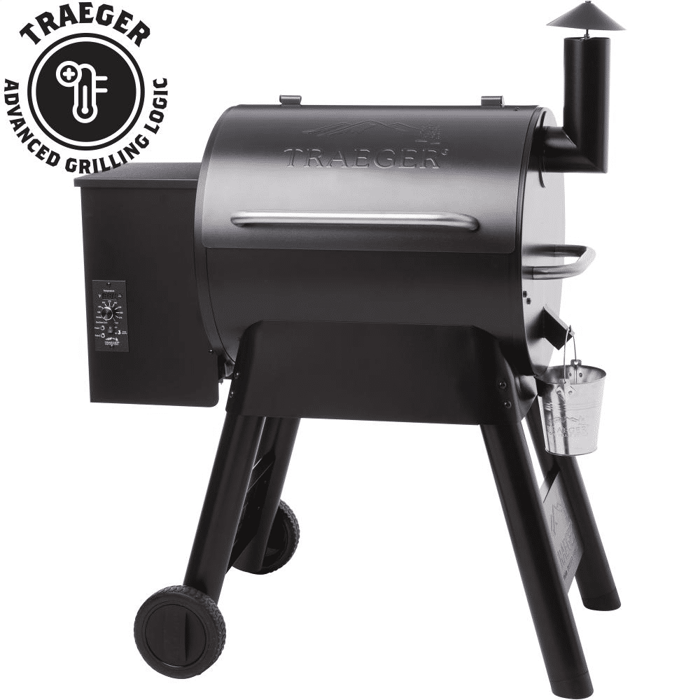 Features:
572 sq. in. grilling area
Main Rack: 22" x 19"
Extra Rack: 22" x 7"
Digital Pro Controller with Advanced Grilling Logic and Dual Meat Pellet Hopper
Clean-Out, change pellet flavors on the fly
Main Rack easily holds 16 burgers | 4 chickens | 24 hot dogs | 5 rib racks
The digital pro controller maintains a +/- 15-degree F temperature control in warm weather. They have a decent number of models to choose from. Below is one of their higher end ones.
Timberline 1300 Grill TFB01WLB - $1,999.99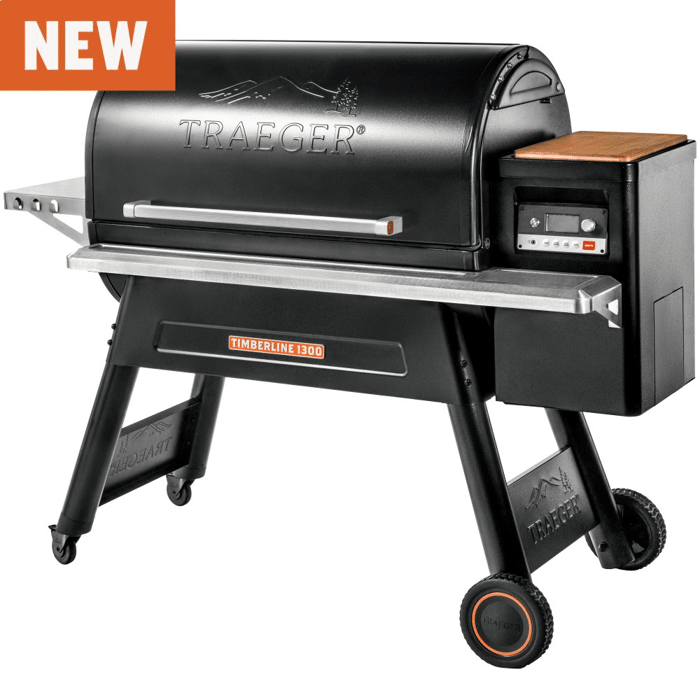 Grill on-the-go with the Timberline's Wi-FIRE® controller, by changing temperatures, setting timers and accessing your recipes, all from your phone via the Traeger App. This is just one of the features in the above grill.
Features:
1300 sq. in. grilling area
Meat Probe
Traeger Downdraft Exhaust® system
Super Smoke & Keep Warm mode
Custom Cook Cycles
Concealed Grease Pan
Stainless Steel side shelf with hooks and grill grates
Easily holds 60 burgers | 12 chickens | 82 hot dogs | 14 rib racks
Magnetic Bamboo Cutting Board
It does take about twice as long as a normal grill to cook which is one of the reasons for the flavor. It is an electric grill, so its max temperature is about 500º and cannot quick sear food like a Lynx or Hestan grill.
If you like to grill and sear quickly, then this is not the product for you. However, for flavor and the ability to cook anything without flare-ups, then you should definitely consider a Traeger.
Natural Gas Grills
If you want a real gas grill, natural gas is the way to go. You will just need a plumber to run a gas line to the grill first! That being said, there are tons of great grills on the market that you can order as natural gas. The Lynx, Weber, DCS, and Hestan will all cook a steak well and are some of the better grills to consider.
The following are five of the best grills to consider in 2018.
5. Weber Summit Series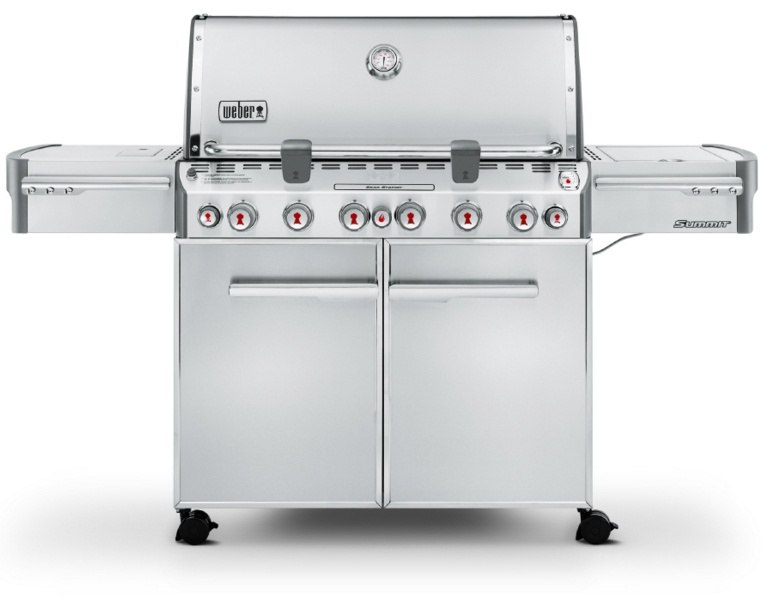 for this natural gas model This Weber has almost everything at half the price of professional units. You can sear, rotisserie, and smoke with high 60,000 BTU burners.
4. Weber Genesis II and II LX
Weber has completely redesigned their most popular grill with a new first strike ignition, Flavorizer burners for consistency, and a grease management system. You can even monitor your grill with your phone through an app.
3. Hestan
GMBR36CX2-CP-OR - $10,849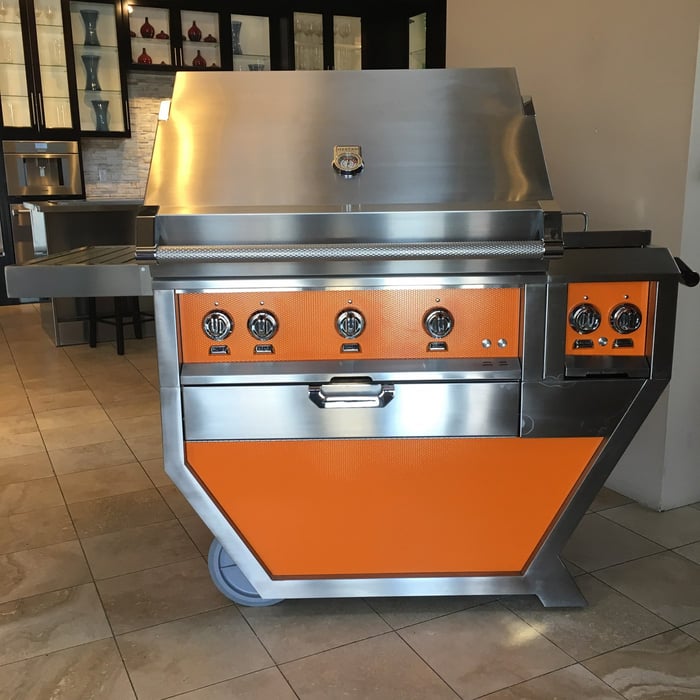 This grill is the first after years of development from Meyer, a giant commercial supplier and cookware specialist. It's already the best-looking grill available in 12 designer finishes.
It is 25,000 BTU per burner, plus 25,000 just for searing, so it is powerful. It has the best rotisserie system holding 50 pounds of meat with a variable infrared burner of 12-18,000 BTU. You can evenly cook the meat on your rotisserie or on the top shelf, which acts as a salamander broiler, for added capacity. The hood will stop wherever you want, so you can open it slightly to cool down your grill.
2. Lynx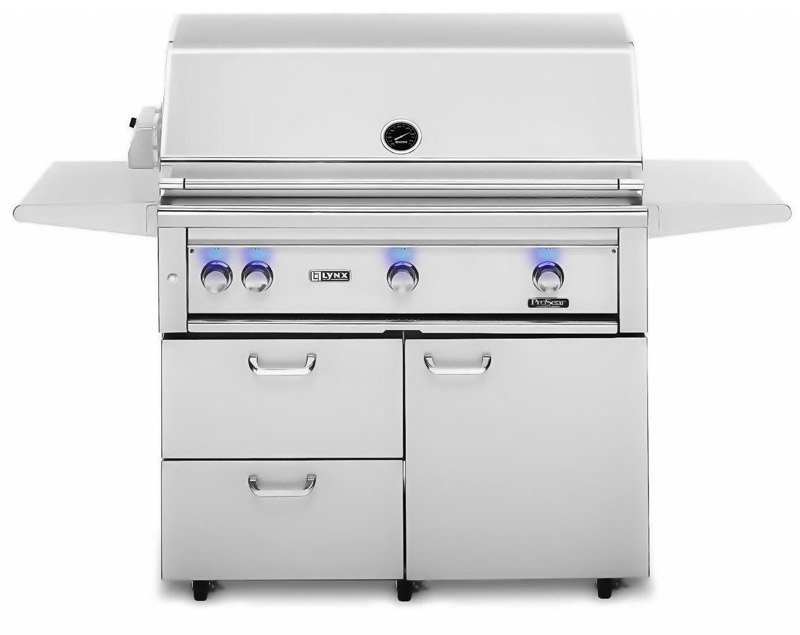 for this natural gas model Lynx started the whole professional grill segment. Its cast brass element is virtually indestructible and has a hot and variable sear. Lynx is known for their trident-shaped burners that are powerful but gentle at a 300-1000 range of degrees. The grill can toast bread or sear tuna without cooking all the way through. This is a fantastic grill with spring assisted hood hinges that make it easy to use.
1. Kalamazoo
K500HS-NG -$18,595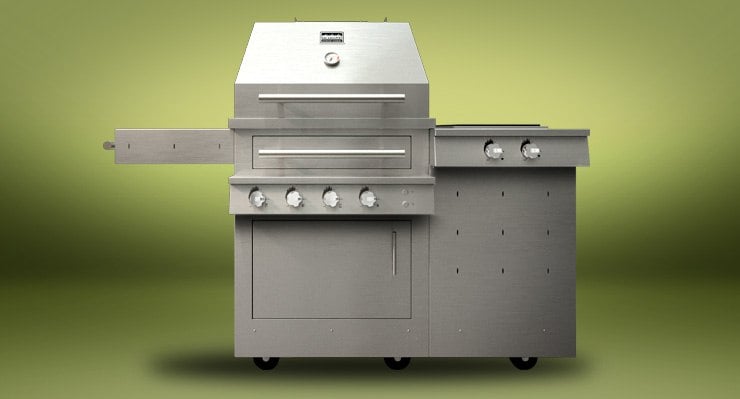 Kalamazoo is a made to order grill. The grill is deeper than any other on the market, providing a natural convection system for more evenly cooked food. Kalamazoo also has the hybrid drawer, so you can use charcoal and/or wood along with the speed of gas. The construction is also incredibly solid.
Which do you buy?
Ultimately, Kalamazoo is considered the best grill out there, but this is a $14k grill. Then again, you can do anything on this grill. Hestan has the solid, diamond cut grates, so it retains heat for a better sear. The rotisserie along with the powerful burner is the best in the industry. Hestan has proven to be a solid grill with the best sear. So if you like a quick sear or maybe searing at a lower temperature with veggies and fruit, then Hestan is a good choice.
Weber has a few good grills. The Summit has many of the premium features of the better grills like a smoker, rotisserie, and sear for half the price. Look at the Weber Genesis LX II for a solid, affordable grill. The evenness of cooking and first strike ignition are worth considering.
Final words
Although you cannot buy an LPG grill, you can almost buy the corresponding grill in gas. It is more convenient because you do not have to lug the LP tanks to your roof once a month or worry about storing them properly.
Another popular consideration is an island incorporating a refrigerator, warming drawer, side burners, and even refrigerator. You can plan an outside kitchen, so you do not have to walk up and down to the main kitchen.
That said, you do have plenty of options for grills in Boston.
Additional Resources
Want to know the latest information on all the best grills? Download the Yale BBQ Grill Buying Guidewith features, BTU outputs of all the grills, and detailed profiles of all the best brands. Well over 240,000 people have read a Yale Guide.

Related Articles
Steve Sheinkopf
My goal has always been simple: I want Yale to be the best retail experience anywhere. I have tried to create a compelling environment for customers and employees alike.
A Note About Pricing
Pricing on this blog is for reference only and may include time sensitive rebates. We make every attempt to provide accurate pricing at time of publishing. Please call the stores for most accurate price.